Trendsetters: Full-circle Farming
Wes and Charlotte Swancy have transformed Riverview Farms in Ranger, Ga., into an organic, fully sustainable farm.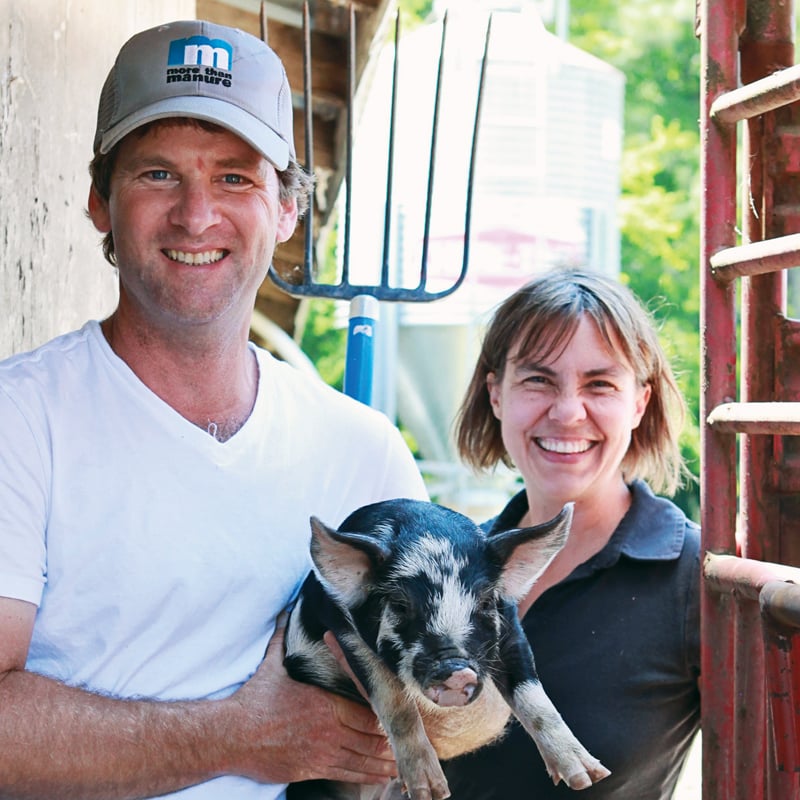 Organic vegetable farms are becoming common these days, as are operations with grass-fed beef and dairy cattle. But it's pretty rare to find a medium-sized farm that produces certified organic vegetables, grows non-genetically modified corn to feed its pastured pigs and provides plenty of land for its grass-fed beef cows. Located in Ranger, in North Georgia, Riverview Farms lives up to the ideal of full-circle farming, where the land supports the livestock and the livestock builds soil fertility for the crops.
"We try to do everything on the farm," says Charlotte Swancy, who co-owns the farm with her husband, Wes. "We grow corn to feed the pigs. Our cows maintain the pastures, and the manure fertilizes the [fruit and vegetable] crops. We want to take care of the land and leave it better than when we found it."
What they found in 2000 after completing chemistry degrees at University of Georgia was a conventional farming operation – owned by Wes's dad – that needed help. With foresight and good timing, Wes and Charlotte immediately began transforming Riverview into organic production and selling directly to consumers. Along with planting heirloom vegetables on the 250-acre farm, they added cows and pigs, which they now breed and raise. They also added about 1,100 acres of rented land that's mostly used for cow pasture.
Today, Charlotte and Wes run the farm along with Wes's father and two brothers. A few others help out on the land and in their Atlanta butcher shop, Chop Shop, a collaboration with Avondale Estates' Pine Street Market. The Swancys handle their own deliveries, participating in farmers markets around the city and dropping off orders for members of their community-supported agriculture (CSA) programs. (CSAs are subscription services in which participants pay in advance for boxes of fresh vegetables and meats.) She estimates they feed 200 families a week through the CSAs, and that number has remained steady since their third year in business. Before COVID-19 hit, they were also delivering to 20 to 30 Atlanta restaurants.
"We pick, pack and deliver the same day," Charlotte says. "I love feeding people that way. I've watched kids grow up in my CSA, and now they have families and are feeding them our food. We've built a community out of it."
She says customers are willing to pay more for the fresh vegetables and meats than they would in a grocery store because the flavor is so much better. "Once people try it, it sells itself," she says. "They come back for more because it is that good."
She'd like to collaborate more with fellow independent farmers, she says, so they can feed more people and build a bigger community.
"We're fortunate to be able to do this," she says. "It's just honest food – it's food with a soul."