The Launch Pad
MBAs in Georgia remain vital to career trajectories.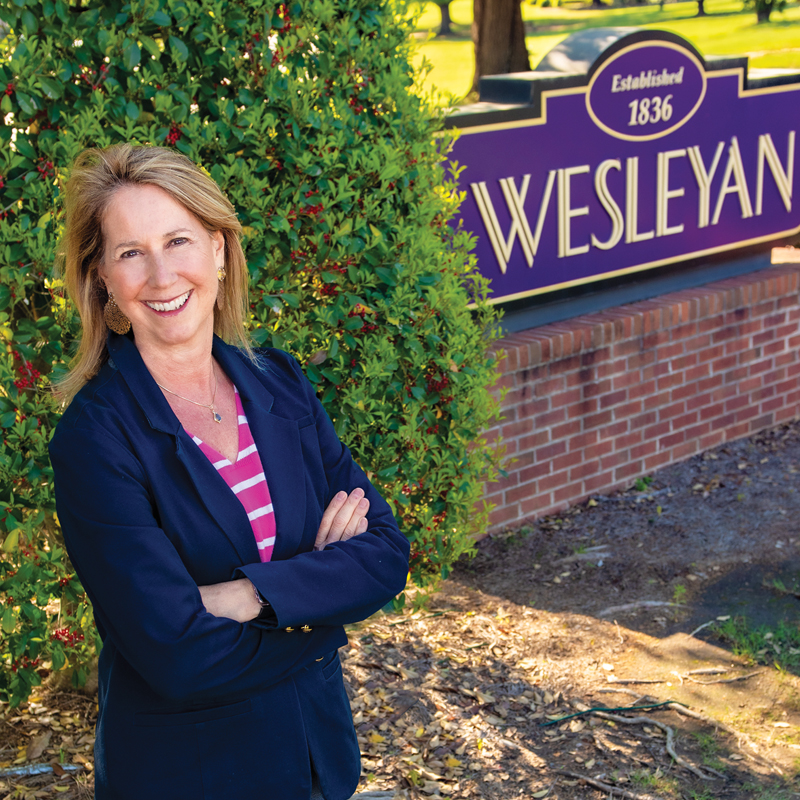 Of all the graduate business degrees, the master of business administration, or MBA, has long been considered the gold standard. Initially designed for individuals educated outside of business school, the MBA is a generalist degree preparing the holder to step up to executive-level challenges. It's the mark of someone who identifies as a leader – they've invested the time, work and the money, and now they're looking for more. More responsibility, more money or a bigger piece of the action.
"We get career changers," says Melody Blake, provost and vice president for academic and student affairs at Wesleyan College in Macon, talking about why students go for their MBA. "Maybe they've had their own business, and they've decided they want to change directions and feel this degree will give them the launching pad they need to get to the next career step."
Wesleyan College is an all-women's college, though its graduate school is coeducational. The Wesleyan Executive MBA (EMBA) program has been around for more than 20 years and is tailored for the working professional. Classes are held every other Friday evening and all day Saturday for 18 months. "It's for the professional who doesn't have time to dedicate two years of their life going to school for two or three days a week," says Seth Selke, the program's director.
The program doesn't require participants to have an undergraduate business degree (making it great for those career changers Blake talked about) but it does require five years of "relevant" management experience. A recent cohort included a schoolteacher. "If you have five years of leading children, that's a pretty good indicator of management skill," says Selke.
The Wesleyan EMBA also includes an international travel component built into the program. "The cohort decides where they want to go," says Selke. "It's not just a sightseeing trip, though that's some of it. Most of the trip includes meeting with businesses and learning their processes. It's the international business management part of the business degree; you want to understand how businesses abroad conduct business."
Cohorts run 15 to 18 students and make for a rich class experience, says Blake. "They're close by the time they graduate," she adds. "They have to work through conflict. How do you manage and lead in an environment where a team member isn't pulling their weight? That's the workforce. All our students say it's one of their favorite things about the program."
---
Enrollment Declines
There's no lack of MBA programs in Georgia. They can be found in colleges large and small, public and private, in every corner of the state. The University System of Georgia (USG) offers the fully accredited and highly ranked Georgia WebMBA program, taught by professors in a seven- school consortium. Some colleges and universities have their own online MBA programs in addition to face-to-face programs.
However, despite the popularity of the MBA, enrollment has declined nationally and in Georgia. A 2019 survey by the Graduate Management Admissions Council (GMAC) found that total U.S. MBA applications (both domestic and international students) were down 9.1%.
"In times of economic expansion – like the current period following the Great Recession – the opportunity cost of pursuing a degree is higher and candidates are less likely to opt to leave the workforce and pursue a degree," read the report.
Difficulty in obtaining visas also led to a decline in enrollment for international students, causing many to seek their MBAs outside the U.S. And Linda Hadley, dean of Columbus State University's (CSU) D. Abbott Turner College of Business, says competition from other types of degrees and certifications plays a part as well.
"We're moving away from the heavy reliance on the MBA or the master's level degrees and focusing more on micro-credentialing," says Hadley. "This is much more in vogue. Employers want to know you have a specific skill set, and they are putting a lot of value on certifications and skills rather than just having that graduate degree."
That said, CSU offers two MBA programs. They are part of the Georgia WebMBA consortium (other schools are Augusta University, Georgia College, Georgia Southern University, Kennesaw State University, the University of West Georgia and Valdosta State University), which means their professors teach classes online as part of the program. All classes are 100% online (not a hybrid), and the program is completed in 18 months, using a team-based cohort model. The administrators, faculty and students meet one time at the beginning of the program.
But CSU also has its own 30-hour, on-campus MBA program taught in the evening to accommodate working professionals. Students can enroll during any semester – spring, fall or summer – which means it doesn't use a cohort. Students work at their own pace, finishing in a year if they choose to take classes full-time.
In 2019, CSU began an overhaul of its MBA curriculum. Although the core curriculum remains the same – accounting, finance, decision analysis – Hadley says it was time for a refresh, sharpening the focus on technical agility as a learning outcome.
"We've gone into those courses and modernized them because business is done differently now," she says. "There's a heavy reliance on data. We're adding software packages, some of the newest software, and making sure students have the ability to gain skills along with more applied, more focused data analytics wherever it's appropriate. With the exception of human resources, we've made sure to strengthen the [emphasis on] data analytics. If it wasn't there before, we added it."
Georgia Southern University's (GSU) Parker College of Business offers two MBA programs. They are a member of the Georgia WebMBA consortium, and in fall 2020 the university plans to launch a revised MBA program at its Savannah campus, says the program's director, J. Lowell Mooney. Previously, students were able to apply for the MBA program immediately after completing their undergraduate studies. No more.
"We are discontinuing our Statesboro program and will have one face-to-face opportunity for MBA studies, with admission requirements at least two years minimum of meaningful post-baccalaureate work experience," says Mooney. "We're hoping to increase the quality of students coming in with real-world experience, maturity and courage to challenge some of the ideas both in the textbooks and the professors."
Some MBA programs offer the opportunity to take electives in marketing, supply chain or other disciplines – providing areas of "concentration." The GSU MBA program will offer what Mooney describes as a "deep dive" in three specific areas with requisite courses – manufacturing management, healthcare management and criminology.
In addition to fulfilling the typical requirements of an MBA, the new program will focus on nurturing soft skills and professional development. Mooney envisions events designed to build out the student's professional network; bringing in professional coaches; establishing a mentoring program; and building engagement opportunities between the program and Savannah's business and civic communities. "Our face-to-face students like this area," he says, "and are more inclined to stay here or keep their roots here."
---
Personal Attention
Elvan Aktas is the director of graduate programs in the Harley Langdale Jr. College of Business Administration at Valdosta State University (VSU). He says the university hasn't seen any sign of enrollment decline, especially in the online program where, as part of the Georgia WebMBA consortium, VSU offers an online MBA program.
"Because of the flexibility, any online offering is growing," says Aktas. "They can interact with the class members, and they can interact with the faculty. Although it's an online class, the delivery of the curriculum, the assessment methods and the exams have almost the same quality control as the in-class experience."
With the increase in healthcare-related professions, the university began offering a unique web-based MBA with a concentration in healthcare administration. "We've seen amazing growth in this program," says Aktas. "There is not only a tremendous need for doctors, nurses and caretakers but also people who will manage these organizations."
In addition to the two online MBA programs, VSU offers a traditional on-campus MBA program. Because students in the program are from diverse business backgrounds, they're looking to add new concentrations, says Aktas.
"In the very near future, our MBA students will have not only the MBA curriculum but also have a FinTech [financial technology] program; another program in supply chain management and logistics; and another in managerial accounting," he says. "We're in talks with the college of education and are planning to have a concentration in educational leadership because the leaders of schools, school boards and school systems need to have the training in accounting, leadership and human resources."
VSU doesn't use a cohort model for its MBA program, enrolling continuously every semester so students can finish at their own pace.
"We're small enough that we can literally provide that hands-on attention to the personal needs of the student, but also large enough to provide many different channels of experiential learning," says Aktas. "I think that makes us very unique."
At the University of Georgia, the Terry College of Business operates three distinct MBA programs: a full-time MBA, the professional MBA (taught at the Terry Executive Education Center in Buckhead and UGA Gwinnett in Lawrenceville) and the executive MBA (offered only at the Terry Executive Education Center).
However, within the full-time program there are two formats: one is the regular two-year program, with the typical classroom experience and cohort model. The other is a unique one-year STEM MBA for undergraduates majoring in science, technology, engineering or math.
"We have agreements with 45 STEM majors on campus for their students from biology statistics to computer science to engineering to finish their four years of undergrad in a STEM discipline then come to us for a one-year MBA," says Santanu Chatterjee, director of the full-time MBA program and MS in business analytics at the Terry College of Business. "These students are exceptionally bright and do very well in the program. We are seeing some good returns in the marketplace for that degree."
Why would a medical or pharmacy student get their MBA then go back to finish up their degree? "A lot of students studying pharmacology are getting that degree because they're going to manage pharmacies," says Chatterjee. "Doctors become hospital administrators or run practices. When they come to the business school, they're picking up the essentials of business management, finance, accounting, human resources and strategy. They're adding business knowledge to their core science training."
---
Sustainable Degrees
Chatterjee says the most popular full-time MBA concentration is probably business analytics, thanks to the growth of big data and the use of data in solving business problems. That's followed by operations and supply chain management, then marketing. But in the future, the go-to concentration might be the program's newest area of focus – social innovation, also known as the sustainable or green MBA. When the program launched in fall 2019, in a way, it wasn't anything new.
"We were often approached by local community organizations to help [them] solve their problems," Chatterjee recalls. "Many of these problems went beyond profit maximization or cost cutting, things like trying to get more books to school kids. On an ad hoc basis, I'd noticed we were doing two to three such projects every year."
For the MBA students engaged in these projects, most believed their MBA experience wouldn't be complete without the social sustainability exposure.
"Last year we sat down and thought we're already doing this, why don't we formalize this and make the program a more attractive place for people who care about these issues," says Chatterjee. "That's what eventually led to the formation of the area of focus.
"The purpose is to create future business leaders who can do business for good and can do business with a purpose," he says. "So we're thinking on the larger scale about a company's responsibility not only to its shareholders but to its customers, community, the broader environment, the climate, to social justice issues, and how can we create business leaders who can think holistically about the role corporate America can play in addressing the defining challenges of our time, which could be income inequality, climate change, poverty, access to education, access to healthcare and things like that."
UGA hopes to bring those lofty ideals closer to earth by requiring students to take a course in critical design thinking and complete a service-learning project.
"That could be helping a Georgia company get B-corp certification [a green or social impact certification for doing business] or working on a service-learning project in a community organization or getting selected to serve on a local nonprofit board as a non-voting member," says Chatterjee. "They can choose one of the three experiences, take their class and their electives."
Chatterjee says he hears the talk about whether the MBA is still relevant and whether it can compete amidst the multitude of specialized master's degrees, and he points out, "When I talk to corporate recruiters, the number of companies that still want MBAs has still grown."
He says the most challenging trend in MBAs, from a curriculum standpoint, is figuring out a more holistic approach to business education that goes beyond maximizing the return to shareholders and questioning whether the MBA program is equipping students to do those things.
"It's a big investment someone is making. For many people, this is their last educational stop in their career," Chatterjee says.
"The question for us as program managers is what are we giving them in those two years? They're giving up a lot. Should the business curriculum just boil down to a few business courses or should it be much more, should it prepare them for the rest of their lives? If this is your last stop, you've put your faith in us. What are we going to do for you?"