Metro Atlanta | Perimeter: Big Transformations
Mixed-use, city centers and more walkability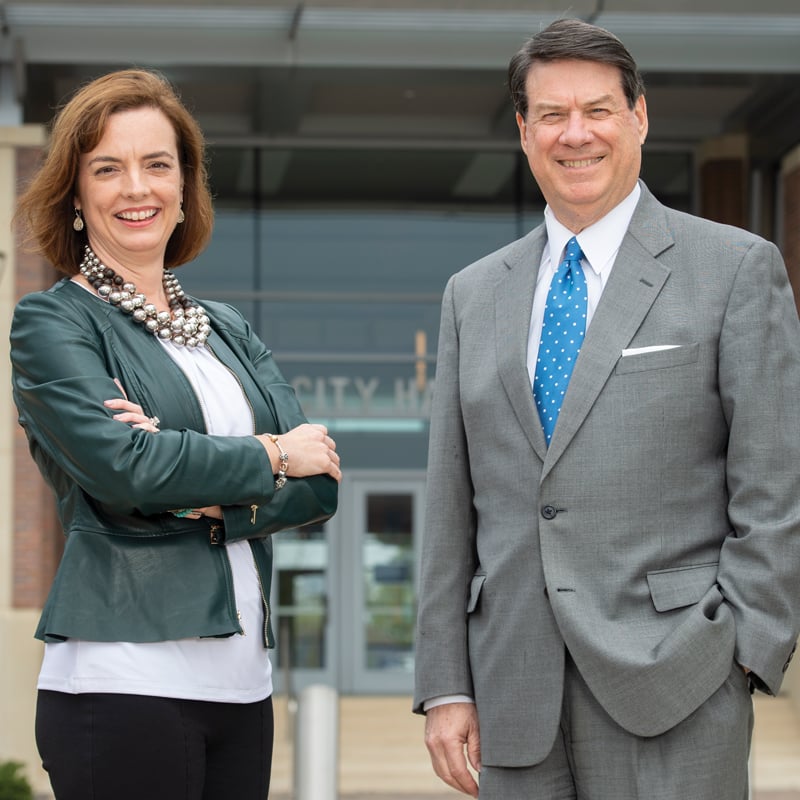 "Dunwoody is hot," City Manager Eric Linton said just before COVID-19 struck. It's not a word that you would have associated with the area a few years ago, when the city's name often served as shorthand for any of Atlanta's comfortable 'burbs. But it was an apt description of the whole Perimeter area, including not just Dunwoody but neighbor cities Brookhaven and Sandy Springs, a few months ago and it will be again.
These former suburbs are evolving, thanks to big, transformative projects that are in turn encouraging mixed-use developments, alternate forms of transportation and more walkable communities – amenities that used to be associated with more urban settings.
One of the biggest propellants was State Farm's decision to locate one of its regional hubs in Dunwoody in 2014 and to literally attach it to the Dunwoody MARTA station, building an extension to the station platform to allow direct access from the offices. The campus has grown to three buildings (the third still under construction) and an eventual 1.8 million square feet of office space plus mixed-use space.
Next, a Class A office building by Trammell Crow, Twelve24, began to rise across the street in 2018, in a portion of the Perimeter Mall parking lot. It, too, is attached to the MARTA station via a skybridge, so that, as Dunwoody Economic Development Director Michael Starling puts it, employees can walk off the train and to their offices "without ever getting wet." National staffing firm Insight Global leased about 70% of the 335,000 square feet of office space in the 16-story building for its national headquarters and was scheduled to move in in March. There's also 11,000 square feet of restaurant and retail space.
As MARTA continues to pursue transit-oriented development at a number of sites in DeKalb and Fulton counties, Linton calls the area around the Dunwoody MARTA station one of the most successful examples in the region.
"Both projects spent a lot of extra money integrating the transit into their buildings," Starling says. "It is probably one of the best examples … of how transformative transit, especially rail transit, has become and how highly employers and workers view that option."
---
Downtowns with a Difference
But the project that can take the transformation to another level is just (finally) getting started: High Street, a $2-billion development that will create a 41-acre mixed-use district adjacent to the MARTA station and right at the edge of Dunwoody and Sandy Springs. It's been talked about since before Dunwoody became a city in 2008, then was delayed by the Great Recession and the changing character of the area.
High Street is centered around dining, entertainment and shopping with some office space but doesn't plan to have a big retail anchor. Most notably, it will include 600 apartments in the first phase, scheduled to open in 2022, with another 2,400 to come in later phases. That will be the first new multi-family housing built in Dunwoody since it became a city, says Linton.
And with a 25,000-square-foot plaza at its center, High Street will provide a kind of downtown for the Perimeter area. Starling compares it to "our version of Avalon [in North Fulton] or The Battery [in Cobb County]" and says he's most excited about that central greenspace.
It should also provide a sense of place for the Perimeter Center area, just as City Springs has done for Sandy Springs. That 14-acre mixed-use development encompasses city hall, a greenspace for gatherings, retail and restaurant space and a performing arts center. It opened in 2018 and has been wildly successful, says Sandy Springs Mayor Rusty Paul.
"In year one, 80,000 people [came] through here," he says. "Our goal is to get up to 300,000 people. … The ability to see world-class entertainment literally on your doorstep is something people are still really excited about."
The city is going to be the presenter for more arts and culture programming in the future, and Paul says they now feel confident knowing what the audience wants. "Our goal is to have something so compelling that every resident has to show up at least once or twice a year, and hopefully more than that. I think it's going to kick City Springs up to a whole other level."
But as Paul says, each city has to figure out how to create a sense of place that reflects its own communities. "You have to decide who you're going to be, what you're going to be, and then how you're going to get it," he says. "That's what we went through for about three years before we started construction on anything."
---
A $2-billion Intersection
Brookhaven is getting started on that, as it works to launch a master planning process for creating a city center that would include a new city hall. In the meantime, a transformative project – two, actually – is underway at the southern end of the city. Children's Healthcare of Atlanta opened its outpatient Center for Advanced Pediatrics, a 260,000-square-foot medical office building at the intersection of I-85 and North Druid Hills Road, in 2018. Now Children's is constructing support buildings for staff and then will turn to building the two towers that will house a hospital to replace its Egleston facility. The 70-acre campus will include 20 acres of green-space. The investment in the campus is more than $1 billion.
That's one. For the second transformative project, you have only to look across the street. Emory University is creating a billion-dollar "health innovation district" in Executive Park that will include a 140-bed hospital, a hotel and multifamily residential. It's a long-term project – phases will take place over more than 10 years – with the first shovels of dirt turned in 2019 for a new orthopedics facility. Executive Park is already home to Emory's Sports Medicine Complex, which houses the training and practice facility for the Atlanta Hawks.
The two massive projects will utterly transform the area, creating a medical hub to rival the one that already exists at the north end of the Perimeter area: Pill Hill, where Northside Hospital, Emory Saint Joseph's Hospital and Children's Scottish Rite Hospital are all neighbors. But it's not just the communities around these new developments that will change – so will the crucial I-85/North Druid intersection, already one of the more heavily trafficked in Atlanta. The Georgia Department of Transportation will implement those changes, but Brookhaven is already planning infrastructure improvements like pedestrian bridges over I-85.
"When you're bringing over 8,000 workers into a corridor, there's going to be some traffic issues," says Shirlynn Brownell, executive director of economic development for Brookhaven. "It was important to the city that our infrastructure did not suffer at the expense of growth." She notes that both Emory and Children's worked closely with Brookhaven to ensure that the projects were successful for the community, as well.
---
Answering "The Atlanta Question"
Of course, it's not just North Druid Hills that faces traffic woes. It is, says Sandy Springs Economic Development Director Andrea Worthy, always the Atlanta question – what about traffic? Worthy notes that Sandy Springs is "sitting in the middle of some major regional transportation initiatives," including the appropriately named "Transform 285/400" project that's scheduled to be completed this year and the planned addition of express lanes up GA 400, and then the planned express lanes along 285 as well. "It's going to help move traffic in and out," says Sandy Springs Chamber of Commerce President Tom Mahaffey of the new 285/400 interchange.
And the area is fortunate to have multiple MARTA access points: the Brookhaven, Sandy Springs and Dunwoody stations. But even when there's access to transit, there's the question of the last mile (or two). And so each of the cities has turned to multi-use trails to help people get around without having to get in their cars – whether that's to lunch and back for office workers or for dinner and entertainment for the growing number of residents who live nearby.
Sandy Springs recently approved a master trails plan that identified 31.4 miles of possible pedestrian and bike trails. Paul describes the plan as connecting areas including City Springs, MARTA, parks and the offices in Perimeter. He says the staff is looking for ways to make the trails "experiential" – visually compelling with public art or other concepts – so that people will want to walk there. "If you just have a two-mile stretch of white concrete, with nothing that makes it fun and interesting to walk [people won't use it]."
People are already using the Peachtree Creek Greenway, whose mile-long first phase from North Druid Hills to Briarwood Road opened in December. The "model mile," funded by Brookhaven's hotel/motel tax, is the start of a planned 12-mile multi-use trail that would connect Atlanta, Brookhaven, Chamblee and Doraville. Phase II will extend the trail from the Atlanta city line to North Druid Hills. Both Emory and Children's plan to connect their new developments to the Greenway, providing an alternate way for employees to get to their jobs.
One of the more noticeable trails is scheduled to break ground this spring, running from Hammond Drive to Perimeter Center West – right in front of Perimeter Mall. A second phase is planned to extend it to Mount Vernon Road, providing a connection to Dunwoody Village. In addition to last-mile connectivity, according to Ann Hanlon, executive director of the Perimeter Center Community Improvement Districts (CIDs), the trail should help alleviate some traffic at one of the area's rush hours: lunch time. "In the Perimeter market, our biggest rush hour is in the afternoon," she says. "The second peak time rush hour is at lunch." The trail will encourage workers to walk instead of drive to nearby restaurants.
It will also be a selling point for residents, especially those who move to High Street, who can live, shop and play without driving. "For bicycle and pedestrian [use], it'll be a great alternative, especially if you live within a three- or four-mile radius," says Linton. The "urban commuter trail" is a joint project between the CIDs and Dunwoody, with the city funding coming from the hotel/motel tax.
---
City-by-city Plans
In addition to the massive projects that impact the region, each city is addressing some specific plans. Dunwoody Village is looking to get an open-container entertainment district designation that would allow patrons to stroll from shop to shop with beverages in hand. And after the Georgia DOT finalizes its plans for the I-285 express lanes, the city will look to improve the Georgetown area, which Linton calls a gateway for the city. A proposed Georgetown Gateway projects aims to make Chamblee-Dunwoody Road between I-285 and North Shallowford Road more walkable and bikeable.
Dunwoody has upgraded Brook Run Park to include an amphitheater, soccer fields and a pavilion and is building a small new park, the first in the Perimeter Center area, at Perimeter Center East. It's within walking distance of several neighborhoods and will eventually connect to Georgetown.
Brookhaven expects the new Emory and Children's developments to encourage other redevelopment along Buford Highway, which Brownell says is the city's southern gateway. "We're excited about that, because we think that's where our diamond in the rough is," she says. "That's where our opportunities for growth are, and that's where the zoning code allows for the density we would be seeking."
In Sandy Springs, leaders are looking to revitalize the North End, a stretch of aging retail centers along Roswell Road north of Dalrymple Road. Paul, Worthy and Mahaffey all note the need for affordable housing in Sandy Springs, where there's not much land available. "The real estate is so expensive, and most of our housing is going up," says Mahaffey.
The city is planning to do an affordable housing study, and discussions have started with existing residents of the North End about what possible redevelopment could look like. "We're trying to figure out how to use the North End area, where real estate is a little bit more affordable. … And [see] how we can maybe come up with some innovative ideas to create housing that young families are interested in," says Paul. "We [want to] generate opportunities for the kids who grew up in Sandy Springs to be able to afford to live in Sandy Springs."
Thanks to the region's transformative initiatives, families and businesses can look forward to more amenities and improved quality of life in the future.
---
Local Flavor
Arts at the Center
If the Perimeter Center area is living up to its name – with new projects on seemingly every corner making it a nexus of activity – so is another organization: The Spruill Center for the Arts.
The arts and education complex is located on Chamblee Dunwoody Road near Dunwoody Village, in the North DeKalb Cultural Arts Center, where it leases space from the city. A separate art gallery is on Ashford Dunwoody Road, in an 1880s farmhouse that provides a quirky setting for three to four exhibits each year. It's also home to the locally famous "Everything Will Be OK" mural – an even more important message these days. The center began in 1975, when a group of women started meeting in Dunwoody United Methodist Church for painting classes. Since then, it's growth has mirrored that of the area.
According to former CEO Bob Kinsey, the center offers art classes to more than 6,500 students – adults and children – each year. You can "unleash your inner artist" with classes in drawing, painting, photography and sculpture, plus ceramics, jewelry and decorative arts. The center also runs a summer camp program for about 1,000 kids between the ages of 5 and 14.
New CEO Alan Mothner, who previously headed up a volunteer board of arts supporters working with the city to promote public art, thinks about it this way: The businesses and city government are the "brains" of the community, while the arts are the "heart and soul."
"There's a strong economic development and cultural tourism component," Kinsey adds. "So to use Alan's analogy, there's a lot of interaction between the brains and the heart and soul."
In addition to working with the city to develop plans for expansion so the center can serve more people with more classes, Mothner sees opportunity in the new developments in the area.
"We've basically got an Avalon coming up in Dunwoody in the next few years," he says of the High Street mixed-use development. "It would be great if we could get [in] at the beginning and push [public] art through the whole buildout and have it trickle its way back here into the more suburban part of the city. It's a great opportunity for us to bridge those two areas, the urban and the suburban." The gallery, he adds, is the only one in Dunwoody and doesn't charge admission.
The gallery and arts center are closed due to COVID-19 but will reopen when possible.
Visit spruillarts.org for more information.