Empowering the Underdog
Ben Chestnut and his partner turned their web design agency into a multi-million-dollar enterprise and a marketing resource for small businesses.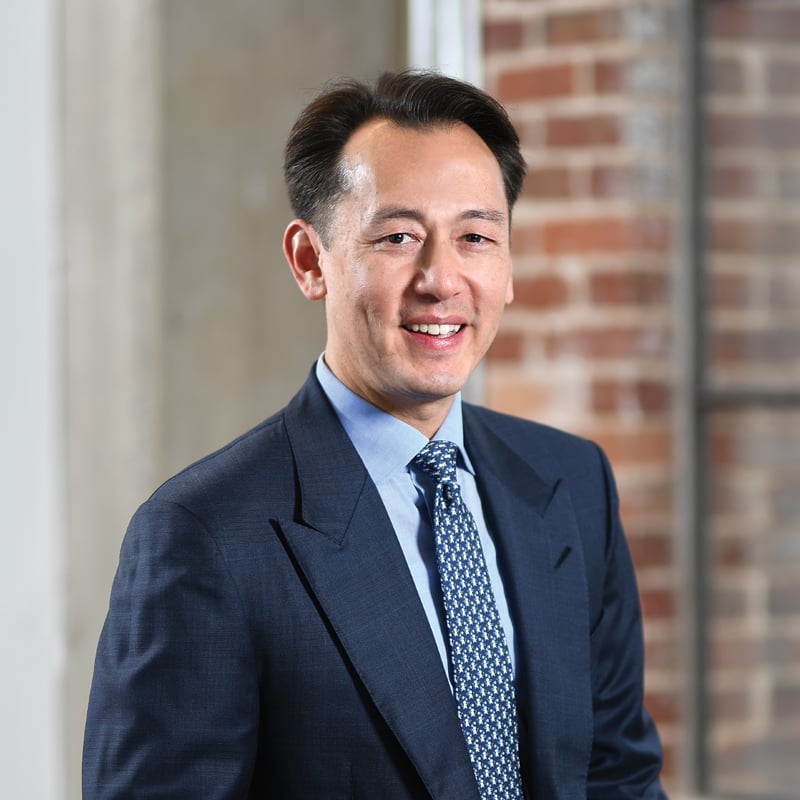 Mailchimp's creation story begins with layoffs, as many entrepreneurial tales do. Co-founders Ben Chestnut, CEO, and Dan Kurzius, chief customer officer, lost their jobs in 2000 and started a web design company that has become a marketing platform for small businesses – which Chestnut calls the "ultimate underdog" – and saw revenues of $700 million for 2019.
"It started with an act of courage," Chestnut, 45, says. "We got laid off. We got severance checks, thankfully, and used that money to start the business. We called ourselves the Rocket Science Group. We still have the name to this day." In fact, that's the name on the sign at the North Avenue entrance to Atlanta's Ponce City Market, where the company is headquartered.
They didn't start out to revolutionize the way small businesses use technology for marketing, but that's pretty much what they have done.
For his leadership, his contribution to Georgia's technology scene and his company's attention to small business, Ben Chestnut is Georgia Trend's 2020 Most Respected Business Leader.
"We were going to be web designers, going to build these new things called websites," Chestnut recalls. "We saw websites and the internet as a great tool for business. At the time, a whole bunch of websites were just flashy and superfluous." They wanted to make them useful.
"We built websites for a lot of firms here in town – the Arthritis Foundation, Coca-Cola, BellSouth, Cingular. While we were building these, we noticed that a lot of our clients needed email marketing – whether they were gigantic enterprises or tiny little restaurants – so we built a little tool on the side just for email marketing."
The tool they developed became one of their most popular. "We said let's make it so they can do it themselves. Our little tool turned into a self-serve app," now categorized as Software as a Service (SaaS), in which a third-party provider hosts applications for customers via the internet.
"We had no idea we were building one of the first SaaS companies on the internet," Chestnut says. "We wanted it to be so easy a monkey could use it." Thus, the Mailchimp name.
"It was meant to be a side business. Because there wasn't a lot of pressure, we were able to kind of have fun with it. The name was funny. The marketing copy I wrote for the website had a lot of monkey business puns. Whenever we had to work on Mailchimp, it was between projects, usually late at night, and we could let the jokes fly.
"In retrospect, the pressure was reduced and we had fun, and we built a brand and it ended up attracting a lot of small business. The corporations tended to self-select away from Mailchimp, but the small businesses really, really love it."
The partners found they liked working with small businesses.
As of early this year, Mailchimp had more than 1,200 employees and more than 12 million active customers, with 14,000 added every day. Its offerings are affordable – available plans range from free to $9.99 per month for "Essentials," to $299 for "Premium." It is still entirely owned by the founders, who have eschewed venture capital and have turned down offers to buy the company. In 2017, Mailchimp was named Inc. Company of the Year.
---
Delicate Balance
Chestnut characterizes Mailchimp as a "weird hybrid" of marketing and technology.
"As founder and CEO, I consider myself a designer – I need to make a tool, any tool, that helps small businesses. We happen to fit into this 'mar-tech' space."
The focus on small business fueled the company's development, but it requires a careful balance between responding to customers' needs and anticipating them. "It is a delicate balance," he says, "because you can't respond to every little thing. With small businesses, they change fast. It's because so many of them churn out, so many fail." (The Small Business Administration reports about one-third of all new small businesses fail in the first two years and half in the first five years.) That means waves of new businesses are constantly entering the market, with new tech needs.
"When we started out, it was all about blogging – 20 years ago it was the new thing," Chestnut says. "A few years go by, it was mobile; a few years go by, it was social. It just keeps changing. We have to stay nimble. That's what our culture's all about: Listen hard, change fast. My cofounder is flying all over the world, interviewing small business customers with our research team. We listen hard to what their problems are.
"We have to keep our technology infrastructure, our stack, flexible for change, so we can change fast. It's counter-cyclical to the enterprise software space – you have really big giant companies like Salesforce, Oracle, Microsoft that are about big business and they'll invent something," often a product or process using artificial intelligence to satisfy a customer's needs, "typically something big and expensive."
That doesn't work for Mailchimp's small business customers. "It's too expensive for them, so you sort of have to wait for that to take hold," Chestnut says. "Small businesses see what the big guys are using, and they start demanding the same thing. Technology starts to trickle down, gets commoditized. When it's ready for small business, that's when we pounce on it. We sort of democratize it for the little guy, make it delightful to use, make it affordable – that's our mojo. That's the name of the game – timing and waiting for the right moment to pounce on it."
The more cut-and-dried aspects of technology notwithstanding, the talking-to- and listening-to-customers part is essential for the company.
"You might see something new like multi-channel marketing," he says. "If you try to say that to a small business, it doesn't make any sense to them. Small businesses speak plain English. They say things like, 'How do I run my business and do all the marketing 24/7? I don't have time for that, don't have the staff.'
"Mailchimp says what you need is an automated solution to do all your marketing on Twitter, Facebook, Instagram and email without you running it. That's plain English for multi-channel marketing.
"We're selling to humans. We haven't forgotten that. You have to understand the pain – there's empathy and pain in running a small business." If you don't get that right, he says, you won't be able to relate to small business customers.
---
Affinity for the Little Guy
Mailchimp comes by its affinity for the little guy honestly. Both founders grew up with small family enterprises. Chestnut's father was in the military, stationed at Fort Gordon; he was raised in the small Richmond County town of Hephzibah, where his mother, who was from Thailand, had her own business.
"My mother was sort of the neighborhood nanny and ran a [hair] salon in the kitchen," he says. "The house was full of customers 24/7. I watched her run the business."
Kurzius' family had a bakery in New Mexico. "Both of our family businesses – they didn't scale," Chestnut says, meaning they didn't grow. "You can see when a small business fails, it impacts the whole family. That's what drives us to help small business scale out of the kitchen."
That empathy is the underpinning for a very distinctive corporate culture – one owners and employees take pride in. It is far more than casual clothes and cool art on the wall. Chestnut describes it as "a culture of change and culture of creativity. That's necessary to serve small businesses because they change so much. When small businesses buy technology, they buy it like a consumer good. So I joke sometimes with employees and say we are less like Salesforce or Microsoft and more like Nike."
A small business can buy Mailchimp for relatively little. "When they buy enterprise software" from a Microsoft-like company, he says, "it might be hundreds of thousands or millions."
A Mailchimp buy, he says, "because it's such a low price point, almost like an impulse buy, we have to stay on trend, have to stay creative. They're buying us because we're cool. Some think we're having fun just for the sake of being fun, but it's for a reason – it's work."
Chestnut says the company's core values, which he defines as "humility, creativity and independence," guide the company's hiring. "We want someone humble enough to realize we're not going to make a perfect product. We're going to constantly have to change. We want people to be humble educators – our job is to educate and empower small business to scale out of the kitchen. We don't want anybody so hoity-toity they say 'Oh, just do it, just do what I say." Our job is to teach somebody working from home how to scale up.
"The creative value is all about an atmosphere here, not like 'artistes' dancing in the fields. It's about constant, never-ending experimentation and tinkering with technology, fast. Tinker with this, tinker with that – when some change happens, pounce on it and assemble all the parts."
Independence, he describes as "being independent-minded enough to speak up when something needs changing for the customer. We never like the top-down command and control. When you serve small businesses, you want flexibility. We want teamwork, don't want lone wolves or contrarians just for the sake of contrarianism. We want team players, but we have to be courageous enough to zag when everyone else zigs. People joke we're an island of misfit toys. Sometimes it can feel that way."
There might even be a little chip on some employees' shoulders, he says, "something that makes them want to help the underdog. That's sort of our underlying purpose – to empower the underdog."
Philanthropy is key to Mailchimp's corporate culture, Chestnut says. Additionally, he and his wife Teresa – they were high school sweethearts – have established a family foundation. Both the company's giving and his personal giving are purposeful.
"With the company, it's aligned with Mailchimp, serving organizations that are smaller, often just like a startup business, going in and helping them build up their organization. We focus in certain areas like considerate urbanism," including transportation options and solutions, civic endeavors and public art, "stopping the cycle of poverty, helping the community. We feel a duty, an obligation to help the community we're in."
The family foundation, he says, is a relatively new journey that they are starting in Hephzibah, where they grew up. "We started in the world of the arts. What we want is for children to build their self-esteem and do that through self-mastery – musical instruments, painting, dance."
---
Growth and Change
Along with its Atlanta headquarters, Mailchimp has locations in Oakland, Brooklyn and Vancouver, selected because "it's where the talent is – great cool little towns where you have a lot of tech, colleges and good coffee shops – a good creative scene. We need creative talent, mixed with technological talent."
Thus, Atlanta's creative scene provides a good base of operations for the company. "We have these big consumer brands here – UPS, Coca-Cola, Home Depot, Chick-fil-A – that attract ad agencies, that attract creative schools like Portfolio Center, Creative Circus, SCAD. That just creates this great place to attract all these creative workers."
As far as additional locations, "I wouldn't say we are actively looking, but I would say we are actively open-minded. Younger workers want the flexibility to move around, live life in different cities. We like the idea of lots of locations. So, baby steps. We're not VC-funded, so I can't just go buy up all these spaces around the world and hope it pays off later. I have to pay bills."
In the marketing world, 20 years, the company's lifespan, is a long time. "A lot of things change, but so many stay the same," Chestnut says. Technology is the obvious overriding change: social media, mobile, ever-expanding platforms like Facebook and Google. "To me, tech going mainstream is a great opportunity, because all the complicated stuff gets out of the way and everyone can use it."
Keeping Mailchimp customers in mind, he says, "The thing that stayed the same is the need for small businesses to really develop their brand. Be different from the others, stand out and tell their story. Customers fall in love with your brand and who you are and what you stand for. That's becoming more and more important to differentiate yourself.
"Companies that start online first tend to do better, can take advantage of new technology a lot faster. If you start offline, start investing in point-of-sale solutions that are offline – you might do well but, boy, are you going to have a hard time integrating that with online. People who start online just hit the ground running."
---
Work-life Balance
Time with his family is important to Chestnut; he and Teresa have two elementary- school-age sons. He says work-life balance has always been a goal, even though the definition may have changed over the years.
"It's what I always wanted. I always kept that front and center. I worked very hard in the early days. In my 20s I probably would have considered staying up to 2:00 a.m. very balanced. What's so hard about that? Eating ramen noodles and almost nothing nutritious – totally balanced.
"My wife was a nightshift nurse at Grady, and that was fortunate because she could pay the bills in our startup years. She was our health insurance plan. It also meant late at night I had no one to talk to, so I might as well just work. That created its own kind of balance. Nowadays, I'm just trying to balance work with family time and fitness." Thus, fewer ramen noodles, more walks on the nearby BeltLine.
Chestnut has the air of a man who gets up each morning looking ahead to his workday. Going forward, he would like to see company revenues reach the multi-billion-dollar mark – a goal within reach. He sees great potential for continuing to work with small businesses.
"Small business is tremendously underserved. Available help is fragmented. There is the potential of being a Microsoft or Salesforce for small business. That never used to be possible, because technology costs so much. A small business would have to string together five or six different tools from different companies. Now we are getting to the place we can actually make it one tool. They can start their business with us and run their business with us. It's getting there."
After two decades, he says, the business still feels fresh. And he is ready for all that comes next. "There are many more growth curves coming."