Trendsetters: Wooden Wonders
Silvan Guitars crafts custom instruments that are as unique as the people who play them.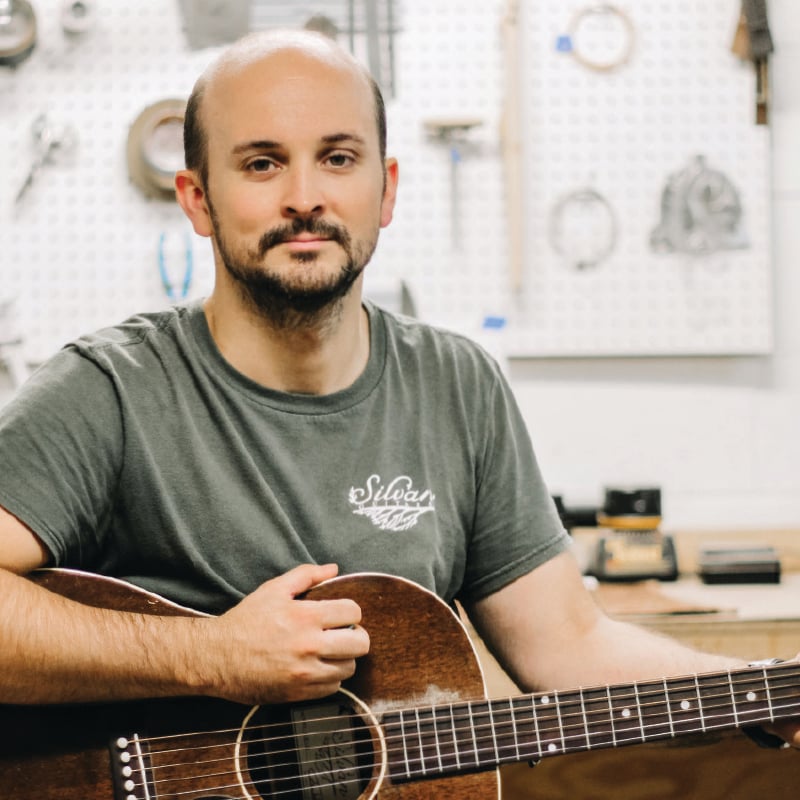 Frank Schley IV has a deep appreciation for wood. Maybe it's because his family owns a sustainable spruce and maple forest in Maine. Or it could be his training as a luthier in Athens that led him to understand how the properties of different woods affect a musical instrument's sound.
Whatever his initial motivation, Schley has transformed his affinity for fine wood – and his musical ability – into crafting custom acoustic and electric guitars that not only sound spectacular, but are beautiful and comfortable to play. He's the owner and master luthier for Silvan Guitars, based in Columbus. For the past five years, he's spent his days practicing his old-world-style craft while marketing it via 21st century social media.
"I need social media to get the word out," he says. "But people need to come in and put their hands on my instruments to really understand the quality difference."
The quality begins with wood that's individually selected based on the tone each customer is seeking. From there, Schley designs the neck shape, body size and special embellishments, like inlays or trim, that make each guitar unique. He says about 90% of his work is custom, and the remainder are spec guitars that he likes to have musicians play in music venues so they can provide feedback.
He got his start in the business working with a partner to produce what they called Damcaster electric guitars. Styled after Fender Stratocasters, the Damcasters were made from wood that was salvaged when the dam across the Chattahoochee River near Columbus was removed in 2012.
According to archeologists he consulted, "Those trees were born in the 1400s and cut down in 1856 for the dam," he says. He procured a bunch of the tight-grain, heart pine that had
been preserved under water for 150 years and used it to craft the Damcaster, which enjoys some notoriety among musicians.
When the Springer Opera House was renovated in the 1990s, several wood beams were saved. Schley was later able to convert them into guitars that incorporated other design elements reminiscent of the historic venue.
He's also created his Renaissance Series of acoustic guitars, which are instruments from the '20s through the '60s that he refurbishes. Even though these were originally inexpensive guitars, he says the wood is really good. Customers like the guitars' vintage look and their more economical price tag.
He estimates a custom acoustic guitar takes about 120 hours to finish, compared to 40 hours for an electric model and about a week for the refurbished instruments. Accordingly, base prices – without embellishments – range from $1,600 to $4,000.
"I don't like to build guitars for people, I like to build people their guitar," he says. "In an ideal world, I'd build a guitar for someone that they'd never want to sell."