Four for the Future
Public-private partnerships are strengthening communities across the state.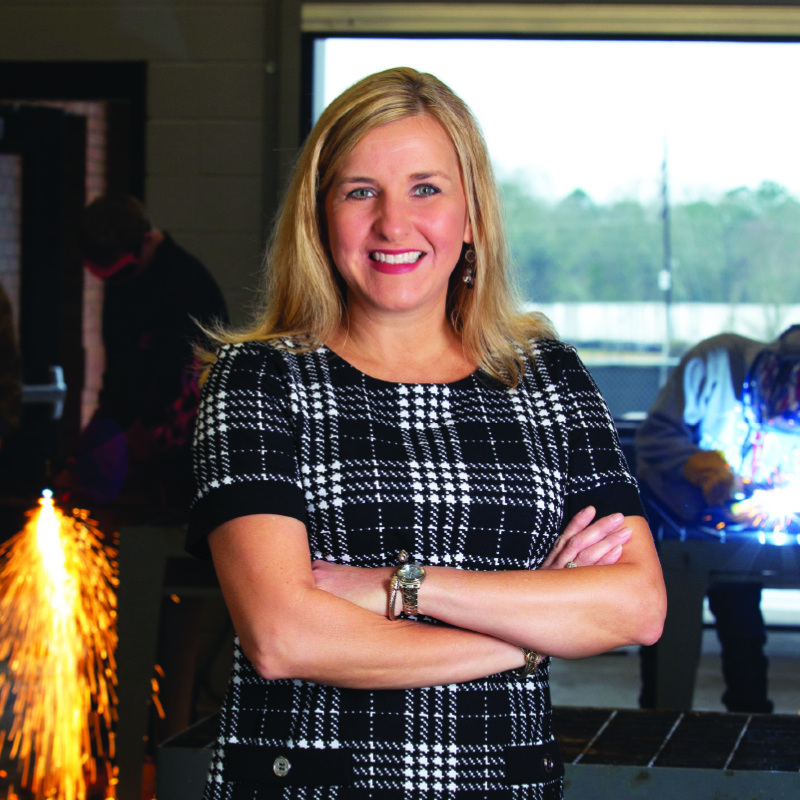 From apprenticeships and downtown revitalization to leadership and student development, the University of Georgia's (UGA) Public Service and Outreach (PSO) division has helped with projects in communities around the state that bring solutions to pressing problems, especially where local expertise and funds aren't available.
"It is our land- and sea-grant mission to take the vast resources of the University of Georgia into communities throughout the state to help create jobs, develop leaders and address critical challenges facing those communities," says Jennifer Frum, PSO vice president.
For the eighth consecutive year, Georgia Trend and the PSO are highlighting four communities for their efforts to improve residents' lives through public-private and nonprofit collaborations. This year we spotlight McDuffie County, Loganville, Copper Basin and Cobb County.
"The four communities here are great examples of the success of public-private partnerships, and there are so many more that are yielding positive results in workforce development, education and healthcare, among other things," says Frum.
---
McDuffie County
Cultivating a Workforce
McDuffie County's Thomson High School was one of the first high schools in the state to implement an apprenticeship program, says McDuffie County School System Superintendent Mychele Rhodes. The school paired students with local businesses to give them practice in the field before graduating and entering the workforce.
But by 2018 – more than 20 years after its first students enrolled – the program had faded. Student participation was down, and, worse, local industry leaders were largely unaware it existed.
Luckily, McDuffie County had recently teamed with the Archway Partnership, a PSO unit that brings local leaders together to address community and economic development needs.
"This was the perfect time for us to look at the apprenticeship program and determine ways that we could make that program work better, both for our students and our businesses," Rhodes says.
A work group of members from the McDuffie County School System, the Thomson-McDuffie Chamber of Commerce and local industry decided to rebrand the program, upgrading its name from just "the apprenticeship program" to JumpStart.
The school system made videos to introduce and explain JumpStart to local students and businesses. And Thomson High School held career expos, giving students opportunities to meet with local recruiters and gain experience presenting themselves professionally.
"One of our large goals was to focus on education and workforce development," Rhodes says. "We have several large industries here, and we wanted to be able to branch out to those."
This focus has culminated in new areas of study, or pathways, for students. A cybersecurity pathway was introduced three years ago in response to a growing workforce need at nearby Fort Gordon, and a welding pathway, spurred by a need for skilled welders at the Plant Vogtle expansion, rolled out with the 2019-2020 school year.
The welding pathway's introductory class already has 107 students who will learn in a state-of-the-art metals lab, built with $177,000 in grant funds from the Georgia Power Foundation, Jefferson Energy and the state of Georgia. The pathway's first class of 20 will graduate this May, Rhodes says.
Other pathways include finance and careers, early childhood education, business management and administration, digital design and web design, healthcare science, automotive, construction, agriculture and STEM (engineering, drafting and design), among others.
"There's both opportunity for our students who may decide to pursue a four-year degree following high school or those students who may decide to remain here and go directly into the workforce," she says.
Nearly two years after the rebranding, participation is up – from students and businesses alike. Thomson High School's four-year graduation rate is the highest it's been in several years, says Rhodes, and those graduates are better prepared to enter the local workforce.
"[The steering committee members] all recognize the need to continue to develop our workforce and improve the overall stability of our community, and each of those partners as well as our chamber of commerce have taken [to that idea]," Rhodes says. "We've just continued to move forward, and I see a lot of really good progress."
---
Loganville
Hearing from Students
When Sean Callahan joined Loganville's Walnut Grove High School as principal in 2014, he felt something was missing. It was a great school, but it lacked a clear, engaging culture for the students. They didn't feel a part of the school itself.
He spent his first year talking with students about what they wanted to change. In the end, it was clear to him that what they wanted most was to feel like they made a difference.
"They wanted a voice," he says.
So, Callahan and Walnut Grove High School staff went to work to give their students a voice. They landed on creating a student steering committee and steering board where students could learn leadership skills and work together to create the changes they wanted to see in their school. In researching how to take it from idea to reality, Callahan's team found UGA's J.W. Fanning Institute for Leadership Development.
Over a six-week period, Callahan's team and the Fanning Institute worked together to hone the purpose of the committee. What did they want to accomplish? What did they want it to look like? What did they want their students to learn?
The committee structure they debuted in September 2015 was basically the same as it is now: a semester-long leadership training program made up of modules addressing different aspects of leadership, supported by a board of students who have previously completed the training.
"The four or five modules that we've got in place now really address how we want kids to conduct themselves and how we want kids to think when they look at developing a plan," says Callahan. "We want kids to understand what kind of leader they are. We want kids to understand how they facilitate working with each other."
Students are nominated for the committee by their teachers, and each cohort must complete a legacy project each year. Past legacy projects have included Warrior Day, a field day event for upperclassmen; Everyday Warriors, a weekly student recognition program; and the creation of the Walnut Grove High School esports team, which competed in the state playoffs this year.
Those aren't the only changes, Callahan says: Discipline is down about 30%. The four-year graduation rate rose from 78.3% in the 2013-2014 school year to 93.6% in the 2019 school year. And attendance rose from nearly 77% to 84.2%, an increase mostly seen in at-risk students who struggled in school.
"Everyone feels they're a part of this whole process, and it has made all the difference," he says. "It's one of those outlying things that you do that affect every other aspect of your school, academically, behaviorally, in attendance. It just goes on and on.
"That's the one thing that we have taken away, that, 'Wow, why haven't we done this for many years?' We just get too wrapped up in what test scores are, and what this is and what that is, which is important. Not saying that it's not, but don't forget the child and what they can give back to that whole process, too."
---
Copper Basin
Boom Town
The Copper Basin of the 1850s, at the junction of North Georgia and East Tennessee, looked very different than the Copper Basin of the 1990s. Where there were once booming copper mining towns, the mines' closings in the 1980s led to shuttered businesses and an unclear future.
"When the mines closed, the town really just dried up," says Zachary Welch, senior vice president at United Community Bank in McCaysville and chair of the Copper Basin Renaissance Strategic Visioning and Planning (RSVP) Committee. "The town was really starting to look its age."
But it had potential. McCaysville, separated from sister city Copperhill, Tenn., by just a river and a bridge, had long served as the end stop for two scenic railways that bring nearly 100,000 tourists to the town each year. Welch and a group of passionate community members jumpstarted revitalization efforts, starting with adding park benches to the downtown, before taking on a city park expansion and revamped welcome center.
Meanwhile, Speaker of the House David Ralston (R-Blue Ridge), whose district includes McCaysville, and his Chief of Staff Spiro Amburn also recognized the potential in this former mining community. Amburn reached out to the Georgia Downtown Renaissance Partnership's RSVP program to help unify the community's efforts.
"This just seemed like the perfect opportunity to partner with a local community and put a mechanism in place where you could build partnerships, collaborate and just put a team together that could put together a vision for the growth in downtown," Amburn says. "The passion, energy and desire were there from the community. They just needed a roadmap."
A 14-member steering committee of elected officials and community leaders from three towns – McCaysville and Copperhill plus nearby Ducktown, Tenn. – worked together to give the RSVP team the input it needed to create a strategic plan for the combined community as well as a cohesive brand.
"This was the first-ever multistate, multi-city RSVP, and it was also the first time that we incorporated branding into an RSVP," says Danny Bivins, senior public service associate at UGA's Carl Vinson Institute of Government, a partner in the program. It was also completed without any tax funding; a $55,000 grant from the Chattanooga-based Lyndhurst Foundation supported the group's efforts.
The Copper Basin's new branding is true to the community while allowing room for growth. "We are about tourism up here a lot, but that's not the main thing where this is concerned," says Jan Hackett, president of the Fannin County Chamber of Commerce. "It's to keep the feel and the culture of the community intact and work with it rather than try to change everything."
Yet change is inevitable. New shops and restaurants line McCaysville's riverfront, and "Made in the Basin" tags adorn souvenirs. The Copper Basin of the 2020s will look nothing like the Copper Basin of the 1990s.
"There's been a tremendous amount of change. The stars lined up for our community with so many different people that were on the same page but didn't know that they were on the same page," says Welch. "[There are] a lot of great things to come in the future for our town, and it's just exciting to see that transpire."
---
Cobb County
A Committed Relationship
Now entering its 35th year, Cobb County's Executive Competence, Excellence and Leadership (EXCEL) program is the Carl Vinson Institute of Government's longest continuous-running management development program.
Born out of the county's exponential growth in the '80s, the program served as a way to set expectations for the county's management team and teach supervisors how to manage their teams, projects and budgets for more efficient use of resources and better service delivery for county residents. Now, it's a valuable tool the county uses to make sure its supervisors and managers are well trained and current on best practices.
"It's definitely much more than a classroom management, one-on-one type program," says Glenda Valentine, HR manager of learning and development for Cobb County. "It really covers a wide variety of areas and gets folks out in the community."
Offered every other year, the EXCEL program's three levels are completed over a 10-month period from January to October. Level one teaches self-awareness and basic leadership styles. Level two expands into team development and management, culminating in a group community service project. Level three covers organizational improvement and challenges participants to identify their own process improvements, either in their department or the county at large.
Cobb County is responsible for handling the logistics of the EXCEL program, but the Carl Vinson Institute provides the instructor and course materials, which it reviews and revises continually to stay fresh and relevant as needs change.
And over 35 years, needs have changed. The program now incorporates coaching – both teaching managers how to effectively coach their employees and offering program participants themselves coaching on specific points – as well as fostering dynamic management.
"Our approach to management and how we interact with employees is different now than it was back in 1985. Now, it has to be more of an interactive process. That's also demonstrated in the topics that are covered now in the class, even the creative and analytic problem-solving," says Valentine. "I think we might have had problem-solving as a topic for a long time, but now we focus, too, on the creative part of it, because we need people to be more innovative when it comes to work and how we do things."
Over the years, EXCEL participants have introduced a new Cobb County intranet platform, a wellness program, an enhanced time and attendance system, and even Marietta's annual Make-A-Wish 5k. Its 2019 class rehabilitated an Austell Boys & Girls Club's community room and teen resource center, updating them with new paint, flooring, lighting and furniture.
The 28th EXCEL program will kick off in January 2021, and Valentine looks forward to partnering with UGA again for another successful program.
"We feel really fortunate to be able to have partnered with UGA and the Carl Vinson Institute for this amount of time," she says. "That's what's made it so enjoyable, at least for me, is that you do feel like you have a true partner in the program and that you both have the best interest of the program and the participants [in mind].