Changing Lives
New leadership within Georgia's technical college system is focused on future opportunities for students, businesses and communities.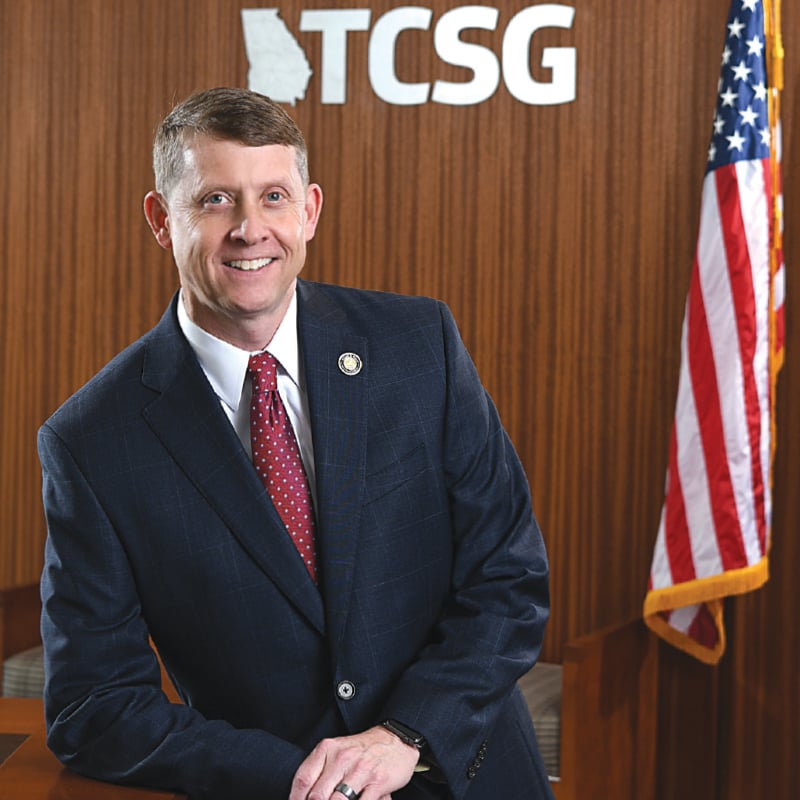 The 22 colleges that make up the Technical College System of Georgia (TCSG) provide state-of-the-art training in 600 associate degree, diploma and certificate programs along with English language skills and high school equivalency diplomas. These offerings make TCSG institutions a top resource for businesses seeking skilled workers locally. The system also excels at giving students pathways to careers in which they can earn good wages and become successful.
Within the past year, TCSG has had an influx of new leaders at the college and top levels. Greg Dozier, formerly Gov. Brian Kemp's chief financial officer, took over as TCSG commissioner on Jan. 1.
"I've found in my first days on the job that TCSG is one of those touchpoints in the community that's changing lives, especially in workforce development and touching families and giving them opportunities," Dozier says. "But also, [TCSG is] playing that part in [bringing] businesses to the state."
Along with Dozier, four technical colleges have new presidents. They are:
Jim Glass at Southern Regional Technical College, with 5,000 students and campuses in Thomasville, Moultrie, Tifton, Bainbridge, Blakely and Cairo
Erica Harden at Oconee Fall Line Technical College, which has 1,800 students and campuses in Sandersville and Dublin
Heidi Popham at Georgia Northwestern Technical College, serving nearly 7,800 students on campuses in Rome, Calhoun, Dalton, Ringgold, Rockmart and Rock Spring
Martha Ann Todd at Columbus Technical College, which has about 3,400 students and a main campus in Columbus
In getting to know the four, Dozier says, "They come with a wealth of experience and knowledge in what they've already done in the state. [They have] such a desire to make sure we're aligned locally, but also statewide, to make sure the skills gaps are being met, and we continue to attract those businesses."
The four new presidents have seen much growth and many changes during their average 20- to 30-year tenure with the system and the state department of education. Growth has come in the form of increasing enrollment, campus expansions and the addition of more programs aimed at fulfilling business and industry needs.
All four agreed that students these days are younger and more diverse than those who attended technical colleges in the past. Much of the shift is due to the popularity of dual enrollment, where high school students take courses at technical colleges for credit toward a post-secondary degree, diploma or certificate.
Industries' changing requirements are contributing to the evolution of technical college offerings. "We've got to focus on that middle skills gap," says Dozier. "According to the National Skills Coalition,
55 percent of our labor market [in Georgia] requires middle skills training – that's someone who needs more than a high school
diploma – to match the labor need. Today we have only 43% trained at that level. At TCSG, we have to close that gap."
---
Workforce Commitment Continues
The technical colleges' mission hasn't changed over the years – the aim is to be the go-to institutions for developing a skilled workforce.
"For Georgia right now, I hear every day that workforce development is the No. 1 issue," says Oconee Fall Line Tech's Harden. "I've felt for 30 years that we are the answer to that question. When people think about workforce development, I want us to be at the top of their mind."
Examples are plentiful of workforce development partnerships with businesses, local chambers of commerce, K-12 school systems and development authorities. Southern Regional Tech is creating a specialized lab on its Bainbridge campus for gun manufacturer Taurus and other companies in the area. The lab will teach computer numerical control (CNC) routing, which can cut a variety of materials such as wood, steel, plastic, aluminum and glass. Students learn programming to operate the CNC routers in manufacturing operations.
In addition, Glass says Southern Regional is beginning a tool and die program for Check-Mate Industries, a tool and die, stampings and assemblies manufacturer in Thomasville. Both programs should be ready for students this fall. "We're very committed to taking care of our businesses," says Glass. "I want to be at the table with every development authority in all 11 counties when a new business is coming to town."
In Dalton, where floor covering is king, Georgia Northwestern Tech developed two certificate programs that started in March. "The flooring and carpet industry came to us and asked about a training center and a program that would focus on the entry-level flooring production operator and flooring production technician," Popham says.
"Everything came out of that industry," she says. "They worked through all the competencies and developed the program." It will help to build a pool of entry-level workers to operate tufting, twisting/cabling and extrusion machines at salaries of $15 to $20 per hour.
"We have some [other] exciting things happening," Popham adds. "One is growing skills training with the Department of Corrections."
Starting this spring, Georgia Northwestern Tech is piloting a welding training project with Floyd County Prison in Rome using one of TCSG's mobile welding labs. It's a 135-hour certificate program. Individuals who participate will be up for parole in six to 12 months, and 14 students will be in the pilot group. "We're excited about growing that partnership and providing skills-based training and learning opportunities with the Department of Corrections," Popham says.
Columbus Tech has worked with Pratt & Whitney on a program that enables high school students to receive paid internships at the company that can lead to full-time jobs.
"We have a partnership with the Jordan Vocational High School's College and Career Academy and Pratt & Whitney where we do the training at the high school. Once [students] have completed training as certified production specialists in manufacturing, they're eligible to apply for internships with Pratt & Whitney," says Todd. "We have 15 placed this semester. If they successfully complete the internship, they can compete for open positions. In the last [few] years, 70 to 75 have been hired."
---
In-demand Programs
Workers in welding and healthcare are some of the most needed across the state. The new presidents say their course offerings to address these needs are among the most popular – and often filled to capacity. However, workers in a variety of other areas are also in demand.
"We have one of the only programs in the state in major appliance repair," says Todd, referring to industrial systems training in which students learn how to repair HVAC systems, refrigeration systems and high-end household appliances.
At Georgia Northwestern Tech, Popham says industrial systems has been a very popular program, but the college heard from its community business partners that they needed more concentration in automation engineering technology. "That program prepares students to design, implement and troubleshoot automated industrial processes," she says. "[It] was at full capacity the moment we started accepting new students [last fall semester]."
Glass says electric membership cooperatives (EMCs) in South Georgia told him of the need for additional line workers, and foresters said they needed more help with harvesting. "We're right now working with EMCs and other companies to start an electrical line worker program and a timber harvesting program," says Glass. These are new programs for the college, and he says the goal is for both to be operational this year.
Oconee Fall Line Tech has introduced a mechatronics program, which is a combination of mechanical systems, electronics and robotics. The college just recently began an area of study that covers the whole gamut of diagnostic imaging, including radiologic technology such as MRI, computed tomography (CT scans) and sonography (medical ultrasound).
Construction management is another huge need the school is responding to by starting classes this fall on its Dublin campus. "Local contractors are clamoring for more construction managers," says Harden. "We're working with our high school partners, students and parents to get people to understand the value of those jobs."
Value – in both jobs and education – is something all four presidents enthusiastically promote.
Technical college education offers tremendous value," says Todd. "It's greatly affordable, and there are opportunities for funding. We have one of the lowest tuition rates, and the jobs we train for are jobs that pay good wages. Students can come here for a year or two and get skills that allow them to make $38,000 to $65,000 a year, depending on the program." She adds that students can build these jobs into careers that will sustain them and their families, and allow them to become contributing members to their communities.
Many people may not realize that a technical college education comes with a warranty – it's a state policy. "If a student graduates from our program and they go to work, and an employer says, 'you don't have quite the skills I think you need to have,' then we'll retrain them at no cost to the employer or the student, and that's up to two years after graduation," says Harden.
"When you boast a 99% placement rate, a technical college education is where it's at," says Glass. "We train people to go to work, and we get them jobs."
---
Looking to the Future
"We all know technology changes every day and we've got to stay nimble," says Dozier, "and I think that's what the new faces and our veteran folks will bring to us. The challenge is in making sure we see the job needs ahead of them getting here."
Many of the needs he's referring to require extensive digital skills.
"The biggest area we're developing over the next year will be [in] the area of computing," says Todd. "Cloud computing, cybersecurity, FinTech and building advanced robotic training. We work closely with Fort Benning, and robotics is one area they're interested in."
In fact, TCSG is rolling out its Cloud Academy this spring at Columbus Tech and Gwinnett Technical College. Dozier says the program will provide students and information technology workers with the most up-to-date training in cloud computing.
Technical colleges' high-tech focus extends to the way they deliver courses. Through a grant received last year from the U.S. Department of Education, Georgia Northwestern Tech is purchasing telepresence technology that will be used for low-enrollment classes. The equipment combines digital video and networking technology to enable remote individuals to interact as if they were in the same classroom with an instructor.
"Telepresence equipment allows students to connect with a larger campus that's offering the class," says Popham. "We're purchasing the equipment and installing it now on the first two campuses. Over three years, all six campuses will have at least one classroom that has a telepresence.
"In many instances, [we have] lower-income students who can't travel outside the communities they're in," she says. "This way they will be allowed to stay on their local campus and complete a program and become a college graduate."
The system is also working to help out-of-school youth and adults who don't have a high school diploma earn a high school equivalency (HSE) credential. TCSG is piloting the Career Plus HSE program that enables students to combine previously earned secondary school credits, completed portions of the GED exam and technical college credits to earn the credential from a participating adult education provider. A flexible program that's customized to the individual, Career Plus will fill gaps from prior high school or adult education classes with specially designed technical college courses. This year, five TCSG colleges will participate in the pilot, including Columbus Tech.
"We focus on student success and workforce develop-
ment, and that's ever changing," says Popham, "so we are ever changing."
---
Developing Pathways
The Technical College System of Georgia (TCSG) supports 49 College and Career Academies (CCAs) throughout the state in which more than 30,000 high school – and sometimes middle school – students are enrolled. Typically, CCAs are located within high schools.
"The career academy is a special school that formalizes a partnership between K-12, post-secondary entities and the business community to focus on workforce development and connecting high school students to a pathway for future careers," says Mark Peevy, TCSG assistant commissioner of secondary education initiatives. "It's a focus on understanding the needs, skill sets and types of careers available in local communities and developing the appropriate pathways that will help students plug into those."
Peevy says the state's CCAs have spawned many success stories over the years. Specifically, he cites the Central Education Center in Newnan, one of the first CCAs established in the early 2000s. It unites Coweta County Schools, West Georgia Technical College and local businesses.
"There are a number of German companies [located in Coweta County] that were looking for opportunities to develop apprenticeship programs," he says. "They worked with the career academy to build a model that allows students at 15 to 16 years old to develop hands-on and technical skills to go to work directly [upon graduation]. It's been a great success and now turns out 15 to 20 students a year.
"All the career academies are doing similar things," he says. "It's centered around the idea of connecting students to what's next so they have an idea of where they need to be headed once they graduate high school."
Within the past two years, TCSG has awarded grants to help establish six new CCAs:
Fitzgerald High School CCA, in partnership with Ben Hill County Schools and Wiregrass Georgia Technical Colleg
Empower CCA, which unites Lanier Technical College and Jackson County Schools
Jones County High School CCA, partnering with Central Georgia Technical College and Jones County Schools
Ignite CCA, aligning South Georgia Technical College and Sumter County Schools
From Here to Career CCA, in partnership with Georgia Northwestern Technical College and Catoosa County Schools
Jordan Vocational High School CCA, which works with Columbus Technical College and Muscogee County Schools
Peevy says the CCA concept has "really picked up steam in the last few years," and he anticipates the trend will continue. "Career academies are the right answer to develop the local workforce to meet local needs."