Shifting Sands
Look for lots of hot-button issues to pop up in the current session. Plus, a list of state officers, legislators and the congressional delegation.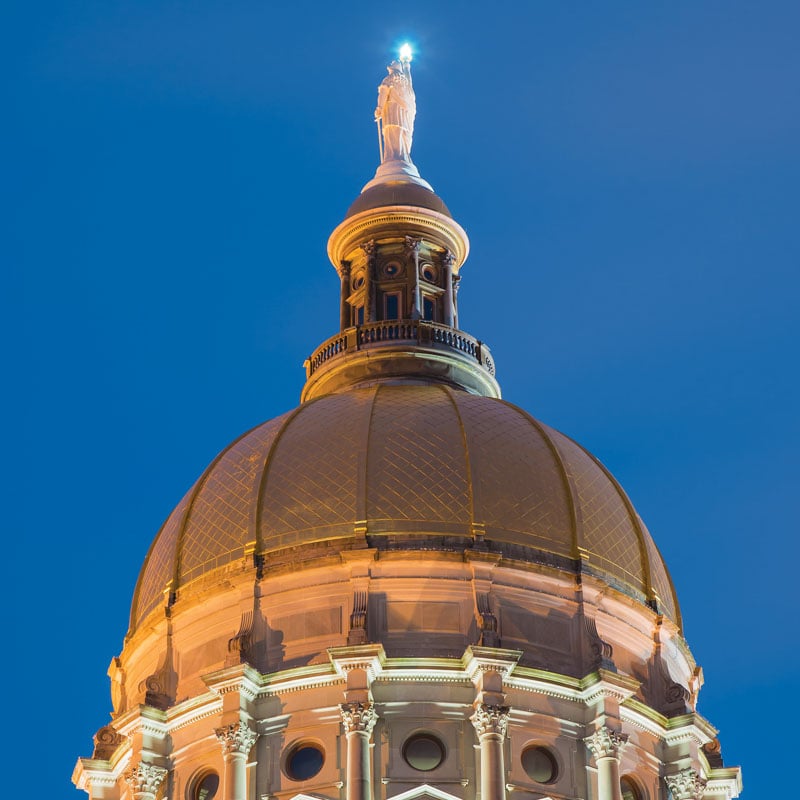 We are proud to present the Georgia Trend 2020 Legislative Guide, our indispensable guide to lawmakers convening in Atlanta to hash out the state's laws and finances. This will be Georgia's 156th session of the General Assembly, which is one of the largest state legislatures in the country.
The General Assembly's 236 members are elected every two even-numbered years and have no term limits. The 56-member Senate confirms governor appointees, while the House of Representatives, which has 180 members, writes appropriations bills.
This year's session began Monday, Jan. 13. Each session can last no more than 40 legislative days. Neither the House nor the Senate can adjourn for more than three days without the other's consent. A quorum of a majority of members of both chambers is required to transact business. Bills have a two-year lifespan, but that doesn't stop them from re-emerging as new bills with the same intent, which explains why gambling and tort reform never go away.
Constitutionally, the General Assembly is required to pass the next year's state budget. But there is plenty of trouble to get into as well. While there are limitations, the General Assembly has constitutional power to make laws as long as they are "not inconsistent with this Constitution, not repugnant to the U.S. Constitution, and necessary and proper for the welfare of the state." These laws include land use restrictions to protect the environment, the power to expend public money and condemn and zone property, coordinating emergency response, controlling outdoor advertising and supporting state tourism.
Study committees, where bills are born, have recently included issues such as regulating short-term rentals, cultivating medical cannabis, the operation of professional licensing boards, hospitals' Certificates of Need and overseeing the Atlanta airport.
Hot-button issues this year may include Medicaid expansion, ways to address Georgia's nation-leading maternal mortality rates, "common sense" gun safety bills, updating guest worker programs, e-scooter regulations and environmental cleanup of contamination in Georgia's waters. Look for some of Gov. Brian Kemp's priorities to trickle down into the legislative session as well, including tougher penalties for violent offenders, more resources to crack down on gangs and changes in state law to ease the foster children adoption process.
There's also the mandate by Gov. Kemp to trim the state's budget by 4 % (and 6% in 2021) – and the ensuing debate regarding making changes to the state's film tax credit program, which amounts to roughly 3% of the current state budget. The tax credits have grown from $141 million in 2010 to roughly $870 million in 2019 and have made the state the most popular filming site in the world. A recent state audit, however, stated those numbers may be overblown.
Rural voters will be watching for funding to incentivize rural broadband and workforce initiatives.
Last year was the first year of Gov. Kemp's term, and 2020 could be the last time a Republican majority controls both chambers. While the state made eye-popping headlines with its conservative legislation in 2019, whether or not this election year is one of concessions to changing Georgia demographics remains to be seen.
Certainly national politics will bear upon us in 2020. Proceed with caution and good luck. – Ben Young