Heart to Heart
Health professionals say it's time for more discussions about heart disease in young women.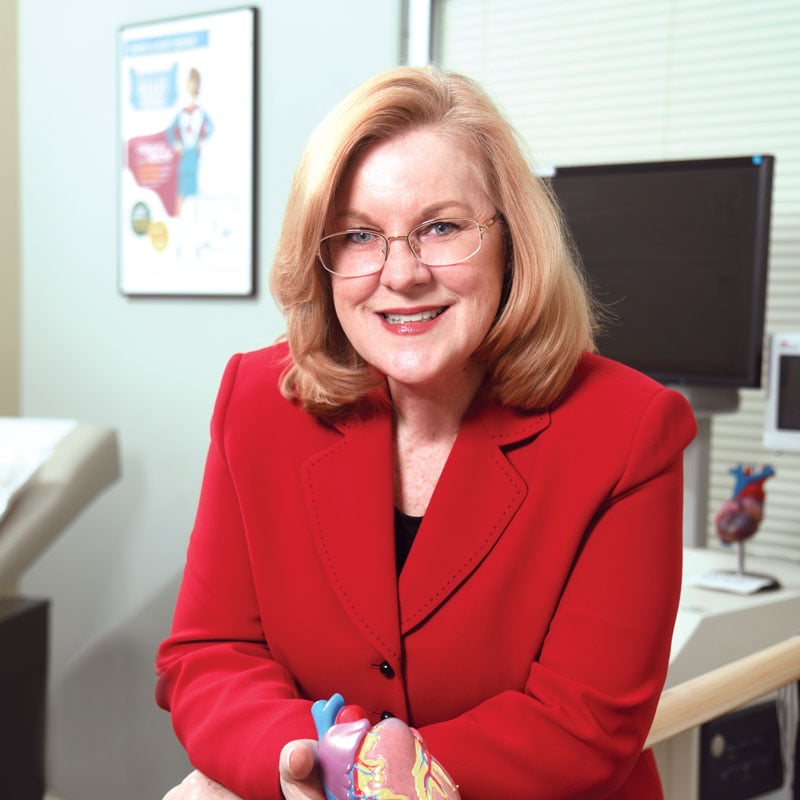 Heart disease was once thought of as a man's disease or an older person's disease. But recent research confirms it is both of these – and a whole lot more.
A large, multistate study published in the November 2018 edition of the American Heart Association's journal, Circulation, found that while the rate of heart attacks among 35- to 74-year-olds as a whole has declined in recent decades, the percentage of younger people having heart attacks is increasing. And the greatest increase is in young women.
This increase is disturbing to health professionals, including Ninfa Saunders, president and CEO of Navicent Health in Macon, who lost her 49-year-old sister suddenly and unexpectedly to a heart attack 15 years ago.
"My sister's death propelled me into a different level of awareness and call to action," says Saunders, who brought the American Heart Association's Go Red for Women – a national campaign to end heart disease and stroke in women – to Central Georgia in her sister's honor.
The program promotes awareness among women, but also delivers a much-needed message to their medical providers. For each woman diagnosed with a heart attack, there are likely many others whose heart problems have been dismissed or whose heart attacks have gone undiagnosed because their symptoms weren't typical or because they didn't fit the profile of a typical heart attack patient. (See "Heart Attack Symptoms in Women".) As a result, many did not receive evidence-based treatment to reduce their risk of first or subsequent heart attacks, says Dr. Gina Price Lundberg, clinical director of the Emory Women's Heart Center in Atlanta and a preventive cardiologist.
"Not only are we letting them have more events, but we are treating them less adequately," says Dr. Lundberg. "I think there is sort of this bias, … particularly if the person is a thin, attractive woman," she says. "But just because a woman looks healthy on the outside doesn't mean her arteries are clean on the inside. I think we do women an injustice by saying 'you look healthy, you will be OK.'"
Perhaps equally, if not more concerning to Lundberg and others, is increasing research showing that heart disease in women of any age is often due to factors that could have been modified when they were younger. "We believe that about 80 percent of cardiovascular deaths in general are preventable," she says.
This message should be a wake-up call to providers who treat women of all ages as well as women themselves and those who love them.
---
Why Women?
Of the many factors that increase heart disease risk, two, ironically, are ones unique to young women: pregnancy and childbirth.
Pregnancy puts stresses on the body that, in the worst cases, can prove fatal. According to the United Health Foundation's America's Health Rankings, Georgia had the third highest number of maternal deaths of the 50 states in 2018. Maternal death is generally defined as the death of a woman while pregnant or within 42 days of the end of pregnancy from any cause related to or aggravated by the pregnancy or its management.
The vast majority of maternal deaths are related to cardiovascular disease, says Lundberg. They include hemorrhage; blood clots; cardiomyopathy, a disease of the heart muscle itself; preeclampsia, a complication of mid to late pregnancy characterized by high blood pressure along with signs of damage to another organ system, such as the blood, liver or kidneys; and eclampsia, the development of seizures in women with severe preeclampsia.
But maternal deaths are just one appalling part of a much larger and often preventable problem. For every new or expectant mother who dies of a cardiovascular-related cause, another 70 suffer a severe cardiac event that lands them in the internsive care unit or an extended hospital stay, which can be devastating to their families, says Dr. Lee B. Padove, director of maternal cardiology at Atlanta's Northside Hospital.
Padove made maternal heart health his mission in the mid-1990s while caring for a new mother who had suffered a heart attack and realizing there was little information and training in pregnancy and heart disease to help him or others who cared for women like her.
Today, at Northside's Maternal Heart Health Clinic, he works with women identified as at risk for heart-related problems after delivery. At the clinic, high-risk women receive an evaluation and an individualized program of lifestyle modifications to help reduce heart disease risk.
The program recognizes that even for women who suffer no immediate effects of heart disease, seemingly temporary problems that arise during pregnancy – including hypertension of pregnancy, gestational diabetes and preeclampsia – can sometimes set the stage for problems down the line. For example, women with preeclampsia as a whole have slightly over twice the risk of developing coronary artery disease later in life, but among those who have severe preeclampsia – developing after 20 weeks of pregnancy – the risk of later heart disease is increased six to seven fold, says Dr. Padove.
"All of a sudden you move [heart disease] up three or four decades. Ten or 20 years after childbirth, you are talking about women potentially in their upper 30s, but usually in their 40s and 50s, getting heart disease."
Decreasing these risks requires both good prenatal and peripartum care. It also requires a recognition of factors that put women at risk and a commitment by women and their providers to modify the risks they can.
---
Risk Factors Are Rising
Many of the risk factors for heart disease disproportionately affect women, and the stresses of pregnancy and childbearing aren't the only ones that play a role. Emotional stress can also take a toll on the heart.
In the most dramatic cases, a traumatic event – such as the death of a loved one or being in a car accident – can cause acute cardiomyopathy, or disease of the heart muscle, says Dr. Catherine Norton Marti, a cardiologist with Piedmont Athens Regional Medical center. But a more common culprit may be the kind of lower-level stress many women experience each day – i.e., working, caring for children and/or aging parents (sometimes both), keeping up with housework or constant comparisons to others via social media.
A 2017 study by researchers at Rollins School of Public Health at Emory University suggests that emotional stress may play a greater role in heart attacks in women than in men.
The study, which compared 314 recent heart attack patients with 112 healthy people in the community, found that women with heart attacks had twice the rate of major depression and four times the rate of post-traumatic stress disorder as healthy women. Heart attack patients also reported more childhood adversities.
Among men, these differences were insignificant. The team also found that the rate of decreased blood flow to the heart during such stress conditions was twice as high in women with heart attacks as in men with heart attacks.
Other factors linked to heart disease in women include:
Smoking: When the first surgeon general's report on smoking was released in 1964, smoking among men dropped rapidly, but among women smoking rates continued to climb.
Because smoking is now outlawed in public places, including restaurants and planes, it can appear to those who don't live with smokers that smoking is uncommon. Yet according to America's Health Rankings, 15% of women in Georgia smoke. "Smoking is incredibly toxic to the coronary arteries and every artery in the body," says Marti. "We think of lung cancer in relation to smoking, but coronary vascular disease is almost synonymous with smoking."
According to the surgeon general's 2014 report on smoking, women over age 35 who smoke are at a slightly greater risk of dying from coronary heart disease than men who smoke. Research shows women who smoke and use oral contraceptives are at even greater risk.
Obesity: The National Center for Health Statistics estimates that 40.4% of women (compared to 35% of men) in America can be classified as obese. Obesity can increase the risk of heart disease by changing cholesterol levels, causing blood pressure to rise and increasing the risk of diabetes.
Physical inactivity: The American Heart Association's 2019 Heart Disease and Stroke Statistics report revealed that more women than men are physically inactive, which can negatively impact their heart and blood vessels.
"We are born with pristine vessels and a gorgeous heart, but as we sit around at our desks for 10 hours or eat salty foods or eat too many calories, and we pile on the weight and we do not develop the amazing cardiovascular engine that we are equipped to develop, that is when we develop disease," says Dr. Vonda Wright, orthopedic surgeon, chief of Northside Hospital Sports Medicine and president elect of the Metro Atlanta American Heart Association Advisory Board.
Diabetes: Obesity and diabetes are closely linked, and like obesity, the incidence of diabetes among women in this country is increasing, particularly in certain groups. For example, one in four African-American women age 55 and older has diabetes. Among Latino women, the statistics are even worse: one in two will have diabetes by the time they are 70. An estimated 40% of people with diabetes will develop heart failure.
Chemotherapy: Most women know that breast cancer is among the most common serious diseases of women. What they may not know is that two of the treatments commonly used for it – herceptin and anthracyclines – can be damaging to the heart, says Marti.
"One initiative we have started at our hospital, working with oncologists, we are screening breast cancer patients making sure they are getting the safest possible treatment," she says.
Autoimmune disese: Autoimmune diseases such as lupus and rheumatoid arthritis more than double the risk of cardiovascular disease, and most autoimmune diseases predominantly affect women. Rheumatoid arthritis, for example, impacts three times as many women as men. Lupus, an autoimmune condition that affects many organs, impacts nine times as many women. The good news is that research shows treatment that effectively controls the autoimmune disease also helps reduce the cardiovascular risks.
Chronic lack of sleep. Whether it's getting up at all hours to soothe a crying baby or just foregoing sleep to fit everything else in 24 hours, many women don't get the sleep they need. Chronic lack of sleep is harmful to the heart. According to the CDC, people who get less than seven hours of sleep each night are more likely to develop problems like high blood pressure, type 2 diabetes and obesity – all risk factors for heart disease.
---
Reducing the Risk
Fortunately there are many things women can do to reduce risk, says Wright. "Heart disease may be what we are ultimately dying of, but it starts young and we can really change our health trajectory with the decisions we make every day – not even every day but every moment. 'Do I sit at my desk for 10 hours or do I get up and go for a walk?' 'Do I go back and forth to the copier machine in my office 20 times a day or do I make one big trip?' 'Do I eat three bites of dessert or I do I eat three pieces of dessert?' All of these little decisions that we make without thinking can completely change our trajectory of health."
Even if you haven't always made the best choices, "the good news is that many of the risk factors for heart attack can be reversed," says Dr. Lalitha C. Medepalli, a cardiologist with The Heart Center of Northeast Georgia Medical Center in Gainesville. "Women need to carve out time to take the mental and physical breaks. Just getting up and moving around periodically throughout the day can make a difference. Making small efforts to increase activity can go a long way. Get out and garden, take your dog for a walk around the block, park farther away from the entrances."
"It is much easier to prevent heart disease than to treat heart disease," says Dr. Raquel Bennett-Gittens, a cardiologist at St. Francis Columbus Clinic at St. Francis Hospital. "Even though the survival from heart attacks is much greater than it was decades ago, the best scenario is prevention."
If you have risk factors that are outside of your control – for example, a family history of heart disease – she says being on the lookout for symptoms in yourself and reducing other risk factors may be even more important.
Bennett-Gittens is a firm believer that women should always "know their numbers" – markers of heart health including blood pressure, cholesterol, blood sugar levels and body mass index (BMI) – and work with their doctors to get them in the healthy range.
Women concerned about their risk of cardiovascular disease can have screenings such as AngioScreen, a noninvasive test to determine a person's propensity for heart attack and stroke, says Saunders. "At Navicent Health, we offer an AngioScreen at all of our locations," she says. "We encourage people to get this done, and a lot of payers are beginning to cover those."
---
Becoming Advocates
The decisions and changes women make for themselves can also play an important role in the heart health of others, says Wright.
"I think what is really important messaging-wise for women is to realize how powerful they are in health of themselves and those they touch," she says. "We know that women make about 80 percent of the healthcare decisions in this country for themselves and everybody in their environment. Whether it is their spouse, their children, a significant other, their sister, brother, co-worker, women will inform health."
Informing health can be making heart-healthy meals for their families, getting together a group of coworkers for a lunchtime jog or exercise classes, or encouraging a friend or sister to get a heart-health screening.
But it can also take the form of promoting awareness programs and advocating for more women to be included in heart research, which has traditionally focused on men. "We talk about gender equality in our salaries," says Wright. "We need research to also be gender equal, so we can actually find out the answers for women.
"I think it is the woman's responsibility to ask for this," says Wright. "We need to recognize the power we have."
---
Heart Attack Symptoms in Women
You see it in the movies – a man clutches his chest and falls to the floor. There's no question about it, he's having a heart attack.
But for women, the symptoms of heart disease, including a heart attack, are often more subtle and may include:
• Shortness of breath
• Discomfort in the middle or right side of the chest
• Pain or pressure in the neck, jaw, shoulder, arms, upper back or abdomen
• Unusual fatigue and generalized weakness
• Lightheadedness/dizziness
• Indigestion or nausea
• Sweating
If you experience subtle symptoms, and they're not interrupting your activities as a whole – for example, you feel more out of breath than usual when going up a flight of steps or you experience minor chest pain when you're active that goes away when you relax – Dr. Raquel Bennett-Gittens, a cardiologist at St. Francis Columbus Clinic at St. Francis Hospital, recommends making an appointment with your primary care doctor within the week to get checked out.
However if you have a sudden onset of chest pain or shortness of breath or you are hyperventilating, sweating and feeling nauseous, call 911. Immediate attention offers the best chance of saving your heart and your life.