From the Publisher: Georgia Media's Cultural Influence
Technology has had a preserving effect on local culture, and new innovations promise even better media delivery in years to come.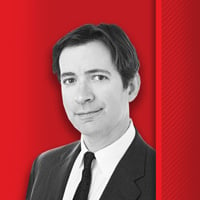 It's inspiring to me how culture has endured through the changes in technology that have rocked the world over the past 20 years. As Georgia Trend celebrates its 35th anniversary year, it's made me think about how the media in general has shaped my own Georgia experience.
Georgia's culture has always been precious to me, especially its music scene. The rise of Athens-based REM and The B-52s immersed my generation in music in a way that musicians themselves should treasure: a sense of ownership, community and local pride in achieving artists.
Through it all, college and community radio has been an underappreciated support system for local artists. I wish there was a similar support system for young visual artists. This lack is probably what pulled me into music as a primary diversion, but it couldn't have happened without such a vibrant music community.
There was the cool jazz of Theron "Ike" Carter on Savannah State University's WHCJ; the alternative Americana of WUOG at UGA in Athens; and in Atlanta, Georgia Tech's WREK and Georgia State's WRAS fostered both innovative listening tastes and groundbreaking Georgia music on an unprecedented level. A mix of local music with diverse programming, peppered with giveaways and promotions for local shows that are under the radar of mainstream media, make these stations required listening for the adventurous.
It seemed for many years the digital revolution spelled the end of these local institutions, and indeed consolidation of media companies has had a homogenizing effect on culture in general. Ever notice how the Star Wars and Marvel movies are starting to look the same? That's because they are both owned by Disney. The ripples of mergers and acquisitions push the intrepid listener toward the margins.
Many great college radio stations have indeed been shut down. When Georgia State announced it was selling WRAS daytime air rights to Georgia Public Broadcasting in 2014, it was a body blow to local artists and listeners. While WCLK (Clark Atlanta University) and WREK are still active, Atlanta's 250,000 college students need more than two full-time college stations.
But technology has interestingly had a preserving effect on local culture, and new innovations like 5G advanced wireless technology promise even better media delivery in years to come. When I bought a new car a few years ago, I was surprised to discover I was able to pick up daytime WRAS through a digital signal because it's streamed live online during the day, and now I listen to it more than ever.
Increased broadband (high-speed internet) and 5G capacity in Georgia can better connect listeners to stations, making up for the decline in information resources that are affecting our rural areas, increasing the quality of life and making remote regions more livable for young people. WRAS and WREK paved the way by boosting their transmission capabilities to 100,000 watts, as powerful as most commercial stations. I recall the days when we shared tapes of WREK made by the only friend who could pick up the signal, living as he did on a mountain in Dalton. Discovering new bands is now much easier.
Meanwhile, online media outlets like Small Town Podcast in Ocilla promise an even greater dialogue, bringing culture from the outskirts into a bigger room, breaking down the silos of information that restrict access to different regions. When you look at where the internet is going on a larger scale, the proliferation of quality journalism and culture on this level offers hope.
Like the Georgia music scene, Georgia Trend has endured and even thrived in the wake of seemingly endless changes in platforms and technology that have emerged since the late '90s dot-com bubble. Local culture and information are as important as ever now that audiences are often overwhelmed by the speed and ferocity of national and world events shaping our economy and lifestyle.
In the midst of these changes, take some time to explore your local talent, and don't take for granted the institutions that have laid the groundwork for today's artists – whether locally grown acts like Cat Power and the Black Lips, or established hitmakers like Janelle Monáe and Lil Nas X – to establish Georgia's eminence on the national music stage.