Serving up joy at the Capitol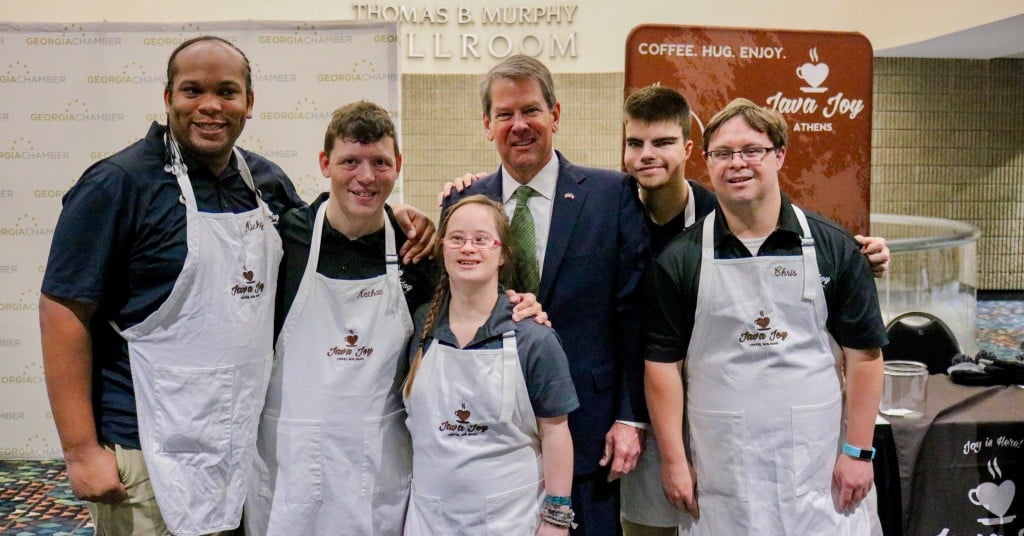 The Georgia Chamber of Commerce's annual Eggs and Issues breakfast is the traditional kick off to the state's legislative session. This year, several adults with disabilities spread joy among the more than 2,600 lawmakers and business leaders in attendance at the Georgia World Congress Center.
Java Joy, a mobile coffee cart operated by baristas with disabilities called Joyristas, not only served up delicious coffee, bright smiles and warm hugs at the event, it also promoted an atmosphere of inclusion, diversity and acceptance. Georgia Chamber President Chris Clark said in a press release, "Regardless of our political persuasion, we all have a common human need for joyful interaction. Java Joy offers inspiration, encouragement and joy with every exchange … along with an excellent cup of coffee."
Founded in Athens four years ago, Java Joy focuses on the untapped abilities of adults with disabilities, an underutilized population. Its Joyristas receive meaningful job training, self-sustaining employment and the chance to gain life skills through their responsibilities. The organization is part of Watkinsville-based Extra Special People (ESP), which creates opportunities for people of all abilities to learn, work and play with no limits.
Java Joy began with five Joyristas serving coffee to corporate sponsors, and its success has led to expansion across the country. In December, Java Joy launched in San Francisco at well-known businesses that include Lyft and Airbnb. By 2022, the organization hopes to be operating in 15 cities, employing 250 adults with disabilities. Atlantans can look forward to Java Joy's expansion this spring.
Photo by Laura Whitaker, ESP executive director. From left to right are: Nicky Stanley, Nathan Nelms, Hannah Baird, Gov. Brian Kemp, Colin Allen and Chris Garrison.
Do you follow us? Find us on Linkedin, Facebook, TwitterandInstagram.