2020 Hall of Fame: Johnny Isakson
The 2020 inductee into Georgia Trend's Most Influential Hall of Fame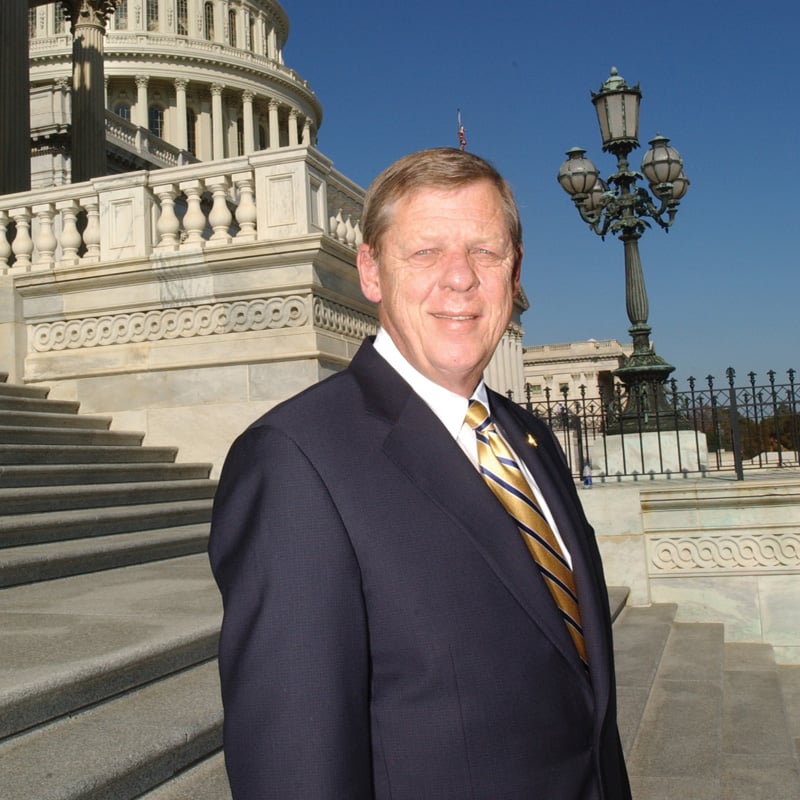 Even before our national politics turned into the equivalent of a World Wrestling Federation undercard match, Johnny Isakson was old-school. He's never been flashy – not even as the only senator chairing two committees, Ethics and Veteran's Affairs – which is probably why he got things done.
He's always preferred to work behind the scenes to build bipartisan support and then move forward. His accomplishments follow, from serving in the state House and the state Senate to the U.S. House and U.S. Senate, the only Georgian to ever do so.
"In politics, if you want to help people, if you've got a vote [then] you count," Isakson says, sitting in his Cobb County office surrounded by photos and mementos from his 15-year Senate career and recalling early days when he was deep in the minority in the state House of Representatives. In 1983 he was elected minority leader as one of only 24 Republicans. He still managed to get legislation passed. "People said, 'How'd you do that?' … I just didn't pretend like I was a Republican or a Democrat. I was just a person who had a problem, and I tried to bring … a majority over to my way of thinking."
It was a lesson he learned before he ever ran – and lost – his first state race, for the House in 1974. It goes all the way back to 1967 when he opened the first Cobb County office of Northside Realty, the firm started by his father. Although he credits his father with building the business, under the son's direction it grew into the largest independent residential real estate brokerage in the Southeast and cemented Isakson's approach to politics.
"I learned a lot from him about people skills," Isakson says, especially about motivating people. "It was my single best training for politics because you have to accept 'no' a lot. … You have to smile and say 'Thank you, we hope next time you will [buy a house from us].'
"I learned to take rejection. I learned to appreciate sales when you made them. I learned to not get mad when you didn't. That's the way I run my political career … if I can't win them over, I mark them as undecided. That way I have another chance to get them somewhere down the line."
So when Isakson announced he would retire Dec. 31, 2019, elected officials and constituents from all over the political spectrum offered heartfelt tributes. It's all the more astounding when you consider that his career encompassed the great blue-to-red shift in Georgia politics. "Some of my best supporters today are people that beat me in my career," Isakson says. "I try to win the battle, not the body count. … I'm a positive guy."
Wherever he's served, Georgia has always been on his mind. Well known for his focus on veterans, Isakson says he chose the Veterans' Affairs committee when he first arrived in the U.S. Senate and then developed a passionate advocacy for those who served. (Isakson served in the National Guard from 1966 to 1972 and has spoken often about losing his best friend in Vietnam.)
It's important in a state with more than 700,000 veterans and more than a dozen military bases. As chair since 2015, Isakson has introduced significant legislation to increase access to healthcare and other benefits and improve accountability at the Veteran's Administration (VA). In 2018, the VA MISSION Act, with substantial reforms to give veterans more choice and improve access to healthcare, was signed into law.
Another law that Isakson is responsible for is the 2011 Kate Puzey Peace Corps Volunteer Protection Act, and the name is personally important to him. He often tells the story of reading the obituary for the 24-year-old Peace Corps volunteer who was murdered in Benin in 2009 and deciding to attend her funeral. After meeting her parents, he grew close to them and traveled to Benin to try to pursue justice for the family as well as introducing the legislation to protect the safety of future Peace Corps volunteers. Isakson still keeps a photo of Kate on his desk. "I think that's what you serve for in public office," he says.
Isakson is justifiably proud of his campaign record – "I lost 3 and won 15," he says, quipping that "If the Braves did that, they'd be in the World Series." He frequently said that once a campaign was over, his duty was to represent all Georgians, and he was working on that right up until he left D.C., introducing a bill to fund the study of "mass violence" – including guns – that contained $375 million ($75 million annually for five years) for the Centers for Disease Control and Prevention.
Now he's planning to find new ways to serve. He says he'll advocate for Parkinson's research (he disclosed his diagnosis in 2015) and maybe work on education issues. "I've always enjoyed helping folks, and there's lots of ways to do that," he says. "I'm never at a loss for finding people who need help."
---
Hall of Fame Past Inductees
2019
Michael Cassidy
Director, Emory Biomedical Catalyst
Maria Saporta
Founder and editor,
SaportaReport
Writer and columnist,
Atlanta Business Chronicle
---
2018
T. Rogers Wade
Chair, Governor's Defense Initiative; Chair, Georgia
Public Policy Foundation
Philip Wilheit Sr.
President, Wilheit Packaging
---
2017
Hank Huckaby
Former Chancellor, University System of Georgia
Alicia Philipp
President, Community Foundation for Greater
Atlanta
---
2016
Arthur Blank
Co-founder, The Home Depot
Owner, The Atlanta Falcons
Alana Shepherd
Co-founder, Shepherd Center
---
2015
Bill Bolling
Founder & Former
Executive Director,
Atlanta Community Food Bank
Saxby Chambliss
Former U.S. Senator
---
2014
John Lewis
U.S. Congressman
Civil Rights Leader
Robert Shaw
Chair & CEO,
Engineered Floors
Former Owner, Shaw Industries
---
2013
R. Charles "Charlie" Loudermilk
Founder & Chair Emeritus, Aaron's Inc.
Monica Pearson
Former News Anchor, WSB-TV
---
2012
Otis Brumby
(1941-2012)
Publisher,
The Marietta Daily Journal &
Neighbor Newspapers
Bobby Cox
Retired Manager, Atlanta Braves
2014 Baseball Hall of Fame
Inductee
---
2011
Ray Anderson
(1935-2011)
Chair, Interface Inc.
David Ratcliffe
Former CEO, Chair &
President, Southern Co.
Franklin Skinner
Former CEO & Chair, BellSouth Telecommunications
---
2010
Dr. Joseph Lowery
Minister
Civil Rights Leader
Bill Shipp
Journalist
Political Columnist
---
2009
Spurgeon Richardson
(1941-2019)
Former President & CEO,
Atlanta Convention &
Visitors Bureau
---
2008
Hank Aaron
Baseball Legend
Founder & Owner,
755 Restaurant Corp.
Mack Mattingly
Former U.S. Senator
Former Assistant Secretary
General (NATO)
Former U.S. Ambassador
(Seychelles)
Carl Patton
Former President,
Georgia State University
Herman J. Russell
(1930-2014)
Founder & Chair,
H.J. Russell & Co.
---
2007
A.D. "Pete" Correll
Former Chair & CEO,
Georgia-Pacific Corp.
Bernie Marcus
Co-founder, The Home Depot
Philanthropist
William S. Morris III
Founder, Chair & CEO,
Morris Communications Co.
---
2006
James Blanchard
Retired Chair & CEO,
Synovus Financial Corp.
Zell Miller
(1932-2018)
Senior Strategic Advisor,
McKenna Long & Aldridge LLP
Governor, U.S. Senator
Betty Siegel
Former President,
Kennesaw State University
---
2005
Tom Cousins
Founder, Former Chair & CEO,
Cousins Properties Inc. Philanthropist
Vince Dooley
Athletic Director Emeritus,
University of Georgia
---
2004
Tommy Irvin
(1929-2017)
Georgia Commissioner
of Agriculture
Manuel Maloof
(1924-2004)
Longtime DeKalb County CEO and Commissioner
Sam Massell
President, Buckhead Coalition
Former Mayor, City of Atlanta
J. Mack Robinson
(1923-2014)
Businessman & Philanthropist
Ted Turner
Founder, CNN, TNT, TBS
Environmentalist &
Philanthropist
---
2003
Griffin Bell
(1918-2009)
U.S. Attorney General
U.S. Circuit Court Judge
S. Truett Cathy
(1921-2014)
Founder, Chick-fil-A
Philanthropist
Jimmy Carter
Nobel Peace Prize Winner
Former U.S. President
Rosalynn Carter
Former First Lady
Mental Health Advocate
Thomas B. Murphy
(1924-2007)
Longtime Speaker,
Georgia House of Representatives
Sam Nunn
Former U.S. Senator
National Defense Authority
John C. Portman Jr.
(1924-2017)
Architect, Developer,
Entrepreneur
Carl Sanders
(1925-2014)
Governor, Attorney
Dr. Louis Sullivan
Founding Dean,
Morehouse School of Medicine
Former U.S. Secretary of
Health and Human Services
Andrew Young
Former Mayor, City of Atlanta
Former U.S. Ambassador to the United Nations, Civic Leader