From the Publisher: Water Management
The fight to keep our rivers safe and healthy is a moving target.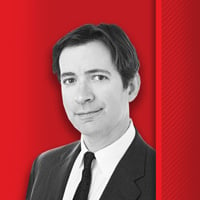 Georgia's water wars may seem like old news, but the fight for natural resources never really goes away. Whether with neighboring states for water supply, with the government over water levels, or with polluters and scofflaws, the fight to keep our rivers safe and healthy is a moving target.
The one thing we should all agree on is keeping our natural resources clean, but opinion tends to skew to the extreme: toward eliminating protections altogether and returning to situations like Ohio's burning Cuyahoga River (it was so polluted that it actually caught fire 13 times from 1868 to 1969) or toward protections that are prohibitive for small businesses, agriculture and development. Consensus is even more difficult when it comes to interstate agreements with the U.S. Army Corps of Engineers, which regulates interstate water levels.
Nonetheless, even as the fight continues with Florida's panhandle over water flowing from the Apalachicola-Chattahoochee-Flint river basin (albeit, based on previous rulings, largely in Georgia's favor), Georgia and South Carolina are on the same side in opposition to a recent Corps decision to demolish the Savannah Bluff Lock and Dam on the Savannah River in Augusta.
The October decision, which decrees that a rock weir is a more appropriate way to maintain the population of an endangered sturgeon, has been lambasted by Augustans and North Augustans because it would lower the water level of the Savannah River pool, eliminating recreational activities critical to local economies and creating a mud pit.
Maintaining this water level is actually written into the 2016 Water Infrastructure Improvements for the Nation Act, critics argue, and South Carolina has already filed a lawsuit to stop the project. But Augusta, on the cusp of a new wave of development associated with the state's $60-million Cyber Center that opened in 2018, arguably has the most at stake.
We are lucky to have fostered a strong sense of environmental stewardship in Georgia. When it comes to water, the Georgia Water Coalition (GWC) is a great voice for our Riverkeepers and other environmental groups with boots on the ground in these local issues, as well as for everyday Georgians without access to legal resources seeking to raise concerns about water quality.
Each year the GWC publishes its Dirty Dozen – 12 Georgia waterways that are polluted or in trouble – as well as the Clean 13 Water Heroes honoring local entities and individuals successfully protecting our resources.
Somewhere along the way, the Dirty Dozen was expanded to include not just waterways but just about anything or anyone singled out by the GWC for attention in regard to water quality. The 2019 Dirty Dozen include, for instance, Georgia's Public Health (due to the use of environmental cleanup funds to plug holes in the state budget and the delay of hazardous waste cleanups) and Georgia's Rural Communities (due to proposed legislation incentivizing industrial agriculture and its pollution).
Some of the issues on the 2019 list are pressing. Georgia needs strong environmental leadership to protect the Okefenokee Swamp from a proposed nearby 2,400-acre titanium mine. We need to close the legal loophole allowing out-of-state toxic coal ash in our landfills. We need to hold industries accountable for pollution from our own coal ash ponds and chemical plants, and we need stronger oversight of private sewage treatment plants.
I also like GWC's attention to initiatives that are leading to cleaner water in our state. Included among the Clean 13 GWC recognized in 2019 are Atlanta's Mercedes-Benz Stadium, where a 680,000-gallon cistern for rainwater recapture and reuse has helped decrease flooding in the nearby Westside community; Walton EMC's use of solar energy for 4,000 customers (solar uses less water than coal and nuclear); Gwinnett County's F. Wayne Hill Water Resources Center; Amerson River Park in Macon-Bibb County; Talbot County's Rep. Debbie Buckner; the Flint River Soil and Water Conservation District; and the Fulton County Commission's elimination of single-use plastics. Savannah Riverkeeeper in Augusta is enlisting local veterans to clean urban streams before pollutants reach the river, and Dahlonega's ForestWatch has spent 30 years protecting the headwaters of the Savannah, Chattahoochee and Coosa rivers.
Whether or not I agree with their assessments, I appreciate the value of these lists. So keep up the good work, GWC, but I would humbly ask that you include the Savannah River Lock and Dam problem on your next list. The beauty and usability of all our waterways are important.