100 Most Influential Georgians: Visionary Forces
The 2020 list of people making an impact on every corner of the state.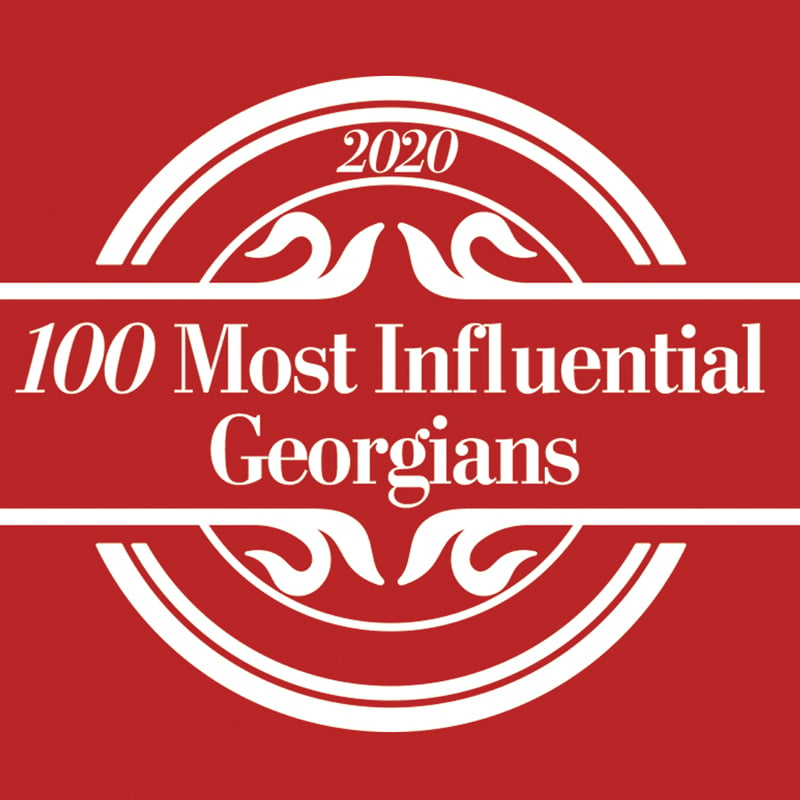 "There are no secrets to success," said former U.S. Secretary of State Colin Powell. "It is the result of preparation, hard work and learning from failure."
His description could apply to the individuals included in Georgia Trend's 22nd annual listing of the 100 Most Influential Georgians. It's a remarkable assemblage of people who prepare, work hard and have contributed to making life better for Georgians.
In this year's list, you'll find CEOs, politicians, college presidents and economic development leaders, among others, who have challenged, inspired and spearheaded efforts to bring about positive change in virtually every corner of the Peach State. Some are very public figures, while others work quietly behind the scenes. Many have helmed private businesses and helped shape industries, while some are leaders of government, healthcare and nonprofit organizations. All are tireless and passionate in pursuit of their vision for a better Georgia.
Selecting the most influential leaders is a daunting task and one that involves much discussion, mulling and refinement by the Georgia Trend staff. Our initial list typically contains many more than 100 names, and there are always last minute changes as a result of retirements, power shifts and late-in-the-year hirings. However, we believe this year's final group represents the best qualities of leadership, power, character and influence the state has to offer.
Along with the most influential, we've included a list of Notable Georgians on page 52. These are individuals who've also made a significant impact on residents' lives.
Profiles of the 100 Most Influential Georgians were written by Anna Bentley, Amy Bonesteel, Katie Gantt, Karen Kirkpatrick, Brian Lee, Michele Cohen Marill, Patty Rasmussen, K.K. Snyder, Adina Solomon and Randy Southerland. – The Editors
---
David Abney
Chair & CEO
UPS
Atlanta
Abney leads the world's largest package delivery and supply chain management company, which delivered 5.2 billion packages and documents in 2018 – about 20.7 million a day. In October, subsidiary UPS Flight Forward won the FAA's approval to run the first drone delivery airline in the U.S. Abney served as the 2019 Metro Atlanta Chamber board chair. – K.K. Snyder
---
Stacey Abrams
Founder & Chair
Fair Fight
Atlanta
Abrams may not have won the Georgia governor's race, but she's not letting that slow her – or her influence – down. In September, The Root magazine named Abrams the most influential African American in the country. Looking ahead to the next election, rather than running for senator, she is expanding her Fair Fight voting rights initiative to 20 states. – K. Kirkpatrick
---
David Allman
Founder, Owner & Chair
Regent Partners
Atlanta
Since its founding in 1988, Regent Partners has acquired or developed more than $2.5 billion in property and changed the face of Atlanta, most recently with the under-development 3354 Peachtree in Buckhead, a 44-story mixed-use office tower. Allman served as chair of the Buckhead Community Improvement District for 20 years. – K. Gantt
---
Dan Amos
Chair, CEO & President
Aflac
Columbus
One of the longest-serving Fortune 500 CEOs, Amos has spent nearly 30 years at the helm of the insurance giant, which covers more than 50 million people through subsidiaries in Japan and the U.S. He's as admired for his long list of charitable works – including Children's Healthcare of Atlanta's Aflac Cancer and Blood Disorders Center – as he is for his business acumen. – K.K. Snyder
---
Ozzie Areu
Founder & CEO
Areu Bros. Studios
Atlanta
Former president of Tyler Perry Studios, Areu bought Perry's previous Atlanta studio and opened Areu Bros. Studios last year, the first major Latino-owned and -focused studio in the country. Areu's goal: expanding opportunities for Latinos and other minorities both behind and in front of the camera. – K. Kirkpatrick
---
Kerry Armstrong
Managing Director
Development and Investment Services,
Pope and Land Board Chair,
Atlanta Regional Commission
Atlanta
Armstrong's work with Pope and Land, in commercial real estate, is a complement to his service as board chair for both the Atlanta Regional Commission and the North Fulton Community Improvement District. He also will help shape the state's approach to the upcoming U.S. Census as a member of Georgia's Complete Count Committee. – A. Solomon
---
Matt Arthur
Executive Secretary
Georgia Professional Standards Commission
Rabun County
Arthur led the Technical College System of Georgia for two years, overseeing expansions of campus facilities and programs like Georgia Quick Start, which helps to fill business needs and wins praise from employers. On Jan. 1, he took over as head of the Georgia PSC, the agency that certifies educators in the state. – K. Kirkpatrick
---
Ambrish Baisiwala
Chair & CEO
Portman Holdings
Atlanta
Last year, Baisiwala oversaw the development of Coda, Portman's $375-million mixed-use computing center, office and retail project in Georgia Tech's Tech Square, specifically designed to facilitate collaborations between researchers and industry. Next up, a boutique hotel along the BeltLine, which fits nicely with Portman's history of iconic Atlanta buildings. – K. Kirkpatrick
---
Ed Bastian
CEO
Delta Air Lines
Atlanta
Bastian piloted Delta through a strong travel season to its position as the most profitable airline in the Fortune 500. He stirred controversy by missing a meeting of airline execs last year with President Trump. The last-minute invitation came up as he was headed out of the country on a long-planned family vacation. – M.C. Marill
---
Mark Becker
President
Georgia State University
Atlanta
In his more than a decade as president, Becker has led the growth of GSU – both footprint (the acquisition of Turner Field, now Georgia State Stadium) and enrollment. He has made diversity a priority at GSU, and the university is No. 1 in the country in graduating African-American students. – A. Solomon
---
Gary W. Black
Commissioner
Georgia Department of Agriculture
Commerce
Black doggedly worked to secure federal disaster aid for South Georgia farmers affected by Hurricane Michael, which hit in October 2018. Congress finally approved $3 billion, which became available 11 months later. Black continues to boost the Georgia Grown program, including Farm-to-School, which brings healthy food – with Georgia ag products – to students' plates. – M.C. Marill
---
Sara Blakely
Founder & CEO
SPANX
Atlanta
Blakely founded SPANX, an intimate apparel company, 20 years ago with just $5,000. Today, SPANX products, which have expanded from shape wear to include faux leather leggings and activewear, are sold in 50 countries. Blakely supports women entrepreneurs through her foundation and is part owner of the Atlanta Hawks basketball team. – A. Bentley
---
Raphael Bostic
President & CEO
Federal Reserve Bank of Atlanta
Decatur
Bostic is responsible for all of the Atlanta Fed's activities, including monetary policy, bank regulation and payment services. Before joining the fed in 2017, he taught economics and real estate at the University of Southern California and served as an adviser to the U.S. Department of Housing and Urban Development's secretary on policy and research. – A. Bentley
---
Paul Bowers
Chair, President & CEO
Georgia Power
Atlanta
Bowers oversees the state's largest – and arguably most controversial – construction project, the Plant Vogtle nuclear plant expansion. He's also appeared in front of the Public Service Commission to defend a rate hike, while Georgia Power again ranked No. 1 in residential customer satisfaction and earned accolades from the National Business Group on Health. – A. Bonesteel
---
Karen Bremer
CEO
Georgia Restaurant Association
Atlanta
With decades of restaurant and hospitality experience, Bremer is the voice for the more than 18,400 restaurants in Georgia that boast total sales of more than $22.9 billion and provide more than 488,000 jobs. The 2018 GRA-supported Brunch Bill has been wildly successful, with nearly 100 municipalities across the state approving 11 a.m. Sunday restaurant alcohol sales. – A. Solomon
---
Julie Brown
President & CEO
Georgia Foreign-Trade Zone
Atlanta
The Georgia Chamber-affiliated Georgia Foreign-Trade Zone program encourages companies to stay in the U.S. by allowing delayed, reduced or eliminated duty payments. It helps local employers remain competitive, boost employment numbers and encourage more investment – all big reasons why Brown was invited to speak at the U.S. Commerce Department's SelectUSA Investment Summit in Washington, D.C., last year. – B. Lee
---
Kevin Brown
President & CEO
Piedmont Healthcare
Atlanta
In Brown's six years leading the 11-hospital Piedmont Healthcare, it has become one of the largest systems in Georgia, serving more than 2 million patients each year, with 2,300 physicians and 23,000 employees. In the last three years, the system has reduced hospital-acquired infections by 69 percent, resulting in A safety ratings for six of its hospitals. – A. Solomon
---
Paul Brown
Co-founder & CEO
Inspire Brands
Atlanta
Recently opening a new office in Sandy Springs, Brown's brands, which include Arby's, Sonic and Buffalo Wild Wings, grew with the official acquisition of the Jimmy John's sub chain. The addition makes Inspire the fourth largest restaurant company in the U.S. with more than $14 billion in annual sales. – A. Bonesteel
---
Mark Burns
President
Gulfstream Aerospace Corp.
Savannah
With a 2019 contract worth $2.07 billion under Burns' leadership, the Philippine Air Force will purchase a Gulfstream G280. Closer to home, Gulfstream opened a 24-acre service center at the Savannah-Hilton Head International Airport. The opening was followed, however, by the layoff of 363 employees last fall. – A. Bonesteel
---
Carol Burrell
President & CEO
Northeast Georgia Health System
Gainesville
Under Burrell's leadership, NGHS has expanded across North Georgia. Last year, it entered an agreement to take over Habersham Medical Center. The facility would join locations in Gainesville, Braselton and Barrow and Lumpkin counties. The system's Northeast Georgia Medical Center is part of a group of five cancer programs that received $11 million to improve cancer care. – R. Southerland
---
Steve Cannon
CEO
AMB Group LLC
Atlanta
Cannon is CEO of AMB Group, parent company for Arthur Blank's for-profit businesses that include the Atlanta Falcons, Atlanta United, Mercedes-Benz Stadium and the PGA TOUR Superstore. An Army veteran, Cannon also advocates for military veterans and families, including serving on the national board of directors for the Tragedy Assistance Program for Survivors (TAPS). – P. Rasmussen
---
Chris Carr
Attorney General
State of Georgia
Dunwoody
Serving his first full term as Georgia's top law officer, Carr launched an investigation into past sexual abuse claims within the Catholic Church. He became the first statewide elected Republican to support adding a bell tower in honor of Martin Luther King Jr. to Stone Mountain, the 1915 re-birthplace of the Ku Klux Klan. – R. Southerland
---
Dan Cathy
Chair & CEO
Chick-fil-A
Fayetteville
Cathy heads up one of the country's largest family-owned businesses – the third largest restaurant chain in the country – which generated more than $10 billion in 2018. The business is known for its Christian values and impressive customer service. In August, Pinewood Studios UK sold its ownership of Pinewood Studios Atlanta to co-owner Cathy's River Rock organization. – K.K. Snyder
---
Ben Chestnut
Co-founder & CEO
MailChimp
Atlanta
Augusta native Chestnut started MailChimp, the world's leading email marketing platform, in 2001 as a side business. He's since grown it into a $4-billion behemoth with a 60% market share. In 2017, the billionaire and his wife started the Chestnut Family Foundation, with a focus on improving the lives of children. – K. Kirkpatrick
---
Chris Clark
President & CEO
Georgia Chamber of Commerce
Peachtree City
Clark has led major initiatives to represent the full range of Georgia businesses from large to small – and north to south. Its Authentic Georgia program helps tell the stories of small businesses that create Georgia-made products. A robust online and social media presence aims to reach new generations of consumers. – R. Southerland
---
Thomas Clark
Executive Director
Alliance for Fort Gordon
Augusta
Clark and the Alliance for Fort Gordon team set a lofty goal: Fort Gordon's Cyber District will become a nationally recognized cyber center of excellence by 2020. It's happening. Working with local, state and federal governments, along with partners in the private sector (particularly cybersecurity), the organization has created a strong cyber ecosystem. – P. Rasmussen
---
Shan Cooper
Executive Director
Atlanta Committee for Progress
Atlanta
Cooper celebrates her first year leading the Atlanta Committee for Progress this month, after key roles at Lockheed Martin and West-Rock. The 40-member advisory committee has most recently been focused on statewide workforce development, sustainable development in Atlanta's Westside and BeltLine communities, and the ongoing success of Hartsfield-Jackson Atlanta International Airport. – A. Bentley
---
Gretchen Corbin
President & CEO
Georgia Lottery Corp.
Rome
Under Corbin's leadership, the Georgia Lottery made the largest-ever annual transfer of profits to the state's Lottery for Education account in the program's 26-year history: more than $1.2 billion in July 2019. Since its start, the lottery has funded the HOPE scholarship for more than 1.8 million students and pre-kindergarten for more than 1.4 million 4-year-olds. – M.C. Marill
---
David Cummings
Founder
Atlanta Tech Village
Atlanta
Cummings launched Atlanta Tech Village, a 100,000-square-foot business incubator for tech and tech-supported startups, in 2013. It also serves as a gathering spot for the whole startup community, gives away multiple scholarships and hosts hundreds of free events per year. Thanks to these efforts, Atlanta is now considered one of the top five tech entrepreneurial hubs in the country. – K.K. Snyder
---
Deron Davis
Executive Director
The Nature Conservancy
Atlanta
The Nature Conservancy made one of its largest land acquisitions in 2019, 11,000 acres of maritime forest in Camden County that's home to a sizable population of the endangered gopher tortoise. It's just one example of the ways Davis and his team of more than 35 staff are protecting, managing and restoring Georgia's natural areas. – K. Kirkpatrick
---
Hardie Davis Jr.
Mayor
Augusta-Richmond County
Augusta
As companies move into the new Georgia Cyber Center, Davis promotes Augusta as the "cybersecurity capital of the nation." The $100-million, state-funded center provides cybersecurity education through Augusta University and Augusta Technical College. Davis hopes to leverage new excitement about Augusta to boost the renewal of its riverfront downtown. – M.C. Marill
---
Geoff Duncan
Lieutenant Governor
State of Georgia
Atlanta
Duncan convened the Task Force on Healthcare Access and Cost in August to explore price transparency and innovation in healthcare. He also hosted a December summit on his goal of "Building the Tech Capital of the East Coast." A former minor league pitcher, Duncan was previously a state representative and CEO of a health technology startup. – M.C. Marill
---
Will Easterlin
Co-owner & Manager
Easterlin Pecan
Americus
Easterlin develops and manages Easterlin Pecan's international contracts – the 75-year-old family-run business is the No. 1 exporter of in-shell pecans. It's a challenging time for Georgia's pecan growers, with tariff increases and big losses from Hurricane Michael in October 2018, but the Easterlins are committed to persevering. In 2019, Easterlin was named to the Citizens Bank of Americus board. – P. Rasmussen
---
Tom Fanning
Chair, President & CEO
Southern Co.
Atlanta
Now in his 10th year as chair, president and CEO, Fanning helms the Southern Co., the largest producer of electricity in the Southeast and the parent company of Georgia Power. In April 2019, Southern Co. was recognized among the Top 50 Companies for Diversity by DiversityInc, ranking ninth on the list for Top Companies for Veterans. – P. Rasmussen
---
John Ferguson
President
CBRE – Southeast Division
Atlanta
As Southeast Division president, Ferguson oversees 21 market areas from Bethesda to Boca Raton for the top-ranked commercial real estate investment firm. The company's other accolades include No. 23 on Investor's Business Daily's Top 50 Best Environmental, Social and Governance (ESG) Companies and the No. 1 real estate company on Forbes' 2020 America's Most JUST Companies. – B. Lee
---
Martin Flanagan
President & CEO
Invesco Ltd.
Atlanta
Invesco's $5.7-billion acquisition of OppenheimerFunds made it one of the 15 largest fund groups in the world and expanded the company's Atlanta base. Flanagan's extensive community involvement includes serving as 2020 Metro Atlanta Chamber chair and Invesco's sponsorship of the Atlanta Police Foundation's At-Promise Youth Center. – A. Bonesteel
---
Donald Glover Jr.
Actor, Director, Musician, Writer
Atlanta
If it seems like Glover has been everywhere lately, it's because he has. In his Childish Gambino persona, he wrapped up his This is America tour in fall 2018. He also (as Donald Glover) starred in Disney's The Lion King. This year will bring filming of Atlanta, the hit TV show he created and stars in. – K. Kirkpatrick
---
Jerry Gonzalez
Executive Director
Georgia Association of Latino Elected Officials
Atlanta
Named one of the state's 50 Most Influential Latinos by the Georgia Hispanic Chamber, Gonzalez works to realize the vision of a Georgia where the Latino community is engaged civically and its contributions and concerns are recognized. The group recently partnered with UGA's Russell Library to help document the contributions of Georgia's Latino and Hispanic communities to Georgia's political landscape. – B. Lee
---
Steve Gooch
Majority Whip (R-District 51)
Georgia Senate
Dahlonega
Internet access is about leveling the playing field in everything from education and workforce training to healthcare and job seeking. Gooch championed the bill empowering Georgia's 41 electric membership corporations (EMCs) to offer broadband services in their communities. Gov. Kemp signed it into law last April. – P. Rasmussen
---
Kevin Greiner
President & CEO
Gas South
Atlanta
Greiner has more than 15 years of experience in the energy sector. Under his leadership, natural gas provider Gas South committed to giving 5% of its profits to benefit children in need. Just this year, Gas South's donations have included helping cover the cost of child care for low-income mothers studying at Chattahoochee Technical College. – A. Solomon
---
Sheffield Hale
President & CEO
Atlanta History Center
Atlanta
Since 2012, Hale has guided the Atlanta History Center toward the future, instituting sustainability efforts like on-site composting and reducing water use, and moving and restoring the 134-year-old Battle of Atlanta Cyclorama painting – a $35.8-million endeavor. Hale also co-chaired a 2017 city of Atlanta advisory committee to help determine how to address Confederate-related monuments and street names throughout the city. – P. Rasmussen
---
Larry Hanson
Executive Director
Georgia Municipal Association
Atlanta
Hanson oversees the GMA, a nonprofit that represents the state's 538 cities, after more than 22 years as city manager for Valdosta. Hanson champions rural communities' broadband needs in Georgia and nationally. In support of that goal, he serves on the Federal Communications Commission's Broadband Deployment Advisory Commission. – A. Solomon
---
Dr. Patrice Harris
Psychiatrist
President
American Medical Association
Atlanta
The first African-American woman to become president of the powerful AMA, Harris leads efforts of the organization to fight the opioid crisis. She has also served in leadership positions for groups including the Georgia Psychiatric Physicians Association, the American Psychiatric Association and the Medical Association of Georgia. – K. Kirkpatrick
---
John Haupert
CEO
Grady Health System
Atlanta
Since 2011, Haupert has set Grady Health System on an innovative and award-winning course. Grady was the first hospital in Georgia to introduce BrainScope One, which can diagnose possible brain bleeds, and the system helped established the state's first mobile stroke unit. GHS also earned the 2019 CHIME HealthCare's Most Wired recognition and in 2018 opened an Albany headquarters for its South Georgia EMS fleet. – B. Lee
---
Donna Hyland
President & CEO
Children's Healthcare of Atlanta
Atlanta
Chief of one of the nation's premier children's healthcare systems, Hyland is overseeing development of the transformative 70-acre, $1.5-billion North Druid Hills Campus, including a new children's hospital set to open in 2025. She serves on the Georgia Children's Cabinet, a group committed to improving the delivery of care to children and families. – K. Gantt
---
Jan Jones
Speaker Pro Tempore
(R-District 47)
Georgia House of Representatives
Milton
Jones, first elected a representative in 2003, holds the second highest position in the Georgia House. She is co-chair of First Lady Marty Kemp's GRACE Commission to combat human trafficking. She was a strong supporter of the "heartbeat" abortion bill that passed and has sponsored legislation to combat drug trafficking. – K. Kirkpatrick
---
Brooks Keel
President & CEO, Augusta University
Chair, AU Medical Associates
Augusta
Keel, who has led the university since 2015, has made it an engine for economic development, with a statewide impact of $2.39 billion and more than 21,000 jobs in 2018. Its School of Computer and Cyber Sciences and its proximity to the federal and state's cybersecurity operations are making it a leader in the field. – R. Southerland
---
Brian Kemp
Governor
State of Georgia
Athens
Kemp has not shied away from controversy during his first term. He signed an anti-abortion "heartbeat bill," setting in motion a legal battle that supporters hope lands in the U.S. Supreme Court. He has also outlined a plan to expand healthcare coverage in the state and pushed pay raises for teachers and state employees. – R. Southerland
---
Craig Lesser
Managing Partner
Pendleton Group
Sandy Springs
A former Georgia commissioner of economic development, Lesser founded consulting firm Pendleton Group in 2009. Active in the community, he is a member of the Carter Center Board of Councilors and sits on the board of directors for Public Broadcasting of Atlanta. Last year, he received the Kennesaw State University Global Public Service Prize. – K.K. Snyder
---
Dr. Jonathan Lewin
President, CEO & Chair
Emory Healthcare
Atlanta
Lewin is leading Emory Healthcare in the development of a new cancer care facility in Atlanta, Winship at Midtown. The environmentally friendly facility will be built to LEED silver certification and comes about thanks to a $400 million gift from the Robert W. Woodruff Foundation, the largest in Emory University's history. – K. Kirkpatrick
---
Milton Little
President & CEO
United Way of Greater Atlanta
Atlanta
Little has led the nonprofit United Way of Greater Atlanta since 2007, helping to raise more than $500 million benefiting individuals in the metro area. A partnership with the Atlanta Regional Commission led to a "Child Well-Being Index" to pinpoint areas of the city where children need additional resources. He also chairs the Southern Education Foundation. – A. Bonesteel
---
Griff Lynch
Executive Director
Georgia Ports Authority
Savannah
Lynch is guiding a transformative expansion at the Port of Savannah with the doubling of rail capacity and a second container port on Hutchinson Island that will add capacity for 2.5 million more 20-foot-equivalent container units (TEUs). The 20-year effort to deepen the port's outer channel from 42 to 47 feet is in its final phase. – M.C. Marill
---
Jay Markwalter
Executive Director
Georgia Association of Convention & Visitors Bureaus
Augusta
How important is a visit to Georgia? Markwalter can give you billions of reasons. In 2018, state tourism brought in $66.2 billion in revenue and generated $3.4 billion in tax proceeds. Another peachy number that continues to rise under Markwalter's leadership: the 471,000 jobs directly or indirectly tied to the state's travel and tourism sector. – B. Lee
---
Christopher Markwood
President
Columbus State University
Columbus
Under Markwood's leadership since 2015, the university wrapped up its capital campaign, surpassing its goal and reaching $120 million from alumni and community donors. Columbus State was recently approved for bachelor's degrees in cybersecurity management and cybersecurity, educating students for the booming cybersecurity industry. – K.K. Snyder
---
Santiago Marquez
President & CEO
Georgia Hispanic Chamber of Commerce
Atlanta
Marquez leads the Georgia Hispanic Chamber of Commerce, one of the nation's largest Hispanic chambers with more than 1,300 members. Through advocacy efforts and strategic partnerships, Marquez helps promote the economic growth, development and interests of minority-owned businesses statewide. He is also a member of the Complete Count Committee, a task force for the 2020 census. – A. Bentley
---
Nick Masino
President & CEO
Gwinnett Chamber of Commerce
Duluth
A former Suwanee mayor, Masino spent 12 years as Partnership Gwinnett chief economic officer (where his team was responsible for 250 company expansions and 23,000 jobs) before taking the helm at the chamber in 2019. New development in Gwinnett County includes a $5-million facility for Italian refrigeration company Rivacold that will employ 140. – A. Bonesteel
---
Sharon Mason
President & CEO
Cobb Chamber
Marietta
Mason took over the top Cobb Chamber job in 2018 and oversaw the sale of the organization's headquarters in September. The chamber will move to the Circle 75 building across from SunTrust Park this month. In 2019, the U.S. Chamber of Commerce awarded the Cobb Chamber five-star accreditation, placing it in the top 1.5% of chambers nationwide. – P. Rasmussen
---
Lauren "Bubba" McDonald Jr.
Chair
Public Service Commission
Atlanta
McDonald has a long history in the energy industry. In his work with the PSC, he is an advocate for expanding solar energy in Georgia. In July, the PSC made a decision to require Georgia Power to dedicate more attention to the amount of energy it generates from alternative sources, including solar and biomass. – A. Solomon
---
Russell McMurry
Commissioner
Georgia Department of Transportation
Buford
McMurry is leading Georgia DOT through a staggering lineup of transportation overhauls, including I-285/Ga. 400 interchange improvements and express lane projects throughout Metro Atlanta. The Northwest Corridor Express Lanes took the People's Choice Award from the American Association of State Highway and Transportation Officials last fall – the second consecutive year GDOT won the award. – A. Bentley
---
Penelope McPhee
President & Director
Arthur M. Blank Family Foundation
Vice President
Atlanta Falcons
Atlanta
McPhee told Atlanta magazine that she operates by the Jewish concept of "tikkun olam," a call to "repair the world." Her role at the Arthur M. Blank Family Foundation, one of the largest family foundations in the Southeast, certainly qualifies. In 2019, the foundation awarded more than $2 million in grants to arts, education and community improvement organizations. – A. Bentley
---
Harold Melton
Chief Justice
Supreme Court of Georgia
Atlanta
Melton, who has been chief justice for just over a year, has served on the court since 2005, when former Gov. Sonny Perdue appointed him. Before joining the court, he served as executive counsel to Perdue, working on issues including the water wars disputes with Florida and Alabama. – K. Kirkpatrick
---
Craig Menear
Chair, CEO & President
The Home Depot
Atlanta
Keeping the company's standing strong in the stock market, Menear recognizes the important balance between delivering customer-centered service and the efficiency of advancing technology. Last year, The Home Depot's annual revenue topped $108 billion. Menear serves on the board of directors of the Retail Industry Leaders Association and the Atlanta Committee for Progress. – K.K. Snyder
---
Butch Miller
President Pro Tem
(R-District 49)
Georgia Senate
Gainesville
As president pro tempore since 2018, Miller has presided over legislation including the controversial and high-profile heartbeat bill – one of the strictest abortion laws in the country. Miller also joined with Senate Democrats to defeat taxpayer funding for private schools – a measure much favored by conservatives. – R. Southerland
---
Hala Moddelmog
President & CEO
Metro Atlanta Chamber
Atlanta
As the Metro Atlanta Chamber celebrates its 160th anniversary, Moddelmog focuses on the future with initiatives to attract the next generation of business leaders and sports fans. Project Plato gathered 100 multigenerational and multicultural leaders to bring a broad perspective to strategic planning. She is also promoting Atlanta as a site for key matches in the 2026 World Cup. – M.C. Marill
---
Felicia Moore
President
Atlanta City Council
Atlanta
A community activist at heart, Moore spent 20 years as a member of the Atlanta City Council before being elected president in January 2018. She is a strong supporter of transparency at City Hall. She spearheaded the creation of an Office of Independent Compliance, which is now part of the Board of Ethics. – M.C. Marill
---
Jere Morehead
President
University of Georgia
Athens
Since Morehead became president in 2013, UGA's seen a lot of changes, including the launch of a campus-wide entrepreneurship program, the opening of the Institute for Cybersecurity and Privacy and plans to create an innovation district near downtown Athens. The school has a $6.3-billion impact on the state and spends more than $453 million annually on research and development. – B. Lee
---
Charlotte Nash
Chair
Gwinnett County Board of Commissioners
Dacula
The veteran commission chair came out strong in support of a referendum to bring MARTA to Gwinnett last year. It failed, so Nash, who views transit as one of the most critical issues in the region, switched her focus to a study of smart technology to improve transportation. She also announced she wouldn't seek reelection in 2020. – R. Southerland
---
Marc Olivié
President & CEO
W.C. Bradley Co.
Columbus
Olivié has led the real estate development and consumer goods company W.C. Bradley since 2008. In March, the largest single real estate investment in the history of the company opened in Columbus: the $55-million, five-story Rapids at Riverfront Place, a development that includes apartments and retail. – A. Solomon
---
Byung J. "BJay" Pak
U.S. Attorney
Northern District of Georgia
Lilburn
Pak has led high-profile investigations into corruption at Atlanta City Hall and the indictment of former Insurance Commissioner Jim Beck on fraud and money laundering charges. He made combating the opioid crisis, drug trafficking, gangs and cybercrime top priorities. A Republican, he was a member of the Georgia House for six years. – R. Southerland
---
Jeffrey Parker
CEO & General Manager
MARTA
Atlanta
Parker's eventful first year at Georgia's largest transit agency included expansion plans in Atlanta and Clayton County and a labor agreement giving many employees a significant pay hike. Under the 30-year industry veteran's leadership, MARTA has created service-oriented initiatives including a rider advisory council and has plans to improve all 38 stations. – B. Lee
---
David Perdue
U.S. Senator
St. Simons
A businessman and politician, Perdue has served as U.S. senator for Georgia since 2015. An early and continuing staunch supporter of President Donald Trump, Perdue serves on the Armed Services, Banking, Agriculture and Budget committees. With a net worth of $15.8 million, he is one of the wealthiest members of the Senate. – K. Gantt
---
Tyler Perry
Actor, Director, Producer, Writer, CEO
Tyler Perry Studios
Atlanta
Tyler Perry Studios at Fort McPherson opened last fall with an enormous splash, including a gala attended by dozens of celebrity A-listers and hosting the November Democratic Presidential Debate. It's a fitting way to celebrate the nation's only major African-American owned film studio, with its 12 sound stages named for African-American actors and filmmakers. – K. Kirkpatrick
---
Robert Quattrocchi
President & CEO
Northside Hospital
Atlanta
Quattrocchi has held finance roles with Atlanta-based Northside Hospital healthcare system for more than 30 years, becoming its president and CEO in 2004. Since then, he's been named a top CEO by Forbes and Glassdoor, and he's led Northside through continual expansion – the latest, in Gwinnett County, was completed last year. – A. Bentley
---
James Quincey
Chair & CEO
The Coca-Cola Co.
Atlanta
Quincey added board chair to his CEO responsibilities in 2019 and continues his push to make Coke a "total beverage company." Coke's sustainability goals include recycling the equivalent of 100% of the packaging sold in the next decade; it also now sells its Dasani water in aluminum bottles and cans to reduce plastics use. – B. Lee
---
David Ralston
Speaker (R-District 7)
Georgia House of Representatives
Blue Ridge
An attorney and a Republican, Ralston has served as the 73rd speaker of the Georgia House of Representatives since 2010. An opponent of religious liberty legislation, Ralston believes a focus in the upcoming legislative session on issues including maternal mortality, gang violence and transportation will resonate with voters. – K. Kirkpatrick
---
Chelsea Rathburn
Poet Laureate
State of Georgia
Assistant Professor
English
Mercer University
Macon
Named by Gov. Brian Kemp as Georgia's Poet Laureate, Rathburn will serve as an ambassador for literature and poetry across the state. Rathburn has published three poetry collections and had poems included in such well-respected journals as The Atlantic and New England Review. She received a 2009 fellowship from the National Endowment for the Arts. – K. Kirkpatrick
---
David Ross
President & CEO
The Task Force for Global Health
Decatur
Ross oversees The Task Force for Global Health's programs on disease elimination, prevention and protection. The organization's Public Health Informatics Institute, which uses data to improve health, recently partnered with the Emory Global Health Institute on a 20-year, $1-billion Gates Foundation initiative to address causes of death and serious illness of children under five in developing countries. – K. Gantt
---
Michael Russell
CEO
H.J. Russell & Co.
Atlanta
Developer Russell oversaw a $22.3-million renovation of affordable housing in Old Fourth Ward and Reynoldstown that will provide 210 units, including 150 for seniors. He also serves as vice chair of Concessions International, providing airport food/beverage operations in cities including Atlanta, Denver, Miami, Washington, D.C., Seattle and Dallas. – A. Bonesteel
---
Candice Saunders
President & CEO
WellStar Health System
Kennesaw
Under Saunders' leadership, WellStar now includes 11 hospitals and is consistently recognized as one of the best companies to work for in the nation. It made Working Mother magazine's 2019 100 Best Companies, among other honors. It's flagship Kennestone Hospital is building a new $126-million emergency department that should open later this year. – R. Southerland
---
Ninfa M. Saunders
President & CEO
Navicent Health
Macon
Saunders continues to steer Navicent Health in Central Georgia, the hospital system that now operates as a hub of Atrium Health, another not-for-profit health system out of North Carolina. In 2019, Navicent opened the Beverly Knight Olson Children's Hospital to address the growing demand in the region for children's care. – K. Kirkpatrick
---
John Selden
General Manager
Hartsfield-Jackson Atlanta International Airport
Atlanta
Selden, who brings more than 30 years of aviation experience to Hartsfield-Jackson Atlanta International Airport, became GM in 2018 and is tasked with managing a multibillion-dollar capital improvement program at the world's busiest airport. Customer satisfaction among the more than 100 million annual passengers has already improved, with Hartsfield-Jackson ranking sixth in JD Power's list of top mega airports. – B. Lee
---
David Shafer
State Chair
Georgia Republican Party
Atlanta
A businessman and former state senator, Shafer won the chair of the state Republican Party last year after losing the race for lieutenant governor in 2018. He has said the biggest issue facing the party in 2020 is ensuring Republican voter turnout, including more immigrant and minority voters. – K. Kirkpatrick
---
Ivan Shammas
General Manager & General Sales Manager
Telemundo Atlanta
Atlanta
At Telemundo Atlanta, a leading Spanish-language media company, Shammas oversees local and national advertising sales, programming, news, marketing and community affairs. The Georgia Hispanic Chamber of Commerce has called him one of the 50 Most Influential Latinos in Georgia. He serves as the chamber's board chair and on the board of the United Way of Greater Atlanta. – K. Kirkpatrick
---
Doug Shipman
President & CEO
Woodruff Arts Center
Atlanta
At the helm of the center that houses the Atlanta Symphony Orchestra, the High Museum of Art and the Alliance Theatre for two years, Shipman has led the rebuilding of the Alliance Theatre and diversified audiences and artists. An additional focus has been on promoting and advocating for the larger arts community in Georgia. – K. Gantt
---
Brian Sillitto
Executive Vice President of Economic Development
Greater Columbus Georgia Chamber of Commerce
Columbus
Sillitto joined the chamber in 2004 and became its economic development leader in 2018. The city has long been an economic engine for West Georgia, and recently companies like Global Callcenter Solutions have made major expansions. Education is also big business. Mercer University School of Medicine announced in 2019 the expansion of its Columbus location to a four-year campus. – R. Southerland
---
Kessel Stelling
Chair & CEO
Synovus Financial Corp.
Columbus
Stelling first began working for Synovus in 2006, becoming chair in 2012. This year, Synovus has focused on commercial real estate and new branch openings across the Southeast, especially in Florida. Stelling serves on a number of boards, including the Board of Regents of the University System of Georgia and the Georgia Historical Society. – A. Solomon
---
Claire E. Sterk
President
Emory University
Atlanta
Sterk spent 21 years as Emory faculty before becoming president in 2016. Since then, Emory's become the largest employer in the city. Although she will be retiring as president in August, she will continue as a public health professor to focus on issues such as the opioid crisis, access to mental health and global child health. – K.K. Snyder
---
Russell Stokes
Senior Vice President, GE
President & CEO, GE Power Portfolio
Atlanta
A 23-year GE veteran, Stokes was tapped to lead the company's newly formed Power Portfolio business in early 2019, overseeing GE's Steam, Power Conversion and Hitachi Nuclear businesses. He leads company strategy on technology, solutions and services. Stokes serves on boards including the Metro Atlanta Chamber and the Atlanta Committee for Progress. – A. Bentley
---
David Thomas
President
Morehouse College
Atlanta
Under Thomas's watch, Morehouse, a historically black men's college, has leapt into the spotlight, garnering scholarship, loan-repayment and faculty-development funds that will change thousands of lives. Thomas also instituted a policy to allow enrollment of students who live and identify as men, regardless of their sex assigned at birth. – K. Kirkpatrick
---
Lee Thomas
Deputy Commissioner
Georgia Film, Music & Digital Entertainment Office
Atlanta
Thomas has worked for the state since 1996 and leads the Georgia Film, Music & Digital Entertainment Office, a division of the Georgia Department of Economic Development. During fiscal year 2019, direct spending by the state's larger-than-ever industry and No. 1 filming location in the world hit a record $2.9 billion from 399 film and TV productions. – A. Solomon
---
Michael L. Thurmond
CEO
DeKalb County
Decatur
Entering his fourth and final year of office, Thurmond has focused on repairing DeKalb's aging sewer system (the county has allocated $1.2 billion toward the issue), while turning the county's $24.7- million deficit into a $110-million surplus fund. He also appointed the county's first female chief of police. – A. Bonesteel
---
Trip Tollison
President & CEO
Savannah Economic Development Authority
Savannah
The Savannah region saw the creation of nearly 2,000 job opportunities and more than $500 million in investment in 2018 thanks to the efforts of Tollison's team. SEDA aims to not only grow the region's manufacturing base and support the growing film and logistics industries, it partnered with Savannah College of Art and Design to nurture nascent industries like gaming and augmented reality. – P. Rasmussen
---
Chris Tomlinson
Executive Director
State Road and Tollway Authority
Georgia Regional Transportation Authority
Atlanta-region Transit Link Authority (ATL)
Atlanta
Transit go-to Tomlinson became the official head of ATL last fall and continues to oversee both funding and planning for transit in a 13-county area, including the development of a regional transit plan. Additionally, he oversees Georgia's Xpress bus system and toll lanes and tackles issues regarding Metro Atlanta's mobility and air quality. – K.K. Snyder
---
William Underwood
President
Mercer University
Macon
Underwood is overseeing exciting growth at Mercer: Robins Air Force Base is opening a software lab in downtown Macon, creating an employment pipeline for computer science and computer engineering students, and the newly restored Mercer Music at Capricorn recently opened as a music incubator, recording studio and performance space. – P. Rasmussen
---
Paula Wallace
President
Savannah College of Art and Design
Savannah
Wallace co-founded SCAD, the art school she now serves as president, more than 40 years ago. Since then, she's led the college in pioneering new art programs, including the first bachelor's and master's programs in visual effects and motion media, as well as international expansions. – A. Bentley
---
Nikema Williams
State Senator (D-District 39)
Chair, Democratic Party of Georgia
Atlanta
Williams, the first African-American woman elected chair of the Democratic Party of Georgia, took over last January at a time when Georgia Democrats are on the rise. She comes to the role after 17 years in the ranks of the party and is determined to grow the party's membership in the run-up to this year's elections. – K. Kirkpatrick
---
Dave Wills
Executive Director
ACCG
Atlanta
Wills has helmed the nonprofit ACCG, which serves as the consensus building, training and legislative organization for Georgia's 159 counties, since 2018. In that role, he encourages county leaders to be proactive and ready to respond to ever-evolving challenges facing local governments, whether that's a natural disaster, a cyber attack or a major employer closing its doors. – K.K. Snyder
---
Pat Wilson
Commissioner
Georgia Department of Economic Development
Sandy Springs
Under Wilson's leadership, the GDEcD continues to help Georgia to the top of "best states for business" lists – now at seven years running. Recent business wins for the state include a new $200-million Ball Corp. plant in Rome (over 180 jobs) and a $60-million Coca-Cola UNITED bottling plant in Tifton (200 jobs). – A. Bonesteel
---
Richard Woods
School Superintendent
State of Georgia
Atlanta
Woods' priorities for his second term as state superintendent include expanding educational options for students and increasing students' reading and math skills, especially in grades K-5. In October 2019, Georgia got a boost in those efforts in the form of a nearly $180-million federal grant to support literacy efforts in its K-12 public schools. – A. Bentley
---
Steve Wrigley
Chancellor
University System of Georgia
Athens
Chancellor since 2017, Wrigley seeks to increase student success. In October 2019, the USG set up a task force to review programs, policies and best practices surrounding mental health. USG enrollment for fall 2019 reached an all-time high of 333,507 students across all 26 institutions. – P. Rasmussen