Partnering for literacy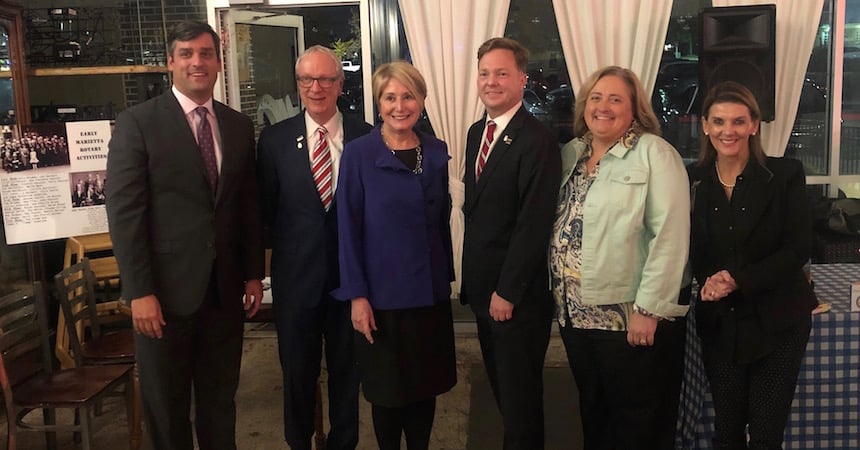 Our state has a reading problem. Only 42% of Georgia public school children are reading proficiently by the end of third grade, according to 2019 Georgia Department of Education (DOE) figures.
In an effort to promote early-age literacy and foster a love for reading, WellStar Health System has teamed up with the Rotary Club of Marietta and the Rotary Clubs of Smyrna and Atlanta Brasil (whose members are Brazilian) to launch a new community literacy initiative. Entitled "Legacy of Love and Learning," the program was previewed at the Rotary Club of Marietta's 100th anniversary celebration in November. In support of the program, WellStar will provide literacy packets for every baby born at WellStar Kennestone Hospital, beginning next month.
WellStar is also partnering with other community advocates to foster reading in local schools through an early literacy program. Both initiatives are aimed at improving children's and families' lives by increasing access to books and promoting reading at an early age.
Find out more about why reading proficiency in third grade is vital to educational achievement later in life in this month's feature, "Why Early Reading Matters."
Featured photo: Launching the new "Legacy of Love and Learning" program are, from left, Dr. Grant Rivera, Marietta City Schools superintendent; Chaplain Raymond Coffman, WellStar Health System chaplain and president of Rotary Club of Smyrna; Candice Saunders, WellStar Health System president and CEO; Chris Bethel, president of Rotary Club of Marietta; Mary Ansley Southerland, president-elect of Rotary Club of Marietta; and Dr. Avril Beckford, WellStar Health System chief pediatric officer
Photos provided by WellStar Health System
Do you follow us? Find us on Linkedin, Facebook, Twitter and Instagram.