Trendsetters: Personify 3D – Mini-me Maker
Personify 3D creates lifelike miniatures of people for game pieces, wedding toppers and mementos through 3D printing.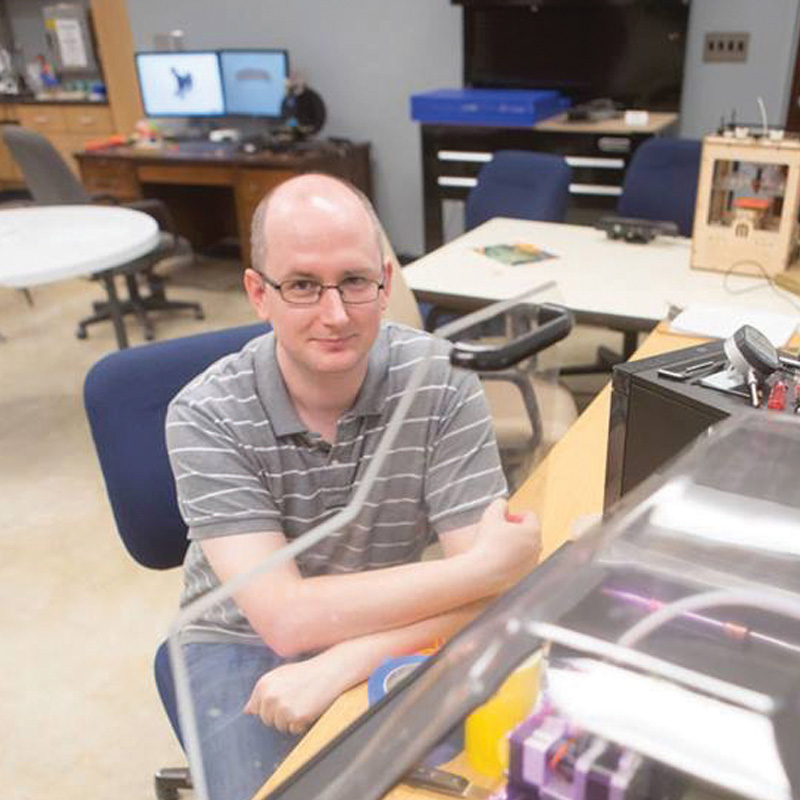 Imagine being able to create exact three-dimensional replicas of cultural artifacts so they can be preserved in pristine condition for future generations to view in person or online.
Self-proclaimed "jack of all trades" engineer Jeremy Barker of Macon found a way to do just that through 3D scanning and printing, and it's since become both his hobby and passion. Among the valuable pieces the Mercer University engineering lab manager has scanned and 3D printed is former President Jimmy Carter's 2002 Nobel Peace Prize, which is now at The Carter Center in Atlanta.
In 2014, after a couple of years working with organizations like the Andersonville National Historic Site and the Virginia Museum of Natural History, he turned his hobby into a consumer-oriented business, Personify 3D. While he still enjoys digitizing rare objects, these days his business focuses on digitally scanning people and printing miniature 3D sculptures.
It was at DragonCon, Atlanta's annual pop culture convention where attendees dress in elaborate costumes, that his eyes were opened to the market for these miniatures.
"My friend had a costume that was falling apart, and he wanted a replica of himself in his costume," Barker recalls. "I did a scan and 3D printed a statue of him. I realized there's a potential business there."
With limited funds and a lot of determination, Barker began setting up his handheld scanner at other conventions that attract costumed participants. Soon he was doing a brisk business. Many of the attendees play board games, he says, and they like to have game pieces made in their own image.
While conventions remain a big part of his business – in some years he's worked at as many as 20 – he's branched out to offer custom wedding cake toppers, head-and-shoulders busts and full-body statues of families, including expectant mothers who want more than a photo of themselves with their baby bump. He travels to customers' locations to perform the scans, then back in his home office he perfects the scans for 3D printing, which is done by his business partner in Florida. Normal turnaround time is six to eight weeks.
In addition to plastic one-to-three-inch models for board games, his product line includes full-body sandstone replicas that range in height from four to eight inches and sandstone busts that are about three inches tall. Prices per product are from $100 to $375.
"I try to keep prices in line with what you'd pay for a professional photography session, he says. "Instead of getting a photo, you get a 3D representation."
Most of Barker's marketing is through social media and word of mouth, but he says it would be easier to attract customers if Personify 3D had a physical shop.
"If I pursued it full time, I'd make more money," he says, "but I'm trying to grow slowly. This business is my baby, and I want to make sure I've got the right people involved."