On the Move
Electric scooters are claiming a lot of attention, but other transportation alternatives are here, too – and more are coming.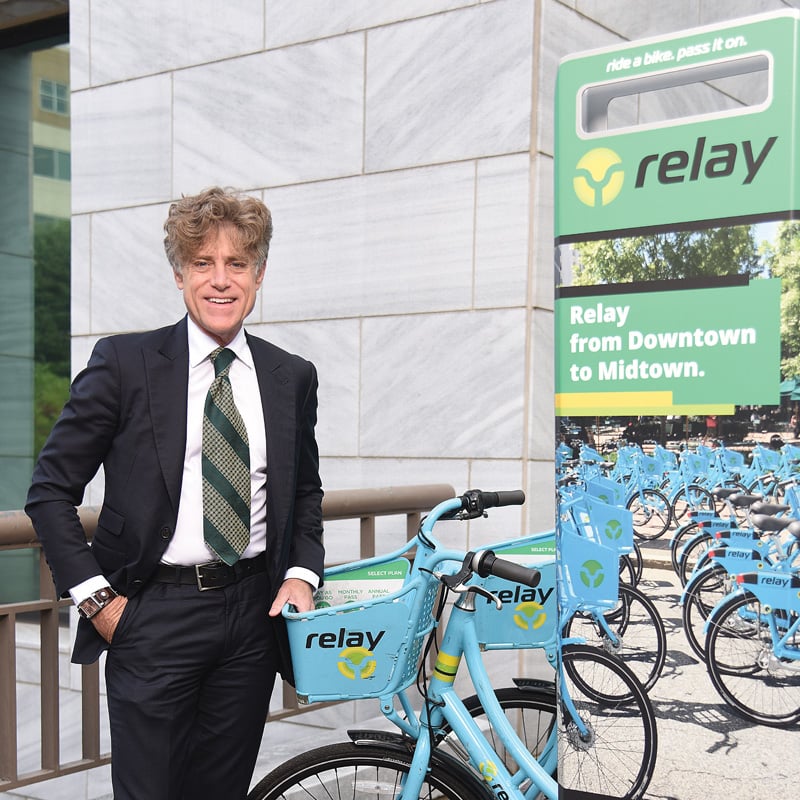 Tim Keane, Atlanta's planning commissioner, wasn't happy when he came across an e-scooter lying on the sidewalk downtown, blocking pedestrian traffic and access to a handicapped ramp. "It was almost like someone was doing it on purpose," trying to create a safety hazard, he says.
But you'd be wrong to dismiss Keane as a scooter foe. He is, in fact, a big fan, enthused about the possibilities of e-scooters, e-bikes, autonomous vehicles, ridesharing and other transportation modes that offer relief from traffic congestion and the promise of cleaner air. Sure, there is work to be done – including, perhaps, educating riders.
But the scooters are here to stay, and more alternatives are on the way. The key is to fix the short-term problems and embrace the technology.
"E-scooters and micromobility devices are an important part of the transportation future for the city," Keane says. "The challenge for Atlanta and for all cities is how do we now go back to the infrastructure and make the changes that are frankly needed anyway to safely accommodate pedestrians, cyclists – and now e-scooters? And how are we going to do that much faster than we ever thought?"
Cities throughout the country – and the world, for that matter – have been grappling with the onslaught of dockless scooters, perhaps the most visible sign of a wave of alternative transportation modes that will continue to change the way we move around. In the U.S., the scooters first appeared in 2017 in California, then made their way to other places.
Unlike ridesharing services such as Lyft and Uber, which assimilated pretty easily into the mix of travel options, the scooters caught a lot of communities off guard. Often they appeared almost overnight on city streets. Riders jumped on, sometimes having no clue how to operate the vehicles safely. And when they got off, they discarded the scooters haphazardly, cluttering sidewalks everywhere.
There has been a lot of scrambling and a fair amount of grumbling from citizens whose initial scooter encounters were scary or simply annoying, but transportation officials believe the e-scooters' value will ensure that cities will adapt.
"We went from zero to 100 in the use of the technology," says Andrew Heath, state traffic engineer for the Georgia Department of Transportation (GDOT). "Now it becomes incumbent on local governments and the state to help accommodate that."
Nima Daivari, chief community affairs manager in Georgia for Lime, which has e-scooters in Atlanta, Decatur and Statesboro, says his company's focus is micromobility, "under three-mile trips and connecting that first-mile, last-mile to public transit."
"We see something like an e-scooter or e-bike as a very strong connection for handling those last-mile trips," says Heath. "Maybe it's a little too far to walk, too short to use rideshare or taxi service. It fits that niche very nicely."
Keane says riders traveled more than 2.3 million scooter miles in Atlanta over the first five months the devices were permitted. Daivari estimates that scooters in Atlanta eliminate 150,000 car trips per month.
"That's a scale of use that is reflective of the variety of trips being taken," Keane says. "It's not just people on the Eastside BeltLine or the Westside BeltLine, or travel for entertainment," he says. "It's people getting to and from work, going to meetings, getting to restaurants. It's trips to and from transit stations, extending the footprint of transit access. That has a significant contribution to make.
"We need to provide safer pedestrian and bike capabilities. The thing about scooter introduction is that it put a spotlight on this issue that frankly didn't exist before."
---
Scooter Tsunami
E-scooters showed up in Metro Atlanta in the spring of 2018. California-based Bird was the first, dropping a couple hundred of them on the streets of Atlanta; Lime brought in its scooters a month later, and other companies added to the supply.
The electric scooters, which travel at a maximum speed of 15 miles per hour, are operated via a phone app and cost little to use. In Atlanta, Lime charges $1 to unlock the vehicle and 29 cents per minute. Prices in other communities vary. A Lime Access program offers discounted rates to low-income individuals.
Riders pick up the devices on street corners or along roadways, then leave them at the end of their trips. Scooter companies employ people to collect the devices, take them to be charged and re-distribute them.
In January of this year, Atlanta initiated a system of 12-month permits, most of which will expire in February 2020, and has been refining its policies ever since in response to safety concerns. Four scooter-related fatalities in a relatively short time period prompted a ban on nighttime operation and a halt on new permits.
The scooter speed limit on the Atlanta BeltLine's Eastside Trail was lowered to eight miles per hour to cut down on reckless riding.
Decatur enacted restrictions – including no sidewalk riding – and initiated a permit system after Bird and Lime scooters showed up in 2018; subsequently, Bird pulled its vehicles. In September of this year, the city adopted an ordinance that requires riders to be 18 or older, forbids scooter use after 9 p.m. and establishes parking regulations. It also requires scooter companies to carry insurance.
Other places in Georgia, like Savannah, barred the scooters outright while they evaluate their options or work on safety plans. Athens-Clarke County has banned them; so have Macon-Bibb County, Marietta and other communities. Brookhaven allows them but requires permits.
A lot of places have their eyes trained on Atlanta to benefit from its experience. The city's new plan will likely limit the number of scooter companies, says Keane. "We're going to shift to a different way of managing the companies – away from a permit system to a bid system. By early next year we will have gone through some sort of bid process to select a few vendors, two or three probably, to operate micromobility in the city – scooters, bikes, everything. We would be in partnership to manage those operations – parking of the devices, how they are being operated, the effect around scooters themselves, the quality of lighting, helmets."
He believes the nighttime ban will be lifted once a new bid process is in place.
As localities determine how to handle new transportation needs and methods, GDOT is ready to help, says Heath. "Tackling the transportation issues across the region and across the state is really an all-hands-on-deck approach. We've got to make sure we're supporting the growth of all those to make sure that people have options to get from point A to point B. We're going to rely on local guidance," he says. "Primarily, we're going to fall in line with what those governments are looking to do. But our system overlaps local systems – in the city of Atlanta there are numerous state routes. We want to make sure our roadways are prepared."
---
Technology and Timing
The sudden appearance of scooters may have created some friction, but companies seem to be moving toward collaboration, backing off from the original shock-and-awe deployment tactics.
Technology is often ahead of communities' ability to absorb and regulate it. Lime's Daivari references the automobile and the "decades it took" for the infrastructure and rules of the road to catch up and points to more recent examples like Uber, Facebook and Google, which required quick adjustment.
"Atlanta is one of a very few markets where we didn't have an ordinance or regulation in place when we first launched our scooters," Daivari says. "We were in active talks to bring electric bicycles here, but that wasn't really moving forward. One of our competitors launched. When there was no response from the city – and there really wasn't any regulation against having scooters – after about a month we had to fast follow because we could not let a competitor have that market advantage for so long."
Lime was one of the first permit applicants once Atlanta's ordinance was enacted. "We were approved for the full fleet," which means 2,000 permits, the maximum each operator is allowed, Daivari says. "We definitely want to be in collaboration with governments at all times across all markets."
Savannah Sustainability Director Nick Deffley says anticipating technological advances and their effects can be tricky. "This isn't the only thing anyone is focused on – from a municipal standpoint. Keeping an eye on the trends of what's coming in the transportation realm and things that just aren't on your radar immediately or [if you] don't know the timing of when things start coming into your community – it's always a bit of a challenge."
Savannah has put the brakes on e-scooters for the present, but Deffley says the city is working on guidelines for their use, taking into account the bustling tourism industry, largely focused on the one-square-mile historic district downtown.
The city has existing alternative transportation options: "Horse-drawn carriages, trolleys, motor coaches coming through, rideshare programs like Lyft and Uber are all in the mix," he says. So are shuttles, including some that take restaurant and hospitality industry workers to their downtown jobs.
"Our city council had seen other municipalities that had scooters in the community – and saw some of the more challenging and negative aspects, like scooters left blocking sidewalks, in doorways, in handicapped spots," he says. "We wanted to put a curb on that before we got to that point. The initial hold on any scooters was not meant to be in perpetuity. It was only meant to give the city time to develop appropriate guidelines based on Savannah traffic patterns and uses on streets and sidewalks."
As communities work out arrangements for e-scooters and other kinds of transportation, like e-bikes, there is a focus on education and responsibility, even as the devices themselves are becoming more familiar. Lime has offered rider clinics in Atlanta and Decatur.
Atlanta's Keane believes companies could take on a broader role in addressing safe operation of their vehicles. Some scooter apps offer safety information. "They tell you to be careful, don't ride on sidewalk. But the problem is you can swipe right past it."
Safety will guide the new system, Keane says. "Things like parking, the equipment itself and the safety of the equipment are going to be very much the responsibility of the companies. I think they are willing to play that role."
Rider responsibility is crucial as well. "You see drivers going too fast, going through red lights," as well as riding on the sidewalk and leaving scooters where they don't belong, Keane says. "But the important thing to bring out is that there is some personal responsibility."
Sidewalk riders are subject to fines of up to $1,000.
---
More Modes
The attention focused on e-scooters is heightening awareness of other alternative modes – some already in use, some in the works.
Peachtree City has long used golf carts as the preferred mode of in-city travel; Augusta allows golf "cars," or personal transportation vehicles, in designated areas downtown.
Keane expects to see a lot more e-bikes. "That technology has amazing potential at the cusp of being tapped right now." Not even three years ago, he says, when the city was launching a bike-sharing program, "We talked about e-bikes but the technology wasn't far enough along.
"When you can have more widespread deployment of e-bikes," he says, "I think you are going to see more people riding them because they feel safer in some ways to some people. We have a significant bike commuting and bike community in Atlanta, and I think the e-bike situation has the potential to really expand that."
Because bicycles are familiar sights, they are not likely to be the disrupting factor that e-scooters initially were.
The city of Atlanta launched its bike-sharing program, Relay, in 2016. In January 2019, Uber announced dockless e-bikes were coming to the city; at one point a total of 1,000 bikes were deployed. However nine months later, the ride-sharing giant announced it was pulling the program in Atlanta – and several other cities around the country. Meanwhile, the city has plans to make upgrades to its own Relay bike-sharing program and add e-bikes in the coming months.
Ride-sharing continues to roll along. Sam Bond, general manager for Lyft Southeast, says there is no part of Georgia without access to Lyft rides. "That has been the case since roughly mid-2017. We first deployed here on the ground in Atlanta, then expanded to Athens and Savannah and in mid-2017 covered the entire state."
A big boost for ride-sharing companies came in January 2017, when Hartsfield-Jackson Atlanta International Airport authorized rideshare pickups and designated space for them. "We worked in conjunction with officials at the airport," Bond says. "That was a victory."
Riders have taken to the sharing concept. A 2019 legislative proposal that would have taxed the rides failed to advance; many customers let their representatives know they were strongly opposed.
And then there is the still-developing category of autonomous vehicles (AVs) that are driverless, operated via a broad range of technologies. Doraville is the site of a new autonomous shuttle operating on a private development of the Integral Group, called The Assembly, at the location of the old General Motors plant where a new Serta Simmons Bedding headquarters and factory has located.
"It's really exciting, to be one of the first," says Doraville Mayor Donna Pittman. "We are a proud model for the not-too-distant future. It's going to enhance our mobility. It's a safe mode of transportation that takes out that human factor of distracted drivers."
Chamblee is also exploring the use of AVs for last-mile connectivity from the Chamblee MARTA station. And in Peachtree Corners, the city just opened Curiosity Lab's 1.5-mile track for testing AVs.
DOT's Heath sees AVs as a viable if not immediate solution. "We've taken the approach that we're open for business when it comes to AVs. We have very accommodating laws on the books now that allow AVs to operate within Georgia. We definitely want to partner with companies to come in and test their vehicles," he says. "When we look at the potential safety and mobility benefits of this type of technology, it's extremely promising."
---
Added Bonus
In addition to traffic-flow and clean-air benefits, transportation alternatives have another huge advantage: user convenience.
Catherine Ross, transportation expert, professor and director of the Center for Quality Growth and Regional Development at Georgia Tech, welcomes the focus on fitting the needs of the traveler rather than requiring the traveler to adjust. This aspect, she believes, has been missing.
"We haven't had the kind of alternatives to our cars that focus on meeting the large demands that we have," she says, especially in large cities. "The success of Uber and Lyft explains where the holes are. We needed something that was responsive, reasonably priced, readily accessible and can go almost anywhere," she says.
With scooters, ride-sharing and increasingly electric vehicles, Ross says, "We begin to see those kinds of technology that let travelers almost fit the way [they] travel and the particular needs they have at any point in time. Those needs change – going to work as opposed to shopping as opposed to recreation.
"Transit doesn't go everywhere," she says, and has not had the kind of investment it needs to increase its reach and its appeal.
"Autonomous vehicles, scooters, Uber and Lyft are ways to give us a broader set of options and alternatives – to go where we want to go, how we want to go, to stay as long as we want to. If you make it attractive enough, people will choose an option that is cost effective and safe."
Ross says more transportation options will require more coordination among localities. "We will have to have multi- jurisdictional cooperation and enough flexibility in our governing bodies to take advantage of the kinds of emerging technologies that will give us feasible alternatives.
"Alternative transportation is going to be very different from anything we can imagine," she says. "It will be an interesting time for us to do a better job of giving people more options – new technology, new options, reduced travel – safer. I'm wildly optimistic."