Good News Keeps Coming
Growth at Georgia's ports continues to create excitement and economic wins.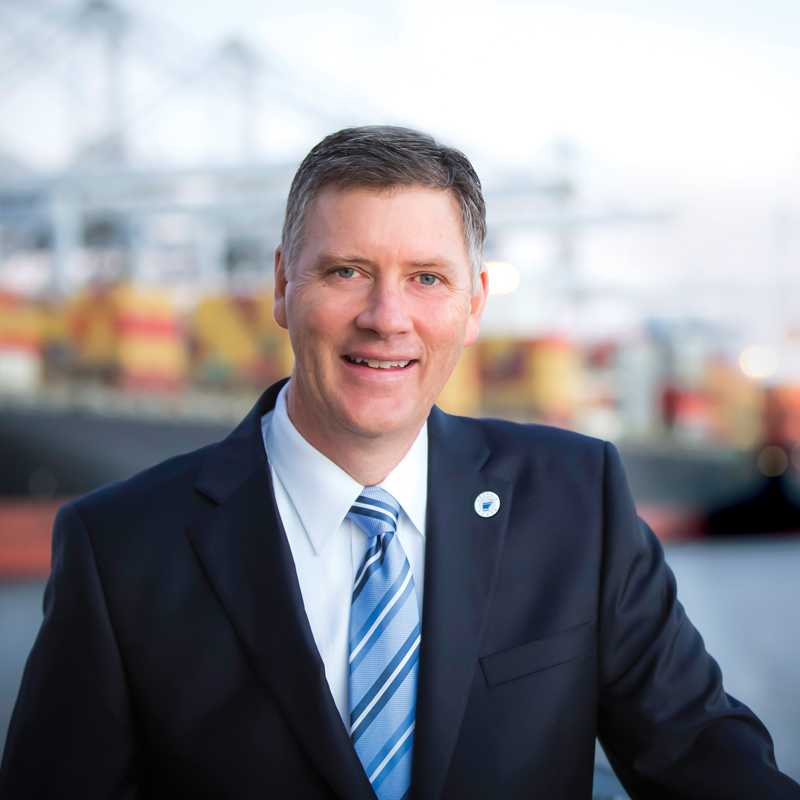 In spite of global economic and trade uncertainties, the news from the Georgia ports remains upbeat. "Excited" is the word Georgia Ports Authority (GPA) Executive Director Griff Lynch frequently uses to describe his attitude about the ports' progress.
"As we wrapped up our fiscal year [June 30], we got our compounded annual growth rate for 10 years and we maintained our spot as the fastest-growing port," he says. "We grew at about 7.5 percent this past [fiscal] year, but for 10 years it's been 6.5 percent. We're pleased we continue to stay on a very positive trend."
The Port of Savannah bested its previous record with 4.5 million twenty-foot equivalent container units (TEUs) moved in FY2019, an increase of more than 300,000 TEUs. "Savannah is the busiest terminal in the country," says new GPA Board Chair Will McKnight, president of McKnight Construction Co. in Augusta. "We're proud to be the third largest in the U.S."
Down at the Port of Brunswick, GPA's main operation for auto, truck and tractor imports and exports, roll-on/roll-off cargo increased by 4 percent. That translates into more than 600,000 cars and machinery units crossing the Colonel's Island docks. At Brunswick's East River Terminal, Logistec, a North American marine services operator, moved 1.2 million tons of bulk cargo in FY2019, which is a 20 percent increase primarily in wood pellets, peanut pellets and perlite, a form of volcanic glass used in potting mixtures.
Perhaps the biggest news at the ports is the increase in cargo transported by rail. "Rail is more than doubling the pace of growth of our vessels," Lynch says. "This year we were at 16.5 percent [growth] on the rail side." Over 500,000 containers were moved by rail in FY2019, another record. And, over the past three years, the port grew rail volume by 35.4 percent.
---
Successful Strategies
Growth in rail-transported cargo is something GPA foresaw years ago and put a strategy in place to accommodate. Last year, the organization broke ground on the $215-million Mason Mega Rail project, which when completed next year should increase rail capacity to 1 million container lifts per year. The move improves the port's ability to handle 10,000-foot-long trains at Savannah's Garden City Terminal. Currently, the first sections of the new rail track are operational, and Phase 1 of the project is expected to open by year-end.
According to McKnight, the Mega Rail will make Savannah North America's largest on-dock intermodal rail facility and will help get trucks off the roads. "In the past year, we took 8 million truck miles off [the highway]," he says.
Lynch says the port's efficiency has improved as rail capacity has grown. "Our service today is infinitely better than just a couple of years ago," he says. "The way we know is how much time it takes to connect from ship to rail and vice-versa. It's 24 hours right now, which is world-class. If we continue to deliver that kind of service, we'll continue to grow rail."
Planning for more rail capabilities includes the development of inland ports around the state, which provide rail routes to and from Savannah. Currently these inland ports exist in Cordele and in Murray County, but plans are underway to build one in Hall County and later in the western part of the state. Murray County's Appalachian Regional Port (ARP) opened last year, and its economic impact on the surrounding area has been phenomenal.
"The common phrase you hear around here is 'we're drowning,'" says Illya Copeland, executive director of the Murray County Industrial Development Authority and the Development Authority of Murray County. "We've closed four projects in the last 10 months, and [we're] about to close another – that'd be five in a year's time, and there are three more lined up after that." He characterized the economic development activity as "a thousand percent improvement," primarily as a result of the ARP.
GE Appliances is the heavy-hitter in the mix of new deals. The company is investing $32 million to build a new Southern Logistics Center and create 100 jobs in the county. Copeland says it's the best economic development project he's ever worked on and a good success story for the community, enabling people to learn new skills and potentially earn higher wages.
"GE will import electronic components into Savannah and rail them to the inland port," he says. "Then they will bring them three-quarters of a mile south to the distribution center. From there, [the components] will go to a final assembly plant or to wholesalers or retailers for replacement parts."
Georgia Quick Start, the nation's top-ranked training program that operates at no cost to qualified companies, will support the project. "They're hiring employees, and they'll train them on operations in a temporary facility," he says. "As soon as the new facility is completed, the employees will be able to walk in the door and start work right away." He anticipates the distribution center will open in the spring.
Also last year, Polytech Fibers, a South Korean firm that extrudes polyester filler for things like pillows and mattress tops, decided to remain in Murray County for its much-needed expansion. "Their demand dictated they double or triple production," he says, "and they searched all over the country [before] they said 'we'll stay right here.' It's a picture perfect example of business retention and expansion." The company's roughly $18-million investment will create 110 to 120 jobs in the next three-to-five years, he says, and they are the first tenant in the recently developed Murray South Industrial Park. Two other projects are in the works for companies that have synergistic relationships with Polytech Fibers and want to be located within the park as well.
Copeland describes the mood in the community as one of "excitement, relief and eagerness" over the new opportunities and economic security the diversification of industries is bringing to the region. The new investments will undoubtedly help GPA fulfill its vision for the inland port, he says. "GE will import conservatively 6,000 containers a year through the port, and with the future projects, we could be adding 10,000 container moves a year in exports."
"The beauty of the Appalachian Port is that it's a four-way partnership [among] GPA, CSX [railroad], Murray County and the state," says Lynch. "Everyone worked together to develop this in the hopes that it would bring economic development to the state, which is the core mission of the ports."
---
Long-term Thinking
Because GPA is always looking 10 years ahead and talking to customers about their needs, the Savannah Harbor Expansion Project (SHEP) was anticipated long ago. Deepening of the inner and outer harbors will allow larger, heavier vessels to call on the port in greater numbers – and that's already happening. The outer harbor is now completely dredged to 49 feet at low tide (56 feet at high tide) and inner harbor dredging has begun. McKnight says SHEP should be finished in late 2021. "It's taken 20 years to get that project done and a lot of hard work," he says. "It's really exciting to see the end in sight."
Lynch agrees, adding that over time, every Georgia governor, the state legislature and our U.S. congressmen "have been champions for us. That's why we're getting the money," which has amounted to about $100 million a year for the last three years. The harbor completion will allow the port to grow even faster, he says. "It's all coming together in the 75th year of our existence [next year]."
GPA's forward thinking has turned Brunswick's Colonel's Island Terminal into an exclusive port for exporting cars and importing auto parts. The facility has just completed a 40-acre expansion for processing autos manufactured by its biggest customers: West Point-based Kia, Hyundai, Mercedes-Benz, BMW and GM.
"The Brunswick port is a key element of Kia Motors Manufacturing Georgia's [KMMG] growth in exports to overseas markets around the globe," says KMMG Chief Operating Officer Stuart Countess. "We have shipped KMMG-built models to over eight different countries outside of North America. Having this resource and the support of the GPA allows KMMG to explore additional markets to expand our brand and promote [our] models on a larger scale." He says the company is on track to export more than 3,000 vehicles through the Brunswick port this year.
By 2027, GPA will have established a new container port on Hutchinson Island, which lies across the Savannah River from the Ocean Terminal. The $1.8-billion GPA investment will add 200 acres and 2.5 million to 3 million TEUs of capacity, increasing the Savannah ports' annual capacity to 11 million TEUs.
Along with expansions, GPA has focused its planning on efficiency improvements. These include modernizing berths to accommodate more ships and ordering new ship-to-shore cranes for loading and unloading the bigger vessels. The delivery of rail-mounted and rubber-tire gantry cranes and yard equipment this year represented an investment of nearly $200 million. Lynch says the new equipment will create jobs and capacity for customers.
However, he credits GPA's nearly 440,000 employees across the state for the ports' continued efficiency gains. "We have a company-wide bonus program driven by key criteria and it's paid off significantly," he says. "We've been achieving great things as a result of it. The bottom line is personal, and team productivity is what will drive progress in the business."
---
New Opportunities
Last year, GPA entered the polyethylene resin market through its partnership with Houston-based A&R Logistics, a national bulk transporter of chemicals and plastics. That laid the foundation for what McKnight calls "the largest announcement ever" in April. California logistics company Plastic Express announced it will create 166 jobs and invest $172 million in a new facility at the Port Logistics Center in Pooler. There, it will package resins brought by rail from the Gulf Coast region and load them onto ships bound for Europe, North Africa, South America and Asia. The move makes the company one of GPA's top five exporters.
"We felt we'd be a great option for the resins market and an outlet for the Gulf," says Lynch, because the port there doesn't have the capacity to handle the increasing volumes of plastics exports. "Governor Kemp and the Georgia Department of Economic Development got to work and landed this massive account," which Lynch predicts will eventually result in 75,000 container lifts a year. He calls the win a game changer that will make Georgia a Southeastern leader in exporting resins.
New markets in Latin America and the Caribbean also opened this year with ocean transport company Seaboard Marine's new direct service connecting Central America to the Port of Savannah. According to Lynch, the new shipping customer will bring in chilled produce, taking advantage of Savannah's cold chain logistics system, and will leave with poultry exports.
"That's the beauty of vertical integration," he says. "They want maximum utilization of their equipment. When they import and export loads, that's a perfect world." The initial Seaboard Marine service to Savannah is expected to add 20,000 TEUs a year.
---
On the Horizon
While GPA's successes seem to keep coming, both Lynch and McKnight say they're watching the global trade situation closely. "We're certainly concerned about the trade issues," says McKnight. "We've seen a little [down] tick in exports, but not much change in the import business."
He says they have to be constantly looking forward to remain ahead of the curve. "I'm glad we look at a 10-year model versus a one-year model," he says. "Other U.S. ports don't do that. If we have a one-year blip, we're going to be able to weather that storm and keep going.
"If our revenue increases it gives us more money to put back into the ports, and that enables us to look long term," he adds. "Georgia is one of the fastest-growing states in the country, and we have to have the ability to help Georgia continue to grow."