Banking on Breakthroughs
Researchers across Georgia's universities are pushing the boundaries in medicine and cybertech – and boosting the state's economy.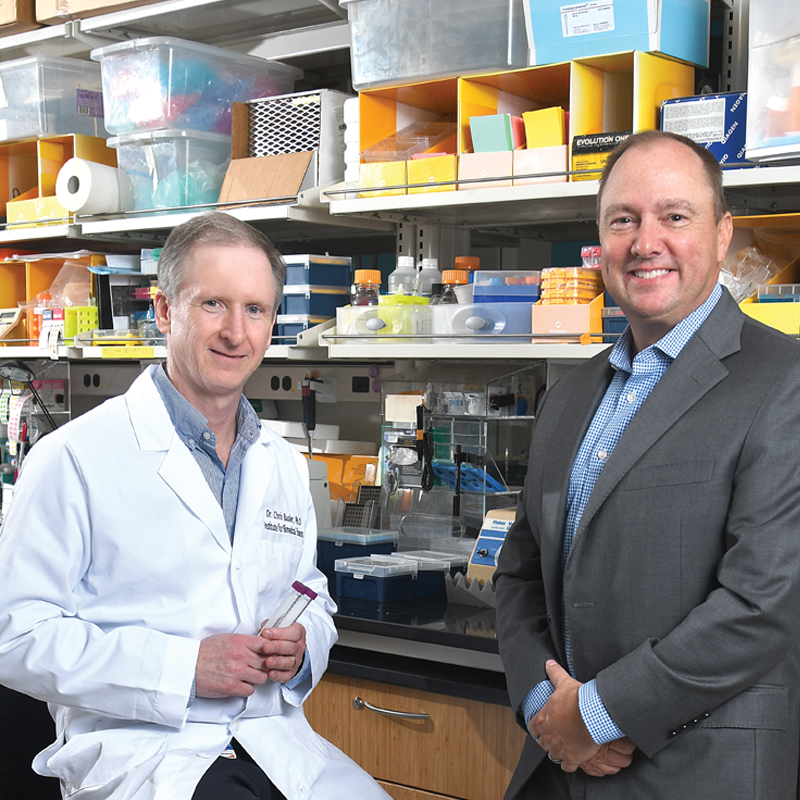 Labor Day weekend was a bit of a blur for Dr. Jorge Cortes.
As the rest of the country celebrated the end of summer, he and his family trekked more than 900 miles for a new beginning, driving 14 hours from Houston to Augusta. The renowned leukemia researcher left his position as deputy chair of the Department of Leukemia at University of Texas MD Anderson Cancer Center to become the director of Augusta University's Georgia Cancer Center.
Cortes is just one of the leading researchers conducting life-changing – and sometimes life-saving – research in university laboratories across the state. As a whole, university research attracts more than $2 billion in federal and private investments each year, according to the Georgia Research Alliance (GRA), a nonprofit that works to boost research capacity at the state's universities and seed resulting startups.
But the impacts go beyond revenue and venture capital, says GRA President and CEO Russell Allen. "Another is the reputation for the state as a state of innovation, and the third, and really the most important one, is solving problems and helping people with solutions to issues that may improve or save lives."
---
Advances in Care
Currently, GRA eminent scholars – leading scientists recruited to research in Georgia universities, supported by GRA-funded endowments – are tackling issues as broad and impactful as combating drug-resistant viruses to discovering how to better sniff out malicious threats in a constantly evolving digital environment.
At Georgia State University's Institute for Biomedical Sciences, Christopher Basler's team is investigating emerging RNA viruses like Ebola, Marburg and Zika to better understand how they evade the body's immune response and replicate.
His team is particularly interested in an Ebola virus protein called VP35 that plays a vital role in suppressing the body's early immune response; by building an Ebola virus with a mutated version of the protein, they've shown how important this protein is in the virus's replication process. In the lab, animals with the mutated Ebola virus showed a stronger immune response – and a possible path to more effective treatment options.
"You go from something that's 100 percent lethal to something that doesn't make animals sick. We think this tells us that VP35's ability to suppress immunity really has an important role in terms of promoting disease," Basler says. "Another point would be that if the virus can't cause disease when VP35 isn't functioning, then potentially VP35 would be a target for drug development."
At the University of Georgia Department of Cellular Biology, Dennis Kyle's team is also researching drug resistance, but in parasitic diseases like malaria and the brain-eating amoeba. "We spend a lot of our time trying to come up with either new drugs to treat these diseases or to understand how the parasites overcome the drugs with mechanisms of drug resistance," he says.
So far, his team's research has resulted in a more effective treatment protocol for the incredibly rare – and incredibly lethal – brain-eating amoeba. And they've made breakthroughs in the treatment of P. vivax malaria, a relapsing form of malaria that can lie dormant in the liver for years.
"We had no way to really study this, no way to understand how the parasite stays dormant and how to kill it. We've developed methods to be able to do all of that, and we actually discovered the first new kinds of drugs that will eliminate these parasites in over 70 years," Kyle says. "We're working very hard to take those from where we are now as proof of concept into seeing if we can actually turn those into real treatment options for people with relapsing malaria."
---
Raising the Profile
At GRA, strategic planning revolves around two questions: "What can we do as supporters of translational research and commercialization, not just alone but with other partner organizations around the state?" says Allen. "And what can we do to be better providers of advice and of support for those growing enterprises?"
The organization is exploring mentoring and intellectual property support programs, as well as equalizing other programs offered across the state. "We see a disparity in what programs are available in different parts of the state, or different universities may have certain training programs that others don't," Allen says. "We're looking at how GRA can play a role to bring those programs together and provide access to all of our portfolio."
A strong mentoring program is a priority at the Georgia Cancer Center, says Cortes. He credits mentors early in his career at MD Anderson Cancer Center as crucial to his development as a researcher – and key to continuing to deliver high-quality, cutting-edge research in any field.
"I think it is critical for us, and for anybody, to have these mentorship programs so that we are able to help those young individuals," he says. "They are the future. They will be doing what we're doing now – and hopefully better – and if we can help them now it'll be a benefit not only for them but for our understanding of cancer and for the benefit of patients with cancer in the future."
Cortes also plans to build on the center's research strengths in immuno-oncology by expanding research into checkpoint inhibitors, drugs that help the body overcome a cancer cell's own defenses. Other priorities include boosting molecular mapping of each cancer to pinpoint the most effective treatment, increasing patient access to clinical trials and investing in community outreach programs for cancer prevention and education.
"We want to make it very all-inclusive so that we tackle all elements of cancer from its early beginnings – again, prevention – to the support that cancer patients and their families need with survivorship programs, support during the process of going through therapy and all these elements," Cortes says.
---
Startup Pipeline
"The research coming out of our universities is really much of the pipeline for the small companies that get started," says Maria Thacker-Goethe, president and CEO of Georgia Bio, a nonprofit trade association representing the state's life sciences industry. "We see companies spin out of universities regularly, and those innovations just begin to take off in the state."
In 2018, research conducted in Georgia's universities resulted in 160 new companies that generated $155 million in revenue, according to GRA data.
Georgia's done well in attracting venture capital for these new startups, too, with $1.2 billion in venture capital funding for GRA-backed startups alone. And the state is also attracting researchers looking to start their own companies.
Angelos Keromytis is one of those researchers. He came to Georgia Tech's School of Electrical and Computer Engineering from the U.S. Defense Advanced Research Projects Agency (DARPA) and the National Science Foundation, recruited by Georgia Tech and GRA as an eminent scholar in part because of his experience and interest in launching startups.
"In the past, I had co-founded two technology startups – and I intend to do so again," he says. "GRA was involved since almost the first day that Georgia Tech started talking to me about this opportunity and were very active in convincing me to make the move."
Keromytis specializes in systems and network security and applied cryptography – specifically, in identifying malicious logic in electronic devices.
"We are surrounded by and depend on complex electronic devices whose provenance and activities are hard to understand, even by experts," he says. "A lot of our electronics have multiple parts, are created overseas and go through complicated assembly and shipping routes. Our information, our lives, are subject to misuse of these devices."
His team studies electromagnetic emissions given off unintentionally by circuit boards to discern compromised hardware. The theory is that as these circuit boards execute a malicious program, they'll unintentionally create extra emissions – and if two supposedly identical devices have different emissions, one is likely doing something the other is not.
Though attracting researchers and supporting their startups are feats in their own right, they're not enough, says Thacker-Goethe. "We need to advance a lot of our incentives to retain those companies so they don't feel a need to move to the larger biotech hubs in the Northeast and out west," she says.
"We need to work to provide them incentives to grow their company in the state of Georgia so it continues to grow the health sciences ecosystem here," she continues. "I think 28 other states have passed matching grants for small business innovation research and small business technology transfer [capital]. And if Georgia is able to advance a program like that, it would grow our research dollars and grow our industry."
---
A Collaborative Approach
As university research programs continue to grow in scope and volume, so does the amount of collaboration between researchers, both in the state and beyond.
"More and more, we realize that what appear to be very different fields of research have a lot more connections than we thought probably five or 10 years ago," says Cortes.
The network created through the eminent scholars program allows its researchers to capitalize on those connections. "It helps us to sort of synergize across different aspects of science, because we all have some similar problems," says Kyle. "Then all of a sudden we find out that somebody else has learned how to do this technique or has made a breakthrough in that area that we can work together to apply."
"It's an excellent source of connections to other scientists, really outstanding scientists in the region," adds Basler. "If you look at the list of eminent scholars that GRA has recruited, there's just many, many outstanding people, and that makes doing science in the area and in the state better, more enjoyable and more productive."
And more effective. Georgia State University has established the Center for Microbial Pathogenesis, a collection of investigators with synergistic expertise working together on issues related to viral and bacterial infection, among other topics. "I think GRA certainly facilitates recruitment of talented faculty and more established scientists," Basler says. "Being part of GRA gives us more visibility, which helps with recruitment, but GRA itself can often facilitate recruitment of talented scientists."
It's a similar story at the University of Georgia, says Kyle. The university's Center for Tropical and Emerging Global Diseases houses 25 investigators leading groups working on different aspects of parasitology across 13 tropical diseases. The university's research reputation and strong administrative support were major considerations for Kyle, but GRA was "the icing on the cake," he says.
"It brought together all the aspects of public-private partnerships to actually push forward research and support bringing in new investigators to build-in existing areas of expertise here at UGA," he says. "That, plus the reputation and the environment here at UGA, made it a real easy decision for me."
The endowments afforded by GRA also let its researchers "maybe go out on a limb and be a little bit riskier about something we believe could come through," adds Kyle. "We can use some of those resources, actually prove that this is a possibility, then go to somewhere like the National Institutes of Health [NIH] or the Bill & Melinda Gates Foundation for more support. That sort of underlying support from GRA makes those riskier types of research and enterprises pay off in a bigger way."
And they are paying off. According to a recent Georgia Bio report, institutions in Georgia received nearly $550 million in NIH research funding in 2018, a 20 percent growth since 2010, outpacing the national average of 8 percent. Filed patents have increased 121 percent over the past 10 years, and new life sciences businesses have grown over 32 percent in the same time period, compared to 1 percent for all industries in the state.
"We have a strong reputation, and one that's continuing to grow. That's evident by the researchers we're able to recruit here. We continue to see increase in rankings for not just that reputation but also the strength of the research at our universities," says Allen. "Everything's pointing in the right direction for us, and I think we can comfortably say we are a top state for innovation when it comes to university research."