Fox Theatre Institute grants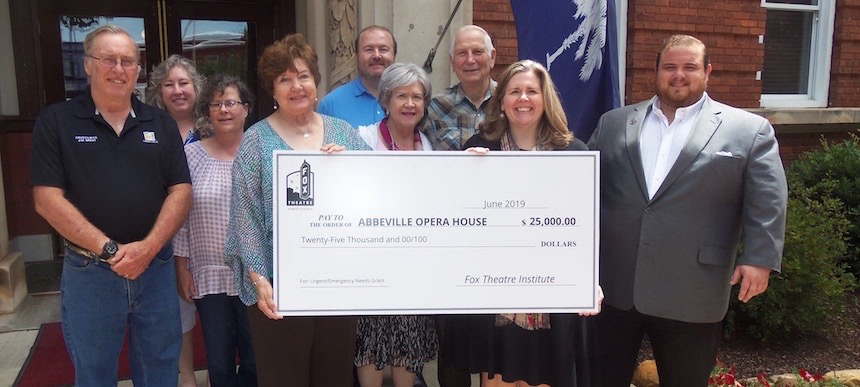 The reach of Atlanta's Fabulous Fox Theatre stretches well beyond the curbs of its Peachtree Street location. Its Fox Theatre Institute (FTI) program offers historic preservation expertise, consultation, education – and grant funding – to performing arts venues across Georgia and the region, with the goals of stimulating local economies and ensuring access to arts events.
Thirteen historic theaters in Georgia will receive funding totaling $500,000 in 2020 to help with projects including historic preservation, urgent/emergency funding and planning.
The 2020 grant recipients are:
ART Station in Stone Mountain will receive $57,000 for new theater lighting, sound equipment, turn table and hydraulics.
Holly Theatre Community Center in Dahlonega will receive $22,500 to help with completing the next phase of its project to study structural areas of the stage and backstage areas to enhance safety and comfort.
Rylander Theatre in Americus will receive$50,000 to restore some of the bricks-and-mortar on the exterior wall, excavate the existing sidewalk, make conduit repairs and repour the sidewalk.
Sandersville School Building Authority in Sandersville will receive$46,060 for improvements to the auditorium theater, including HVAC units, LED lighting and sound equipment.
Earl and Rachel Smith Strand Theatre in Marietta will receive $15,860 to install a new elevator for performers that will also address ADA needs.
The Backlot Players/Rose Theatre in Forsyth will receive $13,500 to upgrade the marquee.
Grove Park Community Foundation in Atlanta will receive $50,000 to help continue space planning, architectural design work and development for the Grove Theatre that will ultimately create a community arts and education center.
Plaza Theatre in Atlanta will receive $32,580 to complete projects including the restoration of the marquee; replacing non-historic front doors; and renovations to the lobby ceiling, backstage, concession stands and restrooms.
Roosevelt Theatre in Jefferson will receive $32,500 to hire an architectural firm and generate a preservation plan to guide the rehabilitation of the historic venue.
City of Winterville/Winterville Auditorium will receive$5,000 to help with development of a strategic plan for Winterville Auditorium.
Eatonton Downtown Development Authority will receive $50,000 to assist with the purchase of the Pex Theatre.
Liberty Theatre Cultural Center in Columbus will receive $50,000 to help install a new roof on the historic African-American theater.
Southside Theatre Guild in Fairburn will receive$75,000 to help with a roof replacement, while ensuring historic materials remain intact with the building.
FTI's Preservation Grant Program and Historic Preservation Services have supported 64 projects totaling more than $1.5 million over the past 10 years.
"We know the benefit of our funds go far beyond the actual brick-and-mortar repair of the buildings," said Leigh Burns, director of Fox Theatre Institute, in a press release. "As we once again partner with preservation and economic organizations, our hope is that the positive domino effect of preservation encourages other business and tourism efforts locally and regionally."
Photo of the Abbeville Opera House receiving its 2019 grant check provided by the Fox Theatre Institute.
Do you follow us? Find us on Linkedin, Facebook, Twitter and Instagram.