Working Smarter
Georgia Tech is helping communities across the state improve quality of life with the use of technology and data.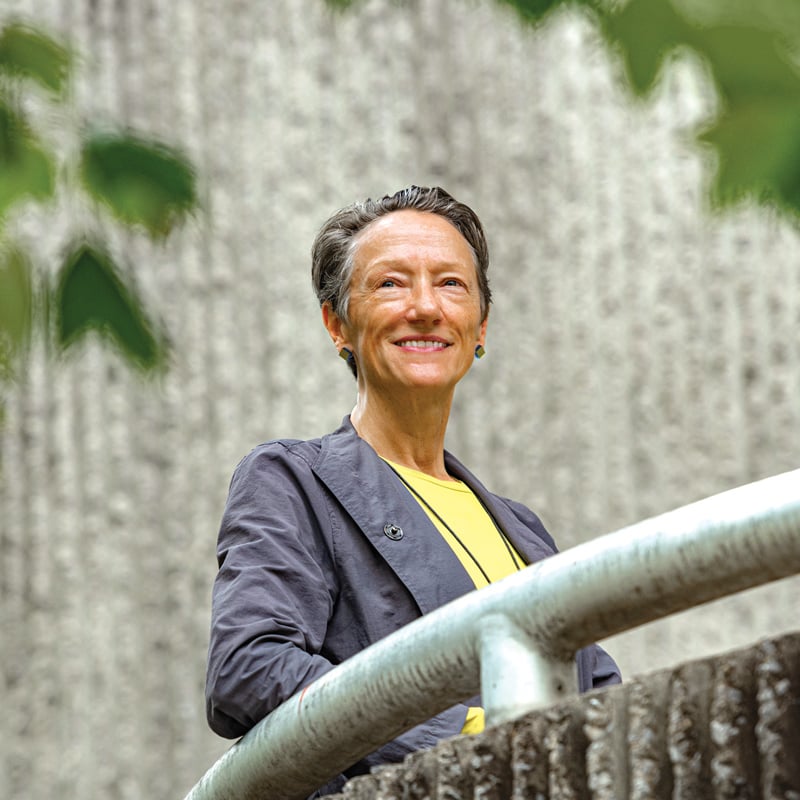 Smart cities are being discussed a lot these days, and while definitions vary, the common denominator is the use of new technology to improve infrastructure services, sustainability or government efficiency. There are many different approaches to creating a smart city or community, but none rivals the collaborative program launched last year in our state. The Georgia Tech Smart Communities Challenge is pairing the institution's research, technology and data expertise with local government and business partners to solve clearly defined issues in four targeted communities.
"How to better use technology and data to improve [a community's] quality of life is how we define smart," says Debra Lam, managing director of Smart Cities and Inclusive Innovation at Georgia Tech, which implements the challenge program. "It's very much process oriented. It's thinking about the most suitable research and technology and how to incorporate data to improve decision making and planning, and ultimately improve service to citizens."
After months of reaching out to businesses and governments around the state to gauge interest, solicit feedback and secure partnerships, Georgia Tech introduced the program in June 2018, with the selection of projects in four communities: Albany, Chamblee, Chatham County and Gwinnett County. The program delivers commitment and support to each community for a year, September to September, beginning with $50,000 in grant money to address a specific challenge. Georgia Power and the Atlanta Regional Commission are providing the financial assistance, and the local community is required to match the grant with its own funds and in-kind services. In addition, the university is offering $25,000 in technical assistance and support from its researchers. Among the other resources Georgia Tech offers are access to experts and peer governments from which to learn best practices and ongoing workshops, site visits and communications to help the projects succeed.
A panel of judges representing business partners and the university chose the four from 17 applications received. Having four communities as a cohort enables them to learn from each other, Lam says. Local governments have coordinated the projects, but community and neighborhood groups, industries and others are also collaborators.
Lam calls it a good matchmaking process, bringing together communities that "don't have the expertise to do a lot of research-driven, innovative work" with the university, which has "a wealth of top-notch researchers committed to making a difference in communities."
---
Sharing Real-time Information
Making traffic flow more smoothly is a major concern in rapidly growing Gwinnett County and throughout Metro Atlanta. For the Smart Communities Challenge, Gwinnett initiated a data gathering and analysis project that will lead to traffic signals sharing real-time information with vehicles – and vehicles potentially communicating with each other – to improve safety and traffic flow.
"The technology infrastructure we put in our traffic signal cabinets will enable us to broadcast information to vehicles," says Tom Sever, deputy director for Gwinnett County Traffic, Engineering, Operations and Maintenance. "This will be information on whether the signal is about to turn red or green, or if a pedestrian has pushed a button and is about to enter an intersection, or if there's a train going through the intersection and the traffic signal has been pre-empted. This will give road users more information to make decisions on whether to wait or go on."
The project is helping the county assess the benefits of various connected vehicle systems, including costs, hardware and software. It required data about existing traffic patterns, and the county deployed Georgia Tech-designed sensors in 15 fire and emergency vehicles to collect data daily from June through early August. The busy Peachtree Industrial Boulevard corridor north of I-285 was the area of focus "to see where we're having challenges at intersections," he says. "This will help us identify what we need to consider to deploy future technology to make it more efficient for emergency responders and to understand the impact on other drivers in the intersection and how to address it."
Sever says the Georgia Tech-analyzed data revealed traffic hot spots – many of which were expected – and he envisions that next year the county will be deploying connected vehicle technology along Peachtree Industrial Boulevard to improve mobility.
"Going through this process was certainly beneficial," he says. "It's going to show us how to move forward in the right way. We will help emergency vehicles respond more safely and efficiently and mitigate the impacts on folks traveling on our roadways. Our charge from Georgia Tech is to make the information available to other municipalities to review and benefit from [our findings]."
---
Increasing Mobility
Reducing car dependence and increasing mobility options to improve quality of life are among Chamblee's goals in pursuing shared autonomous vehicles to connect its MARTA station with local hubs. Mayor Eric Clarkson began thinking about using these driverless shuttles several years ago and in 2017 started working with international urban design firm Stantec on a feasibility study. The conclusion was that an autonomous shuttle pilot should be implemented along Peachtree Road, which is less than a mile from the Chamblee MARTA station. Based on the study, the city applied for the Georgia Tech Smart Communities Challenge to determine how to provide the best rider experiences when the shuttles are eventually put into service.
Georgia Tech professor of urban design Ellen Dunham-Jones, the lead researcher on the project, says autonomous shuttles are "very much in the pilot stage around the world" and the number that have been piloted since her team began its research has tripled.
"Most are on university campuses, hospital campuses, places where people need other modes of mobility," she says. "There are starting to be a few more in downtowns, operating in mixed traffic, but it's a technology that's evolving daily. I'd absolutely say that Chamblee is in the lead on this."
Her team's mission was to produce a best practices manual that any city can use to improve shuttle user experiences. They found little existing experiential research given the newness of the technology, so they focused on buses. "Our manual provides best practices that are already being applied to conventional transit, and we're translating those to autonomous shuttles," she says.
The team also explored experiences with other forms of multi-modal transportation like electric scooters and bikes and Segways. "Similar to autonomous vehicle shuttles, these are being pitched as ways to help communities solve the last mile [connectivity] from transit to destination," she explains. "Scooters are a success because they're fun."
The manual addresses building shuttle ridership by making communities more multi-modal and less car-dependent, using Chamblee as an example. Sections include innovative ideas for great shuttle stops that turn them into more than a place to wait, like allowing pop-up vendors, food trucks and community gardens nearby; and suggestions for determining how the six-to-nine likely passengers on each shuttle prefer to interact.
As far as how soon Chamblee's autonomous shuttles will become a reality, Denham-Jones says it could be soon. "Shuttles run on a dedicated route, and they have dedicated stops. That doesn't require much machine learning, and we have the technology for that today," in contrast to driverless cars, which she thinks could be 10 to 50 years away.
Clarkson says the Smart Communities project was instrumental in the city applying for an $8-million federal Department of Transportation grant to fund operation of two shuttles for three years. He's waiting to see if Chamblee is chosen, but vows to move forward anyway.
"We're putting $4.5 million right now into the Peachtree [Road] corridor that would make it possible for the shuttles to run [there]," he says. "We're in conversations with MARTA about converting the station to make it a multi-modal hub. We're going to make this happen. Because we have the infrastructure in place, if we get funding for the shuttles, they could be running in about a year."
---
Improving Decision-making
Albany City Manager Sharon Subadan is the first to admit the city has housing challenges. There hasn't been enough information about the nearly 200 city-owned units for effective decisions about repairs, revitalizations or dispositions. And there's been a lack of understanding about the amount and location of housing needed to accommodate new residents. In addition, Subadan says sometimes residents' utility bills are the same as or more than their rents, a problem begging to be solved given the fact that Albany provides the utilities.
"We're trying to help people have a better quality of life in clean, affordable, decent housing," she says. "We needed data to draw good conclusions and develop strategies going forward."
The Smart Communities Challenge has helped Albany develop an automated housing registry that provides the information necessary to effectively manage the city's housing inventory. Built by Esri, a leading geographic information system (GIS) provider, the registry is expected to be fully operational this fall. The Georgia Tech team collaborated with Esri to integrate multiple databases that will map housing address information and 10 years' worth of utility records. Information about transit, code enforcement and crime are also being added along with data about the other 33,000-plus housing units in Albany.
"Energy performance data is integrated with other surrounding information like student data – how many houses have children – and what's the crime like," Subadan says. "The tools will give us the ability to gather actual data about neighborhoods and learn what that data is really telling us."
She says the registry has been developed as a prototype that can be replicated elsewhere, especially to address housing affordability. "We're happy to be the Guinea pig and learn things that will become beneficial to others," she says.
However, she cautions that there's much more to being a smart city than having cool technology. "Technology doesn't make you smart," she says. "You have to first ask, 'what is the problem we're trying to solve?' If you apply technology to a process you've figured out, it can have a good result."
---
Assessing Coastal Flooding
With climate change affecting sea levels, flooding is increasing in Chatham County during hurricanes and extreme high tides. However, the county previously had only one official water-level gauge, located at Fort Pulaski. "Due to the uniqueness of each storm, the flooding observed on the ground did not always match the amounts we were getting from the NOAA [National Oceanic and Atmospheric Administration] gauge at Fort Pulaski," says Randall Mathews, emergency preparedness manager for the Chatham Emergency Management Agency.
Clearly a need existed to provide more targeted and localized flood warnings and forecasts.
Chosen for the Smart Communities Challenge, the county worked with Georgia Tech to develop an internet-enabled sensor network that would provide data and analytics for more accurate water level forecasts and improved emergency responses.
"The project allows us to monitor areas that are experiencing flooding so we can know what's truly happening on the ground during an emergency event," says Mathews. "It will help us allocate the necessary resources in the correct areas."
During the past year, about 40 sensors were installed throughout the county, many placed in locations recommended by community residents. Most of the sensors were built by Savannah's Jenkins High School students, using a custom Georgia Tech design. Mathews says not only were they economically constructed, but the sensors are also cost effective to operate, running on D-size batteries that will last three to five years.
The Georgia Tech-Chatham County partnership is working on a web portal that he says "will allow us to see all the sensors in real time and see which areas are being inundated with water, which roads may be impassible, what structures may be impacted, what the water level is. We will be able to see flooding from storm surge, rain or a dam break and monitor it all with the [sensor] network. Anything that's happening in the region, we can monitor how it will impact the local area."
The project is the first of its kind in the region, and he says it can be adapted for multiple uses. "The really brilliant thing about this whole platform is that there are a slew of different sensors that we can plug and play into this network," he explains. "We can look at temperature, humidity, wind speed and get hyper-local information for meteorologists to make their forecasts."
In addition, he says proving the science works can change how water levels are monitored in the future. "A more cost-efficient and effective solution could impact the world," he says.
Even though the inaugural Smart Communities projects wrapped up last month with events that showcased how each accomplished its goals, the work won't necessarily end. Georgia Tech researchers, scientists and engineers have become part of the local teams, and some will continue to assist beyond the pilots, helping with new grants and opportunities.
Building on the success of the first year, the next crop of Smart Community Challenge winners were selected in June. Those that began projects last month are: Columbus-Muscogee County, Macon-Bibb County, the city of Milton and the city of Woodstock.
Lam says the program's goal is making sure Georgia Tech benefits the entire state. "We're committed to communities of all sizes in their process to become smart," she says.
---
It Takes a Village
Georgia Power and the Atlanta Regional Commission are the lead sponsors of Georgia Tech's Smart Communities Challenge. Additional partners include:
• American Planning Association, Georgia Chapter
• ACCG
• Georgia Association of Regional Commissions
• Georgia Chamber
• Georgia Department of Community Affairs
• Georgia Department of Economic Development
• Georgia Municipal Association
• Global City Teams Challenge
• Metro Atlanta Chamber
• Technology Association of Georgia