Trendsetters: MuniRem Environmental – Planet Protector
MuniRem Environmental's products provide an environmentally safe way to neutralize explosives.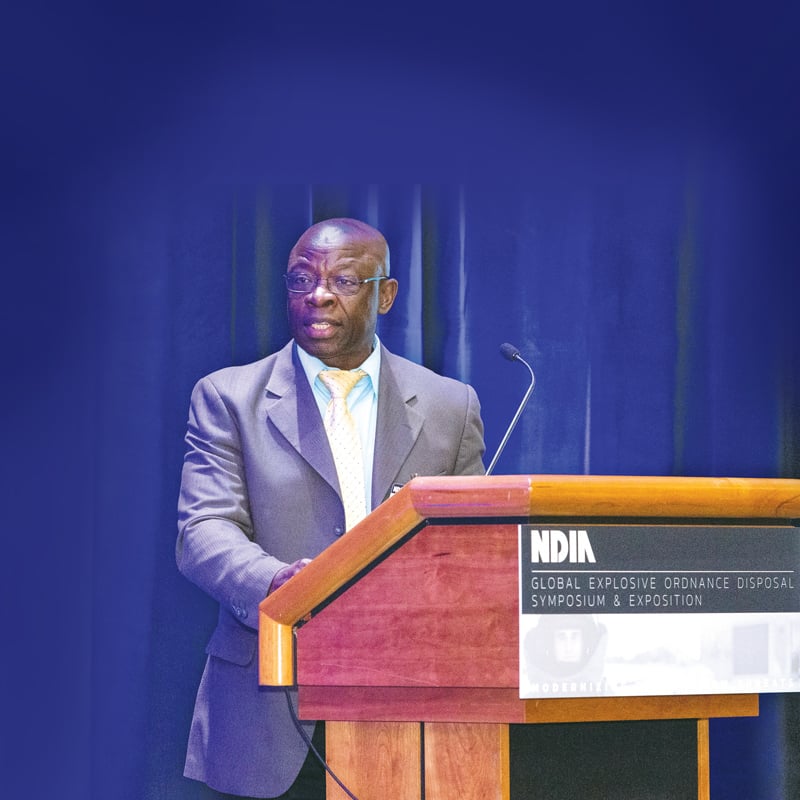 As a teenager in the Republic of Cameroon, Valentine Nzengung was interested in geochemistry. His career has combined that interest with his dedication to protecting the environment. Since becoming a professor of environmental geochemistry at the University of Georgia in 2006, he's focused on cleaning up discarded weapons in ways that are safe for the environment.
His research at UGA led him to develop a chemical that could neutralize explosives, which the university ultimately patented and licensed exclusively to the company he launched in 2013, MuniRem (short for munitions remediation) Environmental.
"It chemically neutralizes explosives under room temperature and pressure," he explains. "We add [the powder] to explosive compounds, and it forms non-hazardous waste. We can also apply it as a solution to decontaminate buildings, surfaces and groundwater."
The benefits of his creation make it an environmentally friendly alternative to the usual practices of detonating or burning unused munitions and explosives. Environmental groups frown on these practices because of the likelihood of soil, water and air contamination. In contrast, the MuniRem solution has no adverse effects on the environment or on the folks applying it.
In addition to safely working within minutes, the product is cost effective compared to the "tens of millions of dollars" Nzengung says it costs to clean up contaminated soil and water following an open burn or detonation.
Over the years, he's come up with different formulations to address conventional and chemical weapons and homemade explosives. He's currently field testing a kit that first responders can use on homemade explosives, potentially saving many lives. In addition, his product remediates mine waste.
"By tweaking the chemistry, we come up with different forms to achieve different environmental needs," he says.
He's now turning his attention to remediating underwater explosives in Europe, remnants of multiple wars. "Underwater munitions are impacting our fisheries, and some are washing up on coastlines," he says. "We have to deal with that legacy."
But perhaps his biggest passion is using his research to help impoverished African farmers grow crops more economically and effectively. In partnership with the Food and Energy Security Cameroon Cooperative Society, he's pioneered a technique where biomass – like woodchips, lawn clippings or peanut hulls – is converted to charcoal that can be infused with nutrients and buried in the soil. There it slowly releases the nutrients and becomes an organic fertilizer. With this method, farmers do not have to purchase chemical fertilizers that they may not have the expertise to apply correctly.
While MuniRem has customers all over the world, it's not exactly a household name.
"Like everything that is revolutionary, innovative technologies are not easy to sell to the public or to investors because there's always the fear that, 'what if this doesn't really work?'," he says. "This is new technology. It will take time to gain acceptance and for people to understand what is involved and how good it is for the environment."