2019 40 Under 40
Georgia Trend honors the state's best and brightest under age 40 in nonprofits, healthcare, business and more.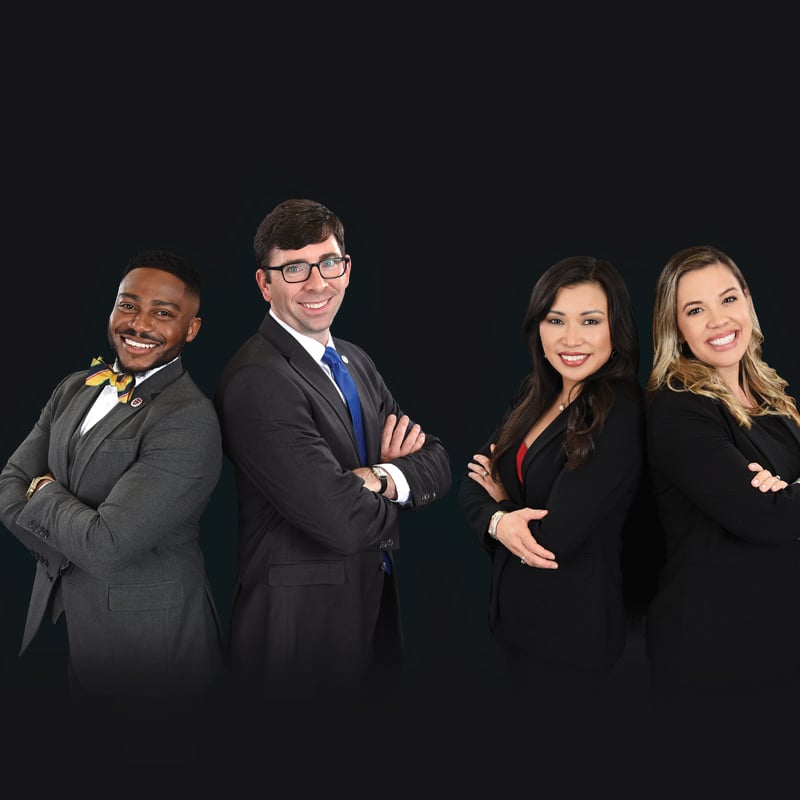 It's been 23 years since Georgia Trend's inaugural 40 Under 40, and each year the winners continue to leave us awed and inspired.
That's no different with this year's group of young leaders, who while representing the nonprofit, healthcare and legal sectors, large corporations and startup entrepreneurial ventures, still find time to volunteer and give back to strengthen and grow the communities around them.
These 40 individuals were selected by the Georgia Trend staff from more than 400 nominations by readers throughout the state who know them well. We're proud to share their stories.
Jennifer Stalcup photographed four representatives of the 2019 40 Under 40 for the cover and here. Left to right are Brandon P. Fleming, founder and CEO of the Harvard Diversity Project in Atlanta; Josh Rogers, president and CEO of NewTown Macon; Cecilia Arango, marketing manager for Thomas & Hutton in Savannah; and Siobhan Alvarez, executive director of the Atlanta Autism Consortium.
Betty Darby, Jennifer Hafer, Karen Kirkpatrick, Patty Rasmussen and K.K. Snyder wrote the individual profiles. – The Editors
---
Bertrina Olivia West Al-Mahdi 38
Founder & President, ToGetHer Empowered
Clinical Director, Out of the Box Counseling, Coaching and Consulting
Duluth
When a crisis arises in a part of the world that's completely different in culture, language, customs and expectations than the U.S., how do people who want to help know how to interact in that country? One way is to call on an international psychologist, like Bertrina Olivia West Al-Mahdi.
She also works closer to home as clinical director at Out of the Box Counseling, Coaching and Consulting, providing mental health services to people – often minorities and refugees – who have experienced trauma. And she founded ToGetHer Empowered, an organization that introduces women and girls of color to possibilities they may never have considered, through mentoring, college tours and other activities.
"We believe that without being exposed to something you would never know it, you could never dream it," she says. – KK
---
Siobhan Alvarez 34
Executive Director
Atlanta Autism Consortium
Vinings
Marietta native Siobhan Alvarez has spent her career with large nonprofits, helping raise their profile and further their mission nationally. But last September she took a different tack, becoming the executive director of the Atlanta Autism Consortium (AAC), a still-young organization working to promote connections and awareness of autism-related organizations. That the AAC was small is significant.
"With an organization of this size, there is such a potential to impact the community," she says. "I loved the fact that it's Atlanta-specific. I loved the fact that I will really get to know folks that are in our community, folks that need our services."
With a one-year-old son and another due in November, Alvarez still finds time to serve as a board member for LiveSafe Resources, a domestic violence shelter, and C5 Georgia, a youth leadership program. – PR
---
Cecilia Arango 39
Marketing Manager
Thomas & Hutton
Savannah
Cecilia Arango may have the official title of marketing manager at Thomas & Hutton, but she prefers her honorary title of "director of fun."
"When you're able to let loose and have fun, and be your true self, that's where the magic happens," she says.
Nowhere is that more evident than in the annual Office Olympics she organizes, with games like Board Meeting, where Arango and her colleagues shoot rubber bands at the ceiling in a fancy conference room and see how many fall into a coffee cup on the table. She also spearheads the company's Helping Hands initiative, a monthly community service volunteer group.
Outside of work, her service hat stays on as chair of the Savannah Sports Council and board member for Metropolitan Savannah Rotary, Girls on the Run 5K Leadership Team and Bike Walk Savannah. – JH
---
Alex J. Aron 36
Senior Counsel
Vivid IP
Atlanta
Science, the arts and the law don't seem similar, but Alex J. Aron, an intellectual property (IP) attorney, manages to nurture her passion for all three.
"One thing about IP is you get to work with these technology leaders, scientists who are really creating and doing cutting-edge work," she says of her day job. "I'm honored to help them retain and protect what they've created."
That's a commitment that carries through to her work with Georgia Lawyers for the Arts, a nonprofit organization that provides legal assistance to artists and arts organizations, and at Georgia Bio, which nurtures and helps build the bioscience industry across the state.
"The creation of novel ideas or launching new products is the backbone of our society," she says. "I believe in protecting creativity; without it nobody has any incentive to launch these products or brands." – KK
---
Jeremiah Bame 36
Chief Nursing Officer
Piedmont Newton Hospital
Covington
When nurse Jeremiah Bame was approached about a committee assignment to help manage labor productivity among nurses, his initial reaction was "Lord, no, that sounds terrible!" But he ventured into the business side of nursing and discovered he had a knack for it – so much so, he went on to earn an MBA at Georgia State.
He doesn't see it as walking away from the clinical side, knowing that nothing affects quality of care more than nursing ratios. "I'm an advocate and a barrier remover for the people who are at the bedside," he says, proud of the reduced nursing turnover at his latest hospital, Piedmont Newton.
Outside the hospital, he works with a group that helps fund mammograms for the underinsured and supports advocates for foster children as treasurer of Alcovy CASA. – BD
---
April Mouton Beal 36
Chief Development Officer
The Methodist Home for Children & Youth
Macon
April Mouton Beal left the Robins Regional Chamber in Warner Robins in 2015 for the Methodist Home when she found a position that called her. "I had a passion to do something … that was really moving the needle for society, particularly with youth and those who don't have a voice," Beal says.
Her work with the voiceless doesn't stop at 5 p.m. She recently hosted On the Table Macon, an initiative to bring people of diverse backgrounds together to get to know and understand one another.
"It was a unique opportunity to identify the challenges of others and the perspective of others," she says. "Sometimes we look through tunnel vision, and we don't really see what's happening around us. Community involvement is a big part of taking off those blinders and really looking at the issues from a different perspective." – KK
---
Junior Bernadin 37
Dean of Students and IT Director
Ron Clark Academy
Fayetteville
Junior Bernadin drove from Tallahassee to Atlanta for a job interview to find himself exactly where he belongs – at Ron Clark Academy. A decade later, as dean of students there, Bernadin has made an impact on hundreds of young people and helped inspire thousands of educators who come from around the world to train at the academy.
"My phone interview lasted five minutes, and I thought 'I must've been the worst candidate ever,'" recalls Bernadin, an instant hit from the moment he walked through the door for his in-person interview, which included an impromptu step performance.
Bernadin serves as IT director, coaches the four-time National Championship Step Team, the National Championship Math Counts Team and the award-winning robotics team among other programs. He also volunteers and mentors throughout Atlanta at organizations that include 100 Black Men of South Metro, March of Dimes, Relay for Life, Building Future Leaders and Dance Canvas. – KKS
---
Jeffrey Brown 35
Vice President of Development and Marketing
Partnership Against Domestic Violence
Atlanta
Jeffrey Brown brings a male voice to the struggle against domestic violence, where most victims are women. "Men who are great husbands and great fathers should step up and say 'Enough is enough,'" he says. And lest you overlook this problem, he points out that 57 percent of mass shooters in the country have a history of domestic violence.
A husband and father of two sons, he headed fundraising and membership at the Northeast Georgia Council of the Boy Scouts of America before joining the Atlanta-based Partnership Against Domestic Violence. He's on the board of Atlanta's chapter of the Association of Fundraising Professionals. Outside of work, he's on the board of the UGA Alumni Association's Black Alumni Leadership Council, as well as a mentor to African-American freshmen at Dacula High School – in sessions that start at 6 a.m. – BD
---
Nikki Bryant 39
Owner, Adams Family Pharmacy
CEO, Preston Family Medicine
CEO, Stewart Webster Cancer Fund
Preston
Her hometown had been without a pharmacy for more than 60 years when Nikki Bryant returned to rural Webster County in 2014 after pharmacy school and opened Adams Family Pharmacy, adding on to her father's Preston grocery store. This past January, she opened Preston Family Medicine to solve another problem – Webster had been one of nine Georgia counties without a medical provider.
"This area is very underserved in the healthcare arena," says Bryant, who also founded the Stewart Webster Cancer Fund, a 501(c)3 aiding cancer patients in Stewart and Webster counties. "There are lots of people struggling with cancer, and they have to travel 45 minutes to get anywhere for treatment."
The fund helps patients with food and gas money, getting their house cleaned or even sending flowers. "Anything to help ease the burden," she says. – KKS
---
John Butler 39
Outreach and Public Education Manager
Gwinnett County Department of Water Resources
Lawrenceville
TVs, bottles, light bulbs, fire extinguishers, whatever – John Butler or one of the 500 or so volunteers he leads have pulled it from a waterway leading to Lake Lanier, Gwinnett County's drinking water source. It adds up to 20,000 pounds of trash annually – and that's a drop in the bucket.
A homebody at heart, Butler earned his environmental health sciences degree at UGA and returned to Gwinnett County to intern with the water department. He's moved up through the ranks, now educating and advocating for water resources. He partners with other environment-oriented agencies, serves the community on regional water resource boards, and practices at home what he preaches at work.
"We're below average for water consumption, and we produce one bag of trash a week," he says. "Instead of saying 'I read this,' I can say 'I do these things.'" – BD
---
Mario Cambardella 37
Urban Agriculture Director
City of Atlanta
Chamblee
The nation's first urban agriculture director, Mario Cambardella also created the largest food forest in the country. Southwest Atlanta's Urban Food Forest at Browns Mill is a seven-acre city park promoting access to green-space and education about native plants for residents of all ages.
"These food-producing landscapes can be beautiful and provide nourishment and strength to communities," says Cambardella, whose two AgLanta Conferences to date brought more than 500 visitors from around the world to learn about indoor aquaponics and vertical agriculture.
Trained as a landscape architect and environmental planner, he helped identify Atlanta's food deserts – areas with limited access to affordable and nutritious food – and works to establish community gardens, local grocery stores and farm-to-table restaurants within them. Cambardella also created the AgLanta Grows-A-Lot program, transforming 10 city-owned vacant land parcels in low-income neighborhoods into community gardens with access to water and tools. – KKS
---
Dr. Crystal Champion 38
Executive Director, Champions Can! Foundation for Cancer Wellness Inc.
Owner, Eminence Physical Therapy LLC
Duluth
Her last name may be a coincidence, but physical therapist Crystal Champion is a champion for the holistic treatment of cancer patients.
"I was receiving a lot of feedback from patients after their cancer treatment was done that they weren't receiving adequate follow-up care, and I took it upon myself to fill in those gaps and help them navigate their cancer journeys," she says.
Champion's passion for her patients led to the creation of her Champions Can! Foundation that advocates for cancer survivorship. "After treatment, patients may be looking for support – spiritual, emotional, financial – which I try to provide, but if I can't, I'll help them find community resources." She is also the author of the 2018 book The Elements of Cancer Survivorship. – JH
---
Eric Crouch 33
Teacher
Double Churches Elementary School
Ellerslie
In the world of education, Eric Crouch is a rock star. A fifth grade teacher at Double Churches Elementary School in Columbus, Crouch was a Top 40 finalist in the Varkey Foundation's 2019 Global Teacher Prize, a program that recognizes teachers who are champions for change. He is the recipient of a national Milken Educator Award and a Harvard Fellow who believes school isn't about grades, or shouldn't be; it's about helping students find their paths. He and his students have helped build a school in Kenya, created 3D prosthetics for pets and together they raised more than $1.5 million to help students in need around the world.
"Find out what the child is passionate about, and you connect the learning to that passion," he says. "We are redefining what teaching can be." – JH
---
Lauren Dallas 34
Executive Director
Turn Back the Block
Augusta
Recognizing a need for affordable housing, Lauren Dallas and Turn Back the Block work to revitalize Augusta's disinvestment-stricken historic Harrisburg neighborhood through housing rehabilitation, new construction and the promotion of homeownership.
"All eyes are on this neighborhood mainly because of its proximity to downtown and the mills and all these projects that are happening in Augusta," says Dallas. "We just have to do something to continue to turn this neighborhood around or it's going to continue to be an eyesore, it's going to continue to be filled with crime, and nothing's going to happen. That pride in homeownership is what's going to turn around the neighborhood."
Her involvement netted her an appointment to the Augusta Georgia Land Bank Authority. She serves on the Leadership Augusta board of directors and will be chair of the Leadership Augusta Class of 2020. – KKS
---
Charmaine D.L. Davis 36
Southeast Regional Administrator
U.S. Department of Labor's Women's Bureau
Atlanta
Charmaine Davis has long been drawn to work focused on women, families and economic justice. "I was always hyper aware [that] if you're constantly worried about losing your job or your home, you can't fully live a high-quality life where you can concentrate on using your gifts to make a better world."
When she was a little girl, she witnessed her mother being forced to resign from a job she loved to care for a sick family member. That left an indelible impression on Davis, and she has dedicated her career to ensuring people don't have to choose between their job and their family. For example, she helped get the Family Care Act passed in Georgia in 2017 that requires some employers to allow workers to use their paid sick leave to care for immediate family members. – JH
---
Brooke Devlin 37
Director of Quality Management
West Central Georgia Regional Hospital, Department of
Behavioral Health & Developmental Disabilities
Columbus
"This passion sort of found me, unfortunately," says Brooke Devlin, who lost her younger brother in 2017 to a substance use disorder. But in that tragedy, she found a purpose.
Already a part-time professor at Columbus State University, Devlin switched the course she was teaching to a seminar on drug and alcohol abuse, and instead of filling her students' heads with statistics, she brought people in recovery, as well as family members of those still in active addiction, to speak to her classes."Their stories were just so powerful," she says.
Devlin is co-founder and co-leads the Columbus chapter of GRASP, a support group specifically for people who have lost loved ones to addiction. "My goal is to not have my brother be another statistic," she says. "He was an amazing person that had this disease." – JH
---
Brandon P. Fleming 29
Founder & CEO
Harvard Diversity Project
Atlanta
From at-risk kid to assistant debate coach at Harvard University and founder and CEO of the Harvard Diversity Project (HDP), Brandon Fleming is living the dream he wants his students to experience. At HDP, Fleming recruits underserved Atlanta students and trains them to go up against some of the strongest debaters in the world at the Harvard summer debate residency – and his team has won two years in a row, its first two years in existence.
Academic excellence doesn't stop there. Students on last year's team received scholarships to colleges all over the country – including one who started at Harvard this fall on a full ride.
"This win, both of these wins," Fleming says, "[are] a platform that we use to show the world what students of color are capable of doing if they're only given access and opportunity." – KK
---
Amanda Woodall Groover 38
Director of Marketing & Development
Cooper & Co. General Contractors
Flowery Branch
Construction is in Amanda Groover's blood. She has constructed a new life following addiction and a career in an industry that rebuilt itself after the Great Recession. As a marketing guru, she brought a 52-year-old commercial construction company into the digital age.
She's also active in the recovery community as a founding board member of Acceptance Recovery Center and a board member of Friends of Recovery for Hall County.
"How do we fight that stigma against those preconceived notions that everyone out there who has ever had problems with drinking or drugs is a waste of society's money?" she asks. "Because I personally know so many people who have gone on to do some pretty amazing things and have been great business leaders in their community just by reinventing themselves and starting their lives over again." – KK
---
Jessica Hardaway 36
Director of Communications and Engagement
Tyler Perry Studios
Atlanta
What's a biochemical scientist doing fronting for a movie studio? She's bringing an analytical background to the task of being the external face of a successful filmmaking operation.
"When I came, I saw a lot of need in our neighborhood, which is southwest Atlanta, especially for programs with young people," she says. "I want to give them exposure, not only to the movie industry, but to all the opportunities that are out there. I have this platform, and I get to do so many cool things!"
The Florida A&M University grad worked in various labs and made the jump from test tubes to marketing analysis while working with Georgia Power. Outside the work arena, she put her lobbying skills to work for passage of Georgia's ABLE Act, a savings program for people with disabilities. – BD
---
Feleica Harrington 34
Co-owner
Harrington Family Funeral Services
Valdosta
During her tenure as executive director of Lowndes Associated Ministries to People (LAMP), Feleica Harrington helped feed the hungry and house the homeless in Valdosta. In March, however, she and her husband opened Harrington Family Funeral Services.
The two careers have more in common than one might think. "I've always wanted to be in a position where I feel purposeful," she says. "I like to be a servant to others in whatever capacity that may be."
Starting the funeral home is not only another way for Harrington to serve, she is also building a multi-generational family business for her children. "My husband is a third-generation funeral home owner," she says.
An alum of Leadership Lowndes, Harrington also serves on the board of the South Georgia Health Alliance. – JH
---
Lindsay Herring 34
Owner, SweetE's Dance Studio
Drama and Dance Instructor, Brooks County High School
Quitman
Devoted to performing and visual arts in rural South Georgia, Lindsay Herring combines her education in theater and public administration to successfully own and operate SweetE's Dance Studio and, in just two years at the helm, lead the Brooks Trojanettes Competitive Danceline and the drama program to successfully compete at regional and national levels.
Herring witnessed the power of music transform her initially non-verbal son, whose first ever sounds at nearly age three were in response to musicals playing in the car. "Music was able to do that when thousands and thousands of dollars and doctors were not able to," she says. "Music gave my son his voice."
An award-winning coach and choreographer, Herring has quadrupled enrollment at her studio in the past five years, with dancers performing in New York City and at Disney World. – KKS
---
Sarah Koch 37
Co-founder & Executive Director
Development in Gardening (DIG)
Atlanta
While in the Peace Corps, Sarah Koch successfully turned a trash-filled lot into a healthy garden to impact the nutrition of HIV/AIDS patients at a Senegal hospital and the surrounding community. That experience led to the launch of Development in Gardening (DIG), a nonprofit that has since established community gardens in nine African countries, benefiting an estimated 50,000 people.
"We work with nutritionally vulnerable communities, patients with HIV, children who are malnourished, pregnant and nursing women, and people with disabilities, to give them the agency to grow gardens that are going to impact both their nutrition and food security but also be a pathway to market to address their income as well," Koch says.
Today DIG works in Senegal, Uganda and Kenya, establishing trust by training locals to become DIG staff and leaders who in return teach others to grow and maintain the sites, ensuring sustainability. – KKS
---
Jordyne Krumroy 31
Regional Manager
Welcoming America
Atlanta
Jordyne Krumroy works on the front lines of one of the most emotional, difficult and polarizing issues in America as she seeks to create an inclusive Metro Atlanta region in which immigrants and refugees can thrive. Welcoming America is crafting its One Region Initiative by gaining consensus among local governments, business leaders, organizations and communities, striving for social justice for these vulnerable populations.
After hours, she continues the effort as a volunteer, serving as a coordinator and board member for El Refugio, which provides temporary housing for visiting families of immigrants detained in the Stewart Detention Center in Lumpkin.
"Regardless of where people land on the political spectrum, most people will say people deserve communication and contact with their families," says Krumroy. – BD
---
Richard Makerson 38
CEO & Managing Partner
BlueFletch Mobile
Atlanta
A dedicated community volunteer and mentor, Richard Makerson and several colleagues bravely launched BlueFletch amid the 2008 financial crisis. Today the successful mobile solutions consulting firm boasts an impressive portfolio of clients.
BlueFletch recently created a cross-platform messaging app for Delta flight crews, improving communication and delivering meaningful information about weather delays or mechanical issues.
"By leveraging mobile devices, they're able to not only keep track and preserve conversations, but a pilot can actually see what flight attendants are talking about and basically be on the same page," says Makerson.
He serves on local boards like Big Brothers Big Sisters of Metro Atlanta and volunteers for groups such as Youth Entrepreneurs Georgia. – KKS
---
Scott McGhie 39
Partner and Director of Portfolio Management
The Fiduciary Group
Savannah
For Scott McGhie, helping families manage their wealth and develop transition plans is a calling as much as it is a career.
"It's the ability to add a level of value and build a level of relationship," says McGhie, who is partner and director of portfolio management at The Fiduciary Group. "Our relationship with clients goes beyond finance; it goes into core family values. It's a special process."
McGhie is equally passionate about his involvement at the Savannah Classical Academy (SCA), a K-12 public charter school authorized by Savannah-Chatham County Public Schools. The school offers a classical curriculum using traditional teaching methods, partnering with the Savannah Philharmonic Orchestra to provide a strings conservatory program.
As board chair since 2017, McGhie was instrumental in turning around the struggling charter school, which is now one of the top five elementary schools and a top middle school in Chatham County. – PR
---
Jason McKenzie 35
Co-owner, Ride On Bikes
Founder, Ride On Adventure
Columbus
Jason McKenzie put his marketing degree from Columbus State to good use, working his way up from employee to co-owner of Ride On Bikes in Columbus. Then, craving to share adventure as much as he shares bicycles, he started Ride On Adventure to lead experiences from Costa Rican surfing to cross-country, largely off-road motorcycle trips.
Along the way, he's donated thousands of bikes to charity and provided an arena for a blinded mechanic to teach himself to build, first, bicycles, and then, a new life – all while doing things like taking 3 a.m. phone calls from soldiers in Afghanistan with bike questions.
"If I was rich, the only thing I would do different – I would still live in Columbus, I'd still have the same dog – but I'd just have more experiences," McKenzie says, and that's part of his business philosophy. – BD
---
Shaton C. Menzie 37
Intellectual Property Attorney
Womble Bond Dickinson (US) LLP
Marietta
Shaton Menzie had plans to major in engineering then focus on computer programming. But that changed when she discovered she could combine her passion for writing with her ability in math and science as an intellectual property lawyer. It's a field that requires a strong technology background and an ability to write.
Menzie enjoys the challenge of protecting her client's new ideas and technology. "It's a capital that unlike people is hard to measure," she says. "It's always interesting to see people's ingenuity come to life and to help them protect those things they worked so hard to develop." She focuses on smaller, women- and minority-owned businesses, providing representation to an often-underserved clientele.
A single mom of two daughters, Menzie volunteers with Jack and Jill of America Inc., where she helps lead the Atlanta Chapter's efforts to raise funds to build a center at Children's Healthcare of Atlanta to study sickle cell anemia. – PR
---
Chrissie Merrill 37
Partner, Director of Film Finance
Ornstein-Schuler Tax Solutions
Atlanta
Chrissie Merrill isn't an actress, but her ties to Hollywood have helped bring hundreds of millions of dollars worth of film and television production to Georgia. Merrill is an expert in Georgia's film tax credits and movie production incentives. She sits on the boards of the Atlanta Film Festival and the Atlanta Film Society, where she chairs the industry committee.
Merrill is also passionate about giving back. She's encouraged her company and co-workers to sponsor monthly meals at Nicholas House and has participated in their sleep outside events to support homeless families.
Helping single working mothers is also close to her heart. "I'm most passionate about single working women with children," she says. "I prefer to go deep with one person, or one family, or two people or two families, because that way you can change the trajectory of their lives." – JH
---
Lauren Minter 36
Founder & Director
Idealist Ventures
Sandy Springs
Drawing on a decade of knowledge about the nonprofit industry, marketing and development, Lauren Minter last year launched Idealist Ventures to nurture nonprofits and startups to sustainability.
"Many organizations that don't have a paid staff or only a small staff can really use help filling in gaps. Having the right tools at their disposal to compete for resources and opportunities makes all the difference," says Minter, who wants to assist "visionaries in need."
With a personal connection to and admiration for the military, Minter offered her company's services pro bono to assist the Georgia National Cemetery Advisory Council with fundraising efforts for a $385,000 project. Her involvement was the catalyst that moved the needle. The successful culmination of their efforts, the Veterans Tribute Tower, will be dedicated Veterans Day weekend at Georgia National Cemetery in Canton. – KKS
---
Jae Nash 37
On-air Personality
V-103 Radio, The People's Station
Atlanta
Jae Nash has sampled a lot of media, but she didn't just pick one – she picked several. Catch her on air weekends on Atlanta's V-103 radio. Or in the podcast and website that grew out of her former syndicated Girl Power Radio Hour. Or in her just-published book, Girl Power Uncensored, a compilation of stories about women overcoming obstacles.
She knows something about obstacles. She was widowed at 25 when her NFL running back husband fell dead of cardiac arrest. Their daughter was six months old at the time. So she evolved into a serial entrepreneur and self-described "media maven" who's big on philanthropic organizations that help women and girls.
"There's no such thing as balance – you just do what you can," she says. "We all just try." – BD
---
Stephanie Nadi Olson 35
Founder & CEO
We Are Rosie
Atlanta
Georgia Tech grad Stephanie Nadi Olson worked at Microsoft and AOL in the digital advertising space, then worked at a couple of startups before founding her own company – We Are Rosie, a non-traditional marketing and advertising community, in 2018.
We Are Rosie has connected more than 1,800 highly skilled independent contractors in 15 states with large brands seeking project solutions, generating $2 million in revenue in its first year. "Brands come to us," says Olson. "We say, here's the team we would put together. And they're able to put together really niche, highly skilled, just-in-time talent to get the work done without all the bloat and overhead of a normal advertising agency or consulting firm."
Daughter of a Syrian refugee, Olson founded the Atlanta Refugee Supper Club, bringing cultures together over the dinner table while raising funds for refugee families. – PR
---
Jessie Owensby 37
Community Development Manager
City of Cornelia
Cornelia
Recipe for progress: change the way it's always been done. Cornelia and Habersham County, for example, were dry for decades. Jessie Owensby – whose municipal duties range from economic development to tourism – advocated change.
Getting a conservative small town to go along with brewpubs and wine tastings was challenging, but now restaurants are growing and an entertainment district is feasible.
"In the past four years, about 80 percent of the businesses opening in Cornelia were by people under 40," says Owensby, who sees youthful entrepreneurs as essential to her goal of making her kids want to raise her future grandkids there.
When not wearing one of her many municipal hats, Jessie sings in her church choir and works for women's business empowerment in SOAR, a group within the Habersham Chamber of Commerce. – BD
---
Eric Paulk 39
Deputy Director
Georgia Equality
Atlanta
He may not wear a cape, but Eric Paulk has dedicated his career to fighting for equality for all Georgians.
"It's not that glamorous," Paulk says of the superhero comparison. "But, at a time in our state when LGBTQ people, immigrants and people of color are being attacked on a daily basis, it's important for us to be out front making sure there's a movement creating this equality for these marginalized communities."
Paulk also leads the Youth HIV Policy Advisors Program, which pairs young people living with HIV with elected officials.
"These young people help these elected officials learn more about HIV and how it intersects with other issues like housing and transportation," he says. "It allows them to be more educated and informed as they make legislative decisions." – JH
---
Ethan Pham 38
Partner, Law Firm of Nguyen & Pham LLC
Associate Judge, City of Norcross and City of Morrow
Duluth
Ethan Pham began his law career working for a private firm that represented municipalities around the Atlanta airport. As an assistant city attorney, he advised local governments on the legality and the constitutionality of their actions.
Pham, who immigrated from Vietnam at age 11, says that experience gave him a deeper understanding of the word freedom. "Freedom is not just freedom from oppression from a foreign country, but freedom is also freedom from oppression from your own government," he says.
Pham is passionate about community service. He is the vice chair of the Gwinnett Transit Advisory Board; a member of the Gwinnett Police Foundation; serves as legal counsel for the Atlanta International Night Market; and is the co-founder of the Vietnamese American Bar Association of Georgia. – JH
---
Josh Rogers 36
President & CEO
NewTown Macon
Macon
Josh Rogers previously headed the Historic Macon Foundation, but almost six years ago he shifted his focus from preserving the past to building the future via NewTown Macon, the nonprofit that works to revitalize Macon's downtown. Since its inception in 1996, NewTown Macon has leveraged $135 million in investment. The 28 lofts downtown in 2000 now number 649, housing 1,000 new urbanites.
"Almost all downtown problems are real estate problems," he says. "In 2012, we started financing real estate; in 2016, we started financing businesses."
Predictably, local organizations want a share of that talent, so Rogers is on the board of groups from the Cox Capital Theatre to the Greater Macon Chamber of Commerce. – BD
---
Karen Anderson Singer 36
Founder
Tiny Doors ATL
Atlanta
Promoting free, accessible art, Karen Anderson Singer launched Tiny Doors ATL in 2014. The initiative combines her love of miniatures and street art to create 16 (so far) seven-inch doors, each with its own personality, tucked into strategic, unexpected places throughout the city.
"It really wasn't about trying to make Atlanta 'cute.' It's about trying to respect what's already there," says Anderson Singer, who also creates works for clients like Coca-Cola and Marriott.
Tiny door locations, shared via an online map, are chosen to inspire curiosity and exploration of Atlanta's neighborhoods and landmarks, such as the Atlanta BeltLine, Krog Tunnel and Fox Theatre. – KKS
---
Dr. Mahdi Taha 39
Medical Oncologist
Cancer Treatment Centers of America
Newnan
Lead medical oncologist in genitourinary (reproductive and urinary system) medicine, Mahdi Taha is considered a key thought-leader among his peers in that specialty and in head and neck cancers, melanoma and immune-oncology. Inspired to practice medicine following the breast cancer diagnosis of the beloved grandmother who raised him, Taha is often a correspondent on Fox TV, discussing various oncology-related topics.
"I made a promise that I would always help others with the same situation she was going through, and I never stopped," says Taha, a husband and a father of one.
Chosen a 2019 Atlanta Top Doctor by research firm Castle Connolly, he is active in his Muslim community and twice monthly helps prepare more than 250 meals to deliver to multiple homeless centers in Downtown Atlanta. He is medical director of an Atlanta plasma center and has frequently volunteered his services following disasters like 9/11, Hurricane Katrina and the 2019 Haiti earthquake. – KKS
---
Elliott Tapp 36
Attorney, Mergers & Acquisitions
UPS
Atlanta
Elliott Tapp may be an attorney, but he's proud to say he doesn't look at the world through the lens of a lawyer. "I view my role as solving business objectives that have a legal dimension to them," he says.
Previously at King & Spalding, where he represented major companies like Georgia-Pacific, Energizer and UPS in mergers and acquisitions, he recently joined UPS's M&A team.
Tapp is dedicated to the Atlanta arts community. He is the youngest member of the board of directors of the Atlanta Symphony Orchestra, and he sits on the board of the Georgian Chamber Players. Tapp is also involved with an organization that rescues North Korean refugees, the majority of whom are women who have been sex trafficked into China.
"My civic and charitable endeavors are the most rewarding things I've been involved with," he says. – JH
---
Juanita Velez 29
Manager of International Social Media Strategy,
Delta Air Lines
Founder & President, Hispanic Young Professionals and
Entrepreneurs (HYPE)
Sugar Hill
Juanita Velez developed a taste for international business when she helped her father buy used equipment from China to restart his Colombian dental practice, leading to a venture that ultimately involved seven Latin American countries. After earning her master's degree in international business at Georgia State, she rose through the executive ranks at UPS before joining Delta, where she crafts social media strategy and was recently promoted.
"The cybersecurity laws are different in every country, especially in Europe," she says, "and what people are interested in seeing a brand communicate is very different in Korea, different in Mexico, different in Japan."
She's proud of her role as founder and president of Hispanic Young Professionals and Entrepreneurs (HYPE), a networking and leadership development division of the Georgia Hispanic Chamber of Commerce, remembering her own struggles as a young, Hispanic, creative woman in engineering-heavy companies. – BD
---
Scott Zweigel 39
Attorney/Partner
Parker Hudson Rainer & Dobbs LLP
Atlanta
A partner on the business litigation team at Parker Hudson, Scott Zweigel found his niche in privacy and data security issues while helping represent a medical provider that had a data breach. He later became a certified information privacy professional in the burgeoning security litigation field.
In 2016, Zweigel's world turned upside down when his wife, Elizabeth, fell ill with sepsis. Doctors saved her life by amputating her four limbs. The couple has two young children, but Zwiegel still volunteers with the Crohn's and Colitis Foundation and Anti-Defamation League. He's added the Amputee Coalition of America to the list.
"Our firm's slogan is Go Beyond," he says. "It means you should do phenomenal work for your clients and provide high-quality legal services. But you need to go beyond that and invest your time in the community, because as a lawyer we've got resources that aren't always available to the general public." – PR