Aviation Park takes off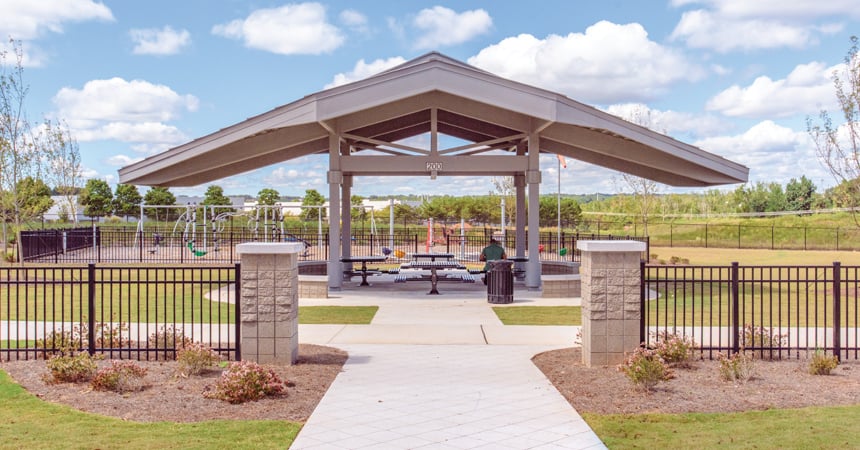 What started as a conversation about where to put bathrooms along the Noonday Creek Trail in Kennesaw took off in an entirely different direction – and came in for a landing as Aviation Park. The park, which sits on three acres at the end of the runway at Cobb County International Airport [CCIA], offers restrooms to walkers and bikers along trail, but it is so much more than that.
"We had just recently opened the new air traffic control tower [at CCIA]," says Tracy Rathbone Styf, executive director of the Town Center Community Improvement District (CID). "So we said, 'wouldn't it be cool if we can make the restrooms look like the air traffic control tower?' And then it went from there."
The park, a collaboration among the CID, the airport, the county and the Georgia Department of Transportation, includes an aviation-themed playground, STEM- (science, technology, engineering and math) related information and even a bit about the history of aviation in Cobb County (home of Lockheed Martin Corp. and Dobbins Air Reserve Base) and the state.
"We're been working with [Kennesaw State University's] museum and archives department to put together this educational and historic installation about aviation in Cobb County," Styf says. "And [it] also teaches about the basics of flight … and about all the different ways mobility and technology have influenced our lives. We're really proud of the work that we've done in collaboration with all of our partners in order to complete phase one of the Aviation Park and plan for phase two."
New this summer, an old biplane was refurbished and raised on a pedestal.
Aviation is "such an important part of the fabric of our community," she says. The project "is a perfect example where we just started sitting around a table talking and it created an idea for something innovative and a ton of fun. We have a large greenspace where people can come and put a picnic bucket down and their kids can run around and kick a soccer ball. And they can watch the planes land and take off."
Learn more about what the CIDs in Cobb County are up to in this month's feature, "Infrastructure and Beyond."
Photo of Aviation Park provided by the Town Center CID.
Do you follow us? Find us on Linkedin, Facebook, Twitter and Instagram.