Drone mapping in North Georgia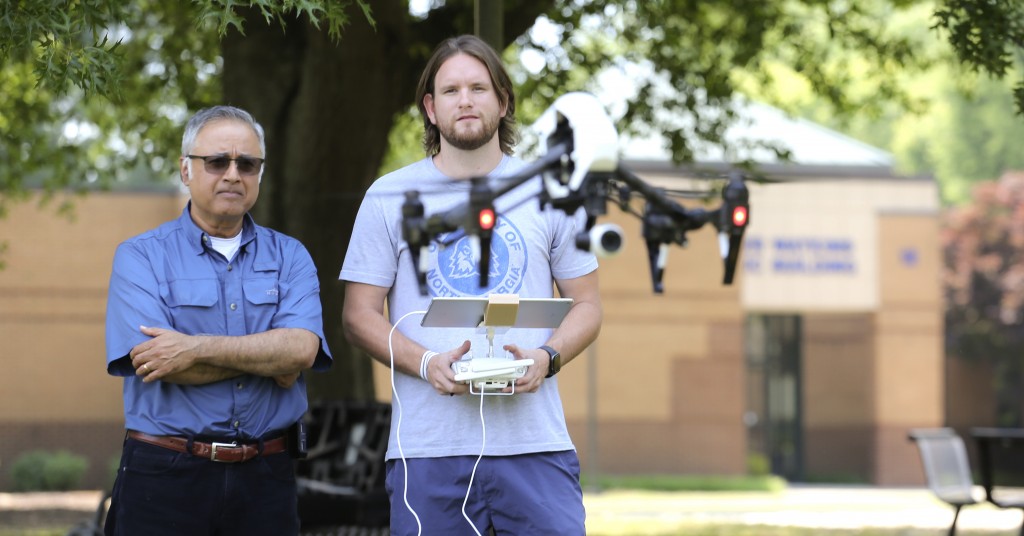 University of North Georgia (UNG) is the site of cutting-edge research into using drones to map terrain. Professor Emeritus JB Sharma of UNG's department of physics assembled a team of faculty, staff and students to produce a detailed digital elevation model of the university's Gainesville campus. The project resulted in a book that will highlight industry best practices in using small drones for map work.
Sharma edited the book, Applications of Small Unmanned Aircraft Systems: Best Practices and Case Studies, and collaborated with students and faculty to write one of its chapters. Drone technology leaders from Georgia Tech, the University of Georgia and other academic institutions authored the remainder of the book, which will be used to help construct a curriculum to train people in the mapping sciences.
With the drone industry projected to be at $82 billion and generating 100,000 new jobs by 2025, the implications for Sharma's work with small, unmanned aircraft systems – drones weighing between half a pound and 55 pounds – could be substantial.
Images of UNG's Gainesville campus are highly detailed, showing different types of trees and representing a historical record that can be used for comparison if changes to the landscape occur. Their level of detail enabled the printing of a 3-D model of one of the academic buildings. In the future, drones' thermal map capabilities could help compare energy efficiency among campus buildings. Sharma plans to expand the drone mapping to the university's Dahlonega Campus.
Photo: Professor Emeritus Dr. J.B. Sharma, left, and Payton Duran, a December 2018 UNG graduate who helped with drone piloting and GIS work.
Photo by Peggy Cozart, UNG.
Do you follow us? Find us on Linkedin, Facebook, Twitter and Instagram.