Conyers| Rockdale County: Living Large
Workforce, film and manufacturing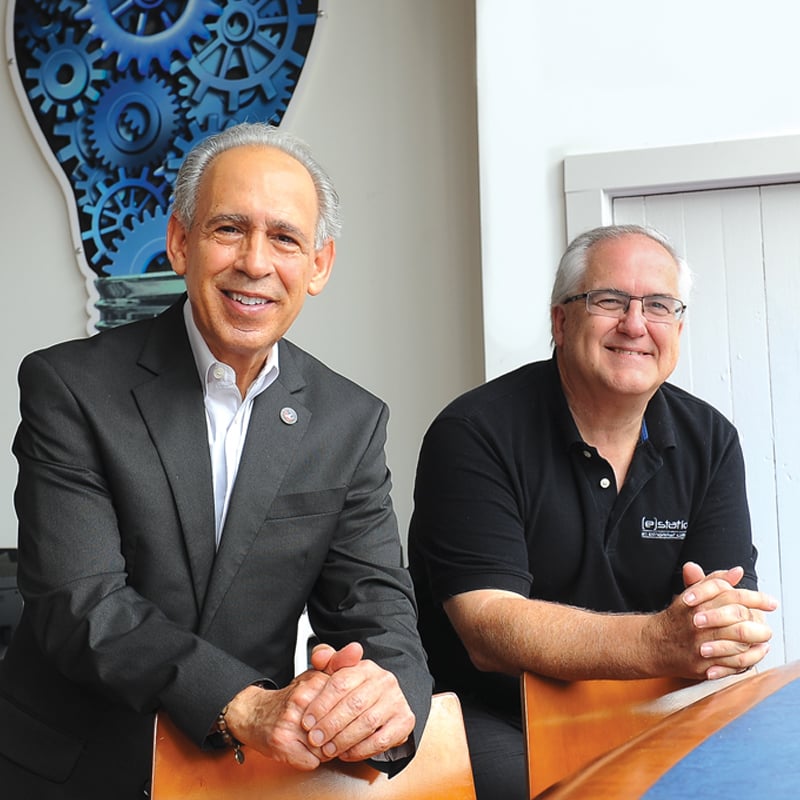 Rockdale County may be Georgia's second-smallest county in area, but in terms of economic development, quality of life and the glamour of the film industry, this county is living large.
"Rockdale has convenience and access," says Marty Jones, executive director of the Conyers Rockdale Economic Development Council (CREDC), of the county's location along I-20 just outside I-285, east of Atlanta.
Historically, Jones says, the area along I-20 east through Rockdale has been a manufacturing corridor.
For example, those iconic Solo Cups, famous at barbecues and in country music, are manufactured in Conyers, the county seat. Solo Cups – the company – was purchased by Dart Container Co. in 2012 for $1 billion.
"They kept the name for the cup line," Jones says. "Two years ago, they did a large expansion in the existing building – spending between $10 and $20 million so they can make more Solo cups at the same time and also make more colors. They had to hire people and uptrain their existing people."
The uptick in hiring began about five years ago as the area was coming out of the recession, he says. "Now they're really letting go of the purse strings, expanding their workforce and equipment," he says.
This year, BioLab, a division of Kik Custom Products that develops pool and spa chemicals, is adding 250,000 square feet to its campus. They will add 40 to 50 more employees in the process. Anthony International, a manufacturer of commercial refrigeration equipment, has hired 100 new employees since January and expects to hire another 100 or so in the next year, Jones says.
Pratt Industries, a corrugated packaging company that uses 100 percent recycled content, is growing its Conyers headquarters.
"They are in the middle of a $70-million expansion, adding 100 or more employees in the next four or five years," Jones says. "They use recycled paper to produce corrugated boxes. They are the fifth largest corrugated packaging company in the USA and the world's largest, privately held 100 percent recycled paper and packaging company."
Pratt also recycles the city's trash with its on-site waste-to-energy plant. "They pick up the trash, separate the recyclables and sell what they can, then they use the rest to generate power," Jones says.
Expansions like these of the area's existing companies are possible due to the workforce the county boasts to support them.
"Because we've historically made things here," he says, "we have a lot of people who understand that kind of thing. The sexy part [of my job] is when you land a new company, but these companies are already our customers. We have more growth and investment from existing businesses – 80 percent is existing and 20 percent is new."
In the last five years, the CREDC has worked with local industry to save or retain about 4,000 jobs, he says.
To help fill those positions, Jones hosts meetings of HR professionals every other month to find out what their needs are.
Recently, what came to light was the need for one-stop shopping for job seekers. To help them – and the companies looking to hire them – local businessman and chamber board member Scott Hartsell created a career page, rockdaleworks.org, that fills the bill. It lists the county's major employers with links to each company's HR or careers page.
"It's one URL that people can go to to see what jobs are in the area," Jones says. "Our market is those who are unemployed or who want to work closer to home."
The CREDC also works closely with the school system to help meet the needs of local industry. In fact, Jones sits on the board of directors of the Rockdale Career Academy (RCA), which also includes representatives from post-secondary schools, local industries, businesses and government.
Students from Rockdale County's three high schools can attend RCA for career, technical or agricultural classes or dual enrollment classes offered by colleges and technical schools. They may also participate in work-based internships through the academy.
"We have expanded our offerings in recent years to meet community needs," says Ben McCumber, principal and CEO of RCA. "We want students to walk out with industry credentials. I also want them to stay here, which is why having our board involved in local industry is so important. I tell kids if you start a business, start it here."
Terry Oatts, superintendent of Rockdale County Public Schools, adds that soft skills training is taught as early as eighth grade, and students can earn Georgia BEST (Business Ethics Student Training) certification.
"We want to give our students the skills and opportunities to enter the workforce at a higher level if they choose, or they can pursue higher education," Oatts says. "It's not an either/or – they can do both."
---
Entrepreneurial Focus
Workforce training and assistance isn't all the county offers to business. "The chamber is really strong here," says Fred Boscarino, president and CEO of the Conyers-Rockdale Chamber of Commerce.
One of the chamber's most successful programs is its Entrepreneurial Academy, a program for people who want to start their own business or take their business to the next level.
"We're pretty much the only chamber in the state doing it," Boscarino says. "We were the first community. We pull students from DeKalb, Newton and beyond."
The academy is taught by business professionals over seven sessions and is offered twice a year, with topics such as bookkeeping and taxes, developing a business plan, dealing with local government, managing cash flow and planning for growth. Boscarino explains that one measure of the academy's success might be considered unusual: "We've found the No. 1 testimonial is folks who decided not to pursue their business or to delay starting their business."
Fewer small businesses going under is important, as is a better understanding of the planning, legalities and marketing needed before people put out that "Grand Opening" sign.
Many graduates of the academy do succeed, however, and then give back to the program. Hartsell is one of those. An IT professional, Hartsell worked with the chamber, the development authority and other local businesses to found [e]station in 2016, which in June became known as the Awake Business Community. Located in the heart of historic Olde Town Conyers, Awake is a co-working space and coffee house. It serves as a business incubator, offering participants a three-year program and hosting Entrepreneurial Academy classes.
"People can get an office with locking file cabinet, hot desk [a desk shared with others on a rotating basis], LED screen, cloud-based printing, a mailbox, copy machine, coffee machine, conference rooms, Wi-Fi and USB charging stations. [Memberships are] by day, week or month," Hartsell says. "It's like a Starbucks without the noise."
---
Giddyup
Tourism is an important part of the economy of Rockdale. The Georgia Department of Economic Development estimates that for 2017, tourism had an economic impact in excess of $136 million, and offerings are varied enough to appeal to most any visitor.
The Conyers Welcome Center, located downtown in an 1891 train depot, is a good place to pick up information about the area. Olde Town Conyers is vibrant and fun. Visitors can shop and dine in an eclectic mix of shops and restaurants, then stroll through the Lewis Vaughn Botanical Garden.
Venture out of downtown Conyers to find the Georgia International Horse Park, the Monastery of the Holy Spirit (See the Local Flavor below) or the Walk of Heroes Veterans War Memorial.
The Georgia International Horse Park (GIHP), a 1,400-acre park created for the 1996 Summer Olympic games, is now managed by the city of Conyers and hosts more than 200 events a year.
"We estimate 500,000 people come through the park annually," says Jennifer Bexley, director of GIHP. "A lot of the people who come to the park stay overnight in the area."
GIHP is a multipurpose facility, hosting not only equestrian events, but also obstacle races, banquets, weddings, mountain bike races and dog shows, among other things.
"We're so large we can have a lot of things going on at the same time," Bexley adds. "We also have miles of trails here, and the Big Haynes Creek Nature Center."
The horse park is popular among film people as well, another thriving industry in the area.
"We are fortunate to have great locations that bring film scouts here, and our local roads have been filmed dozens of times," says Gina Hartsell, camera ready liaison at the CREDC. "One of the industry's favorite locations for driving and stunt work scenes is Centennial Olympic Parkway, the long, divided highway that leads to the horse park."
Rockdale is currently the production home to 20th Century Fox's The Resident, DC Comics' Doom Patrol and the CW's Legacies. Other feature films and television productions located there in the past include The Vampire Diaries, The Originals, American Pie Reunion and Prisoners.
Hartsell says the CREDC began tracking the economic impact of the film industry in the county in 2010, when Universal's Fast and Furious 5 rented more than a million square feet of industrial space for filming.
"Since that year, we've easily felt the impact of $100 million of direct spending in our community," she adds. "Now we are home to two major Warner Bros. television productions and 20th Century Fox Television's favorite new medical drama [The Resident]. Together, they represent the film industry as a major employer in our community, with more than 700 full-time employees."
Another location favorite, Costley Mill Park, continues to host television and feature film productions. The 77-acre park boasts locations including rivers, shoals, woods and an underground mine.
"We are proud that there's been a tremendous amount of filming here," Hartsell says. "We work very hard to cultivate the relationships, and we know what they need before they ask. If we don't have it, I tell them where it is in a nearby community. We've been told several times that we're more than film friendly."
---
Celebration of Community
Working together well is something that County Commission Chair Oz Nesbitt takes pride in. Conyers is the only city government in Rockdale County, and officials maintain close ties.
"We really do have a good thing going on between the mayor's office and the county commission," Nesbitt says. "We're not competing – we are collaborating. A win for the city is a win for the county."
Cooperation is essential in a community that has seen a lot of growth in recent years.
"We have one of the fastest-growing entrepreneurial communities in the state," he says, referring to the two classes of graduates from the Entrepreneurial Academy every year. "And we've had a growth spurt of retail development."
Conyers Mayor Vince Evans agrees. The new Salem Gate Market, to be built on the site of an old shopping center, will include retail, restaurants and a 100-room hotel, he says. That project was established in a Tax Allocation District, which means that ad valorem taxes remain at the current level for the next 20 years.
Another development underway along I-20 is Eastmore, a 310-acre mixed-use project with 1,400 residential units, 300,000 square feet of retail space and 200,000 square feet of office space. Eastmore will also be pedestrian friendly, with parks and greenspace.
"It will be different types of development – including residential, office space and retail," Evans says. "People want to come here. We are in a good spot."
In 2016 the city of Conyers rebranded and created a new tagline: Celebration of Community. And soon they'll have more reason to celebrate the community at the $10-million City Hall, expected to break ground this month. The surrounding area will have a mix of houses, townhomes and apartments.
"It's a huge opportunity for development. We really believe it's going to transform the city," he says. "There are opportunities for both retail and residential."
---
A Different Kind of Economic Impact
When people have an unexpected hardship like losing their job or needing to find affordable housing, there are many nonprofits that can help but often no centralized way to find them – at least until now. Restoration Storehouse Center, a local initiative to help people transform their lives, is organized as a centralized resource, bringing together existing nonprofit organizations – most of them under one roof – to provide wrap-around services to people in need.
Among the partners are Rockdale Emergency Relief, Mercy Heart Clinic, New Covenant Fellowship, One Heart Ministries, Prevent Child Abuse Rockdale, Rockdale Coalition for Families and Children, Partnership for Community Action, Atlanta Regional Commission, Eckerd Connects and View Point Health.
As the initiative continues to grow, Restoration Storehouse Center will offer adult education from GED to professional certification. For children, there will be early childhood development enrichment through age five and after-school and summer programs. Adults will get access to family services like parenting and home budgeting classes along with onsite healthcare through the Mercy Clinic.
"All partners will be on a shared technology platform," says Jeff Beech, president of the Beech Foundation, a supporting partner. "There are typically multiple service providers, various applications and locations that people have to go to for help. The beauty of these service providers being not just under one roof but on the same system is people will register only once. It makes the process much easier. We will have a team of navigators that will walk with families through the process."
Other supporting partners in the center are Light House Village, a collaborative that includes Haven House, which offers respite care for families and caregivers of developmentally challenged individuals; Phoenix Pass, which provides rent-free housing for women and their children for up to two years; and Soaring Heights, which provides integrated housing for first responders, public school teachers and people with developmental challenges.
"By intentionally integrating the populations in Soaring Heights, and across the Light House Village neighborhood, those with developmental challenges who are unable to pay may utilize waiver funding so that economic barriers to independent living are removed," Beech says.
For 11 years, Phoenix Pass has also assisted mothers with education, training and budgeting and offered support to their children.
"Moms have graduated from Georgia State University and come back to serve on the board of directors," Beech says. "We're very excited about the track record."
He is equally enthusiastic about the possibilities of the Restoration Storehouse Center.
"We have agreed to deliver to Rockdale County a measurable economic impact of $12 million in the first five years of operations," he says. "The goal is to help people become fully functioning parts of the community and to have them enjoy bearing the fruit that comes along with participating in adding to the local economy."
Further proof that this county, small in size, is living large in development and service.
---
Local Flavor
Peaceful Easy Feeling
Metro Atlanta isn't known as a place for peace and tranquility – the traffic and construction noises drowned those out decades ago. But at a church set on 2,300 acres in Rockdale County, some 80,000 visitors a year seek out – and find – quiet and calm.
The Monastery of the Holy Spirit has been surrounding people with peace since it was established in 1944, when a group of monks left the Abbey of Gethsemani in Kentucky to build anew in Georgia. They started construction that year on the graceful Abbey Church, working mostly by hand – and completed it in 1960. Today, the monastery is a community of 35 Trappist monks who have dedicated their lives to solitude, silence, contemplative prayer and meditation. They support themselves in part by opening up their world to the greater community.
"Monasteries have always attracted hordes of people," says Brother Callistus Crichlow. "In our modern world, that's even more so. It's a lifestyle that today's world, with its 24-hour news cycle and politics, is 180 degrees from the norm."
The values of prayer, work, silence, solitude and community are lived deliberately by the monks, Crichlow says, and the lifestyle is a witness to humanity.
Serenity can be found throughout the monastery: in the Monastic Heritage Center, where visitors can learn about a day in the life of a monk; in the bonsai garden, home to trees that are more than 100 years old; and in the Abbey and Garden shops, where younger bonsai are for sale. The monks also make and sell fudge and fruitcakes, along with jellies, honey, sauces, books, stained glass and jewelry.
The monastery even offers serenity in the afterlife at its conservation burial ground at Honey Creek Woodlands. It's a natural cemetery where simple, affordable burials are open to people of all faiths – or no faith. The monks call it a return to traditional burials and use pine boxes or shrouds.
Those who spend time in the beautiful Abbey Church for a prayer service and hear the chants, hymns and readings may find themselves further transformed by the serene setting, whether they grew up with religion or not.
The Rev. Scott Kidd, rector of the Episcopal Church of the Resurrection in Sautee-Nacoochee, visits the monastery's retreat center monthly.
"I go there simply to get quiet," he says. "To release all of the thoughts and pressures I have from daily life."
During prayer services, he says he can feel peace coming over him and the worries rolling off.
The monastery is also a gateway to the Arabia Mountain Heritage Area, a federally designated greenspace and historic site with more than 30 miles of hiking and biking trails – for those who prefer their spiritual experiences in the great outdoors.
This year, the monastery is celebrating – not with a big party, but with quiet contemplation – 75 years as a home for peace. A remarkable achievement in a bustling metro area.