Butts County: Prime Location
Logistics, film production and quality of life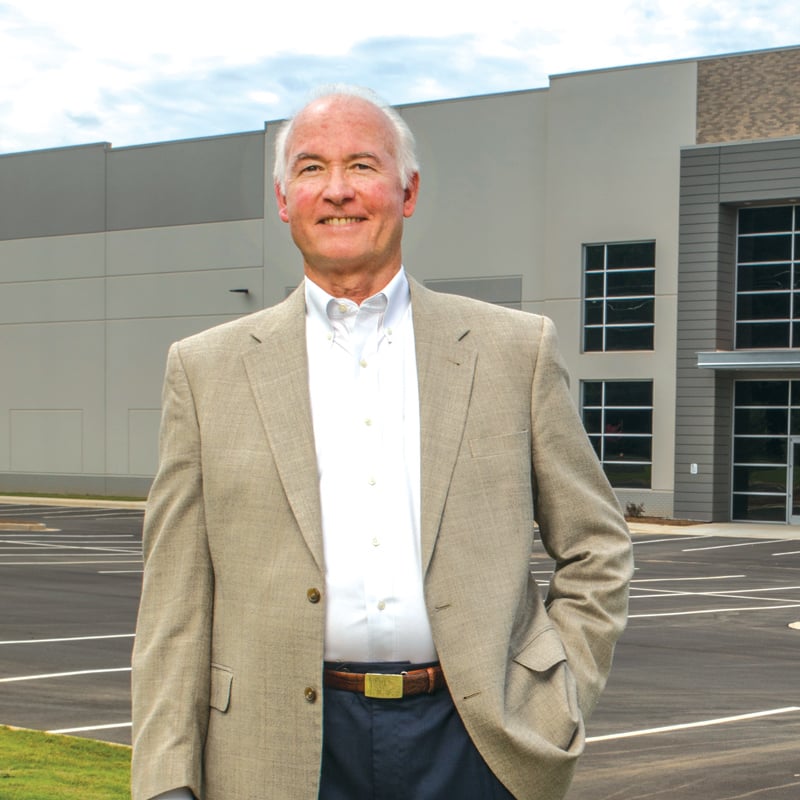 Traveling north on I-75, either by car, truck or semi, one officially crosses into Metro Atlanta at the Butts County line. What this means from a practical standpoint is that Butts marks the starting point of one of the most important logistics and business centers in the country.
"Butts County is strategically located for economic development," says Bob White, executive director of the Butts County Development Authority. "As growth has pushed south out of Henry County, private developers have identified Butts as the next place for projects with access not only to Georgia, but to the entire southeast."
It's a county that also boasts plenty of charm and culture, from a quaint downtown square in Jackson to one of Georgia's most famous barbecue restaurants to a filming site that lures tourists from all over the world. It's all right there in one small county along the interstate.
---
Port Stop
Truckers and trucking firms have long taken notice of Butts County. The first of the county's two stops on I-75 traveling north, Exit 201, is a hub of large truck stops. A major trucking company, Trucks Inc., is headquartered in the county seat of Jackson, and more than half of the county's tax base comes through fuel taxes.
Now, the wider logistics industry is also going to Jackson. In the fall of 2017, a 1-million-square-foot Dollar General distribution center opened on the Butts County/Spalding County line, bringing with it more than 500 jobs. A job fair for the facility turned up a much higher number of employment seekers – thousands attended – proving there are plenty of folks available in the region for similar gigs in the future.
"What really got us on the radar was the Dollar General distribution center," says White.
Being the southernmost county in Metro Atlanta also means Butts is the first stop for trucks coming from the Port of Savannah. It's a natural resting place for truck traffic and a spot within two days of driving by truck to 80 percent of the U.S. population. And yet, Butts sits far enough from Atlanta that traffic jams getting to the Dollar General site from points south rarely become an issue.
Other firms have taken notice of Dollar General's success. Liberty Property Group just finished a speculative 840,000-square-foot industrial property, which can be expanded via an optional rear-load addition to reach 1.08 million square feet. There are other projects in the works for the long term, including further industrial construction that the development authority is involved in, and even a potential mixed-use project along the interstate.
For now, Liberty Property Trust Atlanta Vice President Steve Rowley is working in conjunction with commercial real estate firm JLL to get the new industrial property leased. He's bullish on its prospects due to the huge upside Butts County offers.
"We are a big believer in the Port of Savannah," says Rowley. "It's the fastest-growing port in the U.S. and keeps putting out record-setting numbers every year. We really like the location of Butts County with its proximity to Atlanta. We see this as both an Atlanta play and a port play."
Rowley says the project comes with all the bells and whistles a tenant could want, including 40-foot clear heights, 70-foot speed bays and an early suppression, fast response (ESFR) sprinkler system.
Liberty is so bullish on Butts County that it has bought a 150-acre site a half-mile to the west that could be used for another 1-million-square-foot property.
"We're the closest point to the port that can still service Atlanta," he says.
---
Fresh Air
While its proximity to Atlanta is a plus when it comes to business, the county's distance from the big city can also be a plus for residents. Its population is nearly 24,000, as it has been for most of the last decade.
Nine miles east of Exit 205, along a quiet stretch of Georgia Highway 16, sits downtown Jackson. The county's c. 1898 courthouse is centered in a historic town square. The site dates to before the Civil War, encircled by a handful of local businesses, bars and coffee shops. There is little in the way of traffic, and Butts counts just one high school.
The small-town, Mayberry-esque vibe is one of the factors that attracted Jackson Mayor Kay Pippin to the area. A former chamber of commerce president in Henry County, she loves the quiet charm of Jackson.
"Being mayor was not on my bucket list, but my so-called friends and neighbors talked me into it," Pippin jokes. She took the office after 11 years with the Henry chamber and an earlier career working as an education lobbyist.
Speaking at the recent dedication of a new truck for the city's fire department, the second-term mayor touted the city's beautiful weather along with its safe and peaceful atmosphere.
Yet Pippin isn't afraid to tackle tough issues facing her small town. Perhaps her most notable accomplishment as mayor is a series of anti-blight initiatives that have, to date, led to more than 100 rundown properties being demolished.
Jackson had struggled with blight, and Pippin devised a way to remove it without the city having to buy properties or take on debt. The city adopted an ordinance requiring that properties be kept free of blight. Property owners in violation of the ordinance are given several notices and warnings, and if those aren't successful the property is torn down, with the owner sent a bill. Lastly, a lien is placed on the parcel that must be paid before it can be sold to another owner.
"Our city spans a 3.5-mile radius. When you remove that much blight, it makes a difference," she says. "Our motto for Jackson is 'clean, green and safe.'"
Jackson consistently rates as one of Georgia's safest cities, and as a member of the Municipal Electric Authority of Georgia (MEAG), hasn't collected property taxes in 45 years.
"The city of Jackson has been able to operate without a property tax for the last 45 years because we craft our budgets carefully reflecting practical expenditures and conservative revenue projections," Pippin says. "The city's revenues are enhanced by profits from its three enterprises – water, sewer and electricity. Jackson is one of MEAG's 49 electric cities and has an outstanding history of providing reliable, green, emissions-free energy at competitive prices."
Another major calling card for Butts County, related to its small-town charm, is its status as an outdoor capital. The county's offerings include Dauset Trails Nature Center, Indian Springs State Park, High Falls State Park, Lake Jackson and High Falls Lake.
Jackson has secured a $200,000 grant to begin constructing a 35-mile hiking and mountain biking trail designed by recreational trail building expert William Preston York that will link the city to Dauset Trails; Indian Springs State Park; Idlewilde, a new state conference center; and the Village at Indian Springs.
"We've found our niche, which is our natural resources and the quality of life we offer by using our surroundings," says Pippin.
For those looking to fuel up before an outdoor adventure or a football game at Jackson High, there's Fresh Air Barbecue, a 90-year-old restaurant and a must-see for any barbecue fan visiting the area.
Old school doesn't even begin to describe Fresh Air, which opened in 1929 and has been owned and operated by the same family since 1945. The menu consists of Georgia barbecue staples: pork, cole slaw, sweet tea, white bread, Brunswick stew and maybe a bag of Tom's chips on the side.
Fresh Air's long history is apparent upon pulling into the unpaved parking lot and walking to the front door over a bed of dirt and sawdust.
"We've basically been doing the same thing the same way since the 1940s," says George Barber, whose grandfather, Butts County native George W. "Toots" Caston, bought the place in 1945 after managing it for several years.
Fresh Air first came to notoriety thanks to car traffic in the days before I-75 was complete. But even today, plenty of vehicles find their way to the place, be it a rusted-out pickup truck or a Mercedes. Folks stop by on the way to local sporting events, a day at the lake, races at Atlanta Motor Speedway and even for Georgia and Georgia Tech football games.
The restaurant has also become a favorite stop of politicians. Name your favorite Georgia governor of the last 50 years, and you can rest assured he's stopped by at least once. Barber doesn't plan to make many changes to Fresh Air, with a long-term plan of handing it down to his own children.
---
Going to Jackson
Recently, Jackson has achieved fame reaching well beyond the state's borders when the city's historic and well-preserved downtown served as a backdrop for the Netflix smash hit Stranger Things.
Catherine Jones, executive director of the Butts County Chamber of Commerce, says tourists have come from as far away as New Zealand to stop by "Hawkins," the name of the fictional Indiana town where the show is set. Other productions have stopped by as well, including the CW show The Originals and the 2014 Universal Studios film Endless Love. However, local leaders are selective about which shows get to film in Jackson, and how often, so as to preserve the town's quiet charm and minimize disruptions to area businesses.
The same can't be said for Feb. 2, better known as Groundhog Day, when news crews and curious residents from Georgia and beyond descend on the Dauset Trails Nature Center to get the news from Georgia's official weather prognosticator, General Beauregard Lee.
"There's a strong rivalry between Beauregard and another groundhog who shall remain nameless," says nature center Director Ike English. "But the general has a higher percentage of correct weather predictions."
General Lee is a new Butts County resident, moving over from Gwinnett County in 2017, but he's already a local favorite. He's got his own Antebellum-style home complete with a quartet of white columns and a companion groundhog named Scarlett. Field trip visitors stop by on an almost weekly basis to see General Lee and a host of other animals to be found at Dauset Trails. All in all, he's just one more fun aspect of a community living the best of both worlds.
"We've got access to I-75, we're 30 minutes north of Macon and just 40 minutes from Hartsfield-Jackson Atlanta International Airport," says Jones. "You can get to everywhere from Butts County, and yet it has a rural feel. The quality of life here is great."
---
Local Flavor
History Meets Beauty
If you drive too fast down Georgia Highway 42 through Butts County, you could pass through the Village at Indian Springs without even realizing it. But doing so would be a big mistake.
"We like to say that we're so close, yet so far away," says Helen "Frankie" Willis, co-owner of Jackson-based Trucks Inc. and a longtime leader of efforts to boost the village and accompanying Indian Springs State Park. "But once you get there, you think you're far away because it's so nice and peaceful."
The first thing a slower-paced visitor will notice is the area's natural beauty. Water from a pair of local creeks rushes over rocks just off the road on one side, while the Indian Springs Hotel and Museum, which dates to the 1820s, sits atop a small hill on the other. Other buildings such as the Queen Anne-style Indian Springs Chapel and an old schoolhouse both date to before 1900. The chapel was built from leftover lumber from the WigWam hotel, which at one time was one of the largest wooden structures in the United States.
Native Americans originally visited because they believed water from the springs carried a healing power. The site was also where Chief William McIntosh, of half Creek and half Scottish descent, signed the 1825 Treaty of Indian Springs, which ceded 4.7 million acres of land to the state of Georgia. The signature was seen as an act of treason by fellow Native Americans, and McIntosh was later murdered for it.
"The whole shape of the southeast was formed because of McIntosh signing that treaty," says Willis.
Decades afterward, Gen. William Sherman's troops crossed through the area during the Civil War, converting an old stagecoach stop into a hotel.
Locals claim the surrounding Indian Springs State Park is the nation's oldest, and visitors are likely to take away some knowledge of its past, a phenomenon Willis likes to call "accidental learning."
Today, the history made at Indian Springs is of a more personal nature. The village is available as a wedding and events venue. The motto: Why rent a venue when you can rent an entire village?
Nearby buildings have been converted into a series of shops, such as the Big Chief Country Store, and eating establishments including the Yahola Creek Restaurant.
With 600 acres of parkland, a 100-acre lake, 80 RV and campsites, plus 17 miles of mountain bike trails and 11 miles of horse trails nearby, the Village at Indian Springs adds up to a major historic and recreational attraction. Willis hopes it helps Butts County grow on the map by bringing in visitors from across Georgia.
"I'm a businessperson at heart," says Willis. "For us in Butts County, the Village at Indian Springs is a way to create jobs and generate tax dollars from people coming to visit. On a personal level, my mom lives there. I'm just thrilled to have accidentally landed in such a beautiful, quiet, peaceful, nature-oriented area.