Augusta| Richmond County: Full Speed Ahead
Cybersecurity, commerce and community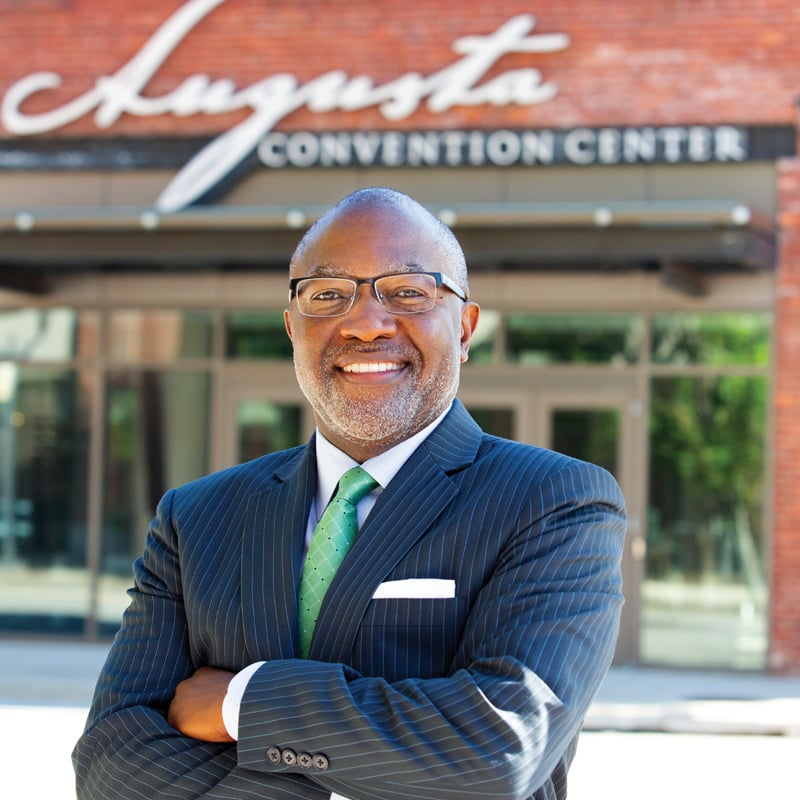 An image on a massive video screen inside the Georgia Cyber Center offers an invitation: "Join Us in Building the Future." The phrase, displayed in one of two new downtown Augusta buildings designed to promote connectivity among government, military, industry and academia, could be a new slogan for Georgia's second-oldest city.
The $100-million center, which opened its first building in summer 2018 and a second in January, is touted as the single largest investment by a state government in a cybersecurity facility.
Signs point to the future all around Augusta-Richmond County, especially with the U.S. Army Cyber Command Headquarters arriving in less than a year. Cyber Command will consolidate eight separate facilities in Virginia, Maryland and Washington, D.C., and move them in June 2020 to Fort Gordon, the Augusta region's largest employer with a $2.5-billion annual economic impact.
Manufacturers and others continue to invest here, including a $350-million plant expansion by Graphic Packaging. TaxSlayer opened its new headquarters this spring after a $10-million transformation of the old downtown YMCA. In May, the city opened its Public Transit Center, a nearly $20-million project with maintenance and administrative functions near Regency Mall.
As Augusta University expands, the "cyber tsunami" that AU President Brooks Keel described a couple of years ago is now something that people believe in, says Tom Clark, executive director of the CSRA Alliance for Fort Gordon.
"There is an increase in both awareness and excitement," Clark says. "There's an excitement about the opportunities that are going to be presented across our entire region."
The Development Authority of Augusta, GA, has facilitated more than $863.5 million in capital investment, representing 964 jobs in industries including manufacturing, distribution, customer service centers, and corporate and regional headquarters from January 2018 through April 2019. The Georgia Cyber Center and the impending U.S. Army Cyber Command relocation have "totally changed the conversation" with information security and other firms considering Augusta, says Cal Wray, the authority's president.
---
Riverfront Redevelopment
At the opposite end of downtown from the Cyber Center is the proposed Riverfront at the Depot, a $94-million project on 6.2 acres at Reynolds and Fifth streets. The plan includes the depot's historic renovation and 140 market-rate apartments, 100,000 square feet of Class A office space, a parking deck and retail.
Birmingham, Ala.-based BLOC Global Group could break ground in September, and phase one could open in April 2021, says Margaret Woodard, executive director of the Downtown Development Authority. The authority's research shows office vacancy rates downtown have decreased 5 percent and rental rates have increased $4 per square foot in the past two years, she says.
The long-term success of projects along the Savannah River, however, depends on the decision about the 81-year-old New Savannah Bluff Lock and Dam, which is managed by the U.S. Army Corps of Engineers and which the city seeks to retain and repair, says Mayor Hardie Davis Jr.
The battle over the deteriorated lock and dam has been ongoing for 17 years and is an important community issue because of its impact on the water supply, recreation and manufacturers, says Sue Parr, president and CEO of the Augusta Metro Chamber of Commerce.
The Corps wants to demolish the lock and dam structure and build a 500-foot rock weir that runs the length of the river channel to allow migratory fish to get through as part of the requirements of the Savannah Harbor Expansion Project. This structure would lower the level of pooling water, which will impact recreational activities and possibly water supply. The Augusta community would like the lock and dam to be repaired or replaced with a structure that will maintain the water level needed for recreational boating and water supply.
"Finally, here in 2019, we're hoping that we can find a resolution," Parr says. "We certainly don't want to lose control of a very important piece of infrastructure in the river."
Davis says that he anticipated hearing by July about the corps of engineers' response to public comments gathered in the spring. If the corps does not "report back to us in a manner consistent with the needs of the city," he says that South Carolina and Georgia will stand together and go as far as Washington to save its communities and the level of the river, which is surrounded by economic growth.
---
Growing Jobs and Housing
Since 2007, the Augusta metropolitan statistical area (MSA), which includes counties adjacent to Richmond County, has added 24,400 jobs according to research by Simon Medcalfe, an economist with Augusta University. In February 2019, Augusta had record employment, with 245,200 jobs.
Davis says priorities in his second term are workforce housing initiatives and a renewed effort to fight blight in the urban core. For example, plans for a 230-acre tract at 15th Street could create a new gateway into downtown Augusta, he says.
"For so many decades people talked about the potential of Augusta. We've clearly moved from potential to being a place of opportunity where people want to live, to learn, to work and to raise their families," he says.
To meet the needs of people moving to the area, city and business leaders say more housing is needed downtown.
"Our goal, and quite frankly, our challenge today is making sure we've got sufficient housing stock available, both single and multifamily," Davis says.
Nearly 1,000 apartments, including those in the depot project, are on the drawing board or in the concept stage for downtown, Woodard says. In the medical district, Beacon Station, which has 221 apartments, is expected to open this month.
---
Cyber Surge
Fort Gordon will grow by more than 4,300 personnel by fiscal year 2023. Currently, nearly 30,000 service members and civilian employees work on the base, accompanied by more than 33,000 family members. The region is also home to almost 61,000 military retirees and their families.
More than 80 major construction and renovation projects worth nearly $2 billion are projected over the next decade. Next year, a $50-million entry at Gate 6 is expected to be complete. The $900-million Cyber Center Schoolhouse expansion includes a new building and renovation and modernization of existing facilities to educate the growing number of soldiers.
Downtown at the 332,000-square-foot Georgia Cyber Center, a public-private collaboration located on the Nathan Deal Campus for Innovation, you'll find professionals with federal, state and local agencies receiving training, college students in classes and students on field trips.
Tenants in the Cyber Center's Hull McKnight Building, which opened in summer 2018, include Augusta University, Augusta Technical College, Defense Digital Services, Parsons, the Georgia Bureau of Investigation Cyber Crime Center, BAE Systems and TheClubhou.se.
The chamber and TheClubhou.se, a nonprofit coworking space and startup accelerator that has grown over 50 companies, are creating a memorandum of understanding to cross-pollinate efforts. The chamber is having its most successful period of growth, to nearly 1,200 members, and with higher levels of investment by members, Parr says.
"We are seeing a lot of new companies, obviously related to the cyber industry, that are coming into the area and see the benefits of joining the chamber as they start to develop a footprint here in the community," she says.
The Shaffer MacCartney Building, the second building on the Georgia Cyber Center campus, opened in January. It's geared toward private-sector tenants. Col. Eric Toler, the Cyber Center's executive director and former commander of NSA Georgia, says he expects the Shaffer MacCartney building and the Hull Mc-Knight building to reach 90 percent occupancy by July 1, 2020.
Parsons, an engineering, construction, technical and professional services firm, has 4,629 square feet in Hull McKnight, with 25 employees, but could expand by another 50-plus workers in Shaffer MacCartney as its intelligence community clients increase their local presence.
From rooftops called "the cloud" and "the hotspot" that serve as gathering spaces and host events like Beer and Bytes to classrooms to a 390-seat auditorium, the buildings are designed for collaboration to foster cybersecurity talent, strengthen cyber defenses and combat cyberattacks.
Toler says the center will leverage the ecosystem of the government agencies, private industry and university partners to solve problems. He also believes it's important to connect with students in middle school to create the future cyber workforce through initiatives like CyberPatriot, a national program established by the Air Force Association to point students toward STEM and cyber careers.
High school and middle school students work in teams as IT professionals that must manage the computer network of a small company. The teams compete at finding cybersecurity vulnerabilities and can earn national recognition along with scholarships. The Fort Gordon Cyber District, which includes seven counties, has grown from eight CyberPatriot teams in 2016 to 100 teams in 2018 and is one of 15 CyberPatriot Centers of Excellence nationally.
In addition to the state investment in the Georgia Cyber Center, the city contributed $16 million for a parking deck and $1 million for the Riverwalk extension. The hope is for the public to venture into the Cyber Center, if not for training then for events such as Parsons' capture the flag competitions or to visit the locally owned Buona Caffe location there.
Robert Osborne, president of Augusta Tomorrow, a downtown development organization, says the speed at which changes are happening is exciting.
"The pride that you see from Augustans, that's a huge difference that I've seen," he says.
---
Foot Traffic
Visitor spending in the county totaled $553.44 million in 2018, and the tourism industry totaled 4,902 jobs, according to the Georgia Department of Economic Development (GDEcD). Non-resident spending comprises 54 percent of the sales tax, Parr says.
"It's a very significant amount of money," she says. "That is a pretty powerful statement to the value of the tourism dollar and what it does to support city government and all the things that we need."
Bennish Brown moved from Tacoma, Wash., to join the Augusta CVB as its president and CEO in July 2018. Since that time, he is focused on ways to expand tourism and has identified millennials and boomers as priorities for outreach. In addition, the CVB is looking at new opportunities for meetings and conventions.
"We certainly have room to continue to grow tourism in a lot of different ways," Brown says.
The addition of hotel rooms can only help those efforts. A Hyatt House on Broad Street has added 100 rooms.
"I think having more hotel rooms in the downtown area is simply going to mean that bigger events can happen downtown, and we're all going to benefit," says Derek May, president of Azalea Investments, a privately held investment company whose properties include the Augusta Marriott at the Convention Center and commercial office buildings. [Azalea is owned by the Morris family, which also owns Georgia Trend.]
Activities downtown include Source Code Escape Games, Broad Axe Throwing Room and Augusta Candle Co., where visitors can make hand-poured candles. In May, Pexcho's American Dime Museum opened on Sixth Street promoting oddities such as sword swallowers.
Travelers stayed an average of 2.8 days and spent $118 million in local restaurants in 2018, according to the GDEcD. The annual occupancy rate increased 5.5 percent from January to December 2018, according to the CVB's Tourism Annual Report.
A Fairfield Inn and Suites on Washington Road and a Residence Inn and Springhill Suites by Marriott, both near Bobby Jones Expressway, recently opened.
Brown says the CVB plans to identify conventions that are centered around the cyber industry as part of an effort to expand its meetings sector. For example, TechNet Augusta 2019, a cyber conference with attendees from the Department of Defense, industry and academia, will be held this month at the Convention Center.
This spring, the city hosted the USA Cycling Collegiate Road National Championships through downtown, and in September, it is set to host the largest Ironman competition in North America with 3,500 athletes, says Brian J. Graham, the new CEO of the Augusta Sports Council. Sporting events had an economic impact of $34.2 million in 2018, and he sees an opportunity to increase water sports and e-gaming competitions.
Companies such as Balch & Bingham LLP, a Birmingham, Ala.-based law firm, and Best Lawyers, which provides rankings in the legal profession, have located in downtown's SunTrust Building, following improvements to its property, lobbies and elevator. Best Lawyers brought about 30 jobs from Aiken, S.C.
"They are the perfect example of a firm that didn't have to be in downtown Augusta, Georgia, but chose to be," says Ryan Downs, senior vice president for the Broad & Eleventh Street LLC real estate firm, which helped a local ownership group acquire the building in 2016.
Woodard notes that financial institutions, such as SRP Federal Credit Union, Peach State Federal Credit Union and First Community Bank, have opened downtown, and Security Federal Bank plans to do so.
Also new to downtown are Ubora Coffee, The Southern Salad and Groucho's Deli. Shops such as American Journeymen, Vance's Bakery Bar, described as a "modern bakery and cocktail lounge," a Mediterranean restaurant and a Mexican concept are coming soon, according to the CVB and Downtown Development Authority. Parking has become a priority, Parr says, and the city plans to add paid parking.
---
Educational Excellence
Parking also presents a challenge for Augusta University, which is considering adding decks, Keel says. The institution's enrollment rose to 9,072 students in fall 2018, and new degrees include a bachelor's in cybersecurity.
"We have plans to keep our enrollment increasing. That's a very top priority for us," he says.
The $70-million College of Science and Mathematics should be open in fall 2021 on the Health Sciences Campus, Keel says. In late 2018, the $62.5-million M. Bert Storey Research Building opened as an expansion to the Georgia Cancer Center.
"We are not your mama's or your daddy's university. We are a new university offering incredibly new opportunities in education and research," he says. "And we're just really excited about what the future holds."
---
Local Flavor
Come On In
Augusta & Co. might sound like the name of a trendy shop or tech startup. Instead, it's a downtown visitors' center that the Augusta Convention and Visitors Bureau hopes will be a destination for both out-of-towners and locals.
In May, Augusta & Co. opened in a storefront with brick walls and floor-to-ceiling windows on the ground floor of the CVB's new home in the 1010 Broad St. building. The space is decorated with colorful murals featuring landmarks and flowers representing the "Garden City of the South."
Consider it part boutique, part museum, part urban rest area and part communal space. Tables and open shelves are styled with local crafts and goods, including honey, pillows, cutting boards and jewelry, for sale. Memorabilia on display include flags from The Masters tournament.
At times, visitors can get a literal taste of what the city has to offer.
"One of the things that's really unique about Augusta & Co. is that we have built in a sampling bar," says Jennifer Bowen, the CVB's vice president of destination development. "At the sampling bar, we are allowing our customers – locals and visitors alike – to taste local products. We might be one of the first experience centers in the country to actually be able to provide small samples of those types of products in order to push people out to those breweries and distilleries."
In addition to brochures, event listings and souvenirs, "information vignettes" will rotate throughout the year. When the center opened, a space devoted to outdoor activities offered details about mountain biking and cycling trails, where to hike, and how to paddleboard, canoe or kayak on the Augusta Canal and other waterways.
"For a really long time, they have been assets of Augusta, but they have been hard-to-find assets," Bowen says.
The center, open seven days a week, also plans to host book signings, local artists and discussions about activities.
The opening of Augusta & Co., which the CVB describes as an "innovative experience center," represents a checkmark on the Destination Blueprint plan, a collaborative effort among the CVB, GeorgiaForward's Young Gamechangers, the Greater Augusta Arts Council and the Recreation and Parks Department, that includes lifestyle products and experiences that will appeal to visitors and residents.
The CVB is looking to grow in other ways, as well, with plans this year to offer golf cart shuttles downtown, and a public art sculpture festival is in the works for the fall, Bowen says.