Focus on Finster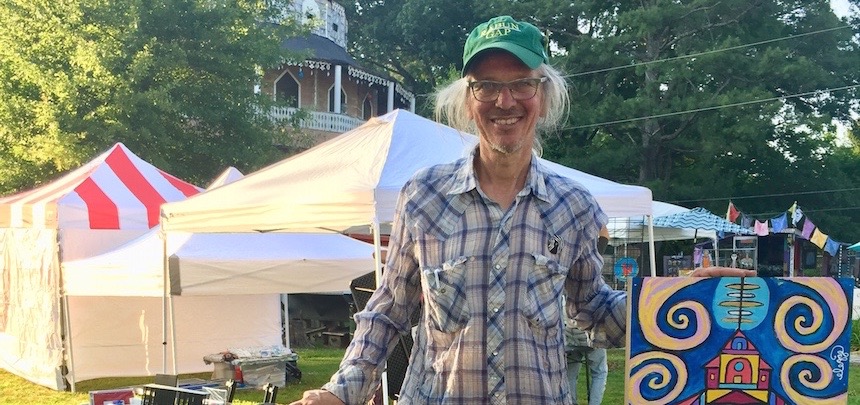 Followers of Georgia folk artist Howard Finster will be treated to an art exhibition in Northeast Georgia, beginning this weekend. Main Street Gallery in Clayton – one of the Southeast's preeminent folk art galleries – is hosting "Finster Forward: Art by Howard Finster and the Finster Fest Artists He Inspires" through Aug. 21. A meet-the-artists reception that's open to the public will be held Saturday, July 20, from 5:30 p.m. to 8 p.m.
The exhibition comes on the heels of the successful Memorial Day weekend Finster Fest at Paradise Garden in Summerville. More than 2,000 visitors attended that two-day event.
Along with art for sale by Finster, the Clayton exhibition will include works by 22 artists who reflect his inspiration. They hail from all over the South and as far away as Wyoming. Georgia artists include Kimberly Dawn Crowder, Donnie Davis, Fawne DeRosia, Charlie Dingler, Michele Humphrey, Lee Laney, Eric Legge, Peter Loose, Leonard McEwan, Mary Pousner, Kip Ramey, Kristin Repolge, Celena Schoen, Jim Shores and Suzy Sue Smith.
Longtime Atlanta arts writer and editor Howard Pousner curated "Finster Forward." He's also organized the Finster Fest artist market since 2017 and is the current chair of the nonprofit Paradise Garden Foundation.
Learn more about Finster, Paradise Garden and Pasaquan, a folk art mecca near Buena Vista, in "Hidden Gems," in our July 2017 issue.
Photo of folk artist Eric Legge by Howard Pousner.
Do you follow us? Find us on Linkedin, Facebook, Twitter and Instagram.