From The Publisher: Valuing Libraries
Libraries are a key factor in workforce development that often go overlooked – and are woefully underfunded.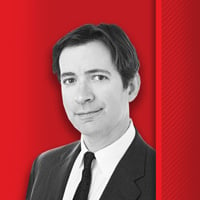 It's that time of year where we spend a lot of afternoons in public libraries. You have to get the kids out of the house somehow and it's too hot to do anything outside, so libraries are a great way to kill some time in the summer. I appreciate them more lately because I'm a parent, but libraries have been a refuge throughout my life; you're never alone with a good book.
Libraries were an important resource for me when I was younger and didn't have a computer. They are still a key factor in workforce development that often go overlooked in the conversation. In a world where coworking space is a growing phenomenon, libraries were first to the party – offering desks, Wi-Fi and quiet – and continue to play a key role in teaching literacy and basic workforce skills.
In rural areas, libraries provide a vital digital lifeline to communities. There are many technology deserts in Georgia where the library is perhaps the only place for people to file a job application. But there is often a wait to deal with at overburdened facilities, and that kind of wait can mean the difference between a job or the street.
Libraries also provide critical resources to entrepreneurs and small businesses, such as the online demographic and market-specific business and consumer data available at sites like DemographicsNow and ReferenceUSA. A library card provides access to trade reports, industry research, global trends and business plans. Libraries offer computer labs, genealogy archives, literacy programs and youth services, as well as classes on typing skills, website design, software tools and 3-D printing.
Another great resource is the Georgia Public Library Service Learning Center, begun in 2016 as an online clearinghouse for Georgia's library-related continuing education needs. There is also Georgia PINES (Public Information Network for Electronic Services), a "borderless" library system for state residents. Georgians can receive free PINES library cards that provide access to books and materials from 300 library branches throughout the state.
The Atlanta-Fulton Public Library System (AFPLS) is the largest in Georgia and represents 20 percent of all public library interactions in the state. AFPLS has the 25th biggest collection in the country, with more than 2.5 million items at 34 branches. But it could be so much better. Every $1 invested in a library can have a return on investment as high as $10, according to the Atlanta-Fulton Public Library Foundation (AFPLF).
But AFPLF is in fact woefully underfunded. The Nashville Public Library Foundation has $3 million in annual funding compared to Fulton's $125,000, and the Fulton library system is ranked 99 among 115 peer libraries based on size. Worse yet, it's shrinking in staff size, with just 313 full-time employees today compared to 400 in 2008 and 500 in 2005. The library budget is less now than since before 2000.
There is massive potential to better leverage the Fulton system, which includes the Auburn Avenue Research Library – the premier research library for African-American culture and history – and three floors in the downtown branch that could become a workforce development hub. The Foundation is in the early stages of a two-year plan to grow funding to better serve Fulton's needs, but you can never start educating people on this topic too early.
Unfortunately, rural libraries are under siege as well from shrinking budgets in cash-strapped counties, many of them technology deserts. Macon-Bibb County eliminated funds to the Middle Georgia Regional Library System last year, which resulted in the closure of three branches. The Middle Georgia system serves Bibb, Crawford, Jones, Macon, Twiggs and Wilkinson counties and added $18 million in the value of its services to communities in 2018, based on quantity of resources checked out and classes offered free of charge, according to its annual report. For many people in these counties seeking access to resources, there is nowhere else to go.
As we focus attention on improving access to job growth in rural and urban areas, I hope library funding – whether public funds or philanthropy, perhaps through an increased network of foundations linked by a statewide support entity – will have the place it deserves in the conversation.
Something to consider as you seek out that perfect beach book for your summer vacation or just escape the heat with your little ones.