Mastering the Future
MBA graduates are better prepared than ever for tomorrow's business challenges.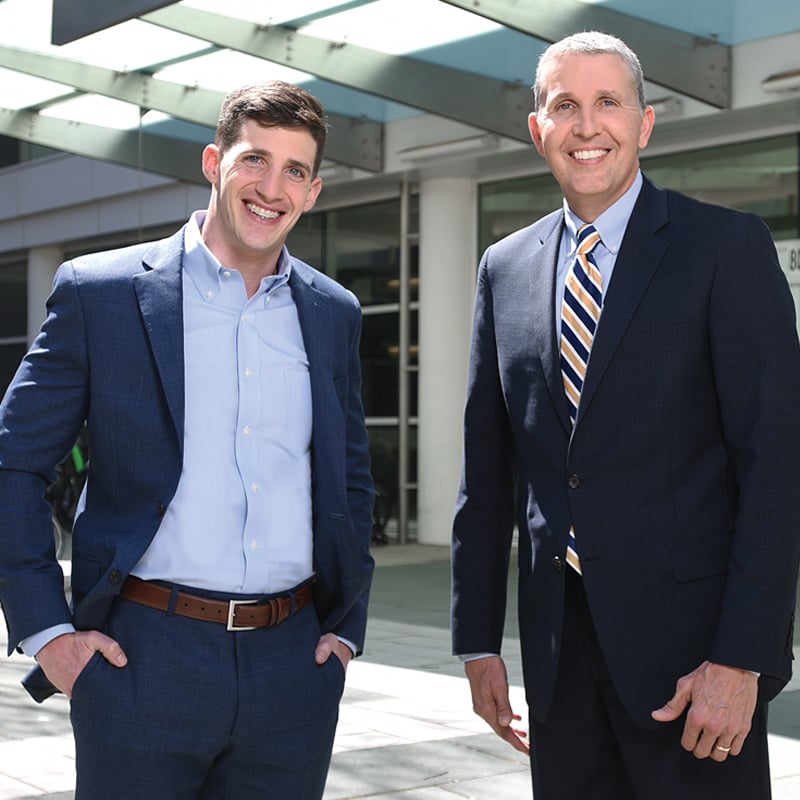 A decade or so ago, students pursuing a master of business administration degree would mostly be found attending lectures and taking tests in courses that prepared them for a specific discipline, like finance or accounting. Today, the educational approach has changed significantly, and its evolution is ongoing among Georgia's business colleges. Current MBA students find themselves studying the integration of all the business disciplines and working in small teams to become adept at strategizing and effective leadership. The focus is often on experiential learning, in which student teams consult with real companies to solve business problems.
No longer are these students primarily business school undergraduates. Instead, they represent diverse backgrounds and bring a varied portfolio of professional skills to their MBA program of choice. They also have more flexible options for attaining the coveted degree, including full-time, part-time, evening and executive programs, which offer weekend classes.
What hasn't changed is the value of the education.
"An MBA is all about career advancement," says Brian Jennings, associate dean of MBA programs and executive education at Georgia Tech's Scheller College of Business. "The MBA is still without question the most highly regarded, valued business credential in the market."
---
Technology and Business Converge
The Scheller College of Business has about 800 students among its full-time, evening and executive MBA programs, and Jennings says "a large percentage of our students do not have technology backgrounds. Those have the most to gain because it's the way business is going: technology drives innovation, and innovation drives business."
Jamie Foss, formerly a Statesboro resident and commissioned officer in the Marine Corps, recognized the importance of technology in advanced business applications and wanted to build on his undergraduate degree in business administration from The Citadel. After six years of military service, where he was a communications officer, an advisor to the Afghan police and an instructor at the Marine Corps school for officer leadership, he enrolled in the full-time Scheller MBA program in 2016. Among his classmates he found the camaraderie he'd enjoyed in the Marines, and he discovered approaches to problem solving that were quite different from the military's.
"For me, it was essential to learn how to work in teams to solve business problems," he says, "and that required a change in perspective."
One of the things that drew Foss to the college was its TI:GER program, which stands for Technological Innovation: Generating Economic Results. The program matches Georgia Tech Ph.D. students and the technologies they're developing with MBA and law students to foster entrepreneurial thinking and support commercialization of those technologies. "You get experience with the Ph.D. student's technology and the opportunity to work with some of the smartest minds on campus," he says.
His TI:GER project involved developing a water-based ink to reduce the negative environmental impact of chemicals and compounds in printers and inks. While the product didn't make it to commercialization, he says the collaboration was valuable.
He also participated in five practicum consulting projects where he worked with a team to consult with clients about their business problems.
"We presented the customer with what was a great product for them," he says, "and we got the experience that comes with a consulting project."
This type of experiential learning, combined with his newfound interest in data analytics for business, helped him land his job at Ultimate Software after graduation last spring. The Atlanta-based firm provides software for payroll, human resources, employee benefits and other human capital management applications. Foss is currently an associate in Ultimate Software's MBA rotation program. He is spending six-months in each of three different areas of the company to gain knowledge about its operations and find the department that's the right fit for him. He believes his experience at Scheller helped him develop and hone the skills he needs to be successful at his new company.
Along with the TI:GER program, which Jennings says is nationally recognized for its ability to prepare students for the challenges of delivering new technology to market, the college is launching Innovations Fellows this year. The two-semester program places select students in internships at some of the Fortune 500 innovation centers located at Tech Square in Midtown.
"It allows these innovation centers to tap into students' expertise and get a first look at talent," Jennings says. "In return, the students get hands-on experience."
He says one thing that epitomizes a Scheller MBA experience is change. "Our faculty is constantly changing what they're teaching to harness the power of emerging technology," he says. "The content changes almost every time a class is taught."
"They [Scheller] positioned themselves at the intersection of technology and business, and that fit the bill for me perfectly," Foss says.
---
Leadership Emphasis
One of the big draws of earning an MBA from Emory University's Goizueta Business School is students' ability to develop their leadership skills. According to Brian Mitchell, associate dean of full-time MBA programs, the 50 to 60 students enrolled each semester have the opportunity to participate in a comprehensive leadership program that has three components: academics that can be taught in the classroom; experiential learning where students work in teams to solve business problems; and built-in reflection that requires students to consider their leadership performance and feedback from their peers.
Complementing these components are specific activities, such as a team-based leadership reaction obstacle course at Fort Benning, the Delta Air Lines-endowed Leadership Coaching Fellows program where second-year students guide first-years, and the Goizueta Advanced Leadership Academy (GALA) that involves teams sailing boats. The recently introduced Certificate of Advanced Leadership is a rigorous, full-immersion program that he says has turned out to be very popular. "This is our first year [offering the credential], and demand has been quite high," he says.
For Amanda Piltzer, strategy and marketing development strategist at 3M in St. Paul, Minn., growing her leadership skills was a big factor in choosing Goizueta for her MBA. The former informatics analyst at Blue Cross Blue Shield of North Carolina was also looking for a career change when she entered the college in 2016.
"I participated in all of the activities," she says. "Through the coaching fellows, I learned about myself as a coach. I did the leadership reaction course at Fort Benning and it was a great experience, but it was hard. We didn't have a lot of athletic people on our team, and the course was very physical. It was a great experience, but we failed a lot … you learn from your failure."
She says the GALA program taught her even more. "We went to the British Virgin Islands and sailed for about a week, living on the sailboat," she recalls. "You had challenges every day, and you had to plan how to attack those and prep the boat. Once you completed an activity, you had to reflect on how well you did and what you could have done better. Each day, the leader rotated and you had a different role [on the team]. It forced you to work outside your comfort zone to figure out how to adapt, what your strengths are and what areas to watch out for."
Mitchell calls the experience of learning to sail, charting a course and executing timed challenges "absolutely life changing" for the students. He says, "By the time they're on the water, all their leadership training is put to the test."
Piltzer says the preparation she received prior to her internship at 3M is what led to her full-time offer last year. "It helped me apply structured problem solving and taught me good client relationship management skills," she says. "It helped me build confidence in my ability to jump into a problem and come out with a good recommendation at the end."
She and Mitchell agree that a Goizueta MBA, with its leadership focus, is valuable regardless of a student's career choice.
"It keeps your options open, more so than other degrees," says Piltzer. "You can do a lot of different things with leadership skills."
"Every type of organization benefits from leaders who understand the mechanics of an operation and how to manage a team," Mitchell adds.
---
Building Business Acumen
Mary Gowan, new dean of the University of North Georgia's (UNG) Mike Cottrell College of Business, says she was drawn there because it's a school "on the cusp of the next big thing." She also says Cottrell's part-time MBA is "responsive to the region and is on the cutting edge of business education."
Assistant Professor of Accounting Ellen Best agrees, describing the program as "giving working professionals who typically do not have a business undergraduate degree the knowledge and credentials to take the next step [in their careers]."
The intimate program, which has nearly 75 students on its Cumming and Gainesville campuses, is designed for them to take two classes per semester at night, for a total of 10 classes in two years.
"We focus on face-to-face, small, very interactive classes, almost a group of peers learning from each other," says Best, who teaches accounting for decision making. "At the end, small teams work as consultants with actual companies to solve business problems." She cites nonprofits and commercial enterprises like Forsyth County Public Library, Fiserv, Cane Creek Farm, Syfan Logistics, LexisNexis and the YMCA as examples.
Best says a recent addition to Cottrell's offerings is a certification accompanying the MBA. Currently students can receive certificates in cybersecurity, entrepreneurship and innovation and technology leadership, which "allow them to get a deeper understanding in a particular area."
Unlike MBA programs in the past, she says Cottrell students are now getting an understanding of how all the business functions work together for a more integrated approach to strategy.
Strategic thinking was exactly what Latrisa DeGraft-Hanson was looking for when she took early retirement from Bank of America after 19 years.
"I always aspired to get an MBA," she says, "because I felt there was something I lacked in my approach to business management and business acumen. I wanted to think more strategically."
She says UNG was the best fit for her in terms of programs and costs, and because it offered a local cohort that could become part of her network. After graduating last spring, DeGraft-Hanson went to work as a financial well-being coach for Operation HOPE, a multi-state nonprofit that she says exists "to instill financial dignity and empowerment to those who are working-class people." In her role, she is working on a pilot project counseling Delta Air Lines employees.
"The pilot is like a startup," she says. "Everything I do is entrepreneurial in terms of driving [employee] engagement and attention, so I'm using my business skills and my leadership skills from the MBA." She says she hopes to pursue other entrepreneurial projects in the future.
"The MBA to me was a personal goal," she says. "I feel like now I can walk in the C-suite and be comfortable, and that's what I was aspiring to."
---
Moving to the Next Level
Mark Thompson, associate dean of Augusta University's Hull College of Business, says the school has evolved its MBA program over the past few years to offer more of a generalist degree, targeting "non-business graduates – people from other fields – who don't have the management or leadership skills to advance in their career."
The 25 to 35 students who enter the college each semester move through their coursework together in a cohort model, getting to know each other well even though the program is a hybrid of online and evening classes. It's designed to build on their professional skills and help them move into a managerial role. Most students continue in their jobs while pursuing the MBA, and often when they graduate they get promoted.
Todd Gay was one such student. After working in sales for several years, then as a physician liaison for the Augusta University Medical Center, his superiors encouraged him to pursue an MBA to help him advance. He worked there full time while taking 10 classes in two years.
The small class sizes encouraged collaboration with his peers, which Gay says was important to him. "You were a participant instead of just being a body in the class," he says. "The classroom became a community where you got to know your classmates and establish a network of lifelong friends."
He also had opportunities to work in teams "on real business problems and come up with real solutions" for area businesses, including Augusta's ABC TV affiliate WJBF News Channel 6, and nonprofits like the local Ronald McDonald House.
Shortly after he graduated last year, he applied for and got his current job as director of outreach and engagement for the Georgia Cyber Center in Augusta.
"There was no way I would've been considered without an MBA," he says. "I wanted to move up, and that's the reason I went back to school to get my MBA."
He says working in teams with students who had diverse backgrounds and professional strengths helped prepare him for his managerial role and for interacting with the many different types of people he encounters at the Cyber Center and in the community.
"This program didn't take very long to do," he says, "but it prepares you for all the different areas and obstacles you may see in the workplace."
Preparation for a future in any type of business – more than a big salary increase – seems to be the motivation among today's MBA students.
"Having an MBA will help them execute almost anything they want to do," says Emory's Mitchell.
"The labor force is changing, and the skills that will be needed in the next 10 years will be different from the skills needed today," Georgia Tech grad Foss adds. "Business people need to reinvent themselves and step out of their comfort zone. The value of that [MBA] experience is transformative."
---
MBA Programs in Georgia
Albany State University – College of Business, Albany
Augusta University – Hull College of Business, Augusta
Berry College – Campbell School of Business, Mount Berry
Brenau University, Gainesville
Clark Atlanta University – School of Business, Atlanta
Clayton State University – College of Business, Morrow
Columbus State University – D. Abbott Turner College of Business, Columbus
Emory University – Goizueta Business School, Atlanta
Georgia College – J. Whitney Bunting College of Business, Milledgeville
Georgia Institute of Technology – Scheller College of Business, Atlanta
Georgia Southern University – Parker College of Business, Statesboro
Georgia Southwestern State University – School of Business Administration, Americus
Georgia State University – J. Mack Robinson College of Business, Atlanta
Kennesaw State University – Coles College of Business, Kennesaw
Mercer University – Stetson School of Business and Economics, Atlanta
Piedmont College – Harry W. Walker School of Business, Demorest
Savannah State University – College of Business Administration, Savannah
Shorter University, Rome
Thomas University, Thomasville
University of Georgia – Terry College of Business, Athens
University of North Georgia – Mike Cottrell College of Business, Dahlonega
University of West Georgia – Richards College of Business, Carrollton
Valdosta State University – Langdale College of Business Administration, Valdosta