Legal Bootlegging
Craft distilleries pay homage to Georgia history as they fuel a thoroughly modern trend.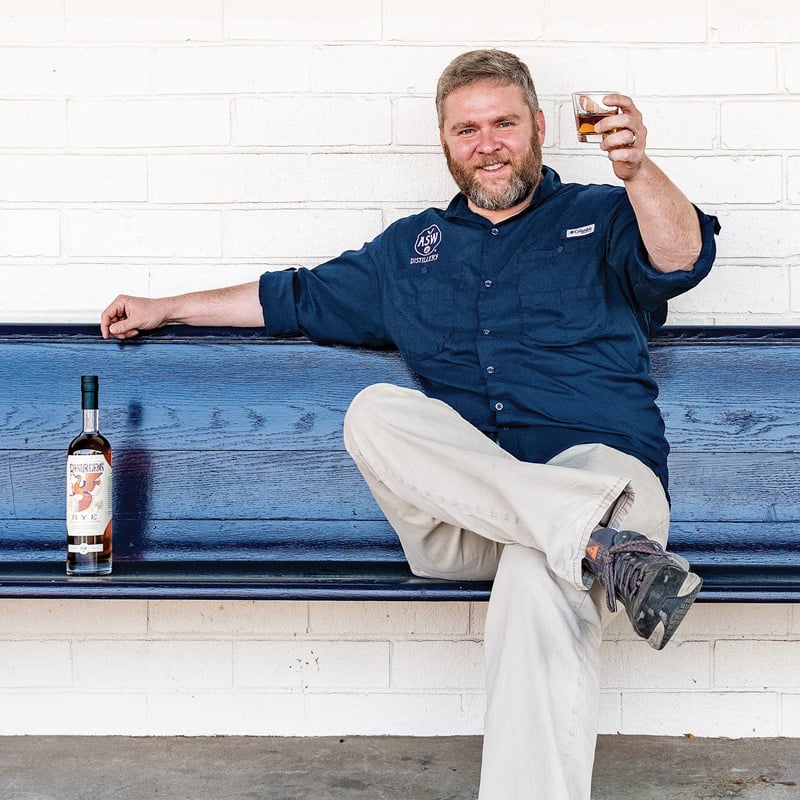 You might say that the manufacture of distilled spirits has come full circle in the Peach State. Before the days of revenuers chasing moonshiners out of the hills of North Georgia, the production of liquor was a well-respected endeavour. During the late 18th century, alcohol production was a way for small farmers to squeeze every dime out of their farms, using the remnants of corn, apples and peaches left behind after harvest.
The nation's first president, George Washington, was one of the largest and most successful distillers in the country by 1799. "He was producing over 11,000 gallons of whiskey, which is a lot," says Chris Sywassink, co-founder and general manager of Ghost Coast Distillery in Savannah and vice president of the Georgia Distillers Association (GDA).
Production changed after the Civil War, when liquor became subject to a luxury tax. Many small farmers didn't pay the tax but also didn't stop distilling, often operating their stills after dark, which is when the term moonshine appeared. Prohibition killed the luxury tax by making the whole shooting match – production and consumption of alcohol – illegal.
But, what goes around comes around, and moonshine has come around again. This time, though, the distillation happens in broad daylight. From the mountains of North Georgia – the place where everyone's mind goes when moonshining is mentioned – to the coast and small towns of the southwest part of the state, distilleries are having a moment. It's both a nod to local history and part of the cocktail craze that's sweeping the country.
"It's the only vocation I know that combines science, art and entertainment," says Doug Nassaur, owner of Moonrise Distillery in Clayton. "You get an opportunity to really make a positive difference by presenting a good experience to people both in the bottle and when they enter your facility."
---
Gilligan's Island
Prohibition may have ended in Georgia in 1935, but laws surrounding the production of spirits have persisted and fluctuated through the years. In 2017, the craft beer and spirits laws changed again, this time to allow the direct sale of premises-distilled spirits to consumers. Craft distillers are allowed to sell 500 barrels of spirits per year to consumers for on-site sipping. As you're tasting whisky, rye, vodka or gin, if you find some liquor you love, you can buy up to three 750 ml bottles at a time from your favorite distiller to take with you.
The law's change has meant more distillers are setting up shop in Georgia. They're also getting creative in the ways they draw drinkers in and keep them entertained.
"When the laws changed back in 2017, we … focused on specialty cocktails, we focused on variety of drink and menu," says Sywassink. "It was done to really get the cocktail movement that's hitting the country and hitting Savannah."
Ghost Coast, which has been open since January 2017, now has a total of 24 products, 10 that they distribute and 14 that are available exclusively at the distillery in Savannah's Historic District.
"We went the farther distance of lots of different products," Sywassink says. "One, because it supports our cocktail … program. We've got an award-winning mixologist on staff who develops all of our cocktails." In fact, Sywassik says, he's involved early in the distillation process, helping coax the specific flavors he wants in a liquor or cordial from the grains that are distilled. The process ensures "we have a distinct flavor for a distinct cocktail. There's only about 10 or 12 distilleries in the country doing it that way."
ASW Distillery in Atlanta focuses on the tasting room experience, including a cocktail program, says Jim Chasteen, co-founder of ASW and president of the GDA. "Our most profitable marketing dollars are spent in the tasting room engaging with the end user."
These tasting rooms are not strictly boys' clubs, as you might think. While Chasteen says he does get his share of 20- to 30-something males, the cocktail culture brings in the parents and grandparents of those young men. "Forty percent of my guests are women," he says.
Distillers also offer tours as a way to get – and keep – people in.
"When I wrote the business plan [for Moonrise Distillery], I called it Gilligan's Island," Nassaur says, "because I want people to come stay for a three-hour tour. You want people to be engaged, entertained and comfortable, so they want to stay. When you go through one of our tours, you understand the history of spirits, you understand how they got here, how it was done in the past, you get to compare and contrast that to how we do it today."
ASW's clientele also favors the tours. "Over 85 percent of our visitors do the tour," Chasteen says. "It is very focused on education."
And, in Savannah, Ghost Coast took its cue from the king of entertainment, Walt Disney. "We have a huge interactive tour," Sywassink says. "We took a model from Disney where everything starts in the retail store and ends in the retail store."
And in between, there's a short film detailing the history of alcohol in Savannah. "Savannah's been a party town since it started," Sywassink says. "Where the distillery is, it's located in what was back in the late 1700s, early 1800s, the worst district. It was bars, brothels. It was the party place for Savannah."
Tours include a look at the distilling process, and, of course, a tasting for folks 21 and older.
People "love the experience," Nassaur says about his tours at Moonrise. "The distillery environment is an old 1900s mountain village. You're in the foothills of the Appalachian Mountains, which is where the Scots-Irish actually brought whiskey back into America. So there's a whole lot of history there. I really pay respect to the people that came before us. And the history and the methodology that give people like me the opportunity to do this today."
---
Local Inspiration
Distillers in Georgia are producing everything from rum to whiskey, rye, cordials and Corn Squeezins – that white liquor you might imagine coming in a Mason jar. And many of them are using local ingredients to get a taste you can't find anywhere else.
"A lot of what we do, our grains and ingredients are all local," Nassaur says. "Our honey comes from Blue Ridge Honey. Our corn is grown 10 minutes away. Our water comes from up on the mountain at Tiger. We've got Hillside Orchard Farms that we work very closely with. We've got wineries around the area that we're beginning to work closely with. I'd like to get a port done in collaboration with one of those."
"We have a product that's 100 percent Georgia," Chasteen says about ASW's apple brandy made with apples from Mercier Orchard in Blue Ridge. "Then Erik Vonk has the only estate-grown distillery in the country. He grows all of his own [sugar] cane here in Georgia." Vonk owns Richland Rum Distillery with locations in Richland and Brunswick.
Distillers talk about looking to craft breweries, which have been around the state for longer than most distilleries, for inspiration and education in how to set up the craft distilling industry. But there are two enormous differences between brewing and distilling – time and money.
Clear liquors like vodka, gin and Moonrise Distillery's Corn Squeezins can be made quickly. But dark liquor, like whiskey, rye and rum, age in barrels, often for three years or more.
"We age a minimum of three years," Nassaur says. "But when the clock ticks over, I don't assume that barrel's good. Some barrels at three years might be complex enough to be part of the batch. And others might go back and take a nap and come back six months or a year later."
Once the product goes in the barrel, the craft part of small-batch distilling kicks in. And according to Nassaur, it involves "a whole lot of elfin magic. If you go to the store and you buy a product, you expect that product to taste like it did the last time you bought it, correct? But in our business even if … you do everything 100 percent consistently to how you've been doing it for six years, the minute you put it in the barrel, God takes over. Every barrel has the opportunity to taste different. The way that you maintain consistency is doing what we call a small batch, … where we identify some subset of barrels that when we blend them together will taste and smell and have the consistency and the viscosity … that your customers expect from the product line that you're selling them. It's a small batch process of that blending that gets consistency."
The time it takes to create small batches also has a big impact on the economics of distilling, especially when compared to craft beer brewing.
"Our balance sheet is much more onerous than the breweries," Chasteen says. "A brewer's main input cost is the same … as mine, which is grain, for the most part. But as the kind of beer that you put out becomes more popular, you can buy that very expensive grain and it can start selling on the shelf in a couple of weeks. I [am] a couple of years away or more from monetizing that grain."
It's not just that distillers – and drinkers – have to have patience. Investors must be patient as well. That's just one of the roadblocks to overcome in getting started in the business.
"There's barriers to entry with building codes and fire codes that we have to deal with that the brewers don't have to deal with," Chasteen says. "And then you've just got to go run a startup business. So there's a significant barrier to entry, which is why our incredibly populous state only has 13 to 16 distilled spirits permits [distilleries]."
But, says Chasteen, he wouldn't trade his business, which was recognized as a 2019 Small Business Rock Star by the Georgia Department of Economic Development, for the world.
"There's not a cooler trend that's going on in the state," he says. "And there's not another thing that's more historically appropriate in the state of Georgia than what we are doing. You could not come up with another ag product, manufactured product, economic product and story that jives with Georgia as well as what our [GDA] members are doing."
---
Distilleries in Georgia
For a taste of homegrown goodness, check out these distilleries around the state.
---
ASW Distillery
Atlanta
---
Dawsonville Distillery
Dawsonville
dawsonvillemoonshinedistillery.com
---
Ghost Coast Distillery
Savannah
---
Hope Springs Distillery
Lilburn
---
Independent Distilling Co.
Decatur
---
Lazy Guy Distillery
Kennesaw
---
Moonrise Distillery
Clayton
---
Old Fourth Distillery
Atlanta
---
R.M. Rose & Co. Distillers
Dillard
---
Richland Distilling Co.
Richland and Brunswick
---
Still Pond Distillery
Arlington
---
Swamp Fox Distilling Co.
Buena Vista
---
Thirteenth Colony Distilleries
Americus
---
Two Pilots Distillery
Claxton
---
Wild Creek Distillery
Pelham