2019 Most Respected Business Leader: Steve Nygren
Connecting Preservation to Development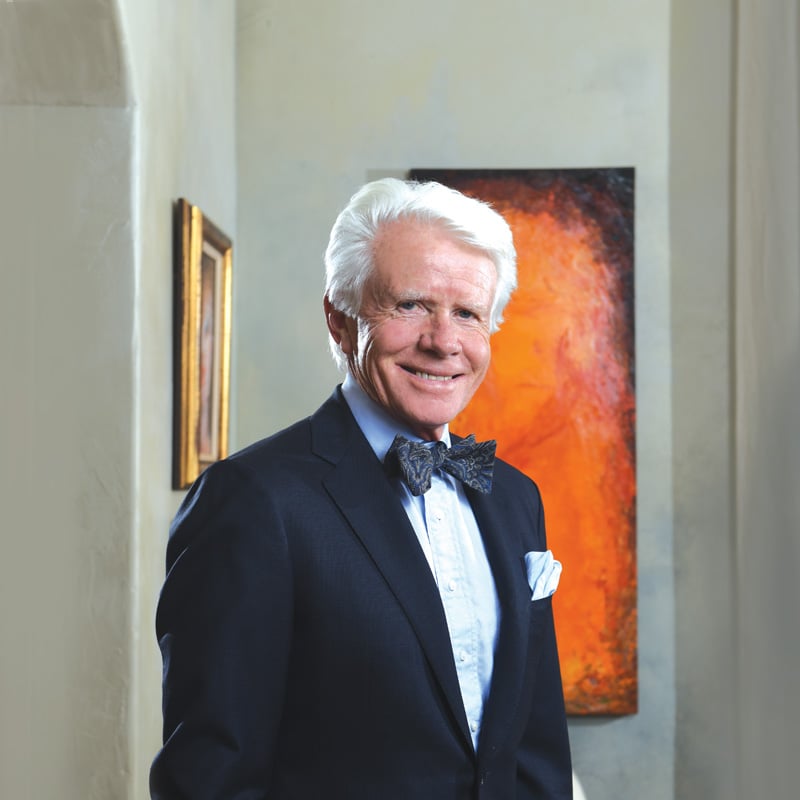 After a successful career as a restaurateur, Steve Nygren retired to the country and found a new purpose.
Serenbe, the lush green community Steve Nygren and his wife, Marie, have created in the hill country of South Fulton County, has been called a wellness sanctuary, an environmental prototype, an agrihood, even a utopia.
"We're a little of all those things," Nygren says, "but more than that, we see ourselves as a biophilic community," which he defines as a place encompassing a love for all living systems and a respect for the past. "Eighty years ago we just naturally understood that connectivity – with nature, each other. We had a healthier diet and lifestyle."
His efforts to renew that connection have produced a community that is home to more than 700 residents, incorporating some 360 homes in four distinct neighborhoods, an inn, farm-to-table restaurants, hiking trails, an organic farm, a Montessori school, a handful of small shops and businesses, and vast expanses of open country. And a few unexpected amenities like blueberry bushes – dozens of them – planted at crosswalks.
"We are at the forefront of bringing environmental practices into the built environment," he says.
What started as a weekend escape site for the Nygrens and their three young daughters in the early '90s, when Steve was still in the restaurant business, has become a sustainable community that is both a family enterprise and a model of responsible development.
Nygren's work has earned him scores of awards, including the Global Wellness Institute's Leader in Innovation Award and Southface's Argon Award – other winners include Ted Turner, Arthur Blank and Ray Anderson – plus recognition from the Urban Land Institute and the Atlanta Regional Commission.
Southface Institute President Andrea Pinabell calls Nygren a visionary and describes his work as transformational.
"What Serenbe and Steve in particular have done is to shine a light on a better way," she says. "His continued vision is inspiring, and it has inspired others. As things have progressed, like the tie to wellness, the tie to health, the tie to local food, the tie to community, Steve has stayed true to that."
For his vision and his ability to turn that vision into reality, Serenbe founder and CEO Steve Nygren, 73, is Georgia Trend's Most Respected Business Leader for 2019.
---
Inspiration
Serenbe – the name was devised by Marie Nygren, drawing on the notions of serenity and being – is 32 miles and a little more than half an hour from downtown Atlanta. The location is a key component of its success, Nygren says. "If this were a couple of hours away, it wouldn't work."
The ideas at Serenbe are both innovative and common sense, but it is the execution that has made the community flourish.
Serenbe offers a variety of housing options – all built and certified to EarthCraft, or green, standards developed by Southface and the Greater Atlanta Association of Home Builders. Condo and townhome prices start in the high $200,000s; small cottages range from the mid-$400,000s to the high $600,000s; larger estates can run well over $1 million. Some 30 percent of the acreage is developed – 20 percent of it as housing; the rest is preserved as greenspace.
Seventy percent of the residents live there permanently – some are retired, some commute, some work from home. The remaining 30 percent come on weekends, he says.
Development didn't come right away. Once Nygren sold his restaurant interests, the family moved to their south-of-the-city farmhouse permanently from Ansley Park in Atlanta, intrigued by the idea of living a quieter life. He was retired for a good seven years.
"We decided to step off the treadmill," he says. "We decided to do this for our own health and wellness and for our children. We were ahead of the trend. We wanted to grow our own food – that was a personal decision. It's now a huge movement."
Preserving the beautiful hill country became a cause when they realized how vulnerable it was to encroaching urban sprawl. That particular epiphany came on a morning run in 2000, when Steve and his oldest daughter, Garnie, now COO at Serenbe, encountered bulldozers on a neighboring property, uprooting trees and clearing the land.
This spurred him to action. He began buying up nearby properties. "All my real estate holdings in Midtown is what has basically funded all this." He involved his neighbors in what became a lengthy process of alliances, political skirmishes, zoning changes and changing the way people thought about preservation and building.
"The only way we could save it was to protect and develop part of it," Nygren says. "I realized I couldn't keep buying enough land to protect, and preservation groups couldn't raise enough money to protect it to the degree it needed to be protected."
Serenbe itself comprises 1,200 acres within the 40,000-acre city of Chattahoochee Hills, which itself sits within the Chattahoochee Hill Country, a larger area (now 65,000 acres) covered by a multi-county land zoning agreement Nygren and his neighbors helped forge.
"We brought together 500 landowners to change zoning on 40,000 acres," he recalls. In the process, the Chattahoochee Hill Country Alliance was formed to facilitate the process. "It's really a model," Nygren says, "connecting preservation to development. That is usually two different things; this is a logical process of bringing the two together."
---
Community
Nygren realized that a big part of the solution had to be an environmentally sustainable community – "not undeveloped, but developed in the right way," he says. "Conscious concern is what really led to all this – and wanting to be thoughtful about the way we did it."
An early mentor was the late Ray Anderson, the Interface CEO who changed his carpet manufacturing business from polluter to sustainability leader. In 2002, Anderson connected Nygren to the Rocky Mountain Institute, an environmental think tank that helped him formulate his plans.
"It had to be environmental and had to have farms," Nygren says. "So now we are recognized as one of first to put farms right beyond houses – this led to the agrihood movement.
"I knew that arts had to be an important part of what we were doing. We couldn't just give lip service." A one-time real estate transfer fee – 1 percent of the sale price of each home, 3 percent for lots – helps fund the Serenbe Artist In Residence Program and the pioneering Serenbe Playhouse, a theater company that stages performances in outdoor settings. Miss Saigon and Titanic were recent productions. The theater was recognized in February by Fast Company magazine as one of the 20 most innovative in the country.
Houses began to go up in 2004 – Nygren notes that the first 20 were actually pre-sold within 48 hours, before any construction started. He and Marie turned their original farmhouse into The Inn at Serenbe, which has grown to 27 rooms for overnight guests; they now live in a townhome across from the Blue-Eyed Daisy Bakeshop, which functions as an unofficial community center. It is, he believes, the smallest silver LEED-certified building in the U.S.
He can't imagine not living in the community he created. "Developing anything has a lot of heartache, a lot of frustration. Many developers say, 'Oh, you live there? How can you?' My response is how can you not? Hardly a week goes by that someone doesn't share with me a story of how their life has changed since moving here."
All of which underscores his and the community's commitment to wellness. "We are also in the forefront of another major trend – how the built environment and everything around it affects our health. There is a global focus on wellness." Time magazine currently features Serenbe in a special issue that looks at the relationship between individuals' health and where they live.
"What all this does – land planning, connecting to nature, connecting neighbors to neighbors for our personal health," is becoming increasingly important. "Where we were 20 years ago in the environment is where we are today in wellness," he says. "We know something has to change. We need to talk about how we create lifestyles where people can live more vitally and with greater well-being."
Southface's Pinabell relates this to the broadening scope of the environmental movement. "Sustainability is not just about energy efficiency or water efficiency or growing your own food. It's about ensuring that you have housing and services that are thoughtful, healthy – and sustainable. Serenbe does that."
---
Restaurant Background
Before Serenbe, Nygren made his mark in the restaurant business. He grew up in farm country north of Denver and came to Atlanta from St. Louis, courtesy of the Stouffer Corp., to open a hotel and restaurant in Midtown. But he fell in love with Atlanta and decided to stay.
He was a founder and partner in the groundbreaking Peasant Restaurants, started in the early '70s, which changed Atlantans' dining-out habits – both in terms of what they ate and where they ate it. They started with the Pleasant Peasant in a seedy block in Midtown across from what is now Emory University Hospital Midtown.
"We served fresh food with fresh ideas," he says, "fresh food with Continental style that Atlanta had not seen." The group quickly expanded, opening five restaurants in five years, going into places not necessarily known as hubs of fine dining like Roswell, where The Public House got the city's first liquor license, and Decatur, where Mick's set a new tone in casual neighborhood dining.
When he retired and sold the company in 1994, the Peasant group had 34 restaurants in eight states.
Marie has her own restaurant pedigree: her mother, the late Margaret Lupo, was the longtime owner of Mary Mac's Tea Room, a fabled Atlanta restaurant and landmark; she grew up working in the restaurant.
---
Making It Happen
The journey from weekend retreat to sustainable mixed-use community required time and a great deal of effort. For the Nygrens, it was a personal choice that became a great deal more. "It was driven by concern about saving greenspace," he says.
"Intuitively, we thought it was the way we wanted to live," Nygren says, "and if we were going to develop it, [it had to be] the kind of place we wanted to put our name on. We are delighted to be in the forefront of so many movements."
He saw the Chattahoochee Hill Country as something of a last frontier. "The distance we are from Atlanta – in any other direction you look, it's already been paved over."
It took him back to his early days as a restaurateur: "In '75, when we opened The Public House, you had to drive through several miles of pastures to get to downtown Roswell; now you don't know when you've left Atlanta and when you've entered the outer suburbs.
"I just could not let that happen – I had to try to figure out how to preserve it. Ray Anderson pushed me through the threshold of passion. As I started understanding the issues – they weren't that complicated even though everybody seemed to think so – at one point I had to do it."
Nygren says more commercial development within the community is coming. An office building in the Mado neighborhood is in the works, and there are plans for a dormitory to accommodate the students who come to study Serenbe through a partnership with Texas A&M University – and likely other schools in the future. "We want to be a semester away for environmental planning," he says.
---
Broader Application
Nygren believes many of the innovations that characterize Serenbe can be adapted to other places – even those without the acreage or the affluence of his community.
"That's what Serenbe is all about – a common-sense approach to what appear to be complicated issues," he says, "but when you really boil it down, there are pretty simple solutions that could apply to any [community] concept no matter if it's in the middle of a built environment or out here.
"The principles here can be applied in various ways in various places. If you are looking at land use, it's how you are more responsible and how you connect to people. And look at how important nature is. We've just forgotten.
"The problem," Nygren says, "is the poor way we manage development versus development itself. As long as you develop with nature rather than imposing development on nature, it totally changes the character," meaning things like building roads that follow the natural contours of the land and handling stormwater via green corridors rather than forcing it underground.
Southface's Pinabell sees wider applicability in the connection to nature and the preservation principles that guide Serenbe, "specifically as part of the design to conserve and protect large parts of the land, then densify development of other parts." Such a concept works in urban or rural areas, she says, as does the commitment to "the high-performing and healthy buildings."
Nygren believes even a large corporate presence could be accommodated at Serenbe in a way that preserves the character of the land. "If we keep connected to nature and deal with traffic, this doesn't have to be bad. Development and accommodating businesses and where people live is essential. We've just done a bad job of it.
"I'm excited about Serenbe and the zoning as a national model. As soon as we can have one of those major corporate locations that would normally impact what some consider in a negative way, we can show how we can incorporate it in a very positive way, along with the same lifestyle."
---
Third Chapter
Nygren's pride in Serenbe is underscored by the fact that all three of his daughters now work with him.
"What a great reward that I never expected. Garnie was the star of Cornell University and was going to travel around the world," he says, initially having her sights on a career in international hospitality; but she chose to return to Serenbe. "I didn't want her to hook her dreams to mine, but of course I'm delighted. I couldn't imagine operating without her. She thinks similar to me but a lot faster."
She convinced her sister, Kara, to come back; she has opened a summer camp at Serenbe. Then the two of them persuaded the youngest sister, Quinn, an art major who spent time in Los Angeles and Atlanta, to join them. "She's our brand manager," Nygren says.
The three "convinced their northern husbands to come here." So his three grandchildren are close by.
Nygren gives every indication of loving what he is doing and reveling in Serenbe's success. "I'm part of the baby boom generation. We were the love children of the '60s, then the greed generation of the '90s. I tried retirement, then I came back. I'm a good example of a third chapter. I'm engaged."