When Memory Fails
With rapid increases in Alzheimer's cases, state institutions are working to raise awareness and improve care.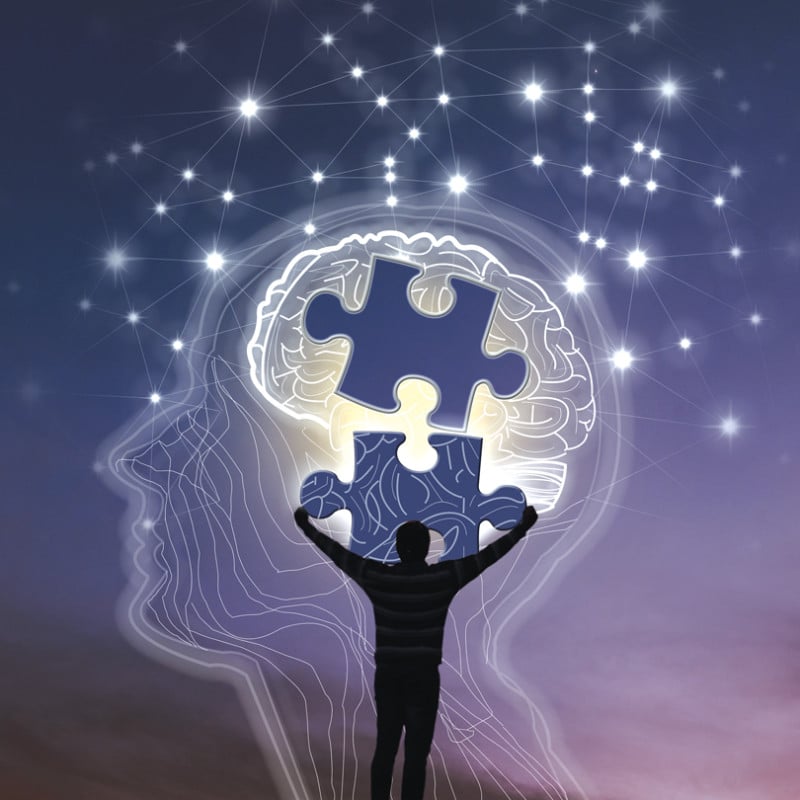 If you've ever misplaced your glasses, searched frantically for lost keys or struggled to remember the name of an acquaintance, you're far from alone. Almost all of us suffer occasional memory slips and for most these are no cause for alarm, but for an increasing number of Georgians they could be early signs of mild cognitive impairment (MCI), a possible precursor to Alzheimer's disease.
An estimated 140,000 Georgians are living with Alzheimer's or another dementia, and that number is growing, says Victoria Helmly, coordinator of the Alzheimer's and Related Dementias State Plan at the Georgia Department of Human Resources' Division of Aging Services.
By 2025, the number is projected to increase to 190,000, according to a study by the Alzheimer's Association – one of the highest percentage increases among the states. The study also found that the number of people dying from the disease is growing far more rapidly in Georgia than in other states. In 2017, 4,298 Georgians died from the disease, up 248 percent since 2000. And the number is expected to continue to climb.
Experts attribute the increases primarily to the aging of the population – Alzheimer's is largely a disease of old age.
"Georgia has the 11th fastest-growing 60-plus population and 10th fastest-growing 85-plus population in the United States between 2010 and 2030," says Helmly.
But, the state has a plan. Adopted in 2014, Georgia's Alzheimer's plan is a unique blueprint to address the growing challenge of dementia in Georgia via improvements in early, accurate detection; information dissemination to challenge the disease's stigma; and coordination among agencies to support families. Throughout the state, researchers and organizations are working to ensure the best possible care for this growing population and those who care for them.
---
Lost Abilities
For most people, Alzheimer's and other dementias develop slowly over time. Although not all people with mild cognitive impairment develop Alzheimer's, mild cognitive impairment often precedes Alzheimer's.
"Mild cognitive impairment is when someone has a cognitive deficit – usually memory loss – and you can test for it and document it, but the person can still essentially do all of their activities of daily living," says Dr. John C. Morgan, assistant professor in the Department of Neurology at Augusta University. It becomes dementia when the deficit is progressive and the person loses his or her ability to take care of daily activities, such as using a cellphone, operating a computer, cooking, driving or operating machines, says Morgan, who is also director of the Georgia Alzheimer's Project Memory Assessment Clinic.
According to the National Institute on Aging, Alzheimer's likely results from a combination of genetic, lifestyle and environmental factors. It is thought to be caused by the abnormal accumulation of two proteins – amyloid and tau – in and around neurons. These are the brain cells that use electrical impulses and chemical signals to transmit information between different areas of the brain and between the brain and the rest of the nervous system. Amyloid proteins form plaques and tau deposits form tangles within the cells that affect their ability to communicate. Over time, parts of the brain shrink.
While Alzheimer's typically occurs in people 65 and older, in as many as 5 percent of cases it begins much earlier – a fact that Sandy Springs resident Dan Goerke knows all too well. Goerke's wife, Denise, was in her early 50s when she started showing signs of memory loss, such as misplacing glasses and keys and then never being able to find them, says Goerke.
"But where it really became evident was in her work," he says. "She was a salesperson. She would go out on sales calls and get lost, and she would have to call me for directions. We got to the point where we would print her directions on a piece of paper and I would put them in her GPS in her cell, and she would still call me.
"What really tipped the scale, so to speak, is she would have to put together a business plan every quarter, and it got to where she would spend all night long doing the business plan. One day I checked out what she was doing when I went to bed, and when I got up the next morning she was doing the exact same thing. She had erased the same line over and over and over again."
Knowing that she needed help but not knowing where best to turn, he took her to her primary physician, where they began the quest to find the answer to her troubling symptoms.
---
When to Seek Help
Anyone who experiences concerning symptoms – such as frequently misplacing items and later finding them in illogical places (for example, eye glasses in the microwave or keys in the soap dish) or never remembering a person's name that you should know – should take them seriously and see their doctor. In some cases, there is a treatable and reversible cause for memory loss such as certain medications, depression and anxiety, hypothyroidism or low B12 levels, says Morgan. "Some folks don't actually have anything wrong, but they are worried they do."
If Alzheimer's is suspected, doctors may make the diagnosis based on neurological tests showing characteristic memory loss, MRIs showing atrophy of the brain in certain areas, examination of spinal fluid for abnormal proteins and nuclear imaging to look at glucose metabolism and plaque deposition in the brain, says Morgan.
Once a diagnosis is made or suspected, doctors may prescribe drugs from a class called cholinesterase inhibitors. These delay or slow worsening of symptoms by preventing the breakdown of a chemical messenger called acetylcholine that is important to learning and memory. Later in the disease or with more severe disease, the doctor may prescribe a drug called memantine, sometimes in combination with the cholinesterase inhibitor donepezil. Memantine regulates the activity of glutamate, a chemical involved in information processing.
While the drugs may slow symptoms for some, they don't work for everyone. In most cases they work better the sooner they are started, making early diagnosis important. Early diagnosis also increases the chances of getting into clinical trials for new medications, says Morgan.
For Denise Goerke, however, diagnosis came too late. Suspecting her symptoms were related to a sleep disorder, her doctor referred her to a sleep clinic where she spent the next year and a half undergoing work up and treatment. When she finally received the Alzheimer's diagnosis and began treatment for that, it didn't help, says Goerke. Almost seven years after her diagnosis, she lives in a memory care center not far from the home they once shared. Goerke visits her daily, usually at mealtime, because she is unable to feed herself, he says. She also is no longer able to speak.
Had she been diagnosed earlier, it's possible that medications might have helped, says Goerke. "I think what is more important is that we probably would have made some different decisions with what we would have been doing with our lives," he says. "We probably would have taken more vacations, quite honestly, and gone to some places that she wanted to see."
---
The Importance of Planning
The ability to plan is an important reason to pursue an Alzheimer's diagnosis, says Goerke, who contacted the Georgia Alzheimer's Association the day after his wife's diagnosis. The two quickly became involved in the organization, at first taking advantage of its support groups and assistance with a care plan.
"Some people are afraid of a diagnosis, and they don't want to know," says Goerke, who now serves as board chair for the Alzheimer's Association's Georgia Chapter. "Yet I tell people, with a diagnosis you all of a sudden have choices in your life, and you can choose to drop what you're doing, knowing where the disease is going. You can take that trip, you can see your siblings, you can see your friend. Whereas if you don't know, you just don't know. You are in a void so to speak."
An early diagnosis allows people with Alzheimer's to become involved in decisions regarding their care before they become unable to choose or speak for themselves. It also allows caregivers to plan and to garner support and help caring for a loved one with a disease that takes a heavy toll on the caregiver. Research shows that caregivers of dementia patients have higher levels of depression and physical health problems, including heart disease and stroke, than the general population.
"Caregiving is the most difficult thing I have ever done in my life," says Goerke. "I think one of the most important things I have learned is that caregivers need to reach out for help from either relatives or friends or the Alzheimer's Association and stay active in support groups. That has been one of the best resources I have taken advantage of, quite frankly."
A significant part of Georgia's Alzheimer's plan focuses on care and services for people living with dementia and their family members, says Helmly. "Because there is no cure … it is important that services be available for people to live the best quality of life possible," she says.
---
Improving Quality of Life
Faculty at Georgia State University's (GSU) Gerontology Institute are working to ensure that people with Alzheimer's have the best possible quality of life by taking their research to places where people with Alzheimer's are most likely to be, including churches, personal care homes and assisted living facilities.
For many older people, particularly in the African-American community, the church is a place of refuge when trouble hits. For people with Alzheimer's and other dementias, though, church can be a lonely place if church leaders don't understand the disease, says Fayron Epps, associate professor of nursing at GSU.
Dementia may restrict caregivers from bringing their loved ones to church as they become increasingly uncomfortable due to embarrassment or uncertainty about their loved one's behavior, she says. With a grant from the Alzheimer's Foundation, however, Epps is leading a project to turn three African-American churches in the Atlanta area into Alzheimer's-friendly churches in hopes of creating a model for other places of worship.
The project began with training church leadership about the disease and working with them to create both understanding of and special worship services for people with dementia and their family members. The final phase will be to study 30 families from the three congregations for six months – using qualitative interviews, surveys and physiologic measures of stress – to see if the changes have an impact.
"When my grandmother had problems, she would go to the church," Epps recalls. "If there was any place she would feel safe, it would be in her church. That is the experience I want to give back to each family."
Another site of research is personal care homes and assisted living facilities, where an estimated 40 percent to 70 percent of residents have some level of cognitive decline. With a $3.37-million federal grant, Candace Kemp, associate professor at GSU's Gerontology Institute, will spend the next five years studying the best ways to help people in assisted living and personal care homes be optimally engaged in life. The project, to be completed in three phases, will follow 75 residents at Atlanta-area facilities with different features including, size, location (urban, small town, rural, for example), ownership, the presence or absence of a memory care unit and patient characteristics, says Kemp.
"While the study will focus on people in [these facilities], the idea is that hopefully what we find there can also be helpful or broadly used outside of assisted living and personal care homes because not all people live there," says Kemp.
"Researchers are working as fast as they can on the scientific end to find a cure," she says. "But in the absence of that, quality of life is significant, timely and important."
---
Hope Through Research
Certainly a cure is the ultimate hope. In August 2018, Congress approved a $425-million increase in funding for Alzheimer's research at the National Institutes of Health for fiscal year 2019, says Helmly. "That's a 22 percent increase, which indicates the importance being placed on research at the national level," she says.
Research is taking place at centers throughout the United States, including Emory University's Goizueta Alzheimer's Disease Research Center (ADRC), one of a few dozen such centers funded by the National Institute of Aging. Researchers at ADRCs are working to translate research advances into improved diagnosis and care for people with Alzheimer's, as well as finding a way to cure and possibly prevent it.
The Alzheimer's Association, pharmaceutical companies and numerous private foundations are also funding research. At Emory, a $23.7-million grant from the James M. Cox Foundation and Cox Enterprises is being used to develop the Mild Cognitive Impairment Empowerment Program, which will combine research, clinical care and support for patients and caregivers while giving patients the tools to take an active role in their healthcare.
"Alzheimer's is a terrible disease. Of course, every disease is bad," says Goerke, who lost his father to heart disease and his mother to cancer. "Both of those were terrible, yet until the very end I was able to still communicate with both and talk with them. But with this, I haven't had a conversation with Denise in six years," he says. "This was the person I wanted as my mate and pal for the rest of my life, but she can't speak to me. It is difficult to see someone's cognition fail, just slip away.
"We've got to find a cure for this. We've got to raise more money for research," says Goerke, who has been involved in raising funds locally as well as speaking before Congress. "We realize it is not going to help us at our age, but hopefully it helps our kids and it should help our grandkids most of all."
---
Need Help?
The Alzheimer's Association offers free consultations by master's level clinicians, local support groups and a 24/7 helpline for referrals to local programs. Help and information about medications, other treatment options and skills to provide quality care are available. The association also helps individuals and family members learn how to find the best care from professionals and where to find assistance with legal, financial and living-arrangement decisions. Visit alz.org or call 800.272.3900.
---
The Aging & Disability Resource Connection (ADRC) is a one-stop-shop for questions, information and referrals for older adults or adults with disabilities. Visit georgiaadrc.com or call 866.552.4464.
---
Georgia Memory Net's goal is early detection and diagnosis of dementia, including Alzheimer's disease, as well as connecting patients and caregivers to community resources at the time of diagnosis. This work is being done through the establishment of five Memory Assessment Clinics around the state, as well as outreach and education for physicians and data collection and evaluation. To learn more, visit georgiamemorynet.org.