From the Publisher: Tourism?
Georgia's No. 2 industry has a $63-billion impact on the state, but it can be a double-edge sword, presenting challenges to communities, especially smaller ones.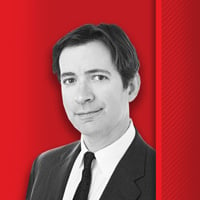 April is our biggest issue, a testament to Georgia's superlative reputation for doing business as it includes our annual Economic Yearbook. It features a dizzying amount of economic development throughout the state and the challenges and opportunities swirling around these plans. It's quite an impressive array of activity that touches the life of every Georgian.
Embedded in these reports is news of our two largest sectors, agriculture and tourism. Georgia's agriculture community has dominated the No. 1 spot for decades, but tourism is catching up. Recent figures put the total economic impact of agriculture at $73 billion, while tourism had a most recent economic impact of $63.1 billion in 2017, another record year.
Tourism affects Georgia's economy in many ways, accounting for much development in hub locations such as Atlanta, where the $5-billion redevelopment of The Gulch in downtown will include a substantial hospitality component (1,500 rooms); Savannah, where several new multi-million dollar developments will add around 1,000 rooms; and Gwinnett County, where a 325-room hotel is planned at Infinite Energy Center.
A number of factors will continue to grow our tourism industry, including increased direct flights to Hartsfield-Jackson Atlanta International Airport, our growing reputation for film tourism (No. 1 for film locations in the U.S.) and major concerts and music festivals. Communities like Fayetteville are taking a novel approach, with mixed-use developments like Pinewood Forest, adjacent to Pinewood Studios, that will feature a hotel and culinary and craft districts.
Tourism can present challenges to communities, especially smaller ones that may need the business but aren't used to the growing pains visitors can bring. In addition to infrastructure (traffic) and workforce (affordable housing) issues, tourism can bring swift growth to unexpected places, and some longtime residents might resent the spike in activity created by such features as Fried Green Tomatoes, which brings a surprising number of visitors to Juliette (population 3,000) even after 28 years, or The Walking Dead TV series, which remade Senoia (population 4,000) practically overnight.
In Atlanta, the recent Super Bowl LIII was considered an enormous success, but some grousing came from nearby communities such as Vine City, where a $23-million pedestrian bridge connecting the MARTA station to Mercedes-Benz Stadium was essentially shut down all week for security reasons. Fun as it was, many residents stayed home to avoid the traffic and complained of being priced out of many of the related events. I heard the free Goodie Mob hip-hop show at Centennial Olympic Park was amazing, but I was disappointed at the $450 a person pricetag for the tailgate party with former professional wrestler "Nature Boy" Rick Flair at Hard Rock Café. It's the familiar refrain that what may be great for visitors may not be so great for residents.
On a recent trip to Savannah I heard from locals that even this city, well known for its many restrictions on development and protective ordinances designed to maintain its gorgeous natural and historical attractions, is becoming overwhelmed with visitors on non-event weekends; it was a surprise to see so many tourists in February, a good month before its signature St. Patrick's Day festival.
Still, tourism offers a path forward for non-hub cities continuing to shrink in population throughout the state. Eco-tourism, whether through Georgia's quail plantations (some of the world's most renowned) or our mountain hiking (Dawson County, population 24,379, had a record tourism impact of $52.39 million in 2017), offers expanding employment opportunities in these areas as typical farm-related employment shrinks due to automation.
We've mentioned the threat to coastal tourism from off-shore drilling in past issues of the magazine. More recently, there is concern over the impact of Camden County's proposed spaceport on our protected islands' visitors and wildlife. The outdoor recreation industry's $27-billion impact on the economy – four times the impact of the Braves, Falcons and Hawks put together – depends on our ability to navigate growth and encroachment issues as well as maintain the forestry industry that supports hunting lands and trails.
It was great to see national headlines brag on Atlanta, and Georgia deserves a round of applause not only for the success of Super Bowl LIII, but for our stewardship of all that draws people to visit our state. Ultimately, tourism is a source of hometown, home-state pride. I am optimistic that we can work through the issues tourism creates and make the most of the transition in employment it provides to so many places in need. If done right, tourism can be fun.