Columbus students give back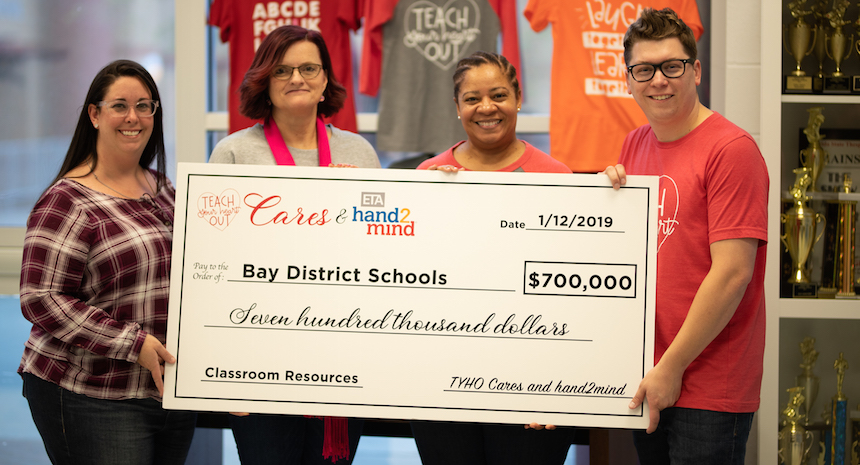 For many of us, last fall's Hurricane Michael is a distant
memory. However, residents of South Georgia and the Florida panhandle are still
dealing with the storm's aftermath. In particular, Springfield Elementary School
in Panama City suffered such extensive damage that students and staff were
relocated to another school in the area.
The story of Springfield Elementary's ruin touched the
hearts of students 200 miles away at Double Churches Elementary
School in Columbus. There, fifth-grade teacher Eric Crouch and his students
have raised more than $700,000 for classroom supplies for Florida's Bay
District schools, plus an additional $13,000 in cash. And they're not finished
yet. Crouch's students have ongoing Skype sessions with their Sunshine State
counterparts to determine other ways they can help.
It's not the first time one of Crouch's classes has stepped
up to help others in need. Last year, his fifth-graders made Christmas
ornaments using the school's 3-D printers and sold them to help prevent an
impoverished African school from closing.
These are just two of the projects that have allowed
Crouch's students to pursue what they're passionate about and achieve
extraordinary results. His methods haven't gone unnoticed. He is a finalist for
the Varkey Foundation Global Teacher Prize 2019, which is considered the Nobel
Prize of teaching and includes a $1 million award. Out of more than 10,000
nominations from 179 countries, he is among the top 50 finalists.
From left, Springfield
Elementary Principal Ilea Faircloth, Bay District Schools Director of Human
Resources Sharon Michalik, Title 1 Executive Director Lisa Dunnigan and Double
Churches teacher Eric Crouch.
Photo provided by Eric
Crouch.
Do you follow us? Find us on Linkedin, Facebook, Twitter and
Instagram.