The Power of Creativity
Communities turn to the arts for economic development and revitalization.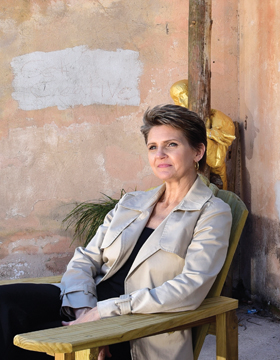 Across the state, rural and urban planners have been getting creative. They've focused on the arts to drive improvements in the local economy and help preserve their community's unique identity.
In some places, renovated theaters and museums have re-energized downtowns and attracted more visitors and new development. Other locations have integrated a variety of arts and crafts with historic preservation and outdoor recreation in planning for a specific creative district.
Regardless of how the arts are pursued, they usually result in a standing ovation when it comes to economic development. According to the Georgia Council for the Arts (GCA), these creative businesses have a $62.5-billion impact on Georgia's economy.
"The arts have this incredible power to elevate the authenticity and individuality of [a] place, and by doing so [they] can create bridges between communities and people, while using the intentional lens of improving the local economy," says Karen Paty, GCA executive director. "The places where this has been the most successful are communities in which the arts are part of the planning process and decision making."
---
Partnerships Produce a Plan
Thomasville's creative district, The Bottom, was born from a close collaboration among city officials, the Office of Main Street and Tourism, Thomasville Landmarks and the Thomasville Center for the Arts. The Bottom, named for its dip in elevation, was formerly a thriving African-American and Jewish district on the road to downtown. Over time businesses there declined, and by the early 2000s not much was left in the area. It was a prime candidate for revitalization.
In the spring of 2014, after gathering input from more than 120 community members and much deliberation, the partner organizations approved a master plan for transforming The Bottom into a creative district. The plan revolved around building an amphitheater at the trailhead for a new multi-use trail system connecting the city's historic districts. The amphitheater would provide a venue for performances and exhibitions and serve as an anchor for the rejuvenated neighborhood.
"When we went through the planning process, we shifted to a creative economy [vision] that allowed us to work with writers, designers, makers – even culinary arts – and expanded the definition of the types of businesses we could imagine in the district," says Michele Arwood, executive director of the Thomasville Center for the Arts.
One of the first things the planners did – well before approval of the master plan – was launch the Due South music festival to get people used to coming to that part of town. After being held in an open field for a few years, the festival inaugurated the new $1.9-million amphitheater in 2017.
Arwood says Thomasville's annual public art exhibition, FLAUNT, was also employed to drive people to the area. The Bottom's first FLAUNT featured 30 artists who created murals based on historic neighborhood images. "As you came through the district, you saw its history on the walls in a contemporary way," Arwood says. Accompanying that 2014 FLAUNT were 20 pop-up shops in vacant buildings. Several of those temporary tenants became permanent creative businesses that purchased buildings and are still there today.
Thomasville's appetite for public art led to The Bottom's latest initiative, the UnVacant Lot, which features a quarterly installation that is a collaborative effort with a community partner. Designed to be an outdoor lab for artists, the space is situated between a bagel shop and a yarn store and serves as a corridor to the amphitheater. Last fall, the UnVacant Lot's first exhibit showcased sculptures and other artwork by students from a local high school.
Across from the district's commercial businesses, the Thomasville Center for the Arts provides studios for five artists-in-residence, currently painters, a sculptor, a potter and a print-maker. Each teaches young students and adults in the studio and at local schools. "Thomasville didn't have a lot of fine arts instructors, so this has worked beautifully," Arwood says. It's also an example of the district's goal of connecting with multiple generations through programs or projects.
In four years, the economic impact of these and other creative endeavors on The Bottom has been significant. The commercial blocks have attracted 24 businesses, which have created 114 jobs, Arwood says. An additional seven businesses were expected to open by the end of 2018. Total investment in the district has been $6.3 million, about half of which was from private sources.
"Imagine a space that people didn't know existed," she says. "Now, our First Friday concerts in the amphitheater bring 1,500 to 2,000 people to a place where there was never any life. People are excited about seeing spaces come to life and seeing what can be – and what will be – in those spaces."
---
A New City Center
At about the same time as Thomasville was planning for The Bottom, the city of Sandy Springs was adopting a master plan to develop its downtown area. "We're a new city, only about 13 years old," says Mayor Rusty Paul. "Sandy Springs was a collection of great neighborhoods, but commercially it was a collection of basically strip malls. There was no place for the community to come together. And, there was no place for our business community to come together and have meetings. So it became a question of what did our citizens want and what did our corporate citizens want."
He says a lot of public information meetings "helped us find consensus" around the new city center. "We found out that the public's aspirations were pretty high. They wanted a performing arts center that could bring in top-quality acts, and they wanted a park where families could gather. There was nearly unanimous support across the community for this project."
Phase 1 of City Springs, the 15-acre downtown project, was officially completed last fall and includes a performing arts center, government offices, a park, dining, retail and residences. The performing arts center encompasses the 1,070-seat Byers Theatre and the Studio Theatre, which is a 5,000-square-foot space that can accommodate small performances as well as corporate meetings.
In addition, the development features City Green, a four-acre public park. An outdoor amphitheater is about a block away. "We've got an unusual entertainment infrastructure," says Paul. "We can host four events at a time."
In its first season, the Byers Theatre "sold eight times more season tickets than they originally thought," he says. "They actually had to cut off season ticket sales so they would have individual program tickets left. The community reaction and the feedback has been just amazing."
He says the response from the business community has been equally enthusiastic, with Sandy Springs now one of the country's hottest corporate relocation places.
"Corporations want to locate where their employees have a high quality of life, and arts are a major component of that," he says.
He and other city officials are turning their attention to Phase II of City Springs, which he says will be on the same campus. The new facility will house nonprofits as well as museums and a gallery for local artists. His hope is that it will open in 2020.
"The arts are the one thing people rally around," he says. "We're making sure we have something that every citizen will find so compelling that they will be [at City Springs] at least once a year."
---
A Vision for Rebirth
Mill Hill, one of Macon's oldest neighborhoods, is where the city originated. Located close to downtown, it was once part of the Creek Nation, then home to Fort Hawkins, an 1800s trading and military supply post. In the early 20th century, Bibb Manufacturing Co. built housing for textile workers there along with a community center. But in the 1970s, the mill closed and the neighborhood fell into decline. Today, nearly half of the remaining houses are vacant and the area's poverty and blight are extreme.
Interest in revitalizing the neighborhood began to grow about a decade ago, and the Macon-Bibb County Urban Development Authority (UDA) identified the location as strategically important in its 2015 Urban Core Master Plan. The UDA collaborated with the Macon Arts Alliance and consulting firm Creative Community Builders to gather data and input from residents and artists and create a plan for an arts village at Mill Hill. Completed last spring, the plan provides the foundation for neighborhood-building initiatives that include the recently completed rehab of the community center for arts programs and the purchase of 12 duplexes built in the 1920s for renovation and sale to artists.
"It's about creating a sense of place and opportunities and activities for people to go into a neighborhood that they've never been in," says J.R. Olive, project director for Mill Hill: East Macon Arts Village.
The $1.6-million restoration of the community center was undertaken debt-free through public and private grants and donations, says Olive. Following its grand re-opening last spring, a husband and wife team of artists-in-residence, Forrest Sincoff Gard and Jeni Hansen Gard, created and scheduled dozens of free and low-cost programs, including classes for dance, sculpting, painting, creative writing and culinary arts.
One of the Gards' biggest initiatives was the year-long Macon Flowers project, in which every person in the city is invited to come to the community center to make a clay flower. After they're fired in a kiln, the flowers will be assembled into a collage and installed near the center in the spring.
"The goal is to engage the community," says Jeni Hansen Gard. "The flower is a symbol of beauty and new growth that speaks to the [Mill Hill] project in a meaningful way."
The Gards live in one of the district's six renovated duplexes, which are now single-family homes with spaces constructed specifically for studios. The houses are essentially brand new and are priced to be affordable. Olive says three more are being rehabbed, and once infrastructure improvements in the neighborhood are finished, the houses will be actively marketed to artists.
"When we sell the houses you'll have this functioning block of homeowners, and they will make use of the community arts center that was purpose-built for visual and performing arts," says Olive. "It redefines the narrative of what was an ugly, empty, dangerous neighborhood into a place people look at as an option for urban redevelopment. The goal is to light a spark that will cause the natural flow of the market."
"The thing that is so powerful about a cultural district," says Paty, "is to be able to look deeply at a specific area and bring to bear the best of what's possible in economic development through the arts."