Columbia County: Staking a Claim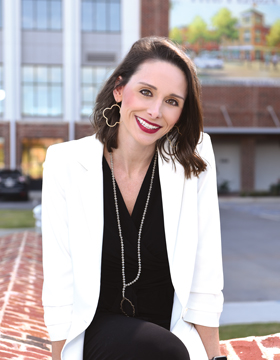 If you haven't been to Columbia County in a while, you don't have to look far for signs of growth.
In fact, since 2016, more than $150 million in capital investment and 600 new or retained jobs have been announced, according to the Development Authority of Columbia County. The county, which sits along I-20 in east Georgia, has also seen more than 1 million square feet of industrial construction and more than 1 million square feet of commercial/retail construction coming online, says Robert Bennett, executive director of the Development Authority of Columbia County.
Some of that construction beckons from I-20's Exit 190 in Grovetown, which is dotted with shopping centers, grocery stores, hotels and restaurants.
Economic development and business leaders use words such as "phenomenal" and "booming" to describe the scene in Grovetown, located near the back gate of Fort Gordon in neighboring Richmond County.
"That is now the retail explosion," says Tammy Shepherd, president and CEO of the Columbia County Chamber, about new chains including Aldi, Your Pie, Chick-fil-A, McAlister's Deli and Starbucks at the exit.
In other areas, existing and startup businesses and healthcare providers are trying to secure their positions for an influx of residents, workers and commuters to Fort Gordon and contractors around it.
There are about $500 million in projects, according to the county – with about $240 million focused on transportation – to improve roads, renovate and expand county buildings, develop new parks and create amenity-rich developments through public-private partnerships. From shopping centers along I-20 and major thoroughfares, such as Washington Road in Martinez and Evans, to the new, nearly-300-acre White Oak Business Park between Appling and Harlem, as well as Class A office space, there are more places for businesses seeking to start, relocate and expand.
Fort Gordon is bringing in more than 15,000 workers and families by 2023 for the U.S. Army Cyber Command Headquarters relocation and expansion.
"A lot of it is connected to the explosion at Fort Gordon. A lot of very well-paid jobs are out there, and because of our school system, probably 70 percent of those people are going to want to live in Columbia County," says Ron Cross, who just retired after serving as Columbia County Commission chair from 2002 to 2018.
Columbia County's population is expected to increase by 70,000 people in the next 15 to 20 years. More visitors are resulting in $138 million in direct tourist spending, according to the Columbia County Convention and Visitors Bureau (CVB), including at the county's nearly 1,200 hotel rooms.
"Since 2016, we have seen tremendous growth," says Shelly Blackburn, executive director of the CVB.
---
More Industry, More Jobs
In January, Club Car plans to open a 550,000-square-foot distribution center on 53 acres at White Oak Business Park.
"We need to help create jobs in our market and in our community," says Bennett. "Being able to invest in private development and having those opportunities there are imperative. That's why White Oak Business Park at I-20 became such a big deal."
Bennett says the development authority is focused on innovative manufacturing operations that will complement the community and the environment.
Club Car, a maker of electric and gas-powered golf carts and utility vehicles, is investing $36 million as the anchor tenant in the business park. The company, part of Ingersoll Rand, sought to consolidate its smaller warehouse locations and improve how it distributes materials to customers and feeds materials to its manufacturing plant on Washington Road, a major thoroughfare.
"The location itself was definitely a perfect fit for what we wanted to accomplish," says Tyrone Ellis, vice president of operations and global integrated supply chain for Club Car.
---
Finding a Niche
Evans Towne Center, a 26-acre mixed-use development, is being touted as the new center of the county. The public-private project with Augusta-based Meybohm Real Estate, located near the county's justice center and amphitheater, represents at least a $60-million investment, says Cross.
"We need to have a focal point for the county, and I think Evans is shaping up to be that," he says.
The project will include six buildings in what's called The Plaza at Evans Towne Center and a 2,000-seat performing arts venue. In 2018, the first building – a four-story, 58,000-square-foot structure, home of Meybohm Real Estate's headquarters and across from the Lady Antebellum Pavilion – opened. It brings much-needed Class A office space, which could attract other high-end corporate users, Shepherd says.
The performing arts center is slated to be complete in 2020, and future phases could include apartments, condos and a boutique hotel, Cross says.
"The success of Evans Town Center Park has really blown everyone away. The county hosted so many large acts. The success of that really played into the minds of the county leadership that, 'We could do this,'" Blackburn says, of the performing arts venue.
Your Pie, a fast-casual pizza concept founded in Athens, Ga., plans to open its second local location in Evans Towne Center, says franchisee Pat Landon. The employment surge at Fort Gordon, increase in rooftops, stable employers such as John Deere and a growing medical district factored into the decision, says Landon.
"The leadership in Columbia County has seen this coming for years and has acted on it," he says.
---
Advancing the Area
From restaurateurs to economic development leaders, traffic is top of mind. Washington Road was widened in a Special Purpose Local Option Sales Tax (SPLOST) project that began in 2010. Eight projects are being funded by nearly $175 million in Transportation Investment Act (TIA) dollars for the county. TIA is a 1 percent, 10-year regional sales tax that passed in 2012 to fund transportation projects for the area.
The first, a $35-million, four-lane extension of River Watch Parkway from Martinez to Evans, was finished in 2018. The widening of State Road 28, which leads to South Carolina, is in the late design stages, Cross says, and has an original project budget of $50 million in TIA funds.
"The Transportation Investment Act is the best thing that's happened to Columbia County in my tenure because it probably advanced our transportation improvements by 20 years," Cross says.
The critical area is that bustling Exit 190, which is called the Gateway, he says. Planned projects include more than $50 million in TIA funds to widen Lewiston Road/State Road 388 in Grovetown from I-20 to Columbia Road and from Wrightsboro Road to I-20.
To alleviate congestion elsewhere in the county, the expansion of Flowing Wells Road, projected at $20 million in TIA funds, is slated in the area from Wheeler Road to Washington Road that intersects I-20. An $11-million bridge replacement and intersection improvement is planned at U.S. 221, State Route 47 and I-20 where the new industrial park is located.
"I think we're the state capital for orange barrels," Cross says.
Also at Exit 190, the county has committed to pay 20 percent of the cost, estimated at nearly $149 million, for Augusta University Medical Center's new Columbia County Campus.
Site planning has begun on the 82-acre property that would include a 100-bed hospital, the county's first, says Lee Ann Liska, executive vice president for health affairs and CEO of Augusta University Medical Center.
"The need just continues to grow," she says. "It's visible from the highway, so that's exciting even to promote our academic brand and to make sure it's easily accessible. Columbia County is so very busy."
Liska says the hospital will be intelligently connected to offer high-touch, high-quality medical care with features such as smart-room technology and partnerships with companies including Philips Healthcare.
Columbia County is one of the state's few counties with its own broadband utility, C3BU, which has more than 210 miles of underground fiber optic network. The network was created to stimulate job and economic development growth, as well as to improve healthcare, education and government services.
It also helps support the entrepreneurial ecosystem that is being built in the region, Bennett says. Companies include Strand Clinical Technologies, which was one of the state's 2018 Small Business Rock Stars, an award presented by the Georgia Department of Economic Development and Georgia Economic Developers Association. The company, created by two men who grew up in Columbia County and were roommates at the University of Georgia, provides clinical documentation services to more than 1,000 pharmacies around the country to support their patients who have chronic diseases.
"When we got out of school, both of us intended at some point to be able to get back to Columbia County. Our roots are here. We felt like Columbia County was a budding area, especially in an area of technology. And we're in healthcare, and as you know, Augusta really is a healthcare hub for the state," says David Pope, who founded Strand with Dan Lawson.
In 2018, Strand announced a partnership for a new billing platform with RelayHealth Pharmacy Solutions, part of McKesson Prescription Technology Solutions, that the founders say is the largest team Strand has worked with to date.
---
Laying Ground
The county, whose growth has continued at an annual 2.5 percent to 3 percent pace for nearly two decades, is seeing more requests for subdivisions, Cross says.
In 2017, 1,337 residential building permits were issued in Columbia County. The majority of the county is unincorporated with less than 10 percent of the population in Harlem and Grovetown, Cross says. In Grovetown, 226 residential building permits were issued from January through September 2018, compared to 176 in 2017 and 122 in 2016.
In Harlem, 161 permits were issued from 2016 to 2018, while its first chain, a Hardee's, opened in 2018. Subdivisions include Greenpoint, a 1,200-acre master planned community on U.S. 211/Appling-Harlem Road. Its first phase will be on 230 acres with plans for 550 homes.
"We've almost doubled in population in just a couple of years, which is good, but at the same time there's fear with growth. There's fear of change," says new Harlem Mayor Roxanne Whitaker, a native whose mother also served as mayor. "The reason I ran was to help Harlem remain a small town, but yet understand that we have to grow to some extent to continue to survive."
In May, a new home for The Laurel and Hardy Museum is expected to open in the old Columbia Theatre, a building renovated with SPLOST dollars that also will have a visitors center and a theater with about 70 seats. The town's annual Oliver Hardy Festival attracted 40,000 people in 2018 to honor the comedian and Harlem native, Whitaker says.
Roads and public safety in Harlem, which does not have an ambulance service, are the biggest infrastructure concerns, Whitaker says.
"We're going to have to make sure our infrastructure is in place before we have too big of a growth spurt," she says. "We have limited space as far as roads are concerned for heavy traffic."
---
Education Driver
A driver of the housing market has been, and continues to be, the quality of education, Bennett says. The county's ACT scores are the sixth highest and the SAT scores are the 12th highest in the state, according to the Columbia County School District.
The district opened two schools – Harlem Middle School and Grovetown Elementary School – in 2017 and plans in August to open a new North Harlem Elementary School, says Superintendent Sandra Carraway.
In March, voters will decide whether or not to extend the education SPLOST that runs to 2022, which would help fund two more elementary schools, as well as a middle school or a high school campus, Carraway says. Since 2000, about 15 facilities have opened.
Fort Gordon anticipates 7,800 school-age children will move to the area by 2023, and school district data shows that about 4,457 students are from military families. Opportunities for dual enrollment at Augusta University and Georgia Military College, work-based learning and digital learning for high schoolers, for example, are ways it plans to handle the influx of students.
"The Columbia County School District has been growing quite rapidly over the last 10 to 15 years, so we're accustomed to opening new buildings," Carraway says. "Our high schools will be very full, but we have plans for accommodating that growth in a variety of ways. We feel very positive that not only we will be able to continue to provide an outstanding education for our community of students, but also to accommodate the growth that's sure to come."
---
Local Flavor
Kayak Culture
January may be a bit chilly for most outdoor sports, but it's a great time to look ahead to spring and plan a kayaking outing. It's a booming sport in Columbia County, where locals are strapping kayaks onto their vehicles and renting the boats in growing numbers to venture onto local waterways. The Augusta Canal, Betty's Branch – a tributary of the Savannah River – and the 71,000-acre Clarks Hill Lake are among places to paddle.
The Wright family began operating Savannah Rapids Kayak Rental at Savannah Rapids Park and Pavilion in Martinez in 2012. Last year, they opened Keg Creek Watersports in Wildwood Park at Clarks Hill Lake in Appling. Both parks are owned by the county.
"I don't think that it would have been possible without the county. Our best asset is our location inside the park. It was just a really, really great opportunity for us that kind of landed on our doorstep at the perfect timing," says Katie Wright, who runs the business with her parents, Steve and Leslie Wright.
Since 2012, it has doubled its number of shuttles to about 74 at Savannah Rapids Park.
"The demand on the weekends in the summertime is just crazy," Katie says. "On a summer weekend when the weather is good, you're probably not going to get much of the canal to yourself, if any."
Kayakers, who range from senior citizens to military families and everyone in between, can paddle past railroad trestles, a golf course, rope swings and Stallings Island, where donkeys and goats reside. The company is prepared for the military clientele to grow and already caters to those customers with special discounts, including a free shuttle.
Kayakers also have gathered on the water for events such as the Benderdinker, a spring festival with live music and games in Evans, and Paddlefest, which typically happens in late summer.
"I don't think that people have fully realized what great assets we have here," Katie says, "but I think that it's starting to become more and more popular to get outside." – Lori Johnston