100 Most Influential Georgians of 2019: Propelling Positive Change
The 2019 roster of people making an impacton the lives and livelihoods of all Georgians.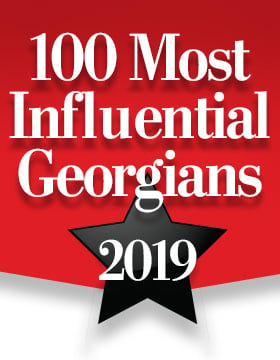 According to Henry David Thoreau, "Success usually comes to those who are too busy to be looking for it." His assessment is an apt description of the individuals included in Georgia Trend's 21st annual listing of the 100 Most Influential Georgians. Not only are they successful in their careers, but they also wield remarkable power and influence and have contributed to making life better for Georgians.
On the following pages, you'll find CEOs, politicians, college presidents and economic development leaders, among others, who have challenged, inspired and led efforts to bring about positive change in virtually every corner of the Peach State. Some are very public figures, while others work quietly behind the scenes. Many have helmed private businesses and helped shape industries, while some are heads of government, healthcare and nonprofit organizations. All are tireless and passionate in pursuit of their vision for a better Georgia.
Selecting the most influential leaders is a daunting task and one that involves much discussion, mulling and refinement by the Georgia Trend staff. Our initial list typically contains many more than 100 names, and there are always last minute changes as a result of retirements, power shifts, late-in-the-year hirings – and, this year, delayed election results. However, we believe the final group represents the best qualities of leadership, power, character and influence the state has to offer.
Along with the most influential, we've included a list of Notable Georgians on page 54. These are individuals who've also made a significant impact on residents' lives.
Profiles of the 100 Most Influential Georgians were written by Amy Bonesteel, Mary Anne Dunkin, Jennifer Hafer, Karen Kirkpatrick, Rebecca McCarthy, Suzanne Northington, Patty Rasmussen, K.K. Snyder and Haisten Willis. – Mary Ann DeMuth
---
David Abney
Chair & CEO
UPS
Atlanta
Abney worked as a part-time package loader for UPS while in college and now runs the global package delivery and supply chain management company. He serves on the board of Macy's Inc. and Catalyst, a nonprofit organization focused on workplace parity for women. Abney is serving as the 2019 chair of the Metro Atlanta Chamber of Commerce. – JH
---
Stacey Abrams
Georgia Gubernatorial Candidate
Former Minority Leader
Georgia House of Representatives
Atlanta
Democrat Abrams may not have won the governor's office, but long after Election Day she worked tirelessly to ensure all ballots were counted. She founded the New Georgia Project, which registered hundreds of thousands of voters – and helped lead to record turnout in the November election – and plans to continue to push for accountability at the polls. – KK
---
Dan Amos
Chair & CEO
Aflac
Columbus
Under Amos' leadership, Aflac makes money and a difference. The insurance giant supports causes to end childhood cancer, builds houses for Habitat for Humanity and diverts 881,631 pounds of solid waste from the landfill annually. Amos received the 2018 Corporate Responsibility Lifetime Achievement Award from CR Magazine. – JH
---
Brian Anderson
President & CEO
Greater Columbus Chamber of Commerce
Columbus
A $63-million Veteran's Administration Clinic (construction beginning in 2019 for 2021 completion) will provide services to 30,000 regional veterans and bring valuable medical jobs to Columbus, where Anderson has headed the chamber since 2015. Other initiatives include 600 jobs created in Muscogee County with the $4.9-million investment of Global Callcenter Solutions. – AB
---
Kerry Armstrong
Board Chair
Atlanta Regional Commission
Atlanta
As board chair for ARC, the Metro Atlanta region's official planning agency, Armstrong has led the organization in several collaborative projects, including the Atlanta Aerotropolis Alliance, which is an effort to revitalize the area around Hartsfield-Jackson Atlanta International Airport. He also co-chairs the Atlanta Regional Workforce Development Board and chairs the North Fulton Community Improvement District. – MAD
---
Matt Arthur
Commissioner
Technical College System of Georgia
Rabun County
Arthur, who was appointed commissioner of the 22-college TCSG in 2017, has responsibility for a system with one goal – educating workforce-ready students. The TCSG has a 99 percent placement rate, with 88 percent of graduates getting jobs in their fields. Before landing the TCSG's top job, he served as deputy commissioner. – KK
---
Robert L. Ashe III
Former Board Chair
Board Treasurer
MARTA
Atlanta
As MARTA board chair (he stepped down in December), Ashe helped craft the project list for spending $2.5 billion in More MARTA SPLOST funds – everything from expansion of bus routes and service to building light rail. Next up: expansion of MARTA into Gwinnett County, what he described as a "once-in-a-generation opportunity." – PR
---
Ed Bastian
CEO
Delta Air Lines
Atlanta
Bastian and Delta are riding a wave of success. Last year, Fortune magazine named Bastian to its list of The World's 50 Greatest Leaders, in part because he ended Delta's partnership with the National Rifle Association after the school shooting in Parkland, Fla. In 2021, he'll be sharing his leadership skills with the Metro Atlanta Chamber as its chair. – PR
---
Brandon Beach
Executive Director
North Fulton Community Improvement District
State Senator (R-District 21)
Alpharetta
As chair of the Senate Transportation Committee, Beach spearheaded House Bill 930 that created the Atlanta-region Transit Link Authority (ATL), which will grow transport options over a 13-county metro area. Beach is the executive director of the North Fulton CID and was appointed to the Development Authority of Fulton County Board of Directors in 2018. – AB
---
Mark Becker
President
Georgia State University
Atlanta
Since becoming GSU president in 2009, Becker has made his mark. During his tenure, the institution has become a premier research university with a 252 percent increase in research funding. Becker led efforts to acquire Atlanta's Turner Field, now home to GSU's football team, and he has overseen GSU's graduation of more African Americans than any other U.S. institution. – SN
---
Frank Bisignano
Chair & CEO
First Data Corporation
Atlanta
Bisignano took the helm in 2013 at First Data, a global electronic payments company that made 79 billion electronic transactions in 2016. Clover is the company's successful point-of-sale technology platform for small and mid-sized businesses. In September, First Data shipped its 1 millionth device to a healthcare company in Germany, less than 24 months after delivering its 500,000th device. – RM
---
Gary W. Black
Commissioner
Georgia Department of Agriculture
Commerce
In addition to increasing markets for locally grown food through the Georgia Grown program, Black has promoted food safety and environmental stewardship during his terms as commissioner. In 2018, he oversaw efforts to secure federal and state aid to Georgia farmers whose crops were destroyed by Hurricane Michael. On his family farm, he and his wife Lydia raise beef cattle. – RM
---
Sara Blakely
Founder & CEO
Spanx
Atlanta
Blakely started Spanx, an intimate apparel company, in 1998 with $5,000 and is still the sole owner. A boost from Oprah Winfrey's "My Favorite Things" in 2000 helped sales soar. Today, Spanx generates an estimated $400 million in annual sales. Blakely is also a member of the Atlanta Hawks ownership group. – PR
---
Raphael Bostic
President & CEO
Federal Reserve Bank of Atlanta
Decatur
Bostic is responsible for all of the Atlanta Fed's activities, including monetary policy, bank supervision, regulation and payment services. He's stated that he'd like to see interest rates in the "neutral" range – 2.5 percent to 3.5 percent – and that if the economy heats up too much, he'd support the Fed taking a more aggressive approach to slow things down. – KKS
---
Keisha Lance Bottoms
Mayor
City of Atlanta
Atlanta
Atlanta's mayor has had her share of challenges since taking office last year – including a cyberattack on the city's computer system and ongoing corruption scandals from the previous administration. But, Bottoms, who previously served on the Atlanta City Council, is now pushing her own agenda, which includes jobs, education and affordable housing. – KK
---
Paul Bowers
Chair, President & CEO
Georgia Power
Atlanta
Recipient of the 2018 Four Pillar Award for leadership, given by the not-for-profit trade association the Council for Quality Growth, Bowers is known for extensive community service. Under his watch in October, Georgia Power employees worked around the clock to quickly restore power to 99 percent of customers affected by Hurricane Michael. – KKS
---
Karen Bremer
CEO
Georgia Restaurant Association
Atlanta
As a founding member and executive director of the GRA, Bremer represents the business interests of Georgia's more than 17,000 restaurants that are contending with issues as diverse as sustainability and the pros and cons of food delivery apps. The state's foodservice industry employs more than 446,600 and has total sales of more than $18 billion. – MAD
---
Matt Bronfman
CEO
Jamestown
Atlanta
As CEO of Jamestown, a real estate operator with $10.3 billion in assets under management, Bronfman has been front and center on some of the hottest developments in Atlanta, including Ponce City Market and Westside Provisions District. Through Jamestown Green, the firm's sustainability program, properties are managed with a commitment to green policies and best practices. – KK
---
Julie Brown
President & CEO
Georgia Foreign Trade Zone
Atlanta
From the world's busiest airport to one of the world's busiest ports, foreign trade is the lifeblood of Georgia's economy. As president and CEO at the Georgia Foreign Trade Zone, Brown's goal is to help businesses be more competitive by lowering production costs in federally designated zones with the goal of boosting economic activity in the state. – KK
---
Kevin Brown
President & CEO
Piedmont Healthcare Inc.
Atlanta
Brown has been at the helm of Piedmont Healthcare since 2013. In that time, the Buckhead-based organization has doubled in size. Hospital count has grown from five to 11, the most recent being Piedmont Columbus Regional and Piedmont Walton, acquired last spring. Piedmont has also increased primary care clinics from 46 to 70 and now has facilities near 70 percent of Georgia's residents. – SN
---
Mark Burns
President
Gulfstream Aerospace Corp.
Savannah
Longtime Gulfstream Aerospace executive Burns was named president in 2015. He also serves as a vice president of parent company General Dynamics. Gulfstream employs more than 15,000 at 12 locations worldwide and has built more than 2,500 aircraft for governments, corporations, private businesses and individuals around the globe. – SN
---
Carol Burrell
President & CEO
Northeast Georgia Health System
Gainesville
Burrell was named one of Atlanta Business Chronicle's 2018 Women Who Mean Business for her leadership at the award-winning NGHS. She is serving as the Greater Hall County Chamber of Commerce chair for 2018-2019. In 2018, NGHS Cancer Services earned the highest accreditation from the American College of Surgeon's Commission on Cancer. – AB
---
Chris Carr
Attorney General
State of Georgia
Dunwoody
After serving a partial term as the state's top law officer when former AG Sam Olens resigned in 2016, Carr won his first election in a close race in November, earning 51.31 percent of the vote. Carr will continue to focus on halting opioid abuse, criminal gang activities and human trafficking in Georgia. – PR
---
Meria Carstarphen
Superintendent
Atlanta Public Schools
Atlanta
Atlanta Public Schools (APS) reached its highest graduation rate ever – 79.9 percent – climbing 2.9 percent higher than 2017 totals, said Carstarphen in her 2018 State of the District address. APS is teaming up with community partners to raise private funds to build add-on resources – like community health centers – on school campuses. – PR
---
Dan Cathy
Chair & CEO
Chick-fil-A
Fayetteville
Cathy is the leader of one of the nation's largest family-owned businesses, taking the reins from his late father, S. Truett Cathy, in 2013. In honor of his father, who grew up in Vine City, Cathy is one of three co-chairs of "Beloved Benefit," raising financial support for nonprofits transforming the historic Westside of Atlanta. – JH
---
Chris Clark
President & CEO
Georgia Chamber of Commerce
Peachtree City
Under Clark's leadership, initiatives like a partnership with the Georgia Hispanic Chamber of Commerce to help Hispanic-owned businesses flourish and a two-day prosperity summit at the satellite chamber office in Tifton helped seal the deal for the organization to be named 2018 Chamber of the Year for the second year in a row by the Council of State Chambers. – AB
---
Thomas Clark
Executive Director
Central Savannah River Alliance for Fort Gordon
Augusta
As a leader in Augusta's growing cyber community, Clark aims to promote Fort Gordon and the entire CSRA region. He's done that in big ways, such as speaking with Capitol Hill's movers and shakers while on a recent trip to Washington with local business leaders to promote economic growth in the area. – HW
---
Gretchen Corbin
President & CEO
Georgia Lottery Corp.
Rome
Corbin took the reins at the Georgia Lottery last year, following a stint as commissioner of the Technical College System of Georgia. It's a logical leap since the lottery has funded Georgia Pre-K and the Hope Scholarship for nearly 30 years. Since the first jackpot, $20 billion has been transferred to the state's lottery for education account. – KK
---
Tom Croteau
Deputy Commissioner, Global Commerce
Georgia Department of Economic Development
Atlanta
Croteau calls Georgia "the ideal place for all companies to succeed," and backs up his talk with action: His team has landed nearly 1,700 projects, $23 billion of investment and nearly 127,000 new jobs over the last few years. Croteau's work helped Georgia generate $5.6 billion in economic development during fiscal 2018. – HW
---
Hardie Davis Jr.
Mayor
Augusta-Richmond County
Augusta
Re-elected last year, Davis is focused on a recently unveiled $94-million project, Riverfront at the Depot, that he says will transform the community. The project includes upscale apartments, 100,000 square feet of office space, 800 parking spots, greenspace and retail. Developers hope to center the project around a new entertainment venue at the freight depot. – KKS
---
Glenn Deibert
President
Coastal Pines Technical College
Waycross
Altamaha Technical College and Okefenokee Technical College combined in 2014 to form Coastal Pines. Led by Deibert, the school was named the state's technical college of the year in 2017 for the biggest enrollment growth and the highest graduation rate among all Georgia technical colleges. In addition, Coastal Pines had the largest increase in high school dual enrollment. – RM
---
Eddie Deloach
Mayor
City of Savannah
Under DeLoach, the city has continued making positive changes that will lead to better public services, improved infrastructure, poverty reduction and neighborhood revitalization. Passing a balanced budget, creating a special enterprise fund for fire and rescue and imposing an annual fire fee on single-family homes for services is expected to free up money for improvements. – RM
---
Steven Dolinger
President
Georgia Partnership for Excellence in Education
Atlanta
Onetime superintendent of Fulton County Schools, Dolinger's education nonprofit recently launched EdQuest, a results-based research platform that targets areas in need of improvement in statewide public education. The group's STEAM (Science, Technology, Engineering, Art, Math) Asset Map points out where assets lie in these areas and highlights which school districts are lacking STEAM support. – AB
---
Paul Donahue
President & CEO
Genuine Parts
Atlanta
Donahue leads an organization with more than 3,100 operations and 48,000 employees around the world. In 2018, Genuine Parts purchased two automotive groups in the United Kingdom, Platinum International Group and TMS Motor Spares. The purchases build on the company's global growth strategy and bolster its $2-billion purchase in 2017 of Alliance Automotive Group. – KKS
---
Geoff Duncan
Lieutenant Governor
State of Georgia
Atlanta
Fresh off an election victory, the former Georgia Tech baseball star and small business owner will preside over the state Senate for at least the next two legislative sessions. After spending five years as a state representative, Duncan successfully campaigned for lieutenant governor on a pledge to place "policy over politics." – HW
---
Darren Eales
President
Atlanta United FC
Atlanta
Eales is the founding president of 2018 Major League Soccer Cup champs Atlanta United FC. He built the soccer club from the ground up and along the way cultivated the city's most rabid fan base. In 2018, Atlanta United set the new record in MLS for total home attendance, drawing 901,033 fans to Mercedes-Benz Stadium in more than 17 games. – JH
---
Dietmar Exler
President & CEO
Mercedes-Benz USA
Sandy Springs
2018 was a big year for Exler and the company he oversees. He presided over the opening of Mercedes-Benz USA's new 200,000-square-foot headquarters in Sandy Springs. He also oversaw the launch of new vehicles, including the tech-laden C-class sedan. Strengthening its creativity and collaboration, the company also opened an innovation hub and incubator in Atlanta – Lab1886. – RM
---
Tom Fanning
Chair, President & CEO
Southern Co.
Atlanta
Fanning is closing in on a decade leading Southern Co., the nation's second-largest utility provider. This year he guided his company – and its customers – through the havoc wrought by Hurricane Michael, and Southern Co. found itself on Forbes' most recent World's Best Employers list. – HW
---
Martin Flanagan
President & CEO
Invesco Ltd.
Atlanta
Financial executive Flanagan has been tapped as the 2020 chair of the Metro Atlanta Chamber. That's on top of his day job as president & CEO of Invesco Ltd., an independent investment management firm with more than $900 billion in assets under management, which he joined in 2005. – SN
---
Jerry Gonzalez
Executive Director
Georgia Association of Latino Elected Officials
Atlanta
As the founder and leader of GALEO, Gonzalez promotes leadership development for Latinos across Georgia. Recently, that has included efforts like promoting ballot access for the state's rapidly expanding Latino electorate, which has grown in number from 10,000 in 2003 to more than 240,000 today. – HW
---
Steve Gooch
Majority Whip
State Senator (R-District 51)
Dahlonega
Unopposed in his bid for a fifth Senate term, Gooch previously speculated about making a run for lieutenant governor. He tackled rural broadband access in the 2018 legislative session and recently established a Senate study committee to explore whether the state should mandate a calendar for all 180 school districts that would include a start date after Labor Day. – KKS
---
W. Todd Groce
President & CEO
Georgia Historical Society
Savannah
For some, history may be a subject you learn in school. But for Groce, history is living, breathing and relevant today. The Georgia Historical Society's educational mission has led to phenomenal economic growth during his tenure. The organization's annual revenue is more than $3 million while its endowment is more than $15 million. – KK
---
Larry Hanson
Executive Director
Georgia Municipal Association
Atlanta
Hanson, longtime Valdosta city manager, has completed his first year as executive director of the GMA, where he's at the forefront of efforts to manage cities' responses to natural disasters, among other things. In November, Hanson was appointed to serve on the FCC's Disaster Response and Recovery Working Group, which tackles disaster-related challenges to broadband installations. – SN
---
John Haupert
President & CEO
Grady Health System
Atlanta
Following five CEOs in five years, Haupert recently completed his seventh year leading one of the nation's top public academic healthcare systems. Today, the once-failing health system is not only in the black, it is also undergoing unprecedented expansion. In 2018, Grady received the Central Atlanta Progress' Marcus Downtown Economic Impact Award. – MAD
---
Steve Henson
Minority Leader
(D-District 41)
Georgia Senate
Tucker
Henson has served in the Senate since 2003 and currently holds the Senate minority leader post – a tough position in the overwhelmingly Republican Senate. In that position, he has backed legislation that would allow lottery winners to remain anonymous and supports the expansion of Medicaid in Georgia. – KK
---
Donna Hyland
President & CEO
Children's Healthcare
of Atlanta
Atlanta
Steward of one of the nation's premier children's healthcare systems, Hyland is spearheading a new project: Creation of a transformative 70-acre, $1.5-billion North Druid Hills Campus that includes the recently opened 260,000-square-foot, multi-specialty Center for Advanced Pediatrics and a new children's hospital set to open in 2025. – PR
---
Johnny Isakson
U.S. Senator
Atlanta
Isakson is serving a third term and remains the sole Senate Republican chairing two committees – Ethics and Veterans' Affairs. He co-sponsored The Automotive Jobs Act of 2018, SB 3266, legislation to prevent tariffs on imported vehicles and parts. For his service to veterans, Isakson received the 2018 Harry S. Truman Award from the National Guard Association of the United States. – PR
---
Jan Jones
Speaker Pro Tempore
(R-District 47)
Georgia House of Representatives
Milton
First elected to office in 2003, Jones holds the second highest position in the Georgia House of Representatives. She is recognized for increasing economic opportunities through improved public education, consistently voting to reduce government spending and shrink the state budget, and spearheading the creation of the city of Milton in North Fulton County. – MAD
---
Steve Justice
Executive Director
Georgia Centers of Innovation
Atlanta
Justice's team provides more than 1,500 businesses with industry expertise, collaborative research and partnerships. He will help foster a new collaboration between Georgia-based Southern Co. and the Israel Innovation Authority by managing a $2-million grant fund for tech and science projects involving the two organizations and their respective regions. – HW
---
Daniel J. Kaufman
President & CEO
Gwinnett Chamber of Commerce
Duluth
Since 2013, Kaufman has led one of the nation's largest suburban chambers of commerce, serving over 2,000 companies that employ more than 750,000 workers in Metro Atlanta. In addition, he serves on numerous boards including the Georgia Chamber of Commerce, Explore Gwinnett and the Aurora Theatre in Lawrenceville. – JH
---
Brooks Keel
President, Augusta University
CEO, Augusta University Health System
Augusta
Augusta University reached record enrollment of more than 9,000 students this fall bolstered by its growing School of Computer and Cyber Sciences. Under Keel's leadership, the Board of Regents approved three new bachelor's degrees in cybersecurity engineering, cyber operations and cybersecurity – all designed to support this booming Augusta industry. – AB
---
Vernon Keenan
Director
Georgia Bureau of Investigation
Atlanta
Keenan began his law enforcement career in 1972 and is in his second stint leading the GBI. Under his leadership, the bureau recently managed a high-profile open records investigation of the city of Atlanta and in September opened the Nathan Deal Campus for Innovation at the Georgia Cyber Center in Augusta. – HW
---
Brian Kemp
Governor
State of Georgia
Athens
Georgia's new governor, Kemp previously served as secretary of state, the post that oversees state elections, and in the state Senate. He campaigned – with the support of President Donald Trump and Vice President Mike Pence – on a platform of fully funding education and improving access to healthcare in rural Georgia (without expanding Medicaid). – KK
---
Steve Koonin
CEO, Atlanta Hawks
Atlanta
A lifelong Atlantan and a Georgia Bulldog to boot, Koonin has worked at three premier Atlanta companies – Coca-Cola, Turner and now the Atlanta Hawks. As CEO, he oversees all business, financial and strategic operations for the franchise and the newly renamed State Farm Arena, which recently underwent a $200-million renovation. – PR
---
Craig Lesser
Managing Partner
Pendleton Group
Sandy Springs
You could call Lesser "Mr. International." Among many other things, he chairs the board of the World Trade Center of Atlanta, the World Chamber of Commerce and the Georgia Chamber of Commerce International Committee. As managing partner at the Pendleton Group, Lesser leverages his expertise and connections in foreign affairs to help public-private partnerships work seamlessly. – JH
---
Dr. Jonathan Lewin
Chair, President & CEO
Emory Healthcare
Atlanta
In addition to leading Emory Healthcare, Lewin is a world-renowned radiologist and researcher who has published more than 200 peer-reviewed scientific manuscripts, holds more than 25 patents and has been the principle investigator (PI) or co-PI on federal and state grants with awards of more than $10 million. – MAD
---
Griff Lynch
Executive Director
Georgia Ports Authority
Savannah
The Port of Savannah is ranked fourth in the nation in traffic and is expanding to meet future demand by doubling rail capacity, building the $127-million Mason Mega Rail Terminal. Part of the growth strategy, Lynch says, is increasing rail capacity via inland ports – like the Appalachian Regional Port, which opened in 2018 in Chatsworth. – PR
---
Christopher Markwood
President
Columbus State University
Columbus
After celebrating its 60th birthday in 2018, Columbus State University continues to surge forward under Markwood's leadership. In November, CSU's Center for Commerce and Technology was renamed for Columbus banking giant Synovus Financial Corp., which has contributed or pledged more than $6 million to the school over the last 20 years. – HW
---
Sharon Mason
President & CEO
Cobb Chamber
Marietta
Business is booming in Cobb County, and leading the charge is Mason, who has been president and CEO of the Cobb Chamber for the past year. A 10-year chamber veteran, Mason led the organization's recent five-year strategic planning process and helped create Cobb's Competitive EDGE, the chamber's community and economic development strategy. – KK
---
Lauren "Bubba" McDonald Jr.
Chair
Public Service Commission
Atlanta
McDonald, who has extensive knowledge and experience with the energy industry, has a long history serving the citizens of Georgia. He was a state representative for 20 years, served as Jackson County commissioner and volunteered as a firefighter for 35 years in the city of Commerce. During his PSC tenure, he has been a solar energy advocate. – SN
---
Russell McMurry
Commissioner
Georgia Department of Transportation
Buford
McMurry is in the process of implementing the most aggressive improvements and expansions of Georgia's transportation infrastructure over the next decade. In February 2018, he received the inaugural Engineering Influence Award from the American Council of Engineering Companies of Georgia – recognition of his leadership and GDOT's swift response to the I-85 bridge collapse in 2017. – KKS
---
Craig Menear
Chair, CEO & President
The Home Depot
Atlanta
After reaching the $100 billion-plus mark in sales in 2017, Menear is emphasizing the "One Home Depot," customer experience (online and in-store). The company is investing billions to update stores, technology and its supply chain over the next three years. Menear also serves on the board of the Atlanta Committee for Progress, a partnership between the mayor's office and business leaders. – JH
---
Harold D. Melton
Chief Justice
Georgia Supreme Court
Atlanta
Melton has served on the state Supreme Court since being appointed by then-Gov. Sonny Perdue in 2005. He was sworn in as chief justice in September 2018. Before joining the court, Melton was Perdue's executive counsel and worked in the state's law department on such initiatives as creation of the Georgia Lottery Corp. – KK
---
Butch Miller
President Pro Tem
Georgia Senate (R-District 49)
Gainesville
After eight years in the Georgia Senate, Miller serves as president pro tempore and chair of the Administrative Affairs Committee. A former president of North Georgia Honda Dealers, he recently sponsored a proposal to offer a tax credit for electric vehicles that are manufactured in the state. – AB
---
Hala Moddelmog
President & CEO
Metro Atlanta Chamber
Atlanta
The first female president and CEO of the Metro Atlanta Chamber, Moddelmog also serves as corporate director for FLEETCOR Technologies and Lamb Weston. Under her leadership, the chamber moved to new headquarters and helped attract prestigious sporting events, including the upcoming Super Bowl LIII and the 2020 Final Four men's basketball championship. – MAD
---
Jere Morehead
President
University of Georgia
Athens
Recognizing the necessity for a true need-based scholarship, Morehead created the Georgia Commitment Scholarship program in 2017. So far 80 scholarships have been awarded. A lifelong Bulldog, he was elected to the Southeastern Conference Executive Committee in June 2018. He also represents the SEC as a member of the NCAA Division I Presidential Forum. – PR
---
Charlotte Nash
Chair
Gwinnett County Board of Commissioners
Dacula
Nash's leadership and relationships with regional transit leaders helped pave the way toward the county's upcoming referendum in March on a one-cent MARTA sales tax to bring transit to Gwinnett. Also, on her watch: The county broke ground on a $60-million water innovation and treatment center, expected to be complete in three years. – AB
---
Byung J. "BJay" Pak
U.S. Attorney
Northern District of Georgia
Lilburn
Nominated by President Donald Trump and confirmed as U.S. attorney in 2017, Pak previously served as an assistant U.S. attorney in the criminal division (2002-2008). A Republican, Pak served in the Georgia House of Representatives from 2011 until 2017 representing a Gwinnett County district and was the state's first Korean-American legislator. – AB
---
Frank Patterson
President
Pinewood Atlanta Studios
Atlanta
Pinewood is the granddaddy (if such a youngster can already be a grandparent) of the Georgia movie studios, and Patterson has been at the helm since 2016. The home of recent Marvel films Ant-Man and The Wasp and Avengers: Infinity War, among other blockbusters, Pinewood sits on 700 acres and includes 18 sound stages. – KK
---
Karen Paty
Executive Director
Georgia Council for the Arts
Atlanta
A 14-year veteran of the Georgia Department of Economic Development's GCA, Paty serves as its first hired executive director. In 2018, under her leadership, GCA awarded nearly $300,000 in Vibrant Communities Grants to 78 organizations and schools in 52 Georgia counties to support efforts to present cultural opportunities and arts experiences in their communities. – MAD
---
David Perdue
U.S. Senator
St. Simons
Perdue has served as Georgia's junior senator since 2015. He sits on the Armed Services, Banking, Agriculture and Budget committees. In light of Georgia's high prescription opioid overdose rates, Perdue was a vocal supporter of the Opioid Crisis Response Act, which expands access to treatment and provides law enforcement more tools to stop illegal drugs from coming into the country. – JH
---
Egbert L.J. Perry
CEO
The Integral Group
Atlanta
Focused on revitalization, infill and smart growth, Perry's company has created successful mixed-use projects in Metro Atlanta and across the country. One is on the 165-acre former GM plant in Doraville that now includes Third Rail Studios, a $10-million film and television studio. The development will offer 10 million square feet of apartments, stores, restaurants and offices. – RM
---
G.P. "Bud" Peterson
President
Georgia Institute of Technology
Atlanta
During his 10 years at Georgia Tech, Peterson has seen growth in enrollment, infrastructure investment and public-private partnerships. Tech consistently ranks in the top 10 best public universities and at the top for research, which totaled in excess of $730 million in 2017. With a Ph.D. in engineering, Peterson has served on numerous national boards, including the National Science Board. – RM
---
James Quincey
President & CEO
The Coca-Cola Co.
Atlanta
A native of Great Britain, Quincey became president of the company in 2017. He oversaw the purchase of Costa Limited, a global coffee company valued at $5.1 billion with 4,000 retail outlets and a presence in Britain, Europe, Asia and Africa. In April, he will become board chair, while retaining his CEO responsibilities. – RM
---
David Ralston
Speaker (R-District 7)
Georgia House of Representatives
Blue Ridge
During the General Assembly's 2018 session, Ralston championed a bill that updated the state's adoption process by making it faster and less restrictive. In November, Ralston convened a special session of the General Assembly to address the impact of Hurricane Michael and the state's financial response in assisting communities hardest hit by the storm's devastation. – JH
---
William "Bill" Rogers Jr.
Chair & CEO
SunTrust Banks Inc.
Atlanta
Rogers leads a financial services empire serving 4.9 million clients and serves on the boards of Boys & Girls Clubs of America, Operation HOPE and Achieve Atlanta. SunTrust is in the second year of a naming rights agreement for the Atlanta Braves' stadium in Cobb County, a deal Rogers says has exceeded expectations. – HW
---
David Ross
President & CEO
Task Force for Global Health
Decatur
Ross heads the Decatur-based Task Force for Global Health – one of the largest nonprofit organizations in the country – which works to solve large-scale health problems in vulnerable populations. Last year the organization received a nearly $30-million grant from the Bill & Melinda Gates Foundation to continue efforts to eliminate five tropical diseases. – KK
---
Michael Russell
CEO
H.J. Russell & Co.
Atlanta
Russell heads the company founded by his father in 1952 that today provides commercial real estate development and construction services. He also serves as vice chair of sister company Concessions International, an airport food and beverage operator, and is on the advisory board of the J. Mack Robinson College of Business at Georgia State University. – SN
---
Candice Saunders
President & CEO
WellStar Health System
Kennesaw
A Georgia Hospital Association report showed WellStar's 11 hospitals have gen- erated a more than $3.9 billion annual economic impact under Saunders' leadership. Expansions include the WellStar Kennestone Hospital Emergency Department, which will be one of the nation's largest when it opens in 2020. The National Association for Female Executives has recognized WellStar as one of the top nonprofits for women employees for nine years in a row. – AB
---
Ninfa Saunders
President & CEO
Navicent Health
Macon
A fierce advocate for access to quality healthcare for all Georgians, Saunders helms a healthcare system providing the full spectrum of care in more than 30 locations in the Middle Georgia region. In February, Navicent will open the new $82-million Beverly Knight Olson Children's Hospital, serving children from 55 counties. – PR
---
Doug Shipman
President & CEO
Woodruff Arts Center
Atlanta
In the 18 months he has helmed the Woodruff Arts Center, the country's third largest arts organization, Shipman has tirelessly advocated for the importance of arts across the Atlanta region, especially in corporate recruiting. Previously, he was founding CEO of the Center for Civil and Human Rights in Atlanta. – RM
---
George Shultz
Vice president & General Manager
Air Mobility & Maritime Missions
Lockheed Martin
Marietta
Under Shultz's leadership, the company introduced the LM-100J Fire Herc in 2018. It's an airtanker capable of delivering retardant to firefighters in all kinds of complex terrain and flying conditions. Shultz oversees the new Hercules Training Center, which trains pilots and crewmembers to serve on airlifters and commercial freighters. – RM
---
Nathaniel Smith
Founder & Chief Equity Officer
Partnership for Southern Equity
Atlanta
Smith's Partnership for Southern Equity is working to promote racial equity and shared prosperity in Metro Atlanta and across the South. Equity – as opposed to equality – takes the needs and circumstances of populations into consideration when advancing policies. In that light, the organization focuses its energies in three areas: energy equity, economic inclusion and equitable development. – KKS
---
Jeff Sprecher
Founder, Chair & CEO
Intercontinental Exchange
Atlanta
Sprecher has led strategic initiatives that have enabled ICE to expand from a single asset class – energy – into a broad range of asset classes. These have included numerous acquisitions, the most recent of which are BondPoint, TMC, Chicago Stock Exchange and MERSCORP Holdings, all in 2018. He also serves as chair of the New York Stock Exchange. – MAD
---
Kessel Stelling
Chair & CEO
Synovus Financial Corp.
Columbus
Stelling became Synovus' chair in 2012. Under his leadership, Synovus last year acquired FCB Financial Holdings, owner of Florida's largest community bank. With this acquisition, Synovus will become the Southeast's largest mid-cap bank by deposits when the deal closes early this year. Stelling has also served on the board of Georgia Power since 2016. – SN
---
Claire E. Sterk
President
Emory University
Atlanta
In 2018, Sterk – a pioneering public health scholar – received one of the highest honors in the fields of health and medicine when she was elected by her peers to the National Academy of Medicine. A Netherlands native, Sterk oversees an organization with 30,000 employees and an annual economic impact of $9.1 billion. – JH
---
Michael "Sully" Sullivan
President & CEO
American Council of Engineering Companies of Georgia
Snellville
Sullivan has led ACEC Georgia since 2012, advocating for public policy and legislation to improve the business climate for the engineering industry, promote economic development and protect the integrity of the engineering profession for the 200 member firms in the state. Sullivan serves on numerous state, regional and local boards, including as chair of the Georgia Transportation Alliance. – KKS
---
Michael L. Thurmond
CEO
DeKalb County
Decatur
Midway through his first term, the former Georgia labor commissioner has stabilized the DeKalb school system, improved ambulance response times and decreased major sewage spills by 42 percent. Efforts to retain police officers and firefighters have included recommending a 4 percent salary increase. DeKalb recently reported its largest single-year population growth in 18 years. – KKS
---
Hugh "Trip" Tollison
President & CEO
Savannah Economic Development Authority
Savannah
Tollison leads efforts to land projects that boost and diversify the economy of Savannah and the surrounding area, which is already home to a booming port business and Gulfstream Aerospace Corp. It's working: At the midpoint of 2018, his team had helped create 855 new jobs and $299 million in local investment. – HW
---
Chris Tomlinson
Executive Director
State Road and Tollway Authority
Georgia Regional Transportation Authority
Interim Director
Atlanta-region Transit Link Authority (ATL)
Loganville
As the chief of three pivotal state and regional transit entities, Tomlinson is a key player in the transit conversation. His vision, experience and input as a longtime transit professional provides valuable direction as the ATL begins the challenging work of building new partnerships and transit infrastructure for the future. – PR
---
William Underwood
President
Mercer University
Macon
Underwood has led Mercer since 2006, presiding over a 22 percent growth in enrollment and two new medical school campuses. And the growth continues. Last April, the school celebrated the opening of the $44-million Spearman C. Godsey Science Center and in August cut the ribbon on Mercer Medicine Plains alongside former U.S. President Jimmy Carter. – HW
---
Steven Voorhees
CEO
WestRock
Atlanta
Voorhees leads WestRock, an American corrugated packaging company formed in July 2015 following the merger of MeadWestvaco and RockTenn. The company boasts over $14 billion in annual revenue, and in November it completed the $4.9-billion acquisition of paper mill firm KapStone. The industry organization RISI named Voorhees their North American 2018 CEO of the Year. – HW
---
Larry Walker
Visual artist and art educator
Athens
The past year has been a remarkable one for renowned artist and art educator Walker. Atlanta's Museum of Contemporary Art of Georgia held a two-part retrospective of Walker's artwork that commemorated his lifetime contributions to the field of visual media. The museum has recently published a scholarly book on his work. – SN
---
Paula Wallace
President
Savannah College of Art and Design
Savannah
Wallace is not only the president of SCAD, she also co-founded the school in 1978. Today the school welcomes more than 14,000 students from all 50 states and more than 100 countries to study in 40 majors and 75 minors. Her role leading the college comes with some fun perks: Last fall, Wallace presented actor Hugh Jackman with the Legend of Cinema Award at the SCAD Savannah Film Festival. – HW
---
John Watson
State Chair
Georgia Republican Party
Atlanta
Elected GRP chair in 2017, Watson was responsible for raising millions of dollars for the 2018 governor's race and being the ultimate grassroots advocate. During his long career in Republican politics, he has raised more than $25 million for Republican candidates and in 2002 helped elect Sonny Perdue Georgia's first Republican governor in 135 years. – MAD
---
Pat Wilson
Commissioner
Georgia Department of Economic Development
Sandy Springs
Wilson and his team are responsible for helping attract and locate companies in every sector and region of the state. It's work they've done so successfully that Georgia has been named the No. 1 state in the nation for business six years in a row. In the last fiscal year alone, GDEcD's Global Commerce Division helped bring $5.6 billion in new investments to Georgia. – KKS
---
Richard Woods
School Superintendent
State of Georgia
Atlanta
This year, Woods kicks off another term as state school superintendent after winning re-election in November despite being outspent nearly five-to-one by Democratic challenger Otha Thornton. His plans for his second term include less emphasis on standardized tests and an increase in reading and math skills among Georgia's elementary school students. – HW
---
Mike Worley
President & CEO
Georgia Wildlife Federation
Covington
Worley's GWF was part of a big win in 2018 – passage of the Georgia Outdoor Stewardship Amendment that will provide dedicated funding for the conservation of the state's natural resources. GWF was part of a coalition of conservation organizations that pulled together to successfully back the legislation and amendment. – KK
---
Steve Wrigley
Chancellor
University System of Georgia
Atlanta
As USG Chancellor, Wrigley oversees 26 colleges and universities with an annual budget topping $8.8 billion. He's led a series of successful campus consolidations over the past several years, and the university system reached a record enrollment of nearly 329,000 students in 2018-19. – HW
---
Klaus Zellmer
President & CEO
Porsche Cars North America
Atlanta
Zellmer has been behind the wheel of Porsche Cars North America since 2015. He leads the company at an exciting time as the luxury auto industry faces the challenges of electrification and autonomous vehicles. As president, Zellmer also oversees the Porsche Experience Center developmental track and training facilities in Atlanta and Los Angeles. – SN