WellStar at 25
How well do you know the state's largest health system? Find out 10 surprising facts.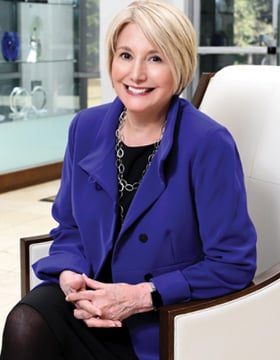 If you live or travel in the Atlanta area or to the west of it, you can't go far without seeing the WellStar logo – on hospitals, health parks, urgent care centers and medical offices.
Established in 1993, WellStar's mission has been to improve the health and well-being of the individuals and communities it serves. With 11 hospitals and more than 250 healthcare sites, there's a good chance you or someone you know has received care from WellStar. And with more than 20,000 employees, you may also know someone who works there.
But how much do you know about the state's largest health system? As the WellStar Health System celebrates 25 years, we share 10 facts that might surprise you.
---
1. WellStar Kennestone has the state's busiest emergency department. "Most people do not know that WellStar Kennestone Hospital's Emergency Department sees more patients than any other Emergency Department in Georgia each year," says Otis Brumby III, chair of the WellStar Health System Board. "It also ranks fifth in the country in terms of patients who come through the [emergency department]."
Last year more than 145,000 patients entered the doors of Kennestone's emergency department, which was built to serve approximately 60,000 people, says Brumby. A new four-story, 162,000- square-foot facility, to be located across the street from the hospital, will have the capacity to serve 185,000 patients per year, when it opens in 2020. It will be one of the largest emergency departments – in terms of square feet – in the United States.
---
2. WellStar provides care regardless of patients' ability to pay. WellStar provides various levels of financial assistance to eligible patients. "We work with those who are uninsured or underinsured to identify financial assistance," says WellStar CEO Candice Saunders. "In [the 2017] fiscal year, this charity care amounted to $252 million."
Approximately 10 percent of the patients WellStar treats do not have insurance, says Saunders, and that number of uninsured patients increases each year. During the 2017 fiscal year, WellStar provided $648 million in unreimbursed and charity care. This includes $117 million in unreimbursed healthcare and $78.5 million and $191 million in Medicaid and Medicare reimbursement shortfalls, she says.
---
3. WellStar is a major contributor to the state's economy. According to the 2017 Georgia Hospital Association's Economic Impact Report, WellStar Health System had a $3.9-billion impact across the state, says Saunders.
Of this 3.9 billion …
• $2.5 billion was generated by WellStar hospitals in Cobb County – Kennestone, Windy Hill and Cobb Hospital
• $381 million by WellStar Atlanta Medical Center
• $273 million by WellStar Douglas Hospital in Douglasville
• $252 million by WellStar West Georgia Medical Center in LaGrange
• $221 million by WellStar Paulding Hospital in Hiram
• $119 million by WellStar Spalding Regional Hospital in Griffin
• $170 million by WellStar North Fulton Hospital in Roswell
• $11 million by WellStar Sylvan Grove Hospital in Jackson
The annual report measures the economic impact of individual hospitals and health systems based on payroll and payroll taxes, employee benefits, facility expenditures and community benefit.
---
4. WellStar partners with the Mayo Clinic. WellStar is Georgia's only member of the Mayo Clinic Care Network, a network of more than 40 healthcare organizations across the United States and in China, Mexico, the Philippines, Singapore and the United Arab Emirates.
"Our collaboration with the Mayo Clinic Care Network – where physicians and patients have access to Mayo Clinic experts on complex diagnoses and treatment plans at no added cost to the patient – allows patients and consumers to receive the most advanced treatments, techniques and services close to home," says Brumby.
---
5. WellStar has been a leader in developing the health park concept in Georgia. Patients see doctors, have needed tests, fill prescriptions and perhaps even have surgery in one location. That's the concept of the health park model, which delivers more outpatient care where people live, work and play, says Brumby.
Within the last year, WellStar opened the newest of its three health parks in the Vinings/Smyrna area (others are in Acworth and East Cobb). "This summer, we also broke ground on two additional health park sites – one in Cherokee County, just off 575 on Sixes Road, and the other in Alpharetta on Old Milton Road next to Avalon," says Brumby. Both are expected to open in the summer of 2019, he says.
---
6. WellStar is a large pediatrics provider. When Georgians think of pediatric care, they often think of Children's Healthcare of Atlanta. Many seem surprised that WellStar treats a large number of pediatric patients, says Brumby.
In fact, WellStar treated more than 114,000 pediatric patients in its emergency departments last fiscal year, he says. "Additionally, we have a robust and growing pediatric physician presence throughout our service area, and a Pediatric Center in Cobb County offering radiology services and after-hours care."
---
7. WellStar is Georgia's only health system operating multiple trauma centers. WellStar Atlanta Medical Center is a Level I Trauma Center, meaning it is a regional center that can deliver total care for all aspects of injuries, from prevention to rehab, according to the American Trauma Society. It is the highest-level trauma center designation. Both Kennestone and North Fulton are level II, meaning they can initiate care for injured patients. Another important component of WellStar's trauma network is the Burn Unit at WellStar Cobb Hospital, which works in tandem with the trauma centers, says Saunders.
---
8. WellStar is nationally recognized as a great place to work. In the past few years, a number of national organizations have named the health system one of the best places to work. "WellStar offers highly competitive pay models and innovative benefits not traditionally offered by healthcare organizations, including concierge services, on-site childcare, 403(B) contributions and pension plan," says Saunders.
Simply put, she says WellStar wants to attract the best employees and ensure they are happy.
Recognitions include:
• Working Mother magazine's top 10 companies for family-friendly benefits
• Fortune's 100 best places to work
• National Association for Female Executives top companies for executive women
• AARP best places for workers over 50
• The Sloan Award for Business Excellence in workplace flexibility
• Dave Thomas Foundation for Adoption as one of America's Best Adoption-Friendly Workplaces.
• Diversity MBA magazine's 50 Out Front: Best Places to Work for Women and Diverse Managers
• Becker's Hospital Review's 150 great places to work in healthcare
---
9. WellStar has leading-edge treatments and procedures. WellStar offers two state-of-the-art radiation treatments for complex cancers: CyberKnife and TomoTherapy. CyberKnife is a non-invasive option for surgically complex or inoperable tumors that enables the radiation oncologist to deliver targeted, high doses of radiation. It requires no anesthesia, hospitalization or lengthy recovery period. TomoTherapy uses 3-D images from a combination of scanning technologies and treats tumors with precision from different angles. Like Cyber-Knife, it requires no hospitalization or lengthy recovery.
WellStar Atlanta Medical Center is the only hospital in Metro Atlanta to offer a Bloodless Medicine & Surgery program, serving patients from across the Southeast, says Saunders. Bloodless medicine, which uses medications, special surgical tools and recycling of the patient's own blood, has been shown to reduce infections and speed recovery. It is an option for patients, for example, who oppose blood transfusion for religious reasons.
---
10. WellStar offers many firsts. In 2016, WellStar opened the state's first Cardiac Comprehensive Care program, a multidisciplinary approach to care that includes the patient, caregivers, staff and providers, in an environment that encompasses the medical, behavioral, psychosocial, financial and educational components of chronic disease management.
WellStar Atlanta Medical Center and WellStar North Fulton Hospital were the first hospitals in Atlanta to offer water birth and continue to provide a range of alternative birthing methods.
At a time when healthcare is changing rapidly, WellStar remains committed to exceeding patients' and consumers' expectations and transforming healthcare delivery in its communities, says Saunders.
Joseph Havlik M.D., an infectious disease specialist and board chair for WellStar Clinical Partners, agrees. "We are creating a highly integrated network beyond the walls of our 11 hospitals to ensure patients have access to the safest, high-quality care, at the right place and time."