Lake Oconee: Living Large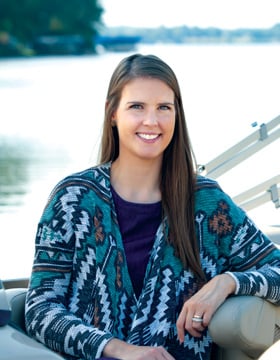 Relaxation rules at Lake Oconee, but below the calm waters, companies, entrepreneurs and economic development leaders are bustling to add amenities and jobs.
From new venues, such as the sporting grounds at Reynolds Lake Oconee and Greensboro's first brewery, to expansions by school districts, downtowns and employers, the nearly 57,500-resident area that encompasses Greene, Morgan and Putnam counties is embracing growth.
The construction and investment include high schools, manufacturing facilities and the new $35-million, 25-bed Morgan Memorial Medical Center on Hwy. 441 in Madison that is expected to open for patients by mid-December.
And the three counties continue to add distractions for those who head to the 19,000-acre Georgia Power lake to get away from work. For example, the Georgia Safari Conservation Park, a 400-acre combination of drive-through safari and walk-through zoo, was expected to break ground this fall.
At Oconee Brewing Co., which poured $2.6 million into a 100-year-old bottling and distribution center in downtown Greensboro, the number of customers, beer sales and beer production have beat projections since it opened in May 2017, says co-founder and master brewer Taylor Lamm. Oconee Brewing received a 2018 Excellence in Preservation Award from The Georgia Trust for Historic Preservation for repurposing the blighted property.
"If we look back at the first year as a whole, it was a better start than we could have even imagined or hoped for. I attribute a lot of that to the amount of local support we got from our local city and the community, the lake community, and beyond because we distribute a lot of our products all over the state of Georgia," Lamm says. "We exceeded our expectations."
---
Downtown Draw
The Central of Georgia Depot stands primed for a new purpose as a hub of activity in Madison. The Downtown Development Authority (DDA) of Madison and Historic Madison Morgan Foundation have raised $250,000 for exterior renovations and are raising another $250,000 for interior updates. The overall cost is expected to total $700,000, says Monica Callahan, the city's planning director.
"It's a great preservation project," she says. "It will be a new trailhead for the 40-mile trail system that's being designed. We're getting a really great asset."
The restored depot, along with an old warehouse and a speculative building owned by the DDA that has received interest from a brewery and music venue, are expected to be connected by a public boardwalk, Callahan says.
Nearby, the city also has acquired eight acres of greenspace. Plans are to use that space to connect the depot to a stormwater pond that Madison is spending about $2 million to transform into a recreational amenity. The pond portion of the West Washington Street Gateway project, which in full encompasses about 40 acres, began this fall and is expected to be complete in 18 months, Callahan says.
"If we build things that we value, that our residents will use and that beautify our own environment, our tourists that are coming that appreciate historic houses and agrarian landscapes, they will appreciate those things, too," Callahan says.
Residential options near the center of town also are increasing, she says, with four live-work units and 44 new senior housing units.
"We're seeing housing starts picking up. We're seeing our businesses are out actively recruiting, trying to find folks to come work," says Bob Hughes, president and economic development director of the Madison-Morgan County Chamber of Commerce.
Eatonton is known for its antebellum properties and the arts. The nonprofit Plaza Arts Center, which is celebrating its 10th anniversary in 2018-2019 and hosts events, classes and camps, "far surpassed what we thought the building could be," says Roddie Anne Blackwell, chair of the center's board and president and CEO of the 350-member Eatonton-Putnam Chamber of Commerce.
In addition, plans for an Artisans Village in two historic buildings with about 20,000 square feet of total space include workspaces for disciplines such as glass blowing, painting and sculpting, as well as gallery space.
"It's really developing into an artsy community," she says.
Special Purpose Local Option Sales Tax (SPLOST) referendums on the November ballot are intended to fund projects like the retirement of nearly $8.5 million in debt on Morgan County's public safety facility. A proposed Putnam County SPLOST would provide funds to continue repairing sidewalks and landscaping in downtown Eatonton and for recreation facilities that bring in traveling sports teams, Blackwell says.
Cuscowilla, a golf and country club community, went private in 2016, which she says removed about 80 overnight accommodations. A recent hotel/motel study identified that the area has traffic to support two properties, she notes.
---
Growing Popularity
The Lake Oconee area continues to attract mostly families on weekend getaways, with average stays of two to three nights, says Hannah Wilcher, executive director of the Greene County Convention and Visitors Bureau. An 82-room Tru by Hilton under construction on I-20 at Exit 130 is expected to cost $7.5 million, says Sam Young, economic development director of the Greene County Chamber of Commerce.
The Ritz-Carlton Reynolds, Lake Oconee, which has about 650 employees, debuted the Sand Bar, its new lakefront area, in the spring, while its 6,000-square-foot space, The Pavilion, has hosted events such as the Lake Oconee Food and Wine Festival. Great Waters, a Jack Nicklaus signature golf course, is undergoing a renovation and expected to reopen in fall 2019.
In Reynolds Lake Oconee, a resort, club and gated community that has grown to about 15,000 acres, 122 houses were under construction in September and nearly 100 houses are in some stage of remodeling, says David Short, senior vice president of marketing, sales and strategic planning.
Home prices range from $500,000 to $3.5 million; homesites are listed from $125,000 to nearly $2 million. In addition, Reynolds is offering more spec homes, with eight under construction this year. About half of Reynolds' homesite buyers in 2017 started construction within 12 months, Short says, instead of buying them as investments and waiting to build.
"There's much more of an appetite to be here sooner," Short says.
Earlier this year, Reynolds Lake Oconee – one of the area's largest employers with nearly 700 workers – opened the 125-acre Sandy Creek Sporting Grounds, which offers shooting, archery and fishing, among other activities. The community also has increased its live music, culinary programming and "edutainment" series, with lectures on everything from historic preservation to Buddha, which sell out, Short says.
The valuation of building permits in 2017 in Greene County was around $96 million, excluding land, representing the biggest part of its tax digest, Young says. Another trend, he says, is an influx of younger homeowners remodeling properties in downtown Greensboro.
When Farmview Market, which sells local, organic and natural foods and products, opened in Madison in 2016, its research showed that about 10,000 cars pass by U.S. 441 daily and about 90,000 cars a day go by I-20's Exit 114, where the market is located, says Keith Kelly, president and CEO of Kelly Products, the market's owner.
"If you go through our parking lot on Saturday, you will see lots and lots of tags from out of Morgan County and out of the state," he says.
Sales at Farmview, which has 50 employees, were up about 30 percent the first two quarters of 2018, says Kelly. It has added a smoothie and juice bar and also serves ice cream, cheese and milk made by its Rock House Creamery.
New franchises at the intersection of I-20 and 441 include Bojangles, and Hughes says there's more interest from commercial establishments, especially as the Georgia Safari Conservation Park is expected to open in 2020.
The tourism sector is seeing a wider range of visitors, shifting from the 45-to-65 age demographic to 25 to 65 years old, says Ellen Sims, executive director of the Madison-Morgan Convention and Visitors Bureau.
"We want all generations," she says.
---
Industry Increasing
In the last five years, 61 new companies and 40 existing companies have added 1,004 jobs with a $92.5 million investment, according to the Putnam Development Authority. Cosmo Cabinets expects to grow to 300 full-time workers by December 2020.
In the Eatonton-Putnam South Industrial Park, a $446,552 OneGeorgia grant will be used to develop a 50-acre Georgia Ready for Accelerated Development (GRAD) certified site. There, BlueStem Brands is spending $1.1 million on improvements to its fulfillment center. The park could be GRAD certified by fall 2019, says Terry Schwindler, economic development director at the Putnam Development Authority.
The county is also working to grow its video and film production sector.
"We're situated in the center of the state, so we have access to so many areas," Schwindler says. "Then, of course, the cost of doing business here is so much less than being in the Metro Atlanta area."
Tytan Pictures has turned an aluminum plant and the abandoned Putnam State Prison into a production space, with a focus on independent and inspirational films.
"People here saw just an old building. We saw it as something that could be really beautiful," says Jim Stone, CEO of Tytan Pictures, which is based on Tybee Island and has seven employees in Eatonton. "We really truly have a complete backlot here, anchored by a prison."
Stone, who says the company also has acreage outside of Eatonton available for filming, says he's found that producers and other entertainment professionals have been willing to visit Eatonton because of its proximity to Atlanta and the allure of staying at The Ritz-Carlton.
Incoming Putnam County Commissioner Bill Sharp, previously chair of the development authority, notes that the tax digest is up about $50,000, after losses from Georgia Power closing its Plant Branch. His priority is expanding water and sewer, especially as growth continues, such as around The Village at Harmony Crossing, a commercial development off Ga. 44.
"I believe Eatonton is on the rise," he says.
A comeback story in Greene County is Lincoln Lumber, a maker of wooden trusses and beams that shut down in 2012 but now has 35 to 40 employees in Union Point Industrial Park, Young says. Near the park, South Carolina-based Diversified Plastic, which makes rotational plastic molding and products such as medical carts and plastic storage containers, opened a facility in 2017 and has about 12 employees, Young says.
In Greene County Industrial Park, a 212-acre site between downtown Greensboro and I-20, a2b Fulfillment added about 50 employees to grow to about 140 workers, Young says.
Newcomers to Madison include Gensteel Doors USA, a subsidiary of a Canadian company that is investing more than $3 million into an existing 46,000-square-foot facility and is expected to start with about 30 new jobs, Hughes says.
The Development Authority of Morgan County is providing a $4.8-million loan to Bard Manufacturing, a maker of HVAC products, Hughes says, which will add another 30 to 35 jobs to its existing workforce of about 150.
---
College and Career Academies
The Morgan County Charter School System is spending about $50 million to transform the former Morgan County High School site into an 80-acre campus with a new college and career academy and new middle school, says Superintendent James R. Woodard.
The high school, which will have facilities such as a biotechnology lab, was expected to open in mid-October; the middle school is slated to open in 2020.
"I consider this a toolbox for local workforce development initiatives," he says, adding that Morgan County's new relationship with Athens Technical College also will provide single courses and dual enrollment for students.
It's just one more thing the school system, which was the 2018 winner of the leadership award from the state Charter System Foundation, is doing to serve its students well.
In August, the Greene County College and Career Academy opened in partnership with Athens Technical College's Greene County campus. In March, it received a $3.16-million grant from the Technical College System of Georgia; the funds are matched with local dollars for construction, staffing and other startup costs. High schoolers can earn college credit through the CCA and the state's dual enrollment program.
The academy's offerings, which include ManufactuREADY, commercial truck drivers licensing and certified nursing assistant programs, will support industries such as healthcare, manufacturing and construction, Young says. An addition to the high school will accommodate a kitchen and working restaurant that will be operated by students pursuing culinary arts careers.
Putnam County, also a charter system, offers dual enrollment through Central Georgia Technical College.
With Morgan County's unemployment rate below 4 percent, Hughes says the new high school and campus are a boon for the area.
"That's a huge investment in the future of our county and in the future of our children," Hughes says.