Going Places
Metro Atlanta transit is now rapidly evolving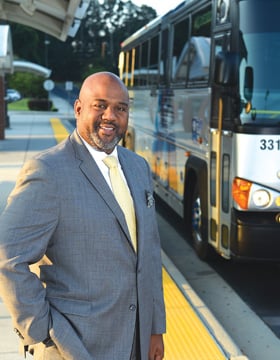 You could call it the Amazon Effect, but it's more accurate to dub it the Mercedes Movement. Or the State Farm Solution. Or the Pulte Homes Preference.
There's plenty to choose from among the companies deciding to locate their headquarters or large offices as close to transit as they can get. And, direct access to mass transit was one of the requirements for Amazon's HQ2, as well.
"Fifteen years ago, the CEO made the decision on where to locate their company when they moved to Georgia based on where he or she wanted to live," says state Sen. Brandon Beach (R-Alpharetta), chair of the Senate Transportation Committee. "Fast forward to today – the CEO is still making the decision where they want to locate. They're doing it based on one thing: 'Where's my talent?'" And those workers want to be as close to transit as possible.
Pushing the topic from "traffic" to "economic development" was a major factor in getting a regional transit bill, House Bill 930, through the Georgia legislature and signed by Gov. Nathan Deal in May. The bill created the Atlanta-region Transit Link Authority (ATL) and it provides a path for 13 counties in the metro area to expand transit. Beach sponsored a similar bill in the Senate.
The ATL is charged with developing a regional transit plan that coordinates projects and service in Cherokee, Clayton, Coweta, Cobb, DeKalb, Douglas, Fayette, Forsyth, Fulton, Gwinnett, Henry, Paulding and Rockdale counties. That includes existing services provided by Cherokee, Cobb, Gwinnett, MARTA and the Georgia Regional Transit Authority (GRTA), which runs Xpress buses.
If it was surprising that the state finally got on board (so to speak) with transit for Metro Atlanta, it shouldn't have been. Beach, a longtime advocate of transit, saw the signs. "About seven years ago, I saw Keith Parker [then MARTA's CEO] going on economic development missions with the governor," he says. "I started realizing this wasn't a Republican or Democrat issue – this was an economic development, quality-of-life issue. That's why I got behind it."
Beach says that people have been out in front of their representatives on the issue of transit. Chris Tomlinson, executive director of the State Roads and Tollways Authority (SRTA) and GRTA, and interim director of the ATL, says that it's been a lot of work to start thinking and talking differently about transit.
"We tend to talk now in terms of a connective transportation ecosystem," he says. "It used to be you were either roads and bridges for your highways or you were talking transit with your bus and rail. We've worked very hard to change that 'or' to an 'and' and show how these are all connected, and people and trips need to be able to better flow from one to another."
---
Welcome to the ATL
The new law is complicated, but some of the things the ATL could look at include a unified fare payment system, better routing and scheduling across the region, and more efficient purchasing, maintenance and operations. The ATL will also oversee federal and state funds – Georgia ponied up $100 million for transit in the form of bus rapid transit lines along Georgia 400, only the second time it's made that kind of investment (the legislature allotted $75 million a few years ago for projects across the state). The ATL can also issue bonds.
One of the things that's unique about the law is that each of the 13 counties can decide whether to pass a local sales tax of up to 1 percent for as long as 30 years to establish or expand transit. They also decide which services they want to have, with the ATL board signing off on projects. The 13 counties are divided into 10 districts. The 16-member governing board is comprised of the Georgia Department of Transportation commissioner (a non-voting member), five members selected at the state level (two appointed by the lieutenant governor, two by the speaker of the House and one – the chair – by the governor) and the remaining 10 members selected by local officials in each district. "Like a DOT board but specifically for transit," is how Beach describes it.
It's unusual – and entirely intentional – for this state-level board to have two-thirds of its members selected locally, says Tomlinson. "That was an acknowledgement of the fact that so much of the funding in transit is often generated at the local level." And the 10 districts – why not just use the 13 county lines?
Most of the districts – each of which is home to around 450,000 people – encompass more than one county "to try to get the board members to think and act regionally," Tomlinson says. Members have to live within their district, but if they only think parochially they may not last long in that position, he says. One other factor in the shaping of the districts is more data-driven, factoring in current transportation patterns (where people live and which way they travel).
The law's provision for each of the 13 counties to decide its own transit destiny was crucial to its passage and, says MARTA Chair Robbie Ashe, an acknowledgment of reality. "We need to have regional mobility, and we need to have regional interconnectivity," he says. "What the ATL legislation recognizes is that we are in a place where allowing local jurisdictions to decide for themselves what their appetite is for transit is an important part of the process. … Forcing local communities to take transit where they don't want it and don't want to pay for it [would be] a recipe for failure."
But neither do counties have to petition the legislature individually. "We don't have this situation where a particular county, one by one, needs to go back … to say, 'Our time is right. Can we get through some sort of legislation to allow that to happen?'" says MARTA CEO and General Manager Jeffrey Parker. "We have a mechanism that's going to allow folks to invest."
"We want it to be local-focused," says Beach. "With that being said, we want to make sure that if Gwinnett's going to build a line that ends up stopping at the county line, we want to make sure it's in sync with DeKalb where they're building theirs – that it's a seamless system."
---
The Cobb Question
Cobb and Gwinnett counties have long been among the regional transit holdouts – and MARTA holdouts in particular. (Clayton County voted to join MARTA and passed a 1 percent sales tax in 2014.) Gwinnett's position officially changed this year, with the county board of commissioners adopting a new transit development plan that includes extending heavy rail from Doraville up I-85 to Jimmy Carter Boulevard (as well as bus rapid transit). The commissioners also approved a unique contract with MARTA that says Gwinnett's transit tax dollars have to be used "for the benefit of Gwinnett." Ashe says it's like "going into a marriage with a prenup."
Parker says MARTA is ready, and he notes that not only does the plan provide for better access from Gwinnett to Midtown and Downtown Atlanta, it also creates the opportunity for improved service between DeKalb and Gwinnett, for example. Like Tomlinson, he points out that people don't think about county lines when they're trying to get to work or a game or concert. "The bus route just goes from where it needs to go to another place," he says. "There's a bus route that starts in the city of Atlanta and ends up in DeKalb and then comes back into the city of Atlanta, and no one's the wiser, as it's going."
Cobb is more divided on the transit question. It was one of three counties to receive a special provision in HB 930:
• Gwinnett could have held a referendum on joining MARTA in November. County commissioners chose instead to schedule a special election in March for the referendum on the 1 cent sales tax.
• Fulton County outside of Atlanta can hold a referendum to impose an additional 0.2 percent transit sales tax.
• Cobb can call a countywide referendum on a transit sales tax, or it can create a special district where the sales tax would be collected and used to fund projects only within that district.
County Commission Chair Mike Boyce says he won't call a referendum unless the public supports it. The county has done a transit study and a separate transit survey, and Boyce says the next step is to organize an educational campaign to let residents know the results and get their input, an effort that will go into 2019. "This approach is methodical and involves significant involvement by county residents in any discussion on this important issue," he says.
The other big change will be rebranding current transit services within the 13 counties, including MARTA, as the ATL. Tomlinson credits Beach with a vision where someone "could fly into the ATL, the airport, get on an ATL train, if you're trying to get to the suburbs take an ATL Xpress bus or maybe an ATL local bus. … Make it seamless for customers."
Beach often tells the story of a trip he took years ago from Kennesaw to Duluth using transit, and his points are still valid. It took him four hours, he had to go to three websites to plan the trip and use three different forms of payment. "When you have one system, it'll be easier for the consumer," he says. "If you go downtown today, you'll see a GRTA bus, a MARTA bus, a Gwinnett bus, a Cobb bus – all different kinds of brands – and it's confusing."
That doesn't mean that MARTA as an entity is going away, Parker is quick to note. And indeed the new law specifically says that current providers, such as MARTA, will retain their operational authority and funding autonomy. "MARTA remains that pivotal point of transit here in the core of the urban region," says Parker. "It's critically important that this legislation allows that to continue."
He adds that much of the investment that will happen will involve connecting and interfacing with existing MARTA service. Counties can choose to join MARTA, contract with MARTA to provide service or just add transit service and physically connect with MARTA.
As complicated as it may be for the ATL to get up and running, the hardest part will be deciding which projects to approve. Although it's significant that the state contributed money for transit, the final legislation didn't include a dedicated source of funding, so state dollars may not be forthcoming in the future. Ashe calls it the unknown question – "Are they going to supplement local resources, or are we going to continue to kind of rely on local and federal dollars for capital projects?" he asks. And the fact that money wasn't there in the past has lingering consequences, as the region's growth has far outpaced the money spent on transit.
"We've gone decades with very little investment in transit," says Parker. "We face a pretty big deficit, in terms of the needs and just finding the resources to invest. Prioritizing the projects, in terms of which are most impactful, is going to continue to be a challenge."
That's the big picture the ATL board will be focused on in 2019, predicts Tomlinson: "How do we come up with a comprehensive regional transit plan that we can use to help guide our decisions, our priorities and our available federal and state funding?"
In the meantime, one of the most visible actions of the board will be to select the new ATL logo. Starting Jan. 1, there will be a whole new look to transit in Atlanta.