Full Speed Ahead
Thanks to smart planning, enhanced infrastructure and new markets, the Georgia ports continue to smash growth records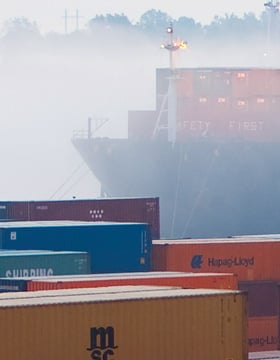 As an economic engine for the state, Georgia ports are in overdrive. More mega-ships stacked high with containers are calling on the Savannah port. Preparations are complete for Brunswick to become the country's largest auto port. The launch of the new inland port in Murray County is expanding international markets for regional businesses. And rail and facility infrastructure projects are making product movement more efficient and attracting new business.
Record-breaking numbers illustrate the ports' impact. From July 2017 to June 2018, the Georgia Ports Authority (GPA) handled 4.2 million 20-foot equivalent container units (TEUs) for an 8.4 percent increase over the previous fiscal year. In addition, it ended the fiscal year by recording its 20th consecutive month of positive growth.
Rail transportation of containers also increased more than 16 percent, a new record. These and other firsts have made Savannah the nation's fastest-growing container port, contributing 9 percent of Georgia's total employment – or more than 439,000 jobs – and an economic impact of $44 billion.
"We feel really good about where we are," says GPA Executive Director Griff Lynch. "We've grown 400 percent in the 18-year period through the 2000s and if we have a long-term view, we think we'll continue to grow."
---
The Benefits of Planning
Strategic planning and a pro-ports frame of mind on the part of the state's elected officials have fueled the growth. This mind-set goes back 20 years, says Jimmy Allgood, GPA board chair, when the GPA began to look at bringing in beneficial cargo owners – importers that take control of their shipments using their own logistics network – like The Home Depot. "What that does is it merges the port system, the state of Georgia, the beneficial cargo operators and all the shippers around the world into a global logistics network that came together in Savannah," he says.
Even through the recession, Lynch says one of GPA's strengths is that it kept investing in its strategic plan so "when we came out of the recession, we were primed and ready to receive growth."
A key component of the plan was the deepening of the Savannah harbor to accommodate huge cargo ships coming through the Panama Canal. According to Lynch, the outer harbor is now complete at a 49-foot depth, and GPA is bidding the inner harbor expansion, which will begin in 2019. He credits Georgia's elected leaders with helping the project receive full federal funding of $80 million for the coming year, which is a first.
"We've been hearing for years that Savannah is among the most important navigable water projects on their [the federal government's] list," Lynch says. "And now they've told us through their action that we are the most important."
---
Rail Reality
Incorporating more rail into the cargo transport mix is a big driver of the port's increased stature. "Rail is doubling growth of all our business," says Lynch. "It only confirms how important developing our on-terminal rail capacity is."
GPA is in the process of adding 97,000 feet of track at the Garden City Terminal, the larger of the two Savannah ports, as part of the new Mason Mega Rail facility that will be fully operational in 2020. The $126.7-million project, which broke ground in March, is expected to double the port's rail lift capacity to 1 million containers annually while providing a vital link to new customers in the Midwest.
When rail construction is completed, the Garden City Terminal will have 18 tracks with a total of 180,000 feet, enabling 10,000-foot trains to be assembled and loaded on site. These large freight trains will move goods to distant markets faster and more efficiently for shippers and manufacturers. More rail traffic will also translate to about 200,000 fewer trucks on the highways.
Allgood estimates approximately 12,000 truck moves occur daily at the Garden City Terminal. "That's just a staggering number," he says. "We won't lower truck moves, but rail will increase our total capacity, so you're not putting more trucks on the road."
Mason Mega Rail will add a unique, state-of-the-art facility to the South Atlantic's busiest intermodal gateway. According to Lynch, the project is now about 20 percent done and on schedule.
---
Regional Opportunities
Inland terminals are another of GPA's rail-oriented solutions designed to reduce truck traffic and increase regional customers' access to international markets via the Savannah port. The first of these inland ports opened in 2013 in Cordele through a GPA-Cordele Intermodal Services partnership. Allgood says the northeast and west Georgia regions are also candidates for inland ports.
"We continue to push forward with the inland port concept," says Lynch. "The Appalachian Regional Port [ARP] opened for business [in August]. It's a great facility because it's going to serve Northwest Georgia export and import customers, but it will also touch Alabama, Tennessee and even into Kentucky."
Located on 42 acres in Murray County near Chatsworth, the ARP offers a direct, 388-mile rail route, operated by CSX, to the Garden City Terminal. The ARP's proximity to manufacturers of flooring, automobiles and tires will help make those products more competitive globally. And it's expected to take 50,000 trucks off local highways each year.
Along with benefits to existing industries, the ARP is expected to provide an economic boost to Murray County. "We're looking forward to a mix of wholesale distribution centers and advanced manufacturing," says Illya Copeland, executive director of the Murray County Industrial Development Authority. "We've developed a new industrial park geared toward advanced manufacturing, and we've identified sites around the port that are perfect for distribution centers. We're really trying to embrace both sides of the coin."
He says the attention surrounding ARP generated calls from companies that were waiting until the port opened before making moves. "They see we have a developed incentive program, and we're doing infrastructure expansion projects," he adds.
Copeland cites half a dozen companies he's talking to about locations near the ARP. These include an existing importer and exporter that has decided to stay in Murray County instead of leaving the state to expand. He estimates the business will add more than 100 jobs and as much as $18 million in new investment.
He is also in the process of inking a deal with a company that repairs large shipping containers, transfers goods from the containers to truck trailers and stores the empties until they're needed, providing increased convenience and savings for customers using the ARP.
Copeland says Murray County residents are looking forward not only to new jobs close to home, but having opportunities to be trained in different types of businesses. "We'll have a more well-balanced, available workforce, and we may start seeing more competitive wages," he says.
"This [the ARP] is a game-changer for us, and it's changing the face of Murray County," he says. "We're working hard to be prepared, and we're ready to start doing more on a global level."
---
New Markets
Infrastructure improvements are only part of GPA's growth strategy. The organization's eye is firmly fixed on steering new market opportunities to Savannah.
"There's two key initiatives ongoing now at the Georgia ports that are going to impact the southeast," says Lynch. "The first is importing [fresh] produce from South America. We have a temperature-controlled facility recently built by PortFresh [Logistics]. They built that with the thought that more produce customers would use Savannah as the port for service to the Southeast."
Last year, PortFresh opened its 100,000-square-foot refrigerated warehouse in Effingham County, and Lynch says, "as a percentage of imports, refrigerated cargo is the fastest-growing market we've seen in the past year." In fact, GPA saw a 37.5 percent increase in refrigerated container imports during the past two years. Lynch predicts the need for more temperature-controlled warehouse space, and PortFresh and other companies are looking at their options in the area.
He says the second new market initiative is an export opportunity for polyethylene resin pellets, which are used to make virtually any product containing plastic. Companies like Exxon and Chevron figured out how to make the resin from liquid natural gas, a much less expensive resource than the crude oil originally used.
"Five or six years ago, these companies started to build enormous plants along the Gulf Coast," says Russ Boullion, vice president for commercial warehousing and packaging at A&R Logistics, a Houston-based national provider of bulk transport services to the chemical and plastic industries. "Now those plants are coming online, and we have billions of pounds of plastics that the U.S. can't consume. Naturally, they want to export it."
Boullion says the plastic resin normally would be shipped out of the Houston port, but it doesn't have the capacity. "We started looking for alternatives, and over time and through our research, Savannah made a lot of sense," he says. "Georgia is a very business-friendly climate, and Savannah has an abundance of outbound capacity. They handle more of the bigger ships going back and forth to Asia and Europe. That translates to ample equipment and low rates so it makes sense to send that plastic over land to the East Coast."
Last year, GPA and A&R formed a partnership to get the resin from the plants to cargo ships. This involved the resin pellets being blown into bulk rail cars destined for a GPA-owned facility at the Ocean Terminal, the smaller of the two Savannah ports. A&R purchased equipment to bag the loose pellets so they could be packed into containers for outbound ships. GPA hired the workers, and A&R trained them. The first containers of resin pellets were loaded in early July. "Each rail car holds four containers of pellets," says Lynch. "That translates into thousands of new containers a year going to Europe and the Mediterranean from the Georgia ports."
"We've established a completely new supply chain that has never existed in the history of polyethylene," says Boullion. "The market is now on the edge of this enormous expansion. At full capacity, [resin production] will be somewhere between 50 and 100 percent more than was ever produced in the U.S. We're talking billions and billions of pounds."
He says the goal for the Savannah Export Packaging facility is bagging about 900 metric tons per day, which equals about 10 rail cars of pellets.
---
Reaching Beyond
GPA is focused on going beyond hardware and infrastructure to have a greater positive impact on customers' supply chains. To achieve this requires advanced research and analysis of logistics trends. These capabilities are now available to the organization through its recently announced memorandum of understanding (MOU) with Georgia Tech and the Georgia Department of Economic Development's Center of Innovation for Logistics.
"The SCL [Georgia Tech's Supply Chain and Logistics Institute] has been at the lead in developing relationships with key trade ports around the globe, like Singapore, Panama, Costa Rica and the Netherlands," says Tim Brown, managing director of SCL. "But we [didn't] have one in Savannah, and that's what the school was programmed for in the first place."
He says the MOU will give SCL faculty and students access to the port's data, which will reveal opportunities for the port and for economic development. "There will be a broad spectrum of student involvement," he adds, including graduate, undergraduate and continuing education students as well as K-12 programs.
"Ideally, we want to create this mechanism where – if there are economic prospects interested in coming to Georgia – we can show how Georgia's infrastructure can reduce lead time and inventories and costs, and position [prospects] for more effective logistics than other ports," Brown says.
For GPA, the agreement is about "helping us understand how to grow in the right way," says Lynch. Given the ports' progress so far, there's little doubt that they will meet their goals and continue to drive economic success for the state.
"I think the Georgia Ports Authority – in conjunction with the state of Georgia and everyone involved – has quietly over the last decade done a great job in creating the most efficient, the fastest growing and the most dynamic port in the country," says Boullion. "Hands down, they've done all the right things."