2018 Silver Spoon Awards
A Diner's Market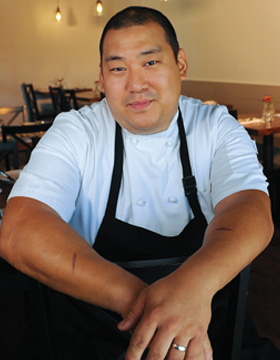 Lucky us! As long as the current economy holds, Georgians will continue to enjoy their best dining scene … perhaps ever.
The last crash, nearly a decade ago, helped to permanently redraw the restaurant landscape. High-end, nationally ranked culinary institutions, like Seeger's and the Ritz-Carlton Dining Room in Atlanta, shuttered; the phenomena that later rose to replace the state's most exciting restaurants often involved real estate designed around restaurant clusters (or even stalls), like Ponce City Market and SunTrust Park, home of the Braves. The way we choose to dine – or simply eat – has changed, maybe forever.
In the same way that giant computers have largely been replaced by smartphones, complicated place settings have also given way to handheld devices – sandwiches, tacos, pork buns, wings, sushi. Even expense-account restaurants, where businesspeople take clients or colleagues to impress them, now include places like B's Cracklin' Barbecue on Atlanta's Upper West Side, a certifiably delicious down-home spot that's typically packed with business dudes.
Savannah is a dramatic example of current trends. The Hostess City's genteel Southern food scene is beginning to vibrate with new restaurants emphasizing authentic over upscale. The renaissance that started with the cosmopolitan Southern menu at The Grey has blossomed further with the opening of Husk, the Sean Brock paean to Southern foodways that first launched in Charleston and later branched out to Nashville and Greenville, N.C. (Look for a full review of Husk in coming months.)
Savannah's native restaurateurs have also broadened their scope with innovative new spots like Little Duck Diner, a mashup of midcentury Americana and Asian treats, serving both burgers and bibimbap. Bull Street Taco (serving Carolina Gold rice and handmade tortillas from organic masa) and El Coyote (from the owners of dockside standout Wyld, offering coal-roasted chicken fajitas and lobster and local shrimp enchiladas) have at last brought serious Tex-Mex to town.
Also of note: the folks behind Circa 1875 opened their Italian-themed La Scala at the end of September near perennial favorite Elizabeth's on 37th. A new hotel, The Perry Lane, features The Emporium, with classic European dishes (cocquilles St. Jacques, duck cassoulet) and a rooftop bar with lawn games.
By the time you read this, The Grey Market, a new lunch counter/takeout space from the folks behind The Grey, may have opened. In addition, two new speakeasy-style bars specializing in craft cocktails have also emerged, Prohibition and Congress Street Up, attached to the Prohibition Museum.
In Macon, notable newcomers include the Parish on Cherry Street (Cajun) and LaDDa Bistro (Thai). Even smaller cities like Clayton and Crawford now boast a wood-fired pizzeria (Fortify Pi) and a barbecue spot from a family of cattle farmers (G Brand BBQ) in the renovated Cook Motor Co. building.
In Atlanta, Asian-accented menus are fueling the state's most powerful restaurant engine, sometimes with the major exception to handhelds: noodles and ramen. Momonoki (meaning peachtree) is one of the newest ramen entries, from the folks behind Brush Sushi Izakaya. It joins Anh's Kitchen in Midtown and Pho Nam, which will open in Krog Street Market, both developed by the Kinjo brothers of MF Sushi.
Chai-Yo is the latest Thai entry from the Tamarind Group's Niyumkul family, while Jai Ho is adding South Indian spice in Morningside. Buford Highway's clamorous Food Terminal continues to pack in crowds for its myriad Asian menus of dumplings, noodles and more.
Other Atlanta newcomers include Nashville import Hattie B's Hot Chicken in Little Five Points, while Tiny Lou's gives the refurbished Clermont Hotel a serious diner's edge. White Bull, in Decatur, and Mission & Market, in Buckhead, both give diners genuine culinary chops in comfortable environments without mortgage-sized checks. The Braves stadium restaurants have proven a draw unto themselves, including those from high-profile Georgia chefs like Hugh Acheson (Achie's, First & Third) and Linton Hopkins (C. Ellet's).
There's plenty to keep any adventurous Georgia diner busy in the coming year. But first let's check in on the standouts for 2018. This year, in addition to the Silver Spoons Top 10, a list of destinations worth the travel on their own, I'm adding another category: Silver Mileposts, for restaurants that make a strong argument for stopping along the way.
---
2018 Silver Spoons
Top 10 Restaurants in the State
(in no particular order)
---
Staplehouse
Atlanta
Reservations are almost as hard to get as Hamilton tickets, but it's worth the hassle for the outstanding service, stellar cocktail and wine program, and the glorious food (which has now returned to tasting menu only). A new upstairs cocktail bar, Paper Crane, also offers a short list of bites.
staplehouse.com
---
The Expat
Athens
New in Five Points, The Expat is from Krista and Jerry Slater, familiar to Atlantans as former purveyors at H. Harper Station. The French bistro menu helmed by Chef Savannah Sasser includes just-right seasonal dishes (Sapelo Island clams; pickled Georgia shrimp) and exquisite brunch. Cocktails are literally by the book, as Jerry Slater is one of the contributors to The Southern Foodways Alliance Guide to Cocktails (UGA Press); the upstairs cocktail lounge allows customers to play DJ on the turntable.
theexpatathens.com
---
C. Ellet's
Atlanta
Like baseball itself, the playful exterior of Linton Hopkins' restaurant at the Braves stadium eventually reveals a more thoughtful strategy. Watch the game on discreet screens in the more casual lounge – or order oysters from the walk-up takeout window. The inner-sanctum dining room serves up serious steaks and seafood.
c-ellets.com
---
Masterpiece
Duluth
Masterpiece's Rui Liu's recent James Beard Award nomination for Best Chef/Southeast is just one sign that Asian food is finally being taken as seriously as European and American cuisine. The dining room is spotless but humble; the food is bold and inventive within its traditional Szechuan traits – not just hot, but also balanced in every way.
facebook.com/Masterpiece名厨堂-658304740912215/
---
Sushi Hayakawa
Atlanta
Chef Art Hayakawa decided to make his Buford Highway hideaway even more exclusive – limiting the dining room space and seating to focus on the way he wants to serve his extraordinary sushi, sake and shochu. It's a bit more trouble to get reservations, which require a credit card deposit that will be applied to the meal, but well worth the effort.
sushihayakawa.com
---
Epic
Columbus
Chef Jamie Keating's goals are lofty … and achieved. While the food (halibut and lobster with forest mushrooms) and drinks (old-fashioned with "smoke cloud") in this beautifully designed, literary-themed restaurant live up to their promise, the storyline is as amusing as it is focused.
www.epiccuisine.com
---
The Grey
Savannah
So many reasons to visit The Grey – the gorgeous rehabilitation of this Art Deco-era Greyhound bus station, the thoughtfully reinvented Southern menu (Country Captain, foie and grits) by Chef Mashama Bailey and the expert service. If you haven't gone yet, you need to.
thegreyrestaurant.com
---
The National
Athens
Classic City residents know how lucky they are – that's why they pack The National for its midday Power Lunch (crackling-fresh vegetables in vibrant compositions) and the nightly specials of pan-roasted fish and grilled hanger steak, paired with seasonal options like squash blossoms and collard slaw.
thenationalrestaurant.com
---
Spring
Marietta
Brian So's tiny dining room just off the Marietta Square is pulling in outsized praise. It's no wonder, given the pristine presentations of tagliatelle with chanterelles, roast duck breast with farro and corn, and muscadine sorbet.
springmarietta.com
---
Marcel
Atlanta
Ford Fry's French steakhouse punches above its weight, even during regular dinner hours, when traditional steaks, cocktails and oysters are served to diners in leather banquettes as John Coltrane, Dave Brubeck and Bill Evans play backup. The late-night menu serves $12 steak frites and one of the city's best burgers.
marcelatl.com
---
Silver Mileposts
Nacoochee Village Tavern
Helen
Not only dependably great pizza, salads and sides, often featuring local ingredients, but deliciously playful specials like Chicago-style hot dogs and soft-shelled crab and spinach manicotti.
villagetavernpizza.com
---
Jackie M's & Son
Augusta
This small spot has earned an outsized reputation for its authentic Philly cheesesteaks and other housemade specialties. Until recently, Mom Jackie M even made the rolls herself – now they're delivered directly from legendary Philadelphia bakery Amoroso's. Son Clinton Jr., a Johnson & Wales culinary school grad, is also coming up with new menu items like the Soul Rolls – deep-fried egg-roll-style offerings stuffed with steak, jerk chicken or buffalo chicken.
jackiemsandson.com
---
City Pharmacy
Covington
The charmingly renovated former pharmacy on Covington's town square is a welcome addition, bringing old school cocktails (Krista and Jerry Slater, again) and a smartly crafted menu of oysters, fried chicken with hot honey and a fabulous burger.
citypharmacycov.com
---
Maepole
Athens
Chef Peter Dale (The National) crafts another winner, in which you choose your protein, your "base" (greens, grains, sweet potatoes), your sauce and your veggies at the counter and saunter to one of the tables inside or out. Dale's attention to affordable, delicious healthy eating – and love of vibrant color – are again on full display. The meatballs and pesto are highly recommended.
maepole.com
---
Fortify Pi
Clayton
The folks behind the "farm to fork" fine dining restaurant Fortify have opened this utterly charming pizzeria next door, with local brews, housemade ice cream and fantastic wood-fired pies.
fortifyclayton.com/fortifypi
---
Harvest Habersham
Clarkesville
Local ingredients from nearby farms drive the menu at this North Georgia mountain town favorite. Chef Chris Bolton is a one-man band, serving up seasonal produce and unexpected treats such as wreckfish and fairytale squash.
harvesthabersham.com
---
Eighty Ocean Kitchen & Bar
Jekyll Island
Quiet Jekyll has long needed a modern spot like 80 Ocean (formerly Corsair), with crowd-pleasers like pizza, seared redfish and wood-fired Sapelo Island clams. The mai tai, topped with honey foam, is a standout.
jekylloceanclub.com/dining/corsair
---
Southern Soul
St. Simons
Maybe the best barbecue in the state. It's not only the 'cue, the stew and the ribs, but also the fabulous on-a-whim specials, like pastrami, smoked chicken with buttermilk dumplings or peanuts boiled in ham hock stock.
southernsoulbbq.com
---
Buckner's
Jackson
Irreplaceable. Line up early and wait to be seated with strangers, family style, for "pulleybone" fried chicken, green beans, coleslaw, stew, baked ham and other specials served for lunch and dinner Thursdays-Saturdays. Everything is made in house; the meats are all fried, roasted or smoked on site.
bucknersfamilyrestaurant.com
---
Company Supply
Dublin
Specializing in rotisserie chicken and New Orleans-style favorites, this is a great place to check out Dublin's historic downtown with some crawfish boudin, red beans and rice or gumbo.
companysupplyga.com