Georgia Trend's 2018 40 Under 40
For the 22nd year, Georgia Trend celebrates the state's best and brightest in business, government, nonprofits, education, healthcare, banking and professional sports.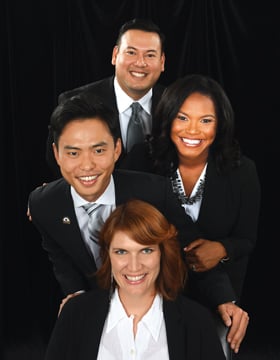 For 22 years, Georgia Trend has celebrated the state's rising stars under the age of 40. We've continued to watch as they advanced in their careers, achieved much success and positively influenced the lives of other Georgians.
This year's group of inspiring young leaders represents government, small and large businesses, nonprofits, education, healthcare, banking and professional sports. They were nominated by readers throughout the state who know them well. From more than 300 nominations, the Georgia Trend staff made the final selections. We're proud to share their stories.
Jennifer Stalcup photographed four representatives of the 2018 40 Under 40 pictured on the cover and here. Clockwise from the top are Julio Portillo, executive director of MidTown Inc. in Columbus; Sojourner Marable Grimmett, director of external affairs for the Atlanta Region of National Church Residences; Janet Geddis, owner of Athens' Avid Bookshop; and Tim Hur, managing broker for Point Honors and Associates Realtors in Atlanta.
Writers for the individual profiles were Anna Bentley, Mary Anne Dunkin, Brian Lee, Patty Rasmussen, Wayne Waters and Haisten Willis. – Mary Ann DeMuth
---
Onyinye Akujuo 35
Director of Federal & State Grant Programs
MARTA
Atlanta
As director of MARTA's $600-million Federal and State Grant programs, Onyinye Akujuo is involved in major projects with regional impact in Atlanta.
Akujuo is the youngest-ever director on MARTA's senior executive team and could gain even more influence as transit expansion becomes a bigger issue for Metro Atlanta residents and politicians.
"In the future, I see myself playing a major role in strategic advisement related to transit," she says. "I'd like to play a role in helping to expand transportation options in Atlanta."
Along with her role in Atlanta public transit, Akujuo has joined the Junior League and serves on the board of the League of Women Voters. In the latter capacity, she helps organize political forums and conducts presentations for underserved communities about their voting rights. – HW
---
Brian Bailey 35
Major Gifts Officer, Northeast Georgia Health System
Owner, Consign & Design Interiors
Gainesville
Weekdays, Brian Bailey can be found raising financial support for Northeast Georgia Health System, focused on physician philanthropy, planned giving through bequests and charitable trust and major gifts up to $100,000. Last year, Bailey managed a donor base of more than 400 individuals accounting for $750,000 in giving.
Bailey and his wife, Jaclyn, also own and run a home furnishing and design business – Consign & Design – recently named Hall County's "Best of Hall 2018 Consignment Store."
He serves as board chair of Three Dimensional Life, a faith-based organization offering addiction recovery for teenage boys.
"That's been a real game changer," he says. "Being able to use what I learned through my MBA and dovetail that with my career has been very powerful to me." – PR
---
LaToya Simone Bell 31
Assistant Public Defender
Houston County Public Defender's Office
Macon
An assistant public defender for the Houston County Public Defender's Office, LaToya Simone Bell is passionate about helping those exiting prison to never return.
"I see people over and over and over again on my caseloads that come back simply because they don't really know how to make the right choices," she says. "We don't do any rehabilitation in prison. We say that we do, but the reality is that we really don't."
Bell has been instrumental in setting up a drug court in Houston County to help reduce recidivism, and she provides free legal consultations through ask-a-lawyer days and law clinics.
An adjunct professor of paralegal studies at Central Georgia Technical College, Bell is also active in the legal community, serving in the Houston County Bar Association Young Lawyers Division and Macon Reentry Coalition, among others. – AB
---
Melissa Brogdon 32
Director of Development and Communications
Emmaus House
Atlanta
As grant writer and fundraiser, Melissa Brogdon's work finances approximately 40 percent of the vital programs provided by Emmaus House. A ministry of the Episcopal Diocese of Atlanta, Emmaus House addresses the needs of residents in Peoplestown, in south Atlanta.
"I am seeing every day the impact of funds that are raised," she says. "If the dollar comes in, we can do a program. If it doesn't, we literally are not able to provide something for someone in need. You really have that connection to the community."
Brogdon also connects to her community as a member of the Junior League of Atlanta and as co-founder of the Atlanta Chapter of The Twelve Days of Christmas, an organization that helps children in need have a Merry Christmas. – MAD
---
Ankur Chatterjee 38
Managing Partner
Alder Group
Marietta
Ankur Chatterjee works at Alder Group, a private equity firm investing in family residential rental properties across the Southeast, as well as ventures and startups. But in 2015, at the urging of a friend, he spent two years serving as executive director of Enduring Hearts, a nonprofit that funds research to increase the longevity of cardiac transplants in children.
"During those two years we've taken Enduring Hearts from a concept to what it is now," says Chatterjee, now president of Enduring Heart's board. "We've built a pipeline for donors and a formal program to fund pediatric transplant longevity research across a variety of platforms. We have grantmaking alliances with the American Heart Association and the International Society of Heart and Lung Transplantation."
In addition, he mentors startups and is a board member of Cheatham Elementary School. – PR
---
Karlton Clay 33
CEO & Producer
Victory Productions Network
Augusta
At 16, Karlton Clay was diagnosed with leukemia. A preacher's son, Clay turned to prayer during his treatments for strength, but the prayers ended up giving him something bigger: a life purpose.
"God gave me the name 'victory,'" he says, and the push to create his own production company: Victory Productions Network.
Clay writes and produces 11 web series. He's founded a magazine, VPN. And he's planning to start production on Black and Blue, a feature film about police brutality, later this year. He also raises money for the Leukemia and Lymphoma Society.
"You put yourself out there, and you just don't know what kind of reception you're going to get," he says. "But at the end of the day, I feel like I have a message and a voice, and it's important that my voice gets out there." – AB
---
Veronica Crafton 34
Founder & Owner
Amazingly Uplifted
Smyrna
Veronica Crafton was a Cobb County school teacher when she began to see the need for professional development programs for people who serve children with autism and developmental disabilities. Realizing that the only way to implement this was to start her own business, Crafton left the teaching world after six years and founded Amazingly Uplifted in 2013.
Now leading a team of five employees, Crafton supports teachers in two Metro Atlanta school systems. She also helps two churches to develop environments appropriate for children with developmental disabilities. Along with those roles, she makes time to volunteer with the Atlanta Fire Rescue Foundation.
"The number one thing I like to tell people about autism is that we should always presume competence," she says. "Children, especially nonverbal children, have so much more in their brains than we give them credit for." – HW
---
Crystal Crawford 33
Educator & Summer Administrator
Richmond County School System
Augusta
Crystal Crawford is a 10-year teaching dynamo. She's known for inspiring her high school economics students by incorporating hands-on learning.
"We're not just going to read about it in a book. We've got to take it out of the textbook and put it into action," she says. "One of the favorite things we do is Create-Your-Own-Business, a Shark Tank-style simulation where the kids learn how to develop their own business then present it to a set of investors."
Crawford dips deeply into her own pocket to finance the projects in her classes. And she's always looking for ways to connect. "I use social media to promote projects and encourage my students," she says. "Some of the hashtags I use are #get-onourlevel #teacherlife #livingbyexample. I never ask anything of my students that I'm not willing and/or able to do myself." – PR
---
Trent Davidson 32
Franchise Sales Manager
Buffalo Rock
Columbus
Colleagues describe Trent Davidson as a servant leader, concerned not only with their success in business but in their personal lives as well.
The approach has been successful for Davidson, who was recently promoted to franchise sales manager over Buffalo Rock's Columbus and Albany offices. The company is a provider of food and beverage products.
Outside of work, he serves on several boards, including the Georgia Beverage Association, the Fellowship of Christian Athletes and The Anchorage, a faith-based ministry that helps men overcome alcohol and drug dependencies. He also volunteers with the Lee County School System.
"Nobody cares what you know until they know that you care," Davidson says. "I look at business as a platform for us to help people along in the bigger picture." – HW
---
Snehal Doshi 35
Vice President, Pharmacy Services
WellStar Health System
Alpharetta
For Snehal Doshi, commitment isn't just a nice-sounding word to toss around. He knows the feeling of running countless miles, walking through tear gas chambers, dashing through a grenade obstacle course, and crawling under barbed wire and live fire in Basic Training. The Army helped with his personal development and professional path.
"There's a place for pharmacists out on the front lines, offering services during natural disasters, epidemics and other crises," says Doshi, who served at a combat support hospital for 11 years. "My family, the military and the pharmacy profession have steered me to who I am today."
Doshi, who was named a 2017 Rising Star in Healthcare, also shares his knowledge in the community working with the Drug Enforcement Agency on drug awareness programs and mentoring students in pharmacy school. – BL
---
Steven A. Ellis 37
Attorney
Assistant Solicitor General & Public Affairs Liaison
Cobb County Solicitor General's Office
Marietta
Born and raised in Cobb County, Steven Ellis returned home to found The Ellis Law Firm and to serve as Cobb County assistant solicitor general and public affairs liaison. In addition, he is a part-time professor of political science at Kennesaw State University.
Between his paid gigs, Ellis is involved in community organizations including Sober Streets, dedicated to supporting the Cobb DUI Court and promoting safe driving; the Cobb County DUI Court Community Advisory Board; and liveSAFE Resources Young Professionals Committee, supporting the organization's efforts to offer assistance to those who've suffered domestic violence or sexual assault.
"Cobb County's been good to me," Ellis says, "so I thought I'd stay and give a little bit back by being an attorney in the community and by being involved in complementary organizations." – WW
---
Stephen Everett 34
Doctor of Veterinary Medicine
Sandersville Veterinary Clinic
Sandersville
Stephen Everett earned his doctor of veterinary medicine degree from the University of Georgia College of Veterinary Medicine. He says he's happy to have returned to his hometown to establish a career that often finds him helping a farmer pull a calf long after hours or making a house call to check on a sick pet.
"I was just thrilled with the opportunity to get that education and then come back and be helpful to the community," Everett says. "I trained as a big-animal veterinarian. I work on cats and dogs and on farm animals. I felt like I could come back after school and help some of our farm producers to be more profitable with their operations."
Pets aren't his only focus. He also finds time to be on the board for local groups like First Love Kids, an organization for underprivileged youth in Washington County. – WW
---
Drew French 34
Founder & President
Your Pie
Athens
Drew French started his pizza restaurant, Your Pie, in 2008, but it was conceived two years earlier while honeymooning in Italy with his wife, Natalie, whose family is from the island of Ischia. Customers love the fresh ingredients, innovative flavors – prosciutto and peach, anyone? – and the authentic Italian brick-oven taste.
He began franchising in 2010 and now has locations in 19 states. "We think it's the best way to grow," says French. "Franchisees are leaders in their communities and also push us to do things that we may not always do if it was just us sitting around a table."
That sense of community is a core value at Your Pie, modeled from the top down. French serves on the board of AthensMade, a creative community supporting entrepreneurs, and Extra Special People, a nonprofit benefiting children with special needs. – PR
---
Janet Geddis 38
Owner
Avid Bookshop
Athens
"I was one of [those] people who wasn't really sure what I wanted to do with my life, career-wise," says Janet Geddis. After spending nearly a decade pursuing a career in education, Geddis began to take a lifelong pipe dream – opening a bookstore – more seriously.
Years of careful research later, she opened Avid Bookshop in Athens in 2011. Five years later, she opened a second location.
A community-focused, independent bookstore, Avid prides itself on its customer service, creative programming and #avidgivesback charity efforts. Through Avid, Geddis was able to create a career just as multifaceted as she is.
"A bookstore is like a community hub and a resource center, and an event space, and a place to be silly, and a place to exercise your creativity," she says. "It's all of these things combined." – AB
---
Sojourner Marable Grimmett 39
Director of External Affairs, Atlanta Region
National Church Residences
South Fulton
Service dominates the personal and professional life of Sojourner Marable Grimmett. As a director for the nation's largest nonprofit provider of affordable senior housing and services, she focuses daily on helping people live healthier and more satisfying lives, while creating a sense of family and community for residents.
"As federal resources for affordable housing development grow scarcer, local communities must commit more to promoting affordable housing development and preservation to allow seniors to safely age," says Grimmett.
Housing is not Grimmett's only focus. She also spearheaded a campaign to establish lactation rooms at Hartsfield-Jackson Atlanta International Airport and was instrumental in establishing the My Brother's Keeper Fulton County chapter.
Her commitment to service comes from both her parents. In fact, she's picked up her mother's motto – "love, educate and serve" – as her own. – BL
---
Betsy Grunch 38
Neurosurgeon
The Longstreet Clinic
Gainesville
Betsy Grunch was 13 years old when she decided what she would do with her life. Her mom, a police officer, had just been paralyzed in a car accident. "She spent three months at the Shepherd Spinal Center, and I spent most of that time with her," says Grunch.
Grunch excelled at the Medical College of Georgia and completed her internship and residency at Duke University School of Medicine. She then joined the practice of the surgeons that operated on her mother so many years before. In 2016, Grunch became the first neurosurgeon in Georgia to perform the successful implantation of an artificial spinal disc replacement device, for use in the lumbar spine.
"Helping people, even in the smallest ways, gives me the most satisfaction," she says. "My 13-year-old self is doing what she wanted to do." – PR
---
Nicole Hendrickson 38
Community Outreach Program Director
Gwinnett County Government
Lilburn
When Nicole Hendrickson accepted the new position of community outreach director for Gwinnett Country three years ago, she researched what outreach directors in other Georgia counties were doing. She quickly learned there weren't any.
As a result, she developed a program to bring together diverse groups of Gwinnett residents, while also serving as a model for other counties. Highlights of the now nationally recognized program include the Gwinnett 101 Citizens Academy, which teaches residents about county government, and Dinner and Dialogue, which brings residents and county commissioners together for a meal and conversation.
"I absolutely love my job," says Hendrickson. "I get up every day to do something that allows people to participate and ensures people feel included and invited." – MAD
---
Natalie Brooke Higgins 29
Assistant Professor of Music in Horn
Schwob School of Music, Columbus State University
Columbus
With classical musicians for parents, Natalie Higgins found an appreciation for music came naturally. But it was her desire to instill that love in young people that led her to make music education her career. In addition to the duties of assistant professor of music in horn, Higgins also directs the Schwob Horns, an ensemble of horn students.
Over the past two years, she has given free classes at several Georgia high schools. This year she and a colleague created the Schwob Summer Music Festival to provide an immersive musical environment for wind, brass and percussion students. Her latest project: a YouTube channel that will be an educational resource for high school and undergraduate music majors.
"Classical music is somewhat daunting, especially to young students," says Higgins. "My goal is to inspire the next generation." – MAD
---
Tim Hur 35
Managing Broker
Point Honors and Associates Realtors
Atlanta
Tim Hur has worked in real estate for 12 years and is both founder and owner of Point Honors and Associates Realtors. As a boutique firm with bilingual agents often serving minority buyers, Hur enjoys helping people make the biggest purchase of their lives.
"Buying a house is an emotional roller coaster, and I love helping make everyone happy at the end of the day," says Hur, who is originally from South Korea.
Outside of work, Hur is a past Rotary International club president and serves on many nonprofit boards and organizations in the Atlanta area, including the Gwinnett Place Community Improvement District and the Gwinnett County School Board Foundation. Hur also advocates for fair housing rights as chair of the National Association of Realtors' diversity committee and hopes to continue growing his business in the future. – HW
---
Patrina King 37
Founder & CEO
Golf Women Mean Business LLC
Peachtree Corners
You can learn a lot about a person in a business meeting. A great deal more can be learned during a round of golf.
Inspired by her father, Eatonton golf legend Larry Dunn, King set out to create a platform to help women leverage golf and business, which will always have a social component. Teaching women to play for that purpose rather than competitively drives her professionally.
"Women are fun," says King, who started playing golf at age 7. "The most satisfying part of my job is seeing the light bulb come on for women who may have never thought they would be able to call themselves golfers."
Community service off the golf course is also important to King. She is a member of the National Coalition of 100 Black Women, an organization dedicated to the empowerment of African-American women and girls. – BL
---
Susan Landrum 36
Executive Director
VOX Teen Communications
Atlanta
Susan Landrum rose to the lead position with the 25-year-old VOX last spring after working as development director and then program director. The organization gives voice to Atlanta's young people – as its motto says, "Where teens speak and Atlanta listens."
Landrum is growing the voice of Atlanta teens through collaborations with organizations including the Georgia Statewide Afterschool Network, and she has expanded VOX programming while ensuring the organization welcomes young adults of all backgrounds. She also supports kids in the community through participation in events including March for Our Lives.
"[VOX has] an authentic power-sharing culture where teens really are at the table for all the decisions being made," Landrum says. "They're setting the tone, they're setting the strategy. It's incredible to lead an organization that is being run by the people who represent it as well." – WW
---
Paul A. Little II 38
Pastor
Bibb Mount Zion Baptist Church
Bonaire
Most ministers will tell you it's what's inside that counts. Paul A. Little II, the pastor of Bibb Mount Zion Baptist Church in Macon, certainly agrees, but that didn't keep him from officiating a wedding on TLC's hit show Say Yes to The Dress. It was an opportunity that spoke to what he most enjoys about his calling.
"The most satisfying aspect of my vocation is the privilege of meeting others and developing relationships with people from diverse walks of life," he says. "These relationships have afforded me the opportunity to participate in people's lifelong journey toward holistic transformation."
As pastor, Little is piloting a partnership between his church and the Department of Juvenile Justice that will offer a mentoring program for juvenile offenders. He also serves on the district attorney's community engagement board. – BL
---
Bonnie Mauldin 36
Founder & President
The Mauldin Group
Roswell
Marketers know the value of a great story, and Bonnie Mauldin's life tells the story of successful entrepreneurship and supporting businesswomen. Since 2015, Mauldin has grown her firm into an award-winning, respected digital marketing agency.
"Having a marketing agency is the perfect blend of psychology, arts and helping people," says Mauldin. "That's why I love the work so much."
She also loves mentoring women at her firm and through the Greater North Fulton Chamber of Commerce. Closest to her heart? "Anything that helps families or children and women empowerment, especially helping women to start and scale their businesses," she says. "Only one percent of women-owned businesses make a million dollars. We need to change that." – PR
---
Laura Maxwell 39
Founder & Director
Called to Care
Tifton
Five years ago, Laura Maxwell sat in her living room with a group of women from her church. They had gathered to support the foster care system in their communities of Tift and Turner counties.
"My original intention was to pack some journey bags," Maxwell says. "That was my vision."
Her vision quickly became Called to Care, a faith-based nonprofit serving 20 South Georgia counties. The group supports everyone touched by the foster care system – children, foster families, biological families and case workers.
"Unfortunately, with anything like this, you're going to have wins and losses, and you're going to see so much hurt that you can't fix," Maxwell says. "But we've seen so much good. We've seen so much permanency; we've seen so many families restored." – AB
---
Nicole Myers 38
Director of Development
Back On My Feet Atlanta
Smyrna
As the former director of corporate services for Berkshire Hathaway's Home Services Georgia Properties, Nicole Myers helped companies relocate workers to the Atlanta area. "If I can help them make a connection and help make them feel like they can call Georgia home, then they are going to be a bigger part of this beautiful, vibrant community that we have," she says.
Connections are essential in creating community, believes Myers, and she demonstrates it through her philanthropy. She serves as president of the Vinings Historic Preservation Society and as an event volunteer for Back On My Feet, an organization addressing multiple layers of need created through homelessness. Recently she joined Back On My Feet Atlanta as director of development.
"I'm passionate about moving people to Atlanta and making this city their home," she says, "But it's vital that we not forget about this population and see to it that they can find a home." – PR
---
Leah Poole 37
CEO
Liberty County Chamber of Commerce/
Convention & Visitors Bureau
Midway
With a bachelor's degree in English and mass communication, Leah Poole returned to her native Liberty County with dreams of writing for the local newspaper. Instead she landed sales and fundraising positions that prepared her for her real dream job.
Today, Poole has responsibility for the chamber's 500 members as well as for diversifying tourism in the county. Under her leadership, hotel taxes have increased by 12 percent and the movie industry has brought millions in revenue to the coastal county.
"The job is never boring, never dull," says Poole. It also fulfills her need to write, she says, as writing blogs, social media posts, brochures and even T-shirts is part of the job.
When not promoting the county, Poole is involved in several community organizations, including the Hinesville Arts Council. – MAD
---
Julio Portillo 37
Executive Director
MidTown Inc.
Columbus
As executive director at Columbus' MidTown Inc. and transportation planner at the River Valley Regional Commission, Julio Portillo has improved transit options throughout Middle Georgia, fostered bicycle-friendly communities from Columbus to Americus and worked with city leaders to find creative solutions to planning issues.
And as an adjunct professor of public policy at Columbus State University – one of his favorite roles, he says – he has mentored students eager to enter public administration themselves.
"I tell my students not to focus so much on money. It can buy you a lot of things, but it runs out," he says. "But the feeling that you get from helping others, especially those in need and communities in need, and the impact that you can have on the quality of life of other people are things that you can take with you forever." – AB
---
Kevin Prince 37
Regional Service Director, Oasis Outsourcing
CEO, Divine9 Enterprises
Atlanta
By day, Kevin Prince oversees client experiences as regional service director at Oasis Outsourcing. By night, he helps mentor African-American youth through his Kappa Alpha Psi alumni group and plans international philanthropic trips through Divine9Online.com, a social networking site for alumni of African-American fraternities and sororities.
"If you look at everything I do, it centers around the youth and just trying to help them get over the hump," Prince says.
Through Divine9Online.com's Professional Relaxation trips, trip-goers have replaced a playground in Costa Rica and donated funds to an orphanage in Aruba. Prince is also involved in Kappa Alpha Psi's Beautillion Scholarship Program, which provides mentoring, coaching and scholarships to Atlanta-area high school students.
"It's one thing when you become successful," he says, "but what I was always taught is, 'What are you doing to help others?'" – AB
---
Jennifer Puckett 38
Owner, Therabeat Inc.
Co-Owner, In Harmony Pediatric Therapy
Canton
Jennifer Puckett, owner of music therapy clinic Therabeat Inc., knows how transformative music therapy can be. She's seen it in her own family through a grandmother with Alzheimer's, and she sees it in the faces of her clients every day.
"When you have a baby … that has special needs, your whole world changes," she says. "[New moms are] overwhelmed. They don't know what to expect. They've only heard what their child can't do. In music therapy, we try to show them everything they can do."
Puckett also co-owns In Harmony Pediatric Therapy, a clinic for children with developmental delays, and is serving her second term on the Georgia Music Therapy Advisory Committee. – AB
---
Jason Rooks 39
Senior Vice President & Commercial Lending Manager
Flint Community Bank
Leesburg
"Honestly, it's in my blood," says Jason Rooks. "It was just natural to be a banker."
A second-generation banker, Rooks, senior vice president and commercial lending manager of Albany's Flint Community Bank, grew up watching his father serve his community through banking. Rooks led a team effort to define the bank's core service mission and values. And in the Community Bankers Association of Georgia, he has continued his family's tradition of person-focused leadership by fundraising for the organization and mentoring other community bankers.
Rooks also serves on the board of The Anchorage, a faith-based addiction counseling service. "It's just a part of the DNA of a community banker to be involved," he says. – AB
---
Dan Ryan 39
CEO
Team Ryan Automotive
Sugar Hill
When Dan Ryan founded Team Ryan Automotive in 2015, he trusted that customers wanted what he would want in a mechanic. "All we have to do is be honest, fix what needs to be fixed, talk to our customers, inform and educate," he says. "When you do those things, taking care of your customers, it promotes the type of relationships you want."
Turns out, he was right. The company has grown 30 percent to 40 percent in sales each year. Team Ryan Automotive is the only ASE Blue Seal of Excellence-recognized shop in Hall County and North Gwinnett.
He and his wife and business partner, Shara, are ardent supporters of the local Kiwanis and promote environmental causes through their business, too, even recycling oil from vehicles and oil filters to heat the shop in the winter. – PR
---
Nzinga Shaw 38
Chief Diversity & Inclusion Officer and
Senior Vice President of Community
Atlanta Hawks & State Farm Arena
Atlanta
When Nzinga Shaw joined the Hawks and what was then Phillips Arena in 2014, she was charged with "finding ways to build bridges to the community through basketball and inclusion."
In her first 90 days on the job, Shaw established a Diversity & Inclusion Council – the first in the NBA – made up of employees and external Atlanta stakeholders. Since then she has developed a strategy to create inclusion in every facet of the business, from programmatic activities to governance to daily administration.
Her work has received national recognition and made the Hawks/arena experience more accessible and rewarding to employees, contractors, community partners and fans alike.
"Providing resources that make this city of Atlanta a great place for folks to live through the lens of basketball is my dream job," she says. "It's what motivates me from day to day." – MAD
---
Kristine Pruss Steinmann 36
Vice President of Strategic Program Initiatives
Boys & Girls Clubs of Central Georgia
Macon
Kristine Pruss Steinmann joined the Boys & Girls Clubs as a college student, growing through the ranks to become the vice president of strategic program initiatives for the clubs' Central Georgia region.
Though she'd spent more than a decade mentoring children, it took a surprise visit from a former fifth-grader she'd worked with – college graduation party invitation in hand – to prove her impact.
"I didn't realize the impact that I had on her until she came to see me as an adult," Steinmann says. "She's the first college graduate in her family."
Boys & Girls Clubs programs expose kids to futures they may never have considered for themselves, Steinmann says.
"The little things that we do for our kids, no matter how small they are," she says, "can make a huge impact." – AB
---
Earl Stewart Jr. 31
Internal Medicine Physician
Thomaston Medical Clinic, Upson Regional Medical Center
Griffin
Earl Stewart's knack for math and science was nurtured at Augusta's A.R. Johnson Magnet High School. "The high school gave me the opportunity to peer into what might be available – engineering, medicine, technical – anything math/science-related," he says. "I saw physicians who looked like me, who had families, went to churches and were involved in their communities."
He excelled, went to medical school using the Georgia Board for Physician Workforce (GBPW) Scholarship, knowing that after his training he'd come back to Georgia to help fill some of the rural physician shortage. In practice in Thomaston, Stewart is helping respond to the simmering opioid crisis, starting the Suboxone treatment program with more than 20 patients enrolled.
He's holding the door open for young people, too. His Dr. Earl Stewart Jr. Family Foundation provides scholarships to deserving college-bound African-American students. – PR
---
Tiffany Stewart-Stanley 39
Director of External Affairs
Douglas County Board of Commissioners
Douglasville
Tiffany Stewart-Stanley is the first person ever to hold the position of director of external affairs in Douglas County. In this capacity, she assists with grant applications, fosters behavioral health awareness, works with local legislators and engages the public with the goings on of county government.
"I enjoy bringing people together and working on solutions," she says. "I plan to grow this department and make it an integral part of the community."
Stewart-Stanley also aids the Stepping Up Initiative, an effort to reduce the number of incarcerated citizens with mental illness. – HW
---
Patrice Walker 38
Physician, Navicent Health
Assistant Professor OB/GYN, Mercer University School of Medicine
Macon
In medical school and residency, Dr. Patrice Walker could count the number of black female professors on one hand. Now, as an OB/GYN and assistant professor at Mercer's School of Medicine, she's increasing diversity in her profession as well as helping encourage it in the next generation of doctors.
Walker has been recognized with the American Congress of Obstetricians and Gynecologists and the Council on Resident Education in Obstetrics and Gynecology National Faculty Award in 2015 and 2016.
"My philosophy is that a good leader or mentor does not hide their struggles and imperfections," she says. "They learn from and use them to help others who are traveling a similar path." – BL
---
Laura Whitaker 33
Executive Director
Extra Special People Inc.
Athens
"I often say, 'Sometimes you choose your job, and other times it chooses you,'" says Laura Whitaker. "In my case, it definitely chose me."
Whitaker was 19 when she became the executive director of Extra Special People Inc., a Watkinsville-based nonprofit serving children and adults with developmental disabilities. Fifteen years later, ESP has grown to include 20 after-school programs and eight weeks of summer camp. A new, state- of-the-art facility eliminated ESP's waitlist, and Camp Hooray, a fully accessible overnight camping facility, should break ground in 2020.
"The experiences that we're providing aren't just an after-school program or a summer camp program," Whitaker says. "They truly are transforming families." – AB
---
Cynthia Wright 27
Junior Partner
Carriage Trade Public Relations & Cecilia Russo Marketing
Savannah
How did Cynthia Wright rise through the ranks from PR intern to junior partner in three short years? "I stuck at it," she says. "They threw challenges at me, and I kept taking them on. I'm excited to see what the next challenge is."
Wright manages all the accounts and a team of 12 for the two firms – one a PR firm, the other a marketing agency – which collaborate, each offering its own strengths.
She also lends her expertise to several organizations in the Savannah area, including the Savannah Jaycees and the Lowcountry Down Syndrome Society.
"I love the idea of building regional business, helping communities work together instead of building rivalries," she says. "Let's build coastal Georgia into a powerhouse so we can compete on a national level for those big brands." – PR
---
Taos Wynn 32
Founder & CEO
Perfect Love Foundation
Atlanta
Taos Wynn has been involved in community-building activities in the U.S. and abroad from a young age, starting with two missions to Haiti where he distributed food and clothing and helped build an orphanage for underprivileged children. This work led to the development of Perfect Love Foundation, which last year provided more than 3,400 meals and 1,500 hygiene kits to needy Atlantans.
Wynn served as a community organizer lobbying for Senate Bill 104, which will aid in the fight against sex trafficking. He has twice received the Presidential Lifetime Achievement Award for Volunteer Service, among other awards.
He credits his parents for showing him "what giving back to the community looked like." – WW
---
Thatcher Ross Young 38
Vice President of Business Development
Radiance Solar
Marietta
With a background in natural resource management, a career in solar is a perfect fit for Thatcher Young. Radiance Solar, where Young is vice president of business development, works with utilities and large commercial companies in the design and maintenance of solar energy plants. Young is also a founding board member of Net Impact Atlanta, an organization dedicated to empowering social and environmental change.
"A childhood being outdoors with my father and grandfather, fishing and camping, led me to have a spiritual connection to nature," Young says. "Now, as a father with two young kids, I want to ensure that their generation and the generations after them have a decent place, a natural space in Georgia to enjoy." – WW