Funding the Future
The Georgia Outdoor Stewardship Act is that rare bit of legislation that almost everyone can get behind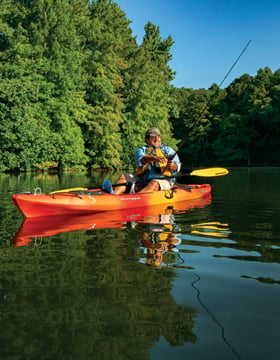 These days if you can get 80 percent of people to agree that it's raining outside even as they're soaking wet from the downpour, it's pretty close to a miracle. But there's a piece of legislation that passed last spring and will be on the statewide ballot in November that has the support of nearly 100 percent of the legislature and 80 percent of the public. And if the referendum passes next month, it will benefit residents in cities and rural areas, and even bring more visitors – with their all-important tourism dollars – to Georgia.
This legislative marvel is the Georgia Outdoor Stewardship Act (GOSA), which creates a dedicated funding source for land and water conservation – and here's the near-miraculous part – it does it without raising taxes or fees.
If the referendum passes, then beginning next year, up to 80 percent of the state sales tax already collected on the purchase of outdoor sporting goods and recreation equipment will be dedicated to conservation funding. That means it will be used for things like protecting drinking water supplies, conserving wildlife habitats, improving parks and trails, and maintaining state parks and wildlife management areas.
It's legislation that was six to seven years in the making, says Thomas Farmer, executive director of the Georgia Outdoor Stewardship Coalition, which includes The Nature Conservancy, Georgia Conservancy, The Conservation Fund, The Trust for Public Land, Park Pride and The Georgia Wildlife Federation – the group that came together to work with the legislature to craft the act. It may seem like a long time, but the hard work was worth it, Farmer says, because the result is an extremely popular piece of legislation.
"I think [it's popular] for various reasons," Farmer says. "In Georgia, we're so blessed with an abundance of great natural resources, from our coastline, our mountains, all the freshwater lakes and rivers and streams that we have. We just provide all of our citizens the opportunities to get out and enjoy it. The more that we can do to protect those places, make them better so that more people can enjoy them, [the better]."
The funding source – equipment people already use in the great outdoors – also seemed like a no-brainer.
"We're going to take money that people are spending on things that they plan on using in the outdoors," says Rep. Sam Watson (R-Moultrie), who sponsored the legislation. "We're going to take some of that revenue, and we're going to use it to improve the outdoors so they can use those things that they bought."
---
A Long-term Plan
Georgia is an outdoor enthusiasts dream – even our capital city is called the "City in a Forest" – and once outside the metro areas, we've got lakes, rivers, trails, parks and hunting grounds that are used by thousands of people every year. If we want our children and grandchildren to be able to enjoy the same outdoor experiences we have today, dedicated funding is needed, say conservation leaders.
"[The legislation] creates a dedicated funding source for conservation, for recreation, for water supply," says Wes Robinson, director of public and government affairs at the Georgia Department of Natural Resources (DNR) "Anytime you have dedicated funding for something, it makes long-term planning a whole lot easier."
Robert Ramsay, president of the Georgia Conservancy, agrees. "Both quality of life and the economy are impacted by our natural resources," he says. "So having a dedicated source of funding provides the state with the opportunity to do more planning around successfully pursuing conservation objectives, whether that be in priority land acquisition or in the stewardship of existing state lands."
To help with planning, the legislation will dedicate an estimated $20 million each year for 10 years to conservation, with the option of renewing. These aren't funds for personnel or raises or new vehicles – though all of those things are also important. No, these funds are for the "fun stuff," Watson says.
And while it may be for fun, it's serious fun in terms of the state's coffers. "This is an investment in a pretty significant economic engine in the state of Georgia," Ramsay says. "According to the Outdoor Industry Association, outdoor recreation has about a $27-billion annual impact on the state. So, much like we've chosen to do with other engines, this provides a really thoughtful approach to further investment in outdoor recreation."
The words outdoor recreation may conjure up days spent in solitude – hunting, fishing on a quiet lake, anywhere with few other people around – but the legislation is equally important in the cities, says Michael Halicki, executive director of Park Pride, an organization that helps communities enhance parks and greenspace in Atlanta, DeKalb County, Tucker and Brookhaven.
"We have a need for a range of different funding sources for greenspace, particularly in cities," Halicki says. "Atlanta is growing very rapidly. We're the city in the forest, but we won't be for much longer if we aren't protecting the different areas that need to be preserved as we continue to grow as a city."
---
Tip of the Spear
Those are some big goals – economic development, maintaining lands for the future – so how will it all happen once the referendum passes? The details are still being worked out in the DNR, but in general, organizations, state parks or community groups with a qualifying project will apply for funds and enter a three-step process.
"The way that the statute's written, it's really for any city or county department or agency or nongovernmental entity," Robinson says. "They submit a proposal to us [at DNR]. So if you're a nonprofit with a small nature preserve or a county trying to develop a park, something of that nature, they'll apply for funding."
Once applications come in, then the legislation has defined a board of trustees that includes representatives from DNR, the Georgia Department of Transportation, the Forestry Commission and others.
"There's a board of trustees that will first vet and approve projects," Robinson says. "From there, [the list] goes to the DNR board for approval. After the DNR board approves it, it goes to the Appropriations subcommittee of the General Assembly that has jurisdiction over DNR. After that subcommittee, from there it gets final approval."
"We worked really hard on it," Watson says about the legislation. "It changed a lot, and it just got better as we went. We hadn't ever done this before, and we wanted a lot of checks and balances."
The legislation also includes a trigger that moves the money back to the general fund if state revenue drops below a certain point, he says.
"Our state is the only state that will have this type of funding mechanism in place if it is passed," Farmer says, "which is … exciting, because what that does is it puts Georgia at the tip of the policy spear on creative solutions to natural resource protection."
---
Connecting Land and Water
GOSA is not the end of conservation financing in the state. In fact, many leaders see it as just the beginning – a way to leverage grants to get even more funding.
"We don't see the state as the sole funder or even the primary funder," Halicki says. "I think this is all a conversation about leverage. I see the Georgia Outdoor Stewardship Act as one of those funding mechanisms that matches city dollars with philanthropic dollars with communities that want to preserve [their] natural areas so [residents] don't need to get in cars and drive to the coast, the North Georgia Mountains. They can experience nature within the city."
And in the cities, it can also bring communities – neighborhoods, businesses, existing parks – together.
"Trails, I think, become something that aren't just beneficial for a local neighborhood, but they provide connectivity and help to make it so that you're connecting different areas," Halicki says. "It can connect parks to neighborhoods and neighborhoods to businesses and other types of things, too. I think that this is something that all Georgians would benefit from."
The bill is not just about land and parks; it will also impact water conservation.
"You've got two ways to think about water," Ramsay says. "You think about water in terms of quality, and you think about water in terms of quantity. In both instances, these funds can help with water conservation."
The key to water quality, he says, is having protected land around streams, lakes and rivers to preserve natural filtration and percolation of rainwater that ends up in those lakes and rivers. And in the cities, it's all about quantity – getting as much water into the rivers through curbs and gutters. But still, that water needs to be filtered, so protecting lands around city waterways is important as well.
"Those are just two basic examples at the highest absolute level of why this connection should be directly made between land and water conservation," Ramsay says.
---
Get Out the Vote
With near 100 percent backing, organized opposition doesn't seem to exist. But the question – What if the referendum doesn't pass? – can't help but come up.
"Well, that's the scary part," Watson says. "We'll just have to back up and punt and come up with another way to get this money to our natural resources. I would hope that most folks would say, 'hey, you know what, that money that I'm spending to use that fishing pole outside, I want somewhere to use it. I'm ok with y'all taking that money and dedicating it.'"
The coalition has been working to educate voters about the act. "That's the reason why we collectively made the decision to become organized," Ramsay says, "So that we can help educate Georgians around this issue. We all value our natural resources. And we all in the state feel a tremendous responsibility to the stewardship of those natural resources."
"This is such a historic opportunity to protect our waters and lands in our state," says Farmer. "There's not many times when you go to the ballot box and really have an opportunity to transform the way that our state works to protect our waters and lands. This is one of those times."
---
On the Ballot
The referendum on the Georgia Outdoor Stewardship Act will appear as Amendment 1 on the November statewide ballot. Here's the language to look for:
"Without increasing the current state sales tax rate, shall the Constitution of Georgia be amended so as to create the Georgia Outdoor Stewardship Trust Fund to conserve lands that protect drinking water sources and the water quality of rivers, lakes and streams; to protect and conserve forests, fish, wildlife habitats, and state and local parks; and to provide opportunities for our children and families to play and enjoy the outdoors, by dedicating, subject to full public disclosure, up to 80 percent of the existing sales tax collected by sporting goods stores to such purposes without increasing the current state sales tax rate?"
Vote Yes if you favor the proposed amendment.
Vote No if you oppose the proposed amendment.