CHEERS!
Georgia's new alcohol-sales law has business booming at neighborhood spots where everybody knows your name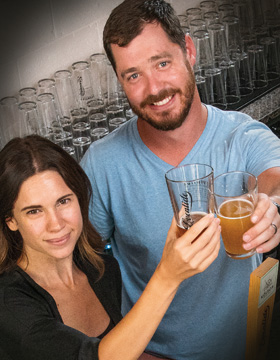 Who among us – at least those of us of a certain age – hasn't wanted our very own neighborhood Cheers, the bar from the 1980's TV show of the same name? Thanks to a change in Georgia's craft brewery law last year, more of us are getting our wish, as breweries spring up around the state, providing community watering holes where everybody knows your name – or soon will.
Before the direct sales law went into effect in September 2017, to get a taste of the latest craft brews, aficionados had to buy local beers in stores or restaurants or pay for a brewery tour that would include a tasting. The convoluted laws not only kept drinkers from supporting local businesses, they also kept an industry that has been flourishing for decades in craft-friendly states from reaching its full growth potential here.
Now, thanks to last-year's law allowing breweries to sell limited amounts directly to customers, breweries and brewpubs are enlivening downtowns and neighborhoods, and impacting the economy in cities from Bainbridge to Blue Ridge and Savannah to Sandy Springs. As of the end of June, there were 66 breweries and brewpubs operating in Georgia.
"Since Sept. 1, [2017], when the law went into effect, we've opened 13 breweries, hired 250 people and seen just over $30 million in direct investment," says Nancy Palmer, executive director of the Georgia Craft Brewers Guild, an advocacy organization for craft brewers, about the growth in the state.
Palmer and the guild played a significant role in the push for the law's change. In fact, the national Brewers Association recognized Palmer with its 2018 F.X. Matt Defense of the Industry Award. The first woman to receive the award, Palmer was cited for her commitment to growing the industry in Georgia and her coordination of brewers in the effort to pass last year's brewery sales law. It's a law she and others believe will change the culture of the entire state.
---
Early Adopters
Most brewers will tell you their love of beer making started with home brewing, then grew into a desire to share their delicious libations with the world. And in most states, this was as simple as starting any other new business – which means, of course, not simple at all, but it was possible. In fact, Georgia was the last state to jump on the direct-sales beer wagon. Prior to passage of last year's law, breweries in Georgia could sell tours of their facilities and provide beer as part of the tour, but could not sell beer directly to consumers, which was very confusing in practice.
"People would come in and say, 'I don't want to buy a tour. I just want to buy a beer,'" says Nathan Cowan, CEO of Eventide Brewing in Atlanta. "And I said, 'Well, you don't have to go on the tour. I can't force you. But we have to sell you a tour.' And it was just this weird conversation piece every single time."
Despite the confusion, breweries took hold around the state, most often setting up shop in an industrial area rather than a commercial location surrounded by shops and restaurants that would have encouraged tourists or locals to bend an elbow.
And local governments began to pay attention to breweries – and the economic and cultural value they could deliver – and actively pursue them.
"We had our first initial conversations [about breweries] in '14," says Steve Stroud, executive director of Roswell Inc., the city's economic development organization, "way before the law changed."
A number of breweries opened up, not just in Roswell, but all over, and while they offered tours – and the beer that went along with them – they made their money through distribution of bottles, cans and kegs to restaurants and stores.
---
Community Partners
Since the law passed, changes in the industry have been swift. Craft brewers have in many cases moved from industry to commerce – opening up tasting rooms to customers as some municipalities have also changed laws to further accommodate people's insatiable thirst for a cold one.
Roswell's walkable historic district was already chock-full of chef-driven restaurants when local leaders began to seek out craft brewers for the area. In 2015, leaders changed an open-container law to allow people to stroll from restaurant to shop to brewery in the historic district with a beer or glass of wine.
"We felt like this was just an add-on complement because of our walkability … to create the carry districts within the city that would allow you to take a drink out of a facility and stroll to the next restaurant," Stroud says.
It's a change that works for the breweries in town – which have added entertainment on weekends – and the restaurants, alike.
"The restaurants and the breweries actually have created a synergy together that's unique," Stroud says. "One of the things that I think has helped throughout the process is the ability for the breweries and the brewers … to talk to the restaurants and say, 'Hey, look, we're here to help you grow, too. We want you to sell our product, and by the way, if you can deliver pizza to our place, we'll put the menus here in our brewery. So it's become a real community partnership."
In rural Stewart County, community partnerships are just as important as in a walkable downtown, though they look very different.
"We are the most rural brewery in Georgia," says Rob Lee of his family's Omaha Brewing Co., which got its start in 2013. "Stewart County, the county that we're in, is one of the poorest counties in Georgia. That was one of the reasons, [for starting it]. We wanted to keep giving back to the local economy."
You might not think a town with a population of about 200 could support a craft brewer, but folks come from far and wide to enjoy Omaha's offerings at a location that may not be on everybody's radar, but is close to some tourist destinations.
"We're about six miles from Providence Canyon, the Little Grand Canyon," Lee says. "We're about the same distance from Florence Marina State Park, where there's cabins and a lake. We're about 20 minutes from Eufaula, Ala., and about 30 minutes from Columbus."
And everybody knows beer is an essential part of a successful beach vacation. "If anybody from Atlanta is going down to the Panhandle – Panama City, Destin – they're going to go through Eufaula, probably," Lee says. "And we're right off of that highway. We're in a perfect, 'let's stop and get some to-go beer on the way to the beach' location."
But Omaha's biggest base of customers, literally, is the biggest military base in the Southeast. "I think we're eight or nine miles from the Fort Mitchell entrance of Fort Benning," Lee says. "So we've got a couple-hundred-thousand troops who are used to drinking beer from all over the world.
"Obviously we have seen more people come to the brewery," Lee says. "But since the law has changed, we've also seen an increase in revenue per person." That's because people can now buy up to 36 ounces to drink on-site, along with a case to take away.
---
Opportunity Knocks
Brey Sloan, owner of River Watch Brewery in Augusta, opened up in an industrial park – the only area that a brewery was allowed – in 2016.
"I figured Georgia was going to have to come around to do it the way the rest of the country was dealing with things," Sloan says. "But I also did figure, it would be better to be in on the ground floor. We wanted to be the first brewery in Augusta since Prohibition."
River Watch may not be in a walkable downtown, but they're taking full advantage of the new law.
"People are now free to buy more than 36 ounces if they want to, and so the per customer consumption [has increased]," Sloan says. "That's a huge moneymaker. We could put things in like a mug club, just to build a sense of camaraderie and offer special things to certain people, which you can't do if you're doing tours. We've just got a lot more flexibility."
And with flexibility comes even more opportunity.
"I would say the biggest thing about the direct-sales law passing is opportunity," says Eventide's Cowan. "We got the ability to be able to do food sales. We also can market. So we can talk about restaurants that have our beer. Before the beer law changed, we couldn't do that. So we can [now] say, 'Eventide is now pouring at Diesel in the Highlands. Go grab a cup.'"
It's all part of the evolution – or revolution – of an industry.
"Really, what we're looking at is a transition in the industry away from the larger, regional breweries that focus on distribution as the main source of income to seeing what is more typical in other states, which is a series of breweries opening where the breweries focus on making the majority of the money they make in their taprooms," Palmer says.
National statistics back up the idea that a tasting room is the way to go. "Right now more than half the breweries in the country make more than 75 percent of their money in their taprooms," Palmer says. "And I think … we're going to see a lot more that fall into that category."
---
Getting Comfortable
Matt Curling, owner and brewmaster of Variant Brewing Co., which opened in Roswell last November (post-law), had been planning the brewery for a couple of years in anticipation of the law change.
"We had been following [the discussion] pretty closely for a couple of years. It took a lot of time for us to get open," he says. "We didn't decide to move forward with opening a brewery until we at least saw there was legislation purporting to make it … a little bit more friendly for smaller breweries and really lower that barrier to entry."
It was a wait that paid off. "Things have been really good," he says. "The Roswell community has been very, very accepting, very friendly. … We're seeing the same people and knowing that they're coming and choose to drink at our place."
Like Palmer and Stroud, he sees the concept of smaller breweries in walkable communities as the future in Georgia.
"You can see that trend with the rest of the nation," he says, mentioning the clusters of breweries in Asheville, N.C., and Charleston, S.C., as examples. "It brings in a lot of tourism. People would go to Asheville just to walk around and try so many different breweries. … That really brings in a lot of people who are spending money in your restaurants and your hotels. It really helps the economic impact."
Growth is also impacting the economy in ways that may not seem quite so obvious.
"We certainly see additional people being hired at the distribution tier and also in the retail tiers," Palmer says. "Also, craft [breweries] supports agriculture communities. But I think one of the areas that is really interesting for Georgia potentially is craft breweries are part of a culture that young people are looking for."
That culture, which already includes the things that are drawing lots of Georgians back to downtowns – like walkability, chef-driven restaurants and shopping – is now certain to include more and more neighborhood breweries – the kind of place where everybody knows your name.
"In two years, this will be great," Cowan says. "Because in people's minds, this will be just another spot they can go. 'We can go to a brewery, or we can go to a restaurant or whatever.' It will just be another thing, which is best for the consumer because it's not confusing. It's comfortable."
---
Dirty, Dangerous, Fun
When you think about beer, you may conjure up images of young men drinking in groups, while engaging in questionable behavior. "Hey, hold my beer and watch this," isn't a cliché for nothing, after all.
But craft beer isn't exclusively or even predominantly male these days. It's as if the industry has come full circle, since women were there at the beginning of beer.
"I see that more and more women are engaging in the industry," Nancy Palmer, executive director of the Georgia Craft Brewers Guild, says. "One, tasting rooms themselves are quite diverse places. Many breweries see as many women as they do men in their tasting room spaces. Second, we're seeing more gender-neutral advertising, which I think has always been a challenge for the beer industry. [Third,] we have a ton of women who are working in sales and finance and the C-suites and doing the administrative [part] of making beer."
One place where men still outnumber women is in brewing itself. "The physical act of brewing beer is a physically strenuous, hot, sweaty job," Palmer says. "And so we have some women who are doing the brewing, but that tends to be male."
While female brewers are few and far between, River Watch Brewery in Augusta is actually unique in the U.S., says Palmer. "To my knowledge [Georgia has] the only mother-daughter brewing team in the country," Palmer says about Brey Sloan and her daughter, Anne, owners and brewers at River Watch.
Brey is quick to agree that brewing is all of those generally masculine things: hot, dirty, labor intensive. "Typically in the summertime I brew overnight, because if you try and brew when it's 95 outside, the ambient temperature goes up like 25 degrees and you have kettles of boiling liquid around and everything is hot and it just gets really, really uncomfortable." And dangerous. All of the brewers have burns, she says.
It may be hot, dirty and dangerous, but there's an upside to being a brewer: fewer trips to the gym.
"When we're brewing, we are having to pick up to shoulder height 55 pounds of grain in a sack and dump it into the mill and then repeat that 20 to 25 times," she says. "So we have amazing shoulders."
The "we" she refers to is her daughter and her third brewer, who is also a woman.
"All of the brewers are women," she says. "It certainly wasn't something that I intended to do, but that's how it worked out."
As it happens, that's how beer used to be brewed.
"Brewing was what women did. They made the beer for their household. It wasn't until it was seen as having a commercial application and money was to be made from it, then all of a sudden it was a male thing," Sloan says. "I think women are getting back into it more and more. So, that's good. But it is hard. It's dirty and dangerous. But if you're ok with those things, it's a lot of fun, too." – Karen Kirkpatrick