2018 Higher Education Directory
Georgia Trend's annual listing of the state's colleges, universities and technical schools, plus a look at how colleges are shifting to meet today's students' changing needs.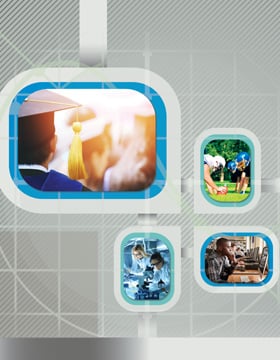 As the parents of any high school student know, finding the right college for your child can be overwhelming. You and your student must consider size, culture, location, cost and job prospects upon graduation – among so many other factors. And it's a decision that's getting more daunting and more important every year.
By 2020, more than 60 percent of jobs in Georgia will require a postsecondary degree or credential. Yet today only 39 percent of adults between the ages of 25 and 64 have an associate's degree or above. In the face of tectonic shifts in technology and shakeups in the structure of the job market, Georgia colleges are riding a wave of change, and in some instances leading the way.
"All Georgia schools have a certain story to tell," says Michael Elliott, dean of Emory College Arts and Sciences at Emory University. "Pull yourself away from rankings and find a school where you can take advantage of resources and make the most of your time."
Georgia Trend's 2018 Higher Education Directory features degree-granting schools that have a physical presence in Georgia and are eligible for HOPE scholarship enrollments. Listings include contact information, test score requirements, tuition costs and courses of study, all based on information provided by the institutions. N/A indicates information was not available or is not applicable. – The Editors
Click here for the list of colleges and universities in Georgia's 2018 Higher Education Directory
---
Winding Paths to Great Careers
Think your student has to head out of the state to get a great education – and from there a great job? Not so. In fact, students from across the nation seek out Georgia's world-class, career-relevant majors at public, private and technical colleges and universities.
To shorten the path from college to career, the University System of Georgia (USG) Board of Regents, which oversees the state's public colleges and universities, voted in February to create an 18-credit-hour credential precisely focused on high-demand career fields such as cybersecurity and financial technology. Called the nexus degree, it includes six hours of experiential learning – the process of stepping outside the traditional classroom to learn through experiences. The rest will consist of upper-division classes. The degree can stand on its own or be integrated into existing programs.
The USG isn't the first to encourage experiential learning. Piedmont College, a private school in Demorest, requires it of all students through the Compass program. Students explore career opportunities, interact with community businesses and organizations and learn skills to help them navigate work and life after college. The school also offers the only four-year bachelor's degree in cardiovascular technology in Georgia.
"We want to be in front of the eight-ball," says President James Mellichamp. "Not behind it."
At Georgia College in Milledgeville, physics, special education, early childhood education and management majors rank high nationally, but the school offers much more. "We have the top theater program in Georgia that includes a great black box theater. Students can do design and construction and perfect their acting skills, which feeds into our strong statewide film industry," says Ramon Blakely, admissions director.
The most popular major at Berry College, in Rome, is animal science. Students get practical experience on the school's fully operational farm. Exercise science is also an up-and-comer, as is sports administration, fostered in part by the recent opening of the 30-acre Rome Tennis Center on campus.
At Statesboro's Georgia Southern University (GSU), rising interest in economics, logistics, business and mechanical engineering will mean expansion of these programs on the Armstrong campus in Savannah, which merged earlier this year with GSU. At the same time, the school continues to see very high job placement in healthcare and education, honoring the historic legacy of the university.
"Another trend is majoring and minoring in two very different subjects," says Michael Elliott, dean of Emory University's College of Arts and Sciences. "Students are mindful of post-graduate pathways but are also interested in pursuing their intellectual passions in college; falling in love with a subject is a powerful motivating factor."
Emory continues to attract a large base of students who seek employment in medicine, consulting and with nonprofits, says Elliott, but times are changing. "Graduates are going into smaller startup businesses or government service as well as some of the big tech companies. It's getting harder to pair jobs with a specific undergraduate major."
The situation is similar at Spelman College in Atlanta. "Unless you are going into medicine, engineering or software development, the job market is not linear; it's not necessarily aligned to majors anymore," says Harold Bell, director of career planning and development at Spelman.
At Piedmont College, interdisciplinary majors not only cross departmental lines but also connect with other colleges. Piedmont students can take engineering classes at Kennesaw State University (KSU) and Georgia Tech, for instance. And just this semester, Piedmont launched a program where English and history majors can take the LSAT and enter Mercer University School of Law after their junior year.
Ken Harmon, former KSU interim president, provost and vice president for academic affairs and a professor at the university, says the necessity for interdisciplinary knowledge boils down to what companies now look for in prospective employees. For example, KSU recently introduced an online cybersecurity major, a collaborative effort involving information technology, information assurance, policy setting, digital animation and more.
"Employers are looking for more than just technical skills," he says. "In fact, majors within an exclusive discipline are fairly flat and slightly declining. We need to ask what role a particular major plays in concert with another technical area. And that means we need to improve the core curriculum and make it easier for students to do double majors." – Ellen Berman
---
 In the Georgia high school graduating class of 2017:
8,624 (15%)
had parents who
did not attend college
14,324 (25%)
aspired to a
professional degree
 9,607 (17%)
aspired to a
graduate degree
27,695 (48%)
aspired to a
bachelor's degree
1,034 (2%)
aspired to an
associate's degree
9,556 (17%)
were undecided about
their college major
Source: ACT Inc.