The Power to Choose
Georgia's Customer Choice program is encouraging economic development across the state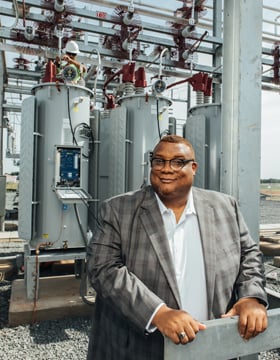 When Pure Flavor, a Canadian company that grows greenhouse vegetables, went looking for 103 acres to build a new high-tech, $105-million, 75-acre greenhouse complex, Peach County was not on its list. Some 300 other sites were.
But the Electric Cities of Georgia (ECG), an organization serving the municipal power companies, was involved in recruiting the company to Georgia along with the state Department of Economic Development. And they knew a couple of things: The project had some unique requirements, like needing its own power substation on site. The Peach County site had a transmission line running through it. It had a committed group of local leaders who were working together. And since the location was in Georgia, it could offer Customer Choice.
That's a unique state law that lets large power users – with connected loads of 900KW or larger – make a one-time choice about their electric supplier. The choices are one of the 52 municipal companies, one of the 42 electric membership cooperatives or EMCs, or Georgia Power, the investor-owned utility. Because the customer has a choice, it can negotiate for the best rate and services – something that can give the state an advantage in the economic development game.
"Companies like it because when they are building in Georgia, they do get a one-time choice, so it helps them become more competitive," says Walter West, chief operating officer at ECG. "It helps them lower the electric rate, which makes it easier for a new plant to become profitable."
Or a new greenhouse. Craig Mims, general manager and CEO of the Fort Valley Utilities Commission, which serves parts of Peach and Crawford counties, recalls that once ECG suggested the Peach County site might be a good fit for Pure Flavor, then he sat down with his staff and said, "This may be a long shot, but we really need to figure out how we can tailor our services to fit the needs of this project." When the time came, he says, "We were able to lead with the services we provide against their particular needs, and we actually got their attention."
Over the next 18 months, the utility worked with its partners, Pure Flavor and its consultants to make adjustments and show the extent of the services it could offer. (Along with electricity, for example, Fort Valley also provides natural gas, water and telecom services, and worked with the Municipal Gas Authority of Georgia to provide additional natural gas supply.) Consultants for Pure Flavor spe- cifically mentioned the advantage of having three power providers competing for the business, and in the end the company chose the Fort Valley utility.
It's a big win. "Huge for Peach County," says Mims of the investment and the more than 200 jobs that will be created over four to five years. "I don't know that they've had a $105-million investment in this community in the last 25 or 30 years."
And it's a win for the state, too. "In other states … the piece of dirt you pick for your new facility [means] you're bound to whoever the supplier is for that particular piece of dirt," says Dennis Chastain, president and CEO of the Georgia Electric Membership Corp. (Georgia EMC, the statewide association representing the EMCs). That means the investor-owned utility is only marketing the properties it serves, while the co-ops and cities do the same with their properties.
"In Georgia, we all market the entire state," Chastain says. "We market the whole state. Georgia Power does the same, and Electric Cities does the same. You don't have us, in essence, competing with each other on the front end when it comes to trying to steer a project to a particular area. We're much more customer focused, [so] when a project comes into the state Department of Economic Development, we all work together."
It's an important tool for economic development, says Kline Perry, Georgia Power's Customer Choice manager. "First, large business prospects see that Georgia utilities are willing partners in trying to bring them into the state. Then, these prospects also know that those same electric suppliers have the ability to compete with each other to win their business. That's a valuable consideration for these large companies [that] want to ensure they are getting the most value and best reliability for their energy dollar."
One of the three utility provider groups will usually take the lead, and there's no real rhyme or reason to who is on point at this stage. "A lot of times it's relationships, or who at a trade show might have talked to that particular prospect," Chastain says. "We always make sure the prospect knows there's a possibility of Customer Choice for them. We don't guarantee [it], because a lot of factors go into it. But we make it known up front that they should investigate the possibility because we think that's a benefit to everybody."
---
Growing a Bigger Pie
Once a Customer Choice-eligible prospect decides to locate in Georgia and chooses a site, then the individual utilities do compete against one another. But even then, there's a sense that the program lifts all lines, so to speak. More than one person who works with Customer Choice said the same thing: They think Customer Choice has helped Georgia's reputation – and rankings – as a top state in which to do business.
"The EMCs are very competitive. Do we win every customer choice opportunity that's out there? No," says Chastain. "[But] the importance of it is that it has helped grow the pie bigger for all of us."
Jobs are the main goal, after all, and more jobs mean more customers. "If a new factory [or company] comes in and somebody got a job – they live on EMC lines. So even if we don't serve that company, we're going to get a benefit from it because that person will have money to pay their power bill to invest back into the community, which helps us all," Chastain says.
Customer Choice had its origins in a 1973 law called the Georgia Territorial Electric Service Act, which assigned exclusive power supply territories "to stop the duplication of lines and to create certainty for customers," says West. Georgia's suppliers of electricity jointly own the transmission lines and power substations across the state.
When the 1973 law was passed, exceptions were made to the assigned areas that included allowing large facilities to choose their power supplier. For a more relatable comparison, West says that facilities that use 900KW or more are the size of a big grocery store or larger. It's a little more complicated than that (see "Customer Choice Explained" on page 50), but generally new facilities get a one-time choice.
Derek Hampton, assistant director of the Cartersville Electric System, one of the state's municipal power providers, says it's a common misconception that the cities or EMCs buy electricity from Georgia Power and resell it. "The cities actually own generation in the same plants where Georgia Power owns generation," Hampton says. "All our power comes from the same transmission system – sometimes from the same substations."
The same is true of the EMCs. In negotiations on Customer Choice projects, Hampton says people are often surprised to find out that Cartersville can offer a comparable rate to Georgia Power.
The Public Service Commission has jurisdiction over any dispute about Customer Choice, says West, and over the years the PSC's decisions have helped clarify the law and set precedent. The intent is for a company or facility to have a one-time choice, but as adaptive reuse has come into play, a substantive change can also trigger Customer Choice.
Take old textile mills, for example. "That was an industrial facility," says West. "Then they closed and developers have gone in. They've gutted some of these places and [redeveloped the facilities]. That's a change of use, and when that's taken place in many cases, that's created another Customer Choice opportunity."
Hampton adds that it's not only about rates, and he takes the opportunity to tout one of the selling points of the municipalities and the co-ops. "We had a Customer Choice conversation with a company from Europe. They were pretty strong in being a member of the community and having a presence here, and they liked the idea of their money staying in the area."
Relationships matter here, too. Jackson EMC, the largest co-op in the state serving the 10-county area of Gwinnett, Hall, Lumpkin, Barrow, Jackson, Banks, Franklin, Madison, Oglethorpe and Clarke counties, has a number of big-name customers. One of those is Kubota, a Japanese manufacturer of tractor products that set up shop in Gainesville in 1988 and chose Jackson as its electric supplier.
It was about the time that Lee Chapman, vice president of marketing, member services and governmental affairs, came on board, as well, and the Kubota relationship "spans my entire career [at Jackson EMC]" Chapman says. "Since then, they have had at least five other opportunities to build very large manufacturing facilities, and each time they've had a choice … Kubota's chosen Jackson every single time, even in two different communities [Gainesville and Jefferson]."
---
Customer Choice Explained
In 1973, Georgia passed the Georgia Territorial Electric Service Act, which assigned electric service areas for most customers while allowing competition for some others. Exclusive service areas were assigned to the state's electric membership cooperatives, municipal power systems and Georgia Power.
But customers with new, large manufacturing or commercial loads may get a choice of supplier, depending on circumstances. For example:
• Connected loads of 900KW or greater at the time of initial full operation, located outside municipal limits, can choose any supplier.
• In areas annexed to a municipality after March 29, 1973, loads of 900KW or greater can be served by any electric supplier that owns lines in the municipality.
• In a completely new municipality, loads of 900KW or greater can choose any supplier.
There's also the question of corridor rights, where one supplier's line (below 120,000 volts) crosses another supplier's designated area. Customers inside the corridor may be able to choose the utility that owns the service line.
It's complicated, but the state and its economic development partners, including the utilities, can determine which facilities will qualify and use the prospect of competition as one more selling point in coming to Georgia.
---
A Different Kind of Choice
When Facebook decided to invest billions to build a 416-acre data center in Newton County, the social media king definitely qualified for Customer Choice. The electrical load will be one of the state's largest. And Facebook had some specific requests – namely, that the huge server farm be powered by renewable energy.
Walton EMC was ready. It already had a community-supported solar program, where the utility constructs and maintains solar farms and customers buy blocks of solar electricity. It costs $25 per block (two-block limit), and your bill is offset by the amount of power produced by your blocks.
It's been a hit (there's a waiting list to sign up, and the EMC is building a third solar farm), and other utilities across the country see it as a model. The co-op had the expertise to create a plan to install, or contract for installation, hundreds of acres of solar panels on the state's electric grid. Facebook chose Walton to be its supplier, and the amount of electricity needed is enormous – this will be Walton's largest load by far, and in fact one of the largest electrical loads for any co-op in the country.