Success in the West
Serving students and the region go hand-in-hand at the University of West Georgia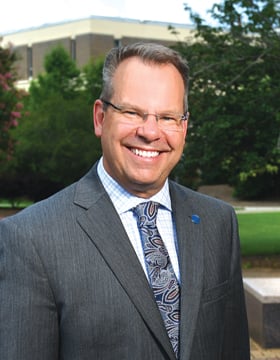 These days, when people talk about the University of West Georgia (UWG), their excitement is palpable. Innovative academic programs on the main Carrollton campus and the Newnan satellite, new facilities, an energized faculty and staff and a deep commitment to community involvement are driving record-breaking accomplishments for the 112-year-old institution.
UWG's momentum over the past few years has been led by President Kyle Marrero, who arrived in 2013 from the University of West Florida in Pensacola where he was vice president of university advancement. One of his first priorities was to help refine work that had begun on a new strategic plan for the institution. The 2014-2020 plan addresses the crucial components for students' success and includes operational goals along with those aimed at expanded academic and community partnerships.
"We wanted it to be a living, breathing document – a map," he says. "To do that we had to address culture [within the university]. We had to ensure our employees were being fully engaged and seeing their part in solution-making for the success of our institution and students."
The Engage West! employee initiative emerged from the strategic planning process. It's a comprehensive program aimed at developing high-performance faculty and staff leaders who are accountable for measurable goals. This corporate approach to accountability includes scorecards for leaders, including Marrero, which are shared with employees in departmental and town hall meetings where achievements and action plans for improvement are discussed. It appears the program is working. Yearly surveys sent to UWG's 1,800 employees have netted an average participation rate of 80 percent and employee engagement has reached nearly 4 on a 1-to-5 scale, with 5 being the highest level.
Marrero says Engage West! is now embedded "deep and wide into our organization," and he believes it has contributed to UWG earning accolades such as the 2015 American Association of State Colleges and Universities (AASCU) national Leadership Development and Diversity Award and being honored as a Best Regional College for 2018 by The Princeton Review.
In addition, he attributes new records in enrollment, fundraising, entering freshmen grade point averages, number of degrees conferred and graduation rates to the institution's employees and the community working together. "These outcomes have an impact, not only on our community, but on our students' success and their ability to progress beyond our doors," he says.
---
Leaping Forward
In 2005, the Association of American Colleges and Universities (AAC&U) launched a national initiative called Liberal Education and America's Promise (LEAP) that emphasizes skills individuals need to be more well-rounded and engaged in and outside the workplace. These skills include critical thinking, written and oral communication, civic involvement and personal responsibility.
Two years ago, the University System of Georgia (USG) petitioned to become a LEAP state, and now about 20 Georgia colleges are partnering to develop curricula and academic initiatives to improve student learning. UWG was one of the charter members, and schools continue to join the partnership each year to share ideas and best practices.
"The goal is to make sure that the educational experiences we offer students align with 21st century demands in terms of what they need to know to be successful in their professions and the higher-level skills they need to handle today's complex society," says David Newton, associate vice president for academic initiatives and development and professor of English.
He says UWG is focused on how it can help incoming students make a successful transition to university life. One of the first LEAP initiatives at UWG is the development of freshman-year seminars on a variety of subjects that give students an idea of what it's like to learn and explore a topic. The seminars also help students connect with an academic faculty mentor early in their UWG studies.
"About 40 percent of our students are first-generation college students," Newton says. "Their families have no college background, and the students need guidance in making the transition to college."
In addition, Newton says UWG is working to make sure all students, regardless of their background or financial situation, have signature experiences that transform the way they think about themselves and about learning. These include participation in a community service project, the chance to study abroad or study away from campus and access to undergraduate research opportunities.
He says eventually all UWG students will conclude their college career with a capstone seminar or capstone experience in which they compile a portfolio of work that will showcase their skills to potential employers. "It also allows them to reflect on what they've learned," he adds.
---
Promoting Financial Literacy
For more than four decades, the UWG Center for Economic Education and Financial Literacy (CEEFL) has been helping K-12 teachers and communities in its seven-county region educate people about responsible money management. Recently, CEEFL initiated a new program called Dollars Making Sense to teach its own students about financial responsibility in the ways they learn best, including the use of interactive games.
"The traditional ways [of instruction] don't always work with a lot of students," says Kim Holder, economics professor and director of CEEFL. "We're finding ways to have fun with economics and personal finance. We need to address it early, because the students may not be getting it at home."
As part of the Dollars Making Sense suite of activities, UWG has hosted workshop events and brought in stockbrokers, insurance agents and speakers from SunTrust, Bank of America and Sallie Mae to talk about topics like student loan debt and answer students' questions about personal finances. Holder says the university is also in the early stages of building a set of modules tailored to students' learning needs that they will work through at their own pace for a deep dive into financial literacy. In addition, UWG offers several credit courses in personal and consumer finance.
"The concepts are fairly simple," she says. "Save early, spend less than you make and make good choices for the long term. None of that is breaking news, but sometimes it just takes the right person [to deliver the message]."
Holder's goal is to refine the Dollars Making Sense resources and make them available free of charge to others in the community, including teachers. "It's a work in progress," she says. "We'll never be done. But we're able to do a lot of unique things here in our area of the country."
---
Partnering with the Community
Another of UWG's innovative programs is rooted in the partnership between the university and Carrollton-based Southwire, a manufacturer of wire and cable. Five years ago, the company donated $1.1 million to create the Southwire Sustainable Business Honors Program within UWG's Richards College of Business. The program admits five to seven students each year and allows them to complete their undergraduate business studies and earn an MBA in four years.
"It's a very selective program," says Faye McIntyre, dean of the business college and the Sewell Chair of Private Enterprise. "Our expectations of the [incoming] students are that they be honors-eligible and have a higher GPA than the Honors College [requires]. We also look for people who have some type of leadership experience outside the classroom."
She says the Southwire program has offered incredible opportunities, including a corporate mentor for each participant. Freshmen and sophomores have undertaken projects such as helping at-risk high school students, fundraising for the Carroll County animal shelter and organizing events to provide school supplies to K-12 students in need. Once the UWG students become more experienced in the program, they take on larger projects and paid internships at Southwire.
One of their first initiatives was a bike-share program that has now been adopted by the city of Carrollton, UWG, Tanner Health System and Southwire. In their final year, students create a business plan and a strategic plan and present them to Southwire leadership.
"These are not just academic exercises," McIntyre says. "They're beneficial to Southwire, and the company uses those [plans] in its decisions."
She says what makes UWG's program different from other universities' sustainability programs is that it targets sustainability of the workforce, business strategies and the community as a whole. "It's just a broader perspective on what sustainability means than what's found at most institutions."
A laser focus on community partnership is also alive and well at UWG-Newnan. Five years ago, its students and administration moved downtown to the historic Newnan Hospital campus, which the city renovated with funding assistance from Coweta County. Today the facility hosts just under 1,000 students, and plans are underway for continuing to build out the space.
In addition to cornerstone programs in nursing, education and business, and serving a large dual enrollment population, this fall UWG-Newnan will introduce a bachelor's in interdisciplinary studies, which has been designed to meet local workforce demands in real time.
"We had a meeting with the Newnan-Coweta County Chamber and a working session with eight groups from different industries to lay out what they needed in their workforce," says David Jenks, associate vice president for academic affairs and professor of criminology, who is in charge of developing the Newnan campus.
Jenks says in addition to core classes, interdisciplinary studies will offer students a concentration geared toward "giving them the skills, knowledge and abilities necessary to get a job immediately in Coweta County or the region. The cool thing is the concentration can change within a semester if workforce demands change."
The first concentration will focus on oral and written communication skills, specifically technical writing, which he says employers have asked for.
UWG-Newnan is also offering three other new degree programs: social and behavioral health, health and community wellness and organizational leadership, which is designed for adult students taking online classes.
Jenks credits a $75,000 grant from Piedmont Newnan Hospital and its ongoing support for helping to build these programs and the reputation of UWG. "That partnership has been just fabulous," he says.
Back in Carrollton, at roughly the same time as UWG-Newnan moved to the old hospital, key community stakeholders began the Carrollton/Carroll County Education Collaborative (CCEC) with the aim of increasing the number of students equipped with skills and training beyond high school to meet future workforce needs. The initiative brought together the leadership of two K-12 school systems, UWG, West Georgia Technical College, the Carroll County Chamber and community leaders.
They designed a broad approach based on children's developmental stages, beginning with kindergarten readiness and stretching though post-secondary education and fitness for possible military training. "We call it enrolled, enlisted, employed," says John Green, CCEC director. "We want every student to pursue the knowledge and skills development of their choice after high school and be equipped to be in the [military] service whether they choose to enlist or not."
Since the collaborative focuses on community partners working together instead of specifying a programmatic approach, Green says it's difficult to cite results that are attributable to one initiative. However, he points to the county's dual enrollment as evidence that CCEC's efforts are having an impact.
"[In the past three years] we've gone from a dual enrollment of 30 at University of West Georgia to more than 700, and from 100 dual enrollment students at the technical college to now 1,700," he says. "Some of that is because we put instructors at the high schools. And we worked out schedules and transportation issues. Now we see kids who have aspirations and talent suddenly having opportunities to do the work."
Green says that Coweta, Heard, Haralson and Douglas counties are now launching their versions of the collaborative and working together to support education throughout the region. Initiatives include tutoring and mentoring opportunities for underserved students and enabling all 8th graders to attend career exploration sessions on the university and technical college campuses to begin to examine their interests.
---
Building for the Future
This type of community involvement has reverberated throughout UWG and has helped its first-ever capital campaign to be on track to meet a $50-million goal, according to President Marrero. A portion of the money raised enabled the renovation of UWG's workhorse biology building, which is ready for classes this month. In addition, donations will be used for scholarships so students who have financial issues can attend the university.
The campaign will also benefit UWG's new student health center, which is being built through a unique partnership with Tanner Health System where Tanner became the developer and UWG will reimburse it. The arrangement enabled UWG to embark on construction of the much-needed new facility without having to raise mandatory student health fees to pay for it.
"This is an incredible community," Marrero says of the seven-county region. "The leadership of West Georgia Technical College, the K-12 leaders and the chambers working together is like no place I've ever lived. That's been the catalyst for so much of our success."
---
UWG At a Glance
Founded: 1906 as the Fourth District Agricultural and Mechanical School
Fall 2017 Enrollment: 13,520
Educational Offerings: Arts and Humanities, Social Sciences, Education, Science and Mathematics, Honors College, Richards College of Business, Tanner Health System School of Nursing
FY 2018 Degrees Conferred: 2,659
Fall 2017 Incoming Freshman Average GPA: 3.18
Georgia Ranking: 6th largest public university
Economic Impact: $564 million in 2016, up 22 percent in five years; UWG supports 5,350 jobs in the West Georgia region